These Mint Cheesecake Brownies are a delicious way to end any meal.  The hidden layer of mint cookies always gets smiles from everyone during dessert time!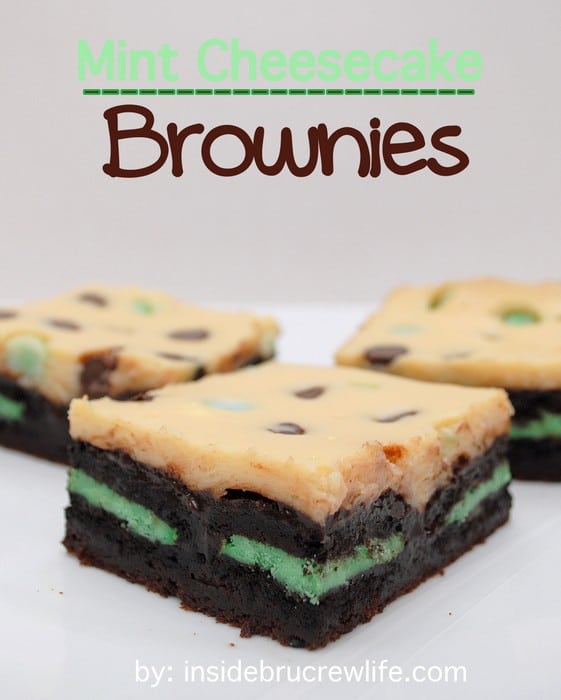 This is the last meal that I will be able to see for a while, so I had to make it a good one!
Today I am putting myself in the hands of the lasik Dr…again. Yes, I am going to go through the torture of PRK one more time.
And hopefully it will be the last time I need to endure it. (fingers crossed)Last year I had it done and my vision is ok now… but I still squint a lot to get my focus better. This touch up is supposed to finish fixing my astigmatism.
Before the first surgery I was blind as a bat. This last year has been great.
I love waking up and actually seeing my alarm clock.But I am also more nervous this time because I know what type of pain to expect.
Good thing I bought a large bottle of Ibuprofen. I have a feeling I am going to need it.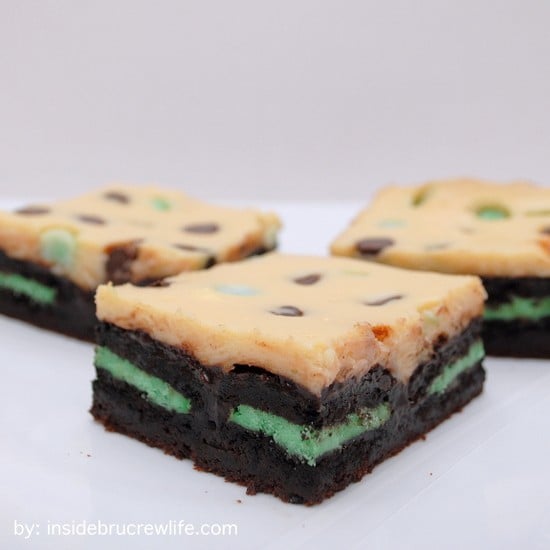 I decided if I was going to be "blind" and in pain for a couple days, a great dessert was needed tonight.
Enter in the cheesecake brownie bars…remember when I made these Ultimate Reese's Cheesecake Brownies?
I dug through my baking cupboard and found mint Oreos and a bag of dark chocolate and mint baking chips.
You just might want to make these because they were delicious!!!! (Even my husband liked these Mint Cheesecake Brownies, and he isn't a huge sweet eater…
so you know they MUST be good!!!
Mint Cheesecake Brownies recipe: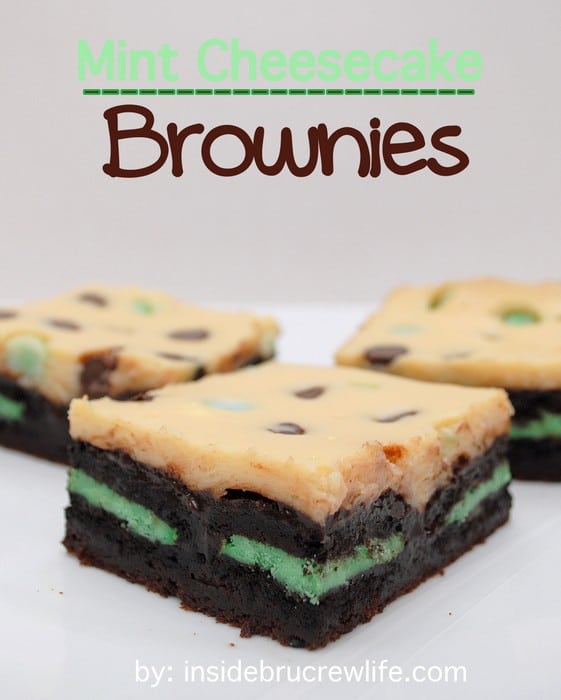 Brownies topped with mint cookies and cheesecake
Ingredients
1 box brownie mix (for a 9x13 pan)
1 package (8 oz.) cream cheese
2 Tablespoons butter, softened
1 can (14 oz.) sweetened condensed milk
1 Tablespoon cornstarch
1 egg
1 teaspoon vanilla extract
20-24 mint cream filled cookies (I used Oreos)
1 cup dark chocolate and mint chips
Instructions
Preheat oven to 350*. Mix brownies according to back of package. Spread 1/2 of the batter in a greased 9×13 pan. Cover the brownie batter with cookies side by side. Cover the cookies with the rest of the brownie batter.
Beat the cream cheese, butter and cornstarch until fluffy. Beat in milk, egg, and vanilla until smooth. Spoon cheesecake batter on top of the brownie batter. Sprinkle with mint and chocolate chips. Bake 40 minutes. Cool on a wire rack for an hour. Refrigerate until chilled. Cut into 24 squares.
Notes
Any mint cream filled cookie can be substituted. Also Andes mint chips can be substituted for the chocolate and mint chips.
https://insidebrucrewlife.com/minttastic-cheesecake-brownies/
Copyright Inside BruCrew Life