Swirls of chocolate and peanut butter make these ultimate Reese's Cheesecake Brownies absolutely irresistible. These peanut butter cheesecake brownies always disappear in a hurry at parties and events.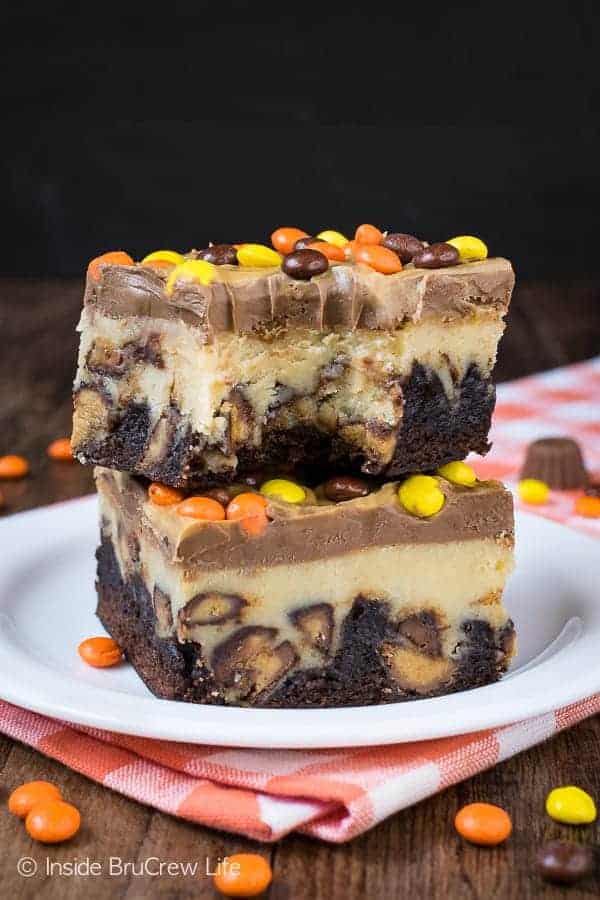 When the kids were younger they knew how much I loved Reese's candies. Any time they got peanut butter cups from school, church, or parties they would bring them home and give them to me excitedly.
As they got older, they also developed a love for those peanut butter candies, so they weren't as willing to hand them over. There were some very grudging candy sharing moments until they realized something.
They figured out that if they ate them before getting home that I wouldn't know they ever had them. What?!?!?!?!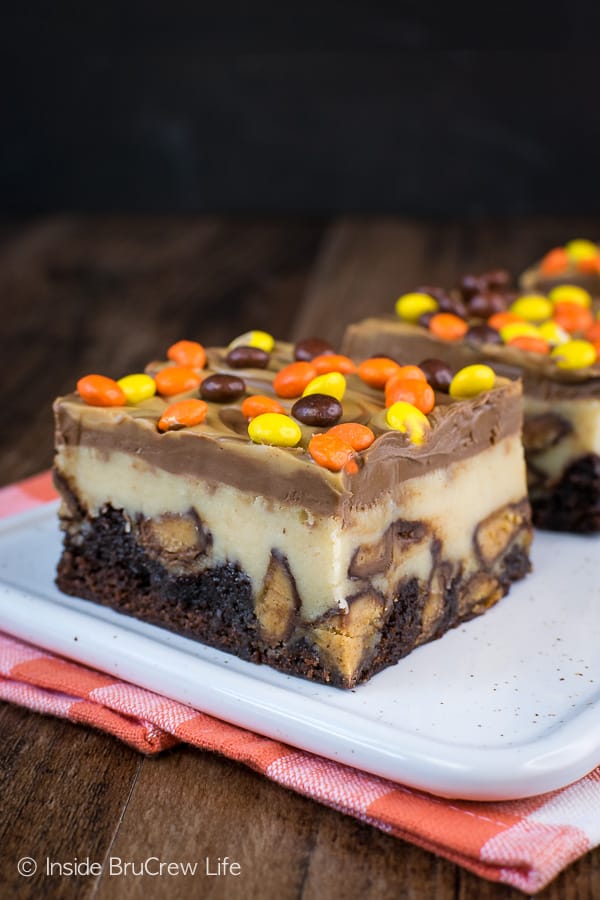 It's ok. I buy bags of candy and cookies all the time and hide them, so the kids don't know I have it. I guess that makes us even. LOL! Although they have figured out my sneaky hiding spots the older they get.
The other day I found a couple of those hidden bags of peanut butter candies in the pantry and decided to put them to good use. Layering brownies and cheesecake into one fabulous dessert is one of my favorite things to do.
Have you seen these Cherry Cheesecake Brownies, these Cake Batter Cheesecake Brownies, or these Take 5 Cheesecake Brownies? Oh, boy! They are all so good.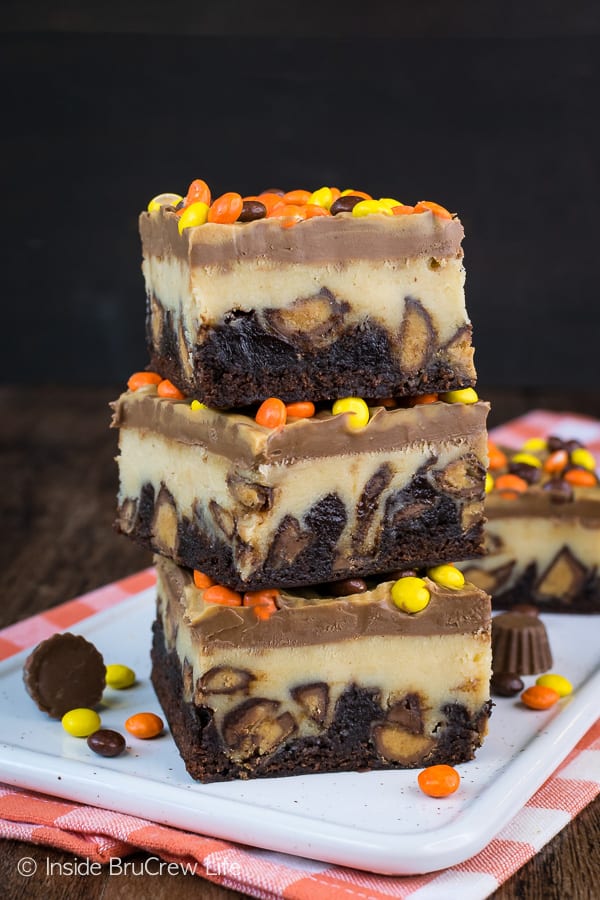 Reese's recipes always make me smile though. So this time I decided to add some peanut butter and peanut butter cups to the cheesecake layer before pouring it on top of the brownie batter. After these bake they become the best brownies ever!
Make sure the peanut butter cheesecake brownies cool completely before cutting into them. I realize this will test every ounce of patience you may have in you, but cheesecake is so much better chilled.
My tip is to make the brownie cheesecake the night before, and let it chill over night.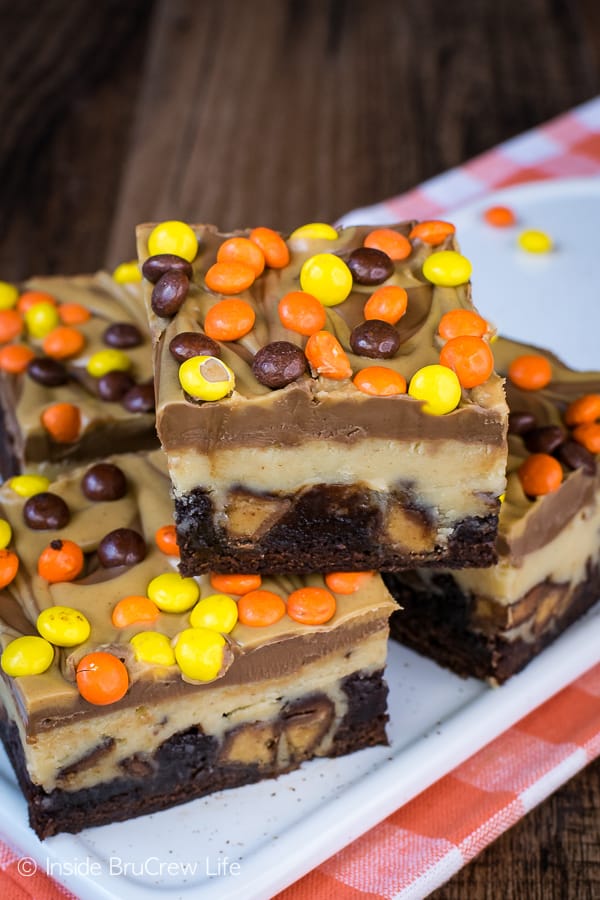 How to Make Reese's Cheesecake Brownies
Line a 9x13 pan with foil lined parchment paper. Set it aside.
Make your brownie batter first and pour it into the pan. Feel free to use a box brownie mix for a 9x13 pan or a double batch of these Chocolate Chip Brownies (minus the chocolate chips) for this layer.
Beat the cream cheese, butter, and peanut butter until creamy. Add a can of sweetened condensed milk, cornstarch, egg, and vanilla and beat again until creamy.
Stir in the chopped peanut butter cup candies gently. You can use regular Reese's chopped up into quarters. Or use a bag of the Reese's minis and cut them in half. Either one works.
Bake and cool these Ultimate Reese's Cheesecake Brownies before adding the topping.
Toppings
Place a bag of milk chocolate chips and peanut butter in a microwave safe bowl. Heat for 30 seconds. Stir until creamy. Heat 15 seconds longer, if needed.
Spread the chocolate on top of the chilled peanut butter bars. Drizzle the top with more melted peanut butter.
Use a butter knife to swirl the peanut butter into the melted chocolate. Sprinkle with mini Reese's Pieces and let it set.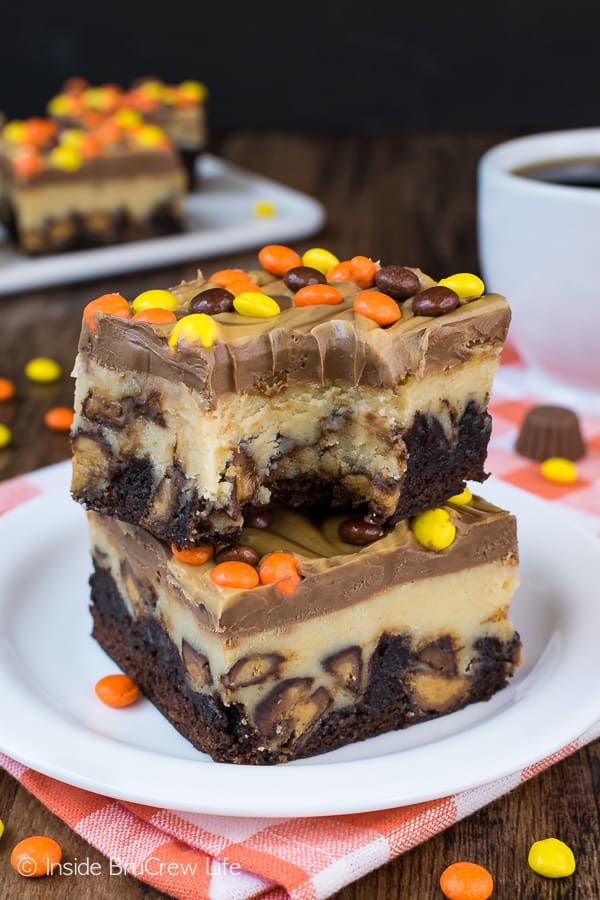 More Peanut Butter Cheesecake Recipes
Love a recipe you tried from Inside BruCrew Life?
Please leave a 5 star ⭐️ rating and/or a review in the comments section further below.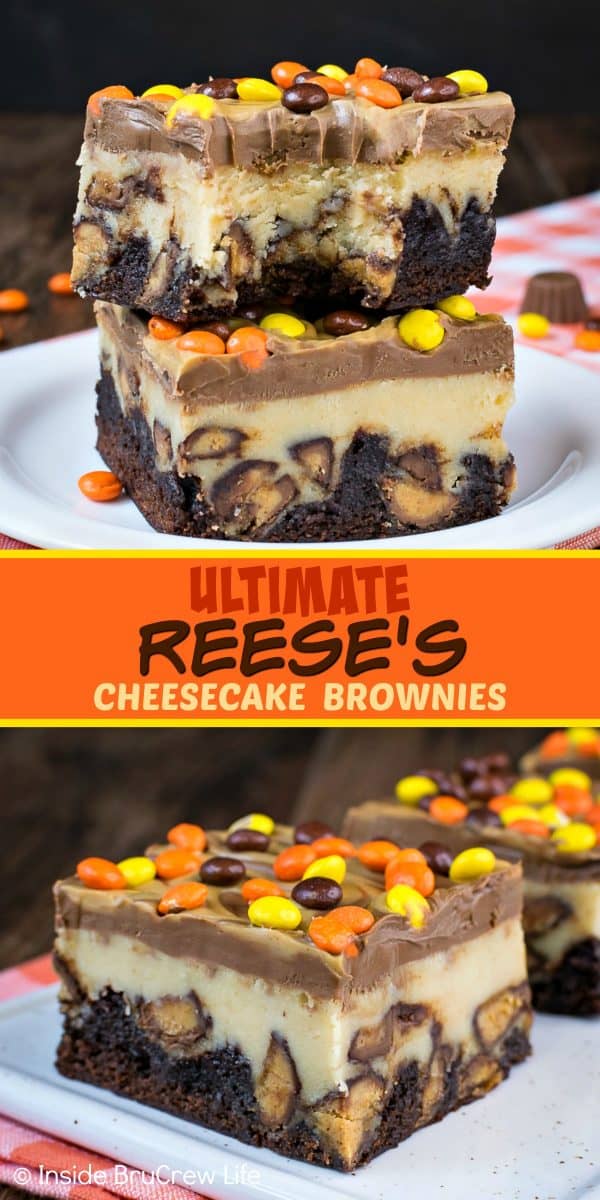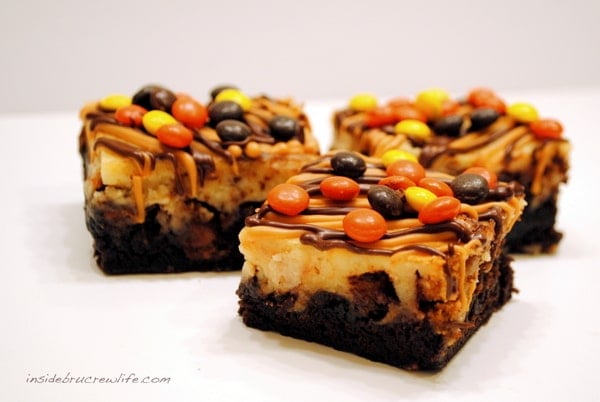 (original photo from November 2010)
*The post and recipe for these Ultimate Reese's Cheesecake Brownies was originally published November 16, 2010. The post and pictures have been updated and republished September 24, 2018.