This Mudslide Cheesecake Dip is a delicious dessert to share with your sweetheart after the kids go to bed. The creamy dip tastes delicious when served with cookies or fruit. Kid friendly options are listed in the recipe as well.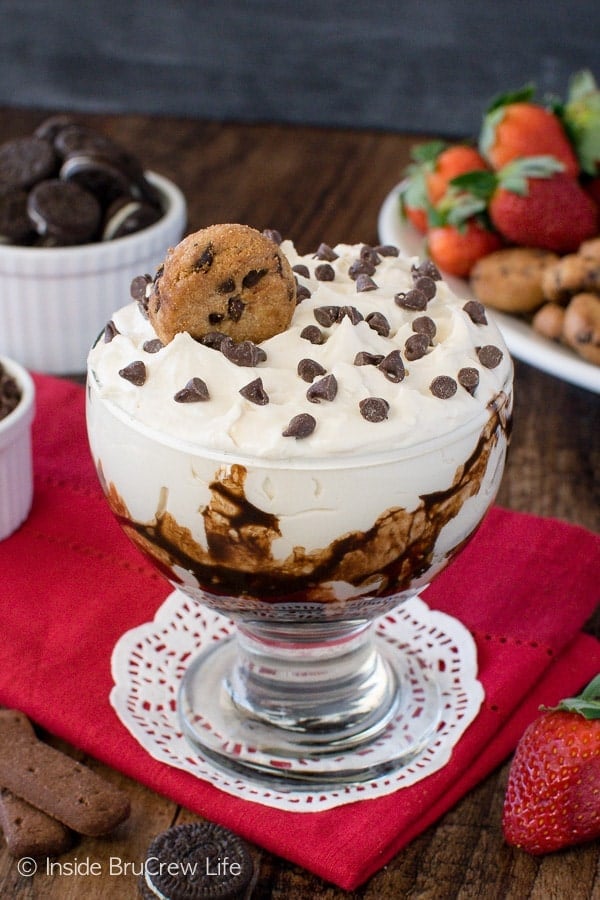 CLICK HERE TO SAVE THE RECIPE FOR LATER!
All the stores have had hearts floating from the ceiling and aisles of plush animals and heart shaped containers full of chocolates for weeks now. It's crazy how fast the stores transition from one holiday to the next.
In fact, I bet the stores were putting up Valentine's candy the day after Christmas. I guess, I get it. As a food blogger, sometimes I am creating holiday recipes a month or two in advance. Well, most of the time. Sometimes my brain just doesn't shut off, and I'm still baking holiday themed treats right up until the day before.
Not good for social media, but totally cool when you have friends and family who don't want pink heart cookies and fudge at Christmas.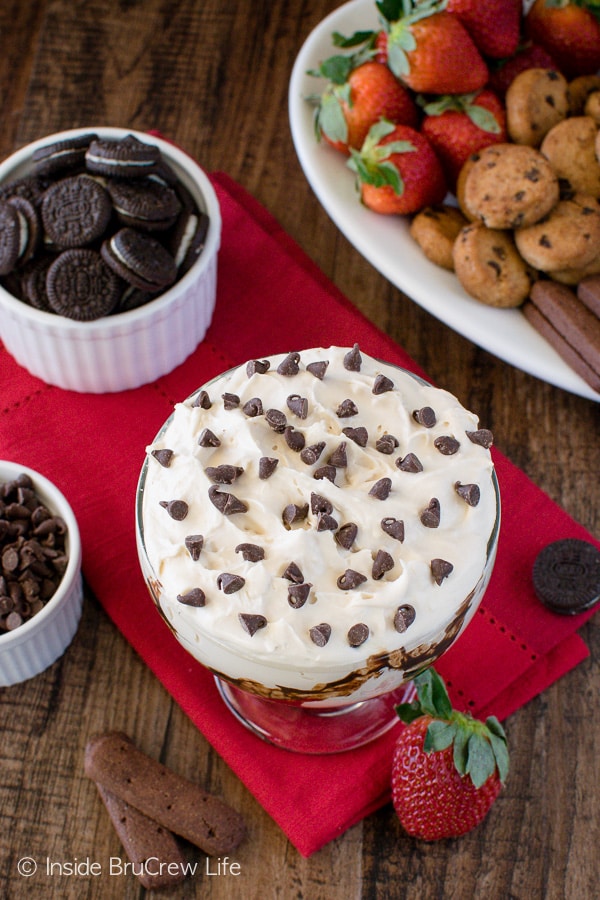 I would like to say that I am usually on the ball and have all my recipes created and photographed ahead of time. The problem is that I am me. I like to go with the flow and make what I want, when I want.
That means making football cookie bars 4 days before the biggest football game of the year. Yeah, they probably won't get made by very many people this year. But that is the perks of having your own food site. I get to share them no matter what.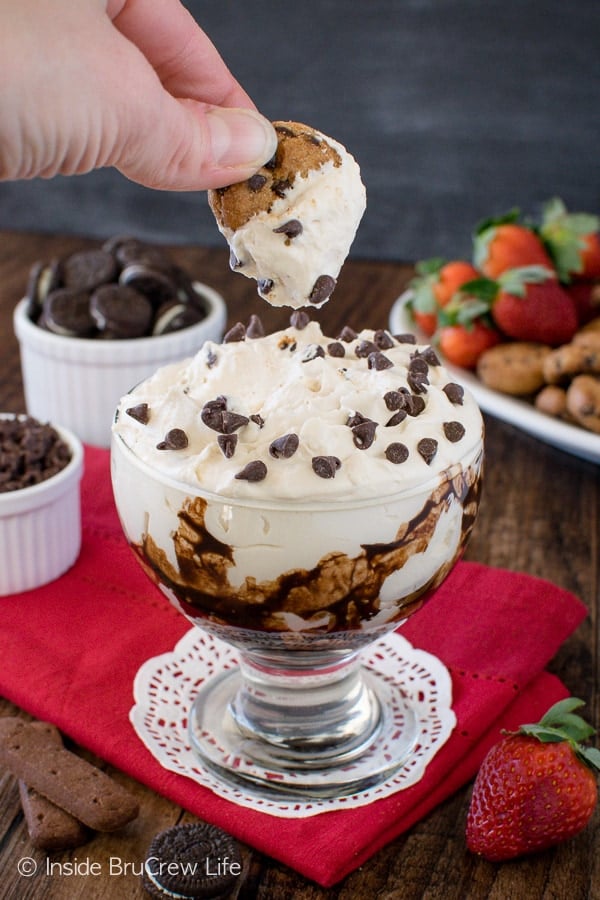 So, what does that have to do with that creamy cup of goodness in front of you? Nothing except that this week along with creating football cookies, I got the urge to make a sweet dip. Usually when that craving hits, this dark chocolate cheesecake dip is my favorite.
But like I said, I usually make whatever I want during the week. This week all I could think about was spiking the dip. Haha! Get it? Spiking the dip while making football cookies. LOL! I crack myself up.
This easy cheesecake dip has all the flavor and liqueur of your favorite drink. I even added chocolate drizzles to the glass to make it look like an actual mudslide. It was too fun! (I even included kid friendly options in the recipe if you want to make it for the whole family.)
Go ahead and make a batch to share with your honey after the kids go to bed. I recommend chocolate chip cookies, mini Oreos, and strawberries for dipping. Although, I totally won't judge you if you decide to use a spoon. I mean, how can I judge when that's the same way I ate it.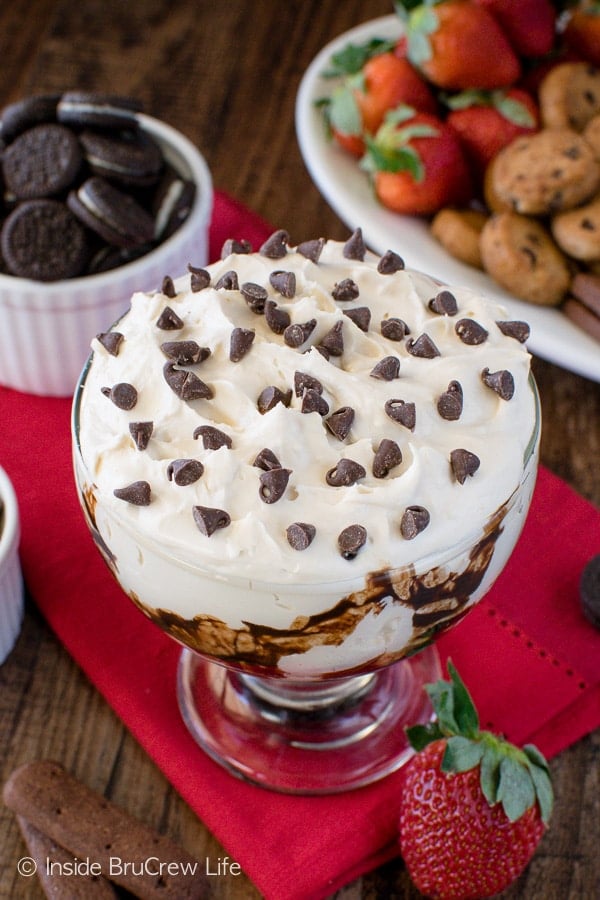 I guess I need to table all the red and pink treats I still want to make because Easter is going to be here before we know it.
Naaaahhh! I still have a red velvet cake, a cherry tart, and pink fudge to create, so stay tuned for more treats you can make for your loved ones! In the meantime, make this mudslide cheesecake dip...you won't regret it!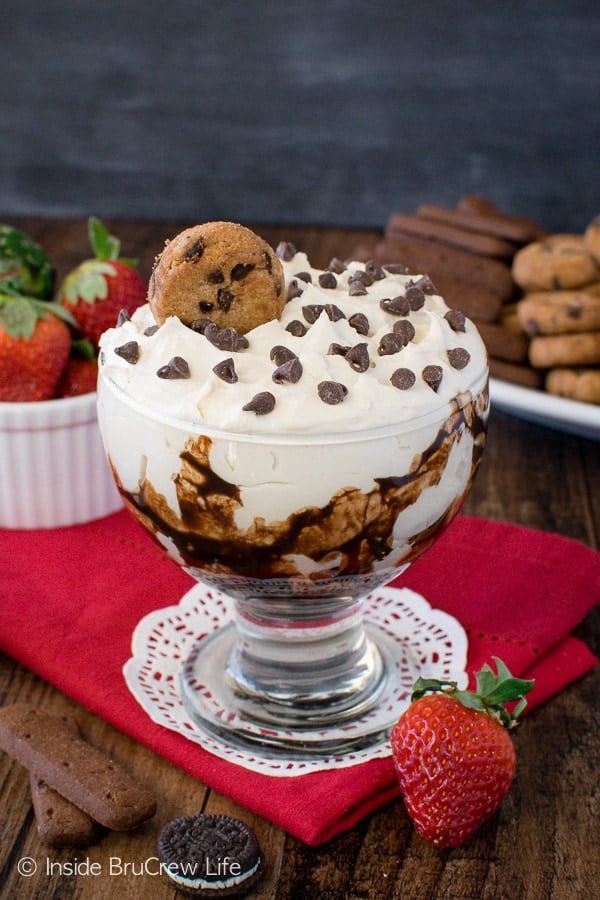 Stay up to date on all the BruCrew baking here:
FACEBOOK | PINTEREST | TWITTER | INSTAGRAM | BLOGLOVIN
Sign up to receive an email in your inbox for each new recipe:
EMAIL SUBSCRIPTION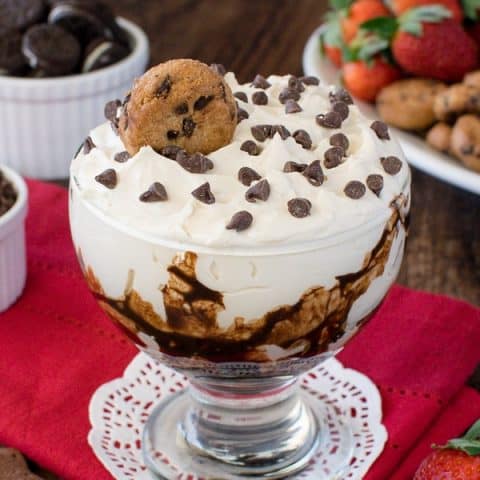 Mudslide Cheesecake Dip
This Mudslide Cheesecake Dip is a delicious dessert to share with your sweetheart after the kids go to bed. The creamy dip tastes delicious when served with cookies or fruit.
Ingredients
1 - 8 ounce package cream cheese, softened
½ cup powdered sugar
2 Tablespoons Irish Cream
2 Tablespoons Kahlua
1 Tablespoon Rum
(optional ideas to make this without alcohol at the bottom)
1 cup Cool Whip, thawed
chocolate syrup
1 Tablespoon mini chocolate chips
Instructions
Beat the cream cheese until creamy. Add the sugar and beat until smooth again.
Pour in the Irish Cream, Kahlua, and Rum. Beat until creamy.
Add the Cool Whip and beat again until creamy.
Drizzle chocolate syrup on the inside of a clear glass dish. Spoon the dip into the dish.
Sprinkle with chocolate chips. Serve with cookies or fruit.
Notes
*Want to make this without the liqueur?
Substitute 2 Tablespoons hot water and 2 teaspoons instant coffee for the Kahlua, 2 Tablespoons chocolate milk for the Irish Cream, and 1 teaspoon rum extract for the rum.
Nutrition Information:
Yield:

6
Serving Size:

1
Amount Per Serving:
Calories:

291
Total Fat:

17g
Saturated Fat:

11g
Trans Fat:

0g
Unsaturated Fat:

4g
Cholesterol:

38mg
Sodium:

128mg
Carbohydrates:

23g
Fiber:

0g
Sugar:

21g
Protein:

3g
More fun dips to enjoy digging into with some cookies and fruit: