Dessert lovers everywhere will love this chocolate dip. With just 4 simple ingredients, you can create an easy treat that will satisfy all your cravings. Grab your favorite fruits, cookies, crackers, or pretzels and dive into the creamy goodness.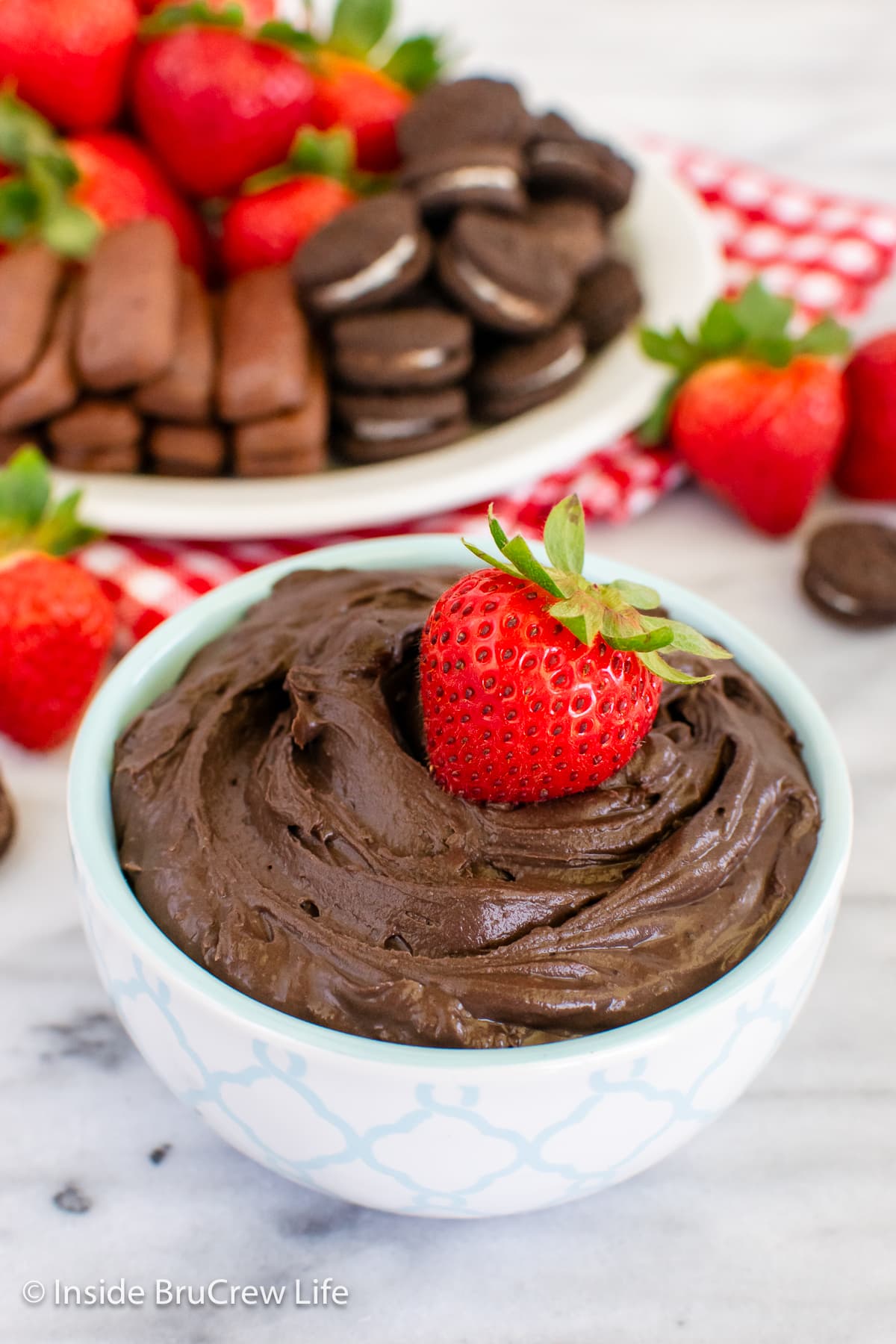 Jump to:
I'm constantly on the lookout for creative ways to add fresh fruit to my day. And let me tell you, fruit dip is a total game-changer. Not only is it super easy to make, but it will satisfy your sweet tooth in a hurry.
Trust me, once you try this mouthwatering hot chocolate dip and refreshing lemon dip, you'll be reaching for more fruit like me.
I recently whipped up the most heavenly dark chocolate fruit dip that has completely stolen my heart. It's perfect for everything from freshly cut fruit to mini chocolate chipper cookies.
Why You Will Love This Chocolate Fruit Dip
This decadent yet easy-to-make chocolate dip will take all your favorite snacks to the next level! Not only is this delicious treat a hit at parties, but it's also the perfect treat when you're craving something sweet.
You can make this sweet dip in just 10 minutes with only 4 simple ingredients.
It's a fun way dip all the things. There's no limit to what you can dunk into the chocolate goodness.
It tastes like chocolate cheesecake. The creamy and smooth texture will have everyone coming back for more.
It's the perfect sweet snack for parties and potlucks. No one can resist a creamy bowl of rich dark chocolate when it's on the dessert table.
Main Ingredients
With just four simple ingredients and a mixer, you can satisfy your sweet cravings in minutes with this chocolate dip recipe.
Cream Cheese - For the best flavor and creamiest texture, use a full-fat variety. Lite cream cheese works too if you are wanting to save a few calories.
Powdered Sugar - Sweetens the mixture and adds stability to the whipping cream as it gets mixed in.
Cocoa Powder - I love using Hershey's dark cocoa powder because it adds such a dark rich color and flavor. Regular cocoa powder is fine too.
Heavy Whipping Cream - Gives the dip a light fluffy texture when mixed in.
How to Make Chocolate Dip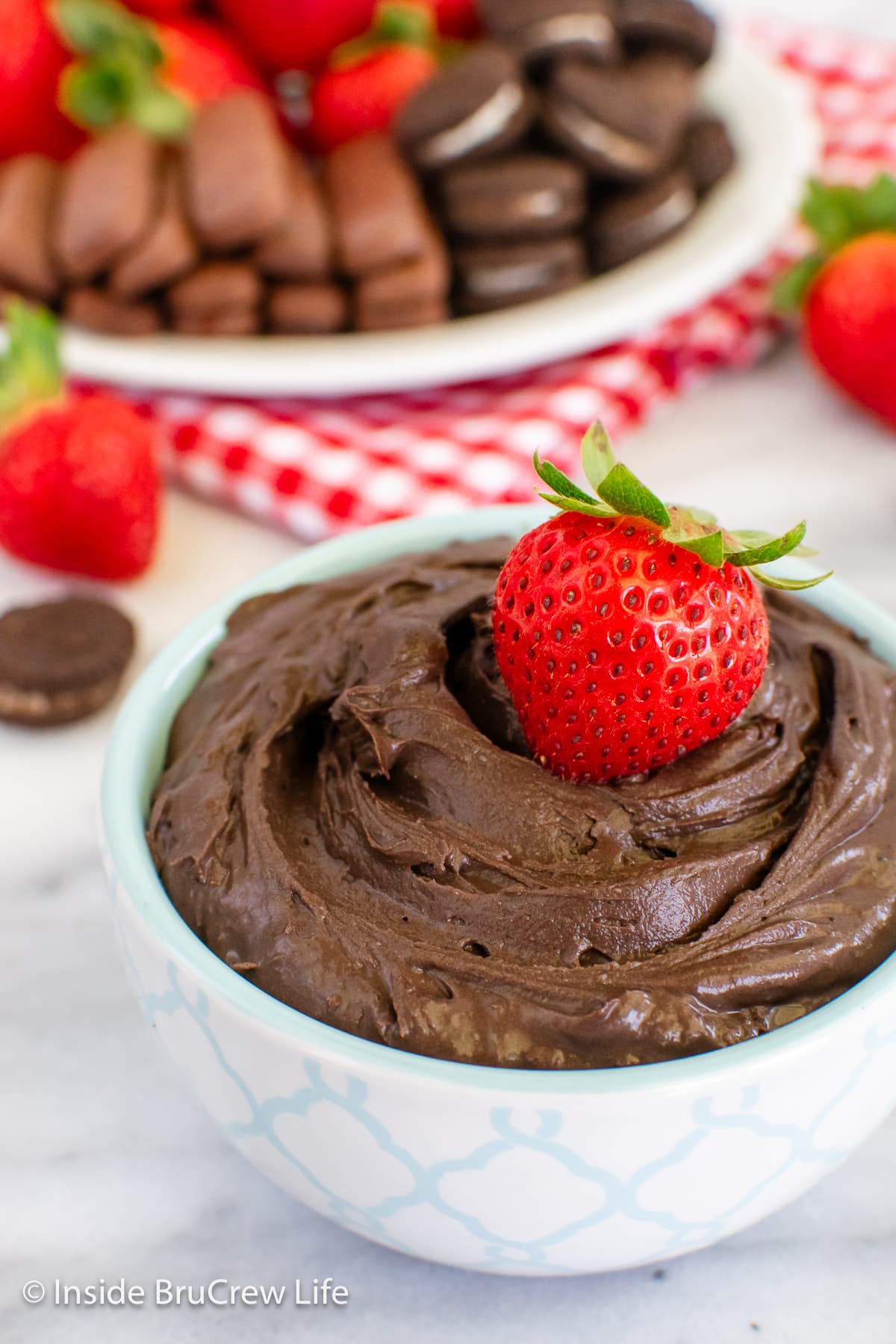 Introducing the easiest chocolate fruit dip you'll ever make! In just 10 minutes, you'll have a deliciously creamy dip ready to enjoy. And trust me, it's so easy to devour - it'll disappear before you know it!
Beat the cream cheese and sugar in a large bowl until smooth and creamy.
Add the cocoa powder and whipping cream and slowly mix until everything is mixed in.
Increase the speed on the mixer and beat until it is light and fluffy.
Refrigerate for one hour to let the flavors develop and come together.
Things to Dip in Chocolate
We love serving this dark chocolate cheesecake dip with a variety of fruits and sweet crackers. Here are more fun ideas for enjoying the chocolate recipe in different ways.
Crackers and Cookies - animal crackers, Nilla wafers, graham crackers, Oreos, Chips Ahoy
Fruit - strawberries, cherries, raspberries, apple slices, bananas,
Pretzels - twists, sticks, thins, waffles, chocolate covered, peppermint bark pretzels
Marshmallows - large or minis
Cake - Angel food cake, vanilla pound cake
Breakfast - cherry waffles, banana pancakes
Storage Recommendation
Keep the cheesecake dip in a covered container in the refrigerator for 3-4 days. Before serving, stir it well to fluff it back up.
Tips and Tricks
Soften the cream cheese. Make sure to set it out ahead of time. It's easier to beat it and mix in the other ingredients when it is soft.
Mix slowly. Avoid mixing on high speed or else the powdered sugar and cocoa will make a mess.
Add extra chocolate. Garnish the dip bowl with mini chocolate chips or chocolate curls.
Make a dessert charcuterie board. Spoon the dip into 2-3 small bowls and place on a large tray. Arrange different fruits, crackers, cookies, marshmallows, and pretzels around the bowls.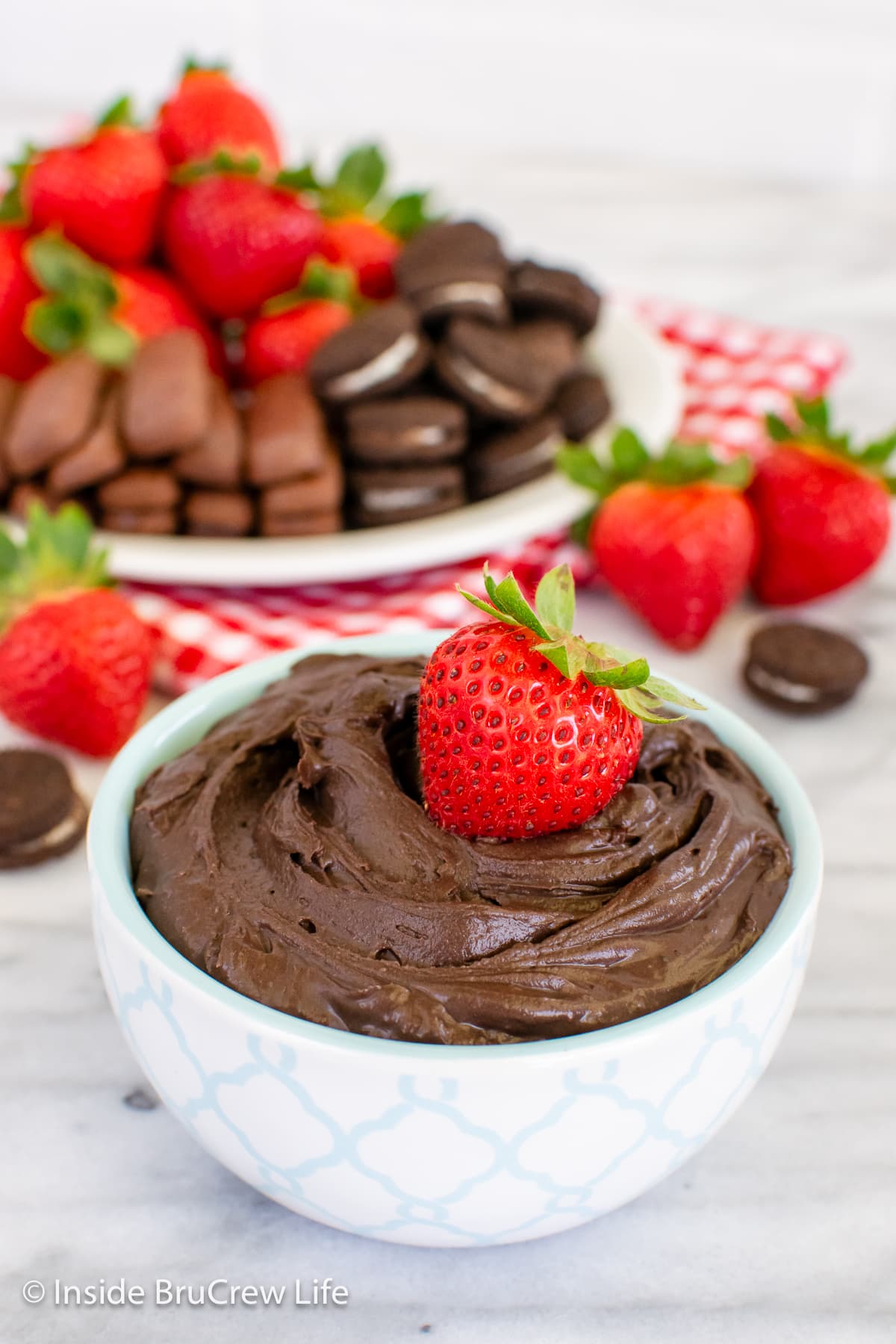 FAQs
Can this fruit dip be made ahead of time?
Yes, you can make it ahead of time and refrigerate it until time to serve. This gives it time to thicken and the flavors to come together better. Store it in a tightly sealed bowl for 1-2 days.
How long will this dip last?
If refrigerated properly, the creamy chocolate dip will last 3-4 days. Stir it well before serving.
What fresh fruit is good for dipping?
There are quite a few fruits that work well with a sweet dip. Some popular choices are bananas, strawberries, apples, pineapple, raspberries, and cherries.
More Dessert Dips
Do you love a recipe you tried from Inside BruCrew Life?
Please leave a 5-star ⭐️ rating and a review in the comments section below.
*This post was first published June 2016. It was updated and republished August 2023.