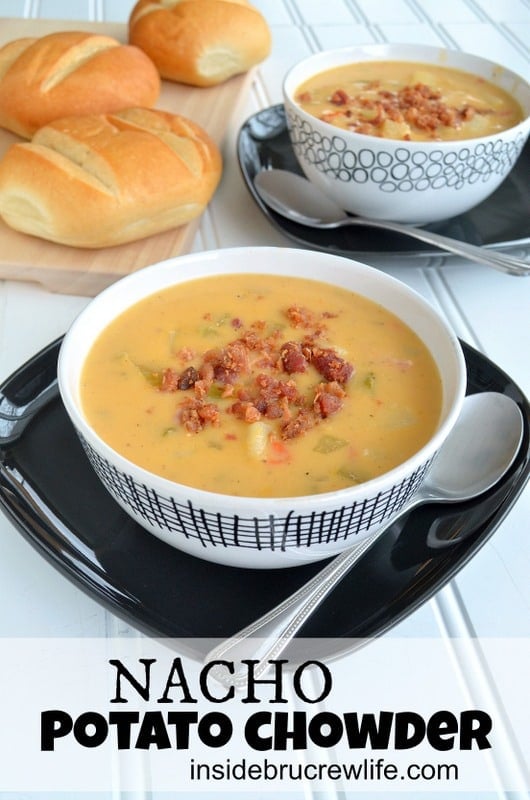 One thing that I could eat every single cold winter night is a bowl of hot soup. I'm not overly picky on what kind of soup. It just has to be one that will warm you up from the inside out.
The other day it was really cold, and I was craving some soup. As I looked through my cupboards, I found a bag of potatoes. That got me thinking about this yummy potato soup that we had for New Year's at my in-laws house.
I really should have gotten the recipe from my father-in-law before we left. I decided to just wing it though. Maybe I am starting to get braver in the dinner department after all.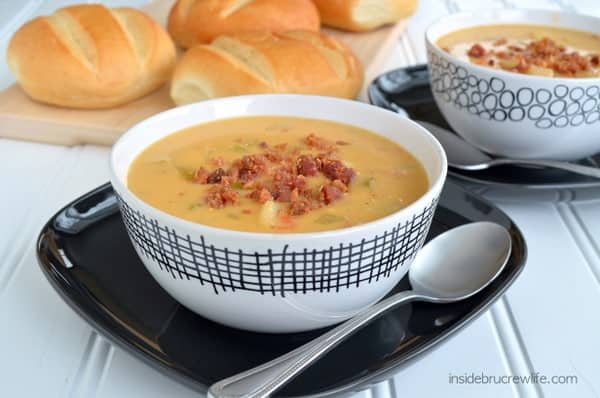 I stopped at the store on the way to pick the kids up from school for a few of the things I didn't have on hand. While I was there I grabbed a bag of cheese for in the soup. As soon as I got home, I started chopping the potatoes and celery.
While I waited for the water to boil, I chopped some ham. It helps to have everything ready to go when you need it. This soup is one that you can have on the dinner table in under 45 minutes. If you prep your veggies earlier in the day, you could be eating even sooner.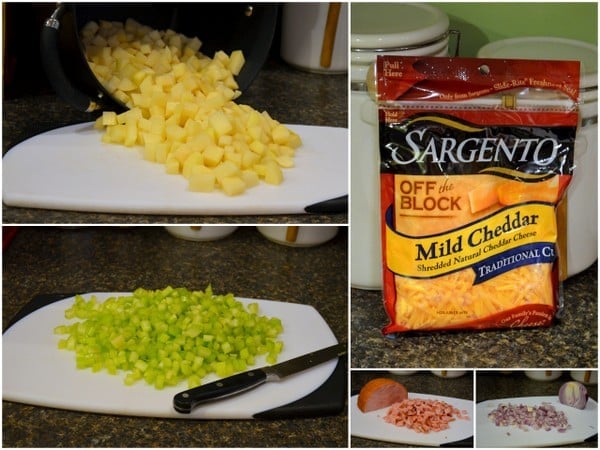 Want to know how I judge my recipe creations? I watch my family's faces as they eat. Another key to a good recipe is if they want seconds. This one was a hit all around. All three kids said it was really, really good. And they wanted more. I would say that is a recipe success for sure.
One thing I enjoyed the most about this soup was that it was not thick and creamy. I am trying to watch what I'm eating, so no extra creams for this soup. It does have the canned soup and the cheese, but I left out the rest of the creamy things. I also loved the little bit of spicy heat the nacho soup gave it.
This soup is perfect for warming you up on a cold winter day!!!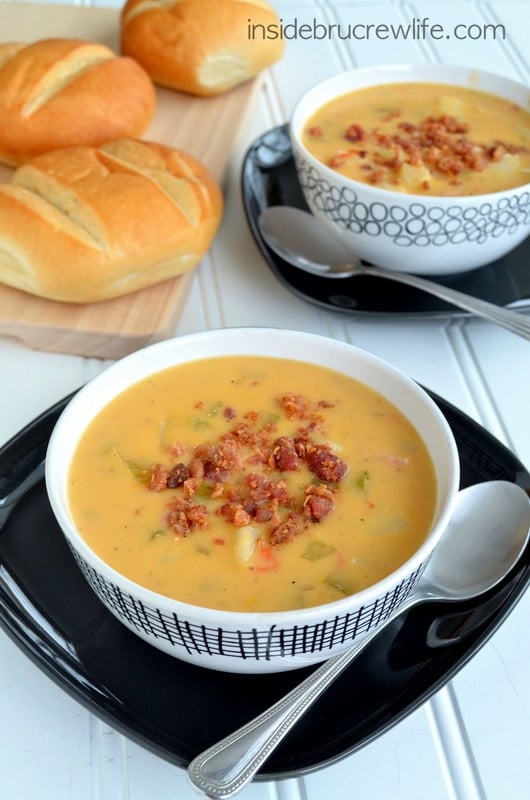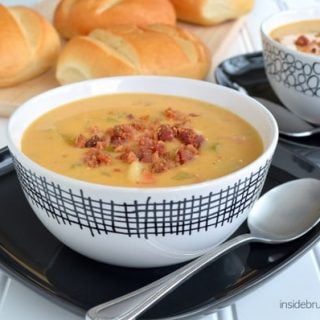 Nacho Potato Chowder
Easy nacho cheese potato soup
Ingredients
4 cups peeled, diced potatoes
2 celery ribs, chopped
¼ cup chopped red onion
1 teaspoon minced garlic
4 cups water
½ teaspoon salt
½ teaspoon pepper
1 - 10 ¾ ounce can fat free cream of mushroom soup
1 - 10 ¾ ounce can nacho cheese soup
1 cup shredded cheese
½ cup chopped ham
¼ cup instant potato flakes
½ cup bacon bits
Instructions
Combine the water, potatoes, celery, onion, and garlic in a large saucepan. Bring to a boil. Simmer until the vegetable are tender.
Stir in the salt, pepper, and two cans of soup.
Add the ham and cheddar cheese and stir until melted and smooth.
Add the potato flakes to thicken it slightly and to add a bit more potato taste. Serve hot.
Top with bacon bits if desired. Makes 8 servings.
Nutrition Information:
Yield:

8
Serving Size:

1
Amount Per Serving:
Calories:

275
Total Fat:

13g
Saturated Fat:

7g
Trans Fat:

0g
Unsaturated Fat:

5g
Cholesterol:

37mg
Sodium:

895mg
Carbohydrates:

27g
Fiber:

3g
Sugar:

3g
Protein:

13g