A creamy chocolate center and tangy whipped cream make these easy No Bake Chocolate Cream Tarts a sweet little treat to share with friends and family.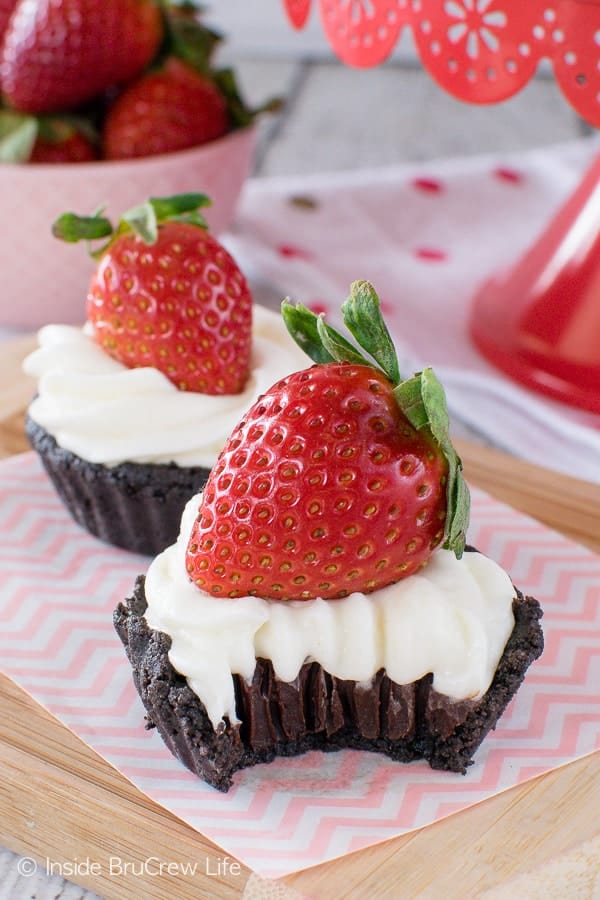 Sometimes I want to spend time in the kitchen baking a crazy chocolate treat. Sometimes I just want chocolate right alway. I have some hidden candy bars in our pantry for those chocolate "emergencies".
Then there are times I want to make (and eat) a chocolate treat that isn't too involved and that isn't just a candy bar.
When that moment hits me I turn to no bake desserts. They give you the satisfaction of a homemade treat in a short amount of time.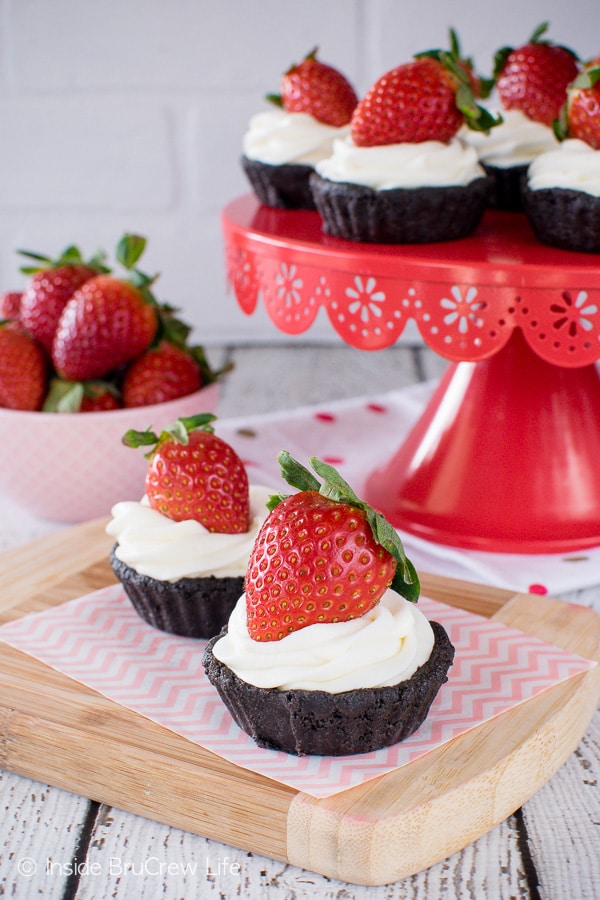 Tarts are so tasty. Some of my favorites are these strawberry tartlets and these no bake s'mores tarts I had made last year. After rummaging through the pantry I came up with the ingredients to make another version because I needed chocolate.
I made the crust and chocolate center the same way using a mini tart pan. But since it is almost Valentine's Day I decided to add a creamy cheesecake whipped cream to the top.
Actually, I made frosting for the first try. But after one bite, my teeth were cringing from sugar shock.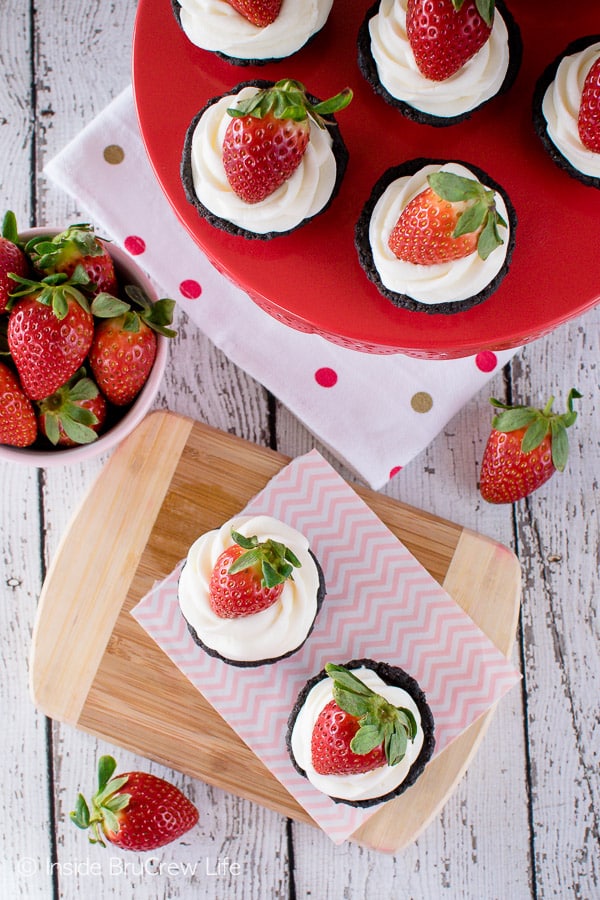 I haven't come across many things that I would deem too sweet in life. My motto is usually "the sweeter, the better"!
But...something about the combo of cookie crust, chocolate, and frosting made me rethink the topping in a hurry.
It needed to be a little tangier because I needed to balance the sugar out. But it also needed to be light and fluffy, but sturdy enough to hold a whole strawberry.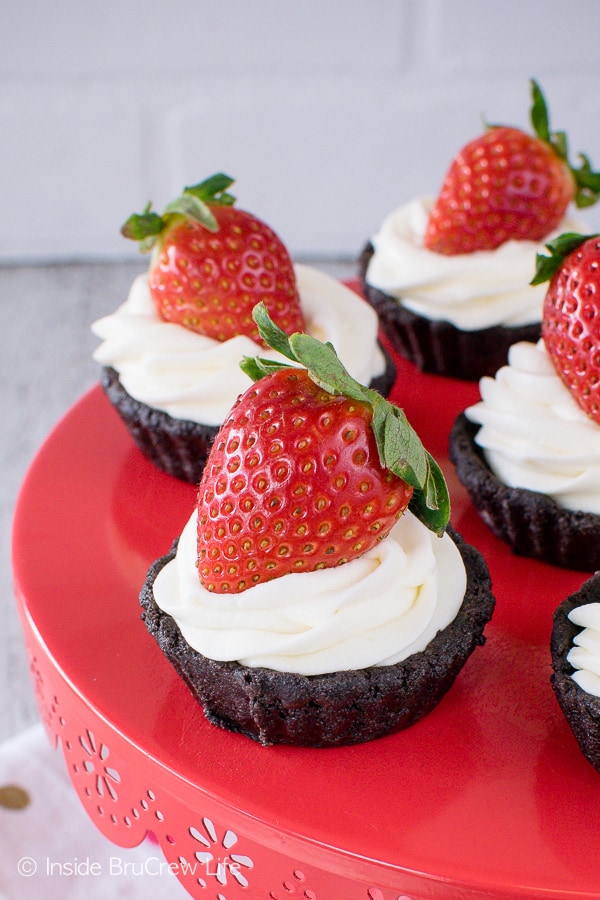 By adding cream cheese to whipped cream I achieved both my goals for the cream topping. The cream cheese kept it from being sweet and made it strong enough to hold the fruit.
Now if you are extra ambitious with these no bake chocolate cream tarts, you could slice your strawberries into little hearts. Wouldn't that make these the cutest treats for your sweets?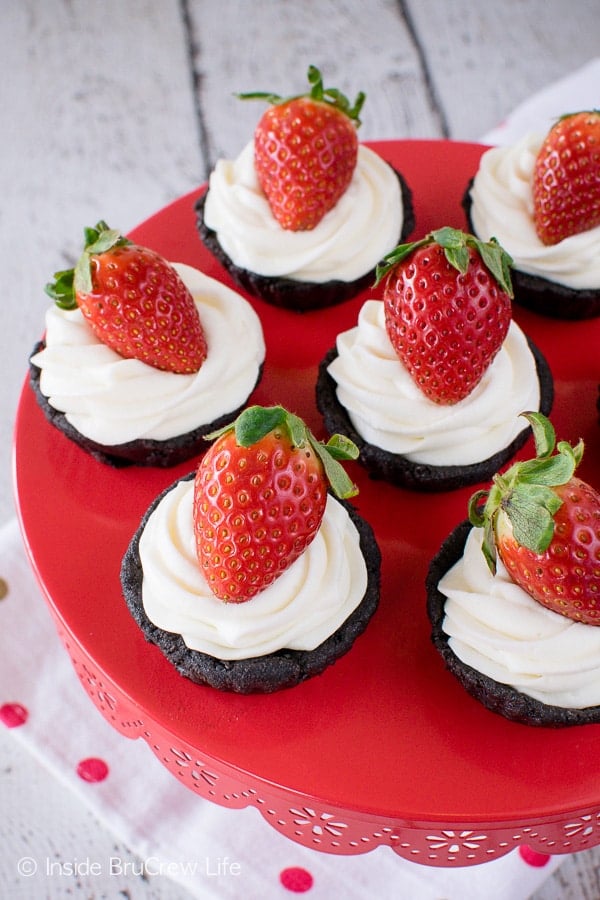 *This post contains an affiliate link. Inside BruCrew Life may receive a small percentage from sales made through these free links. As always, these do not cost you any extra. Thank you for letting us share products with you this way.