This easy Mini S'mores Pie is loaded with chocolate, marshmallow, and Oreo cookies. They are the perfect no bake treat when you need a sweet fix in a hurry.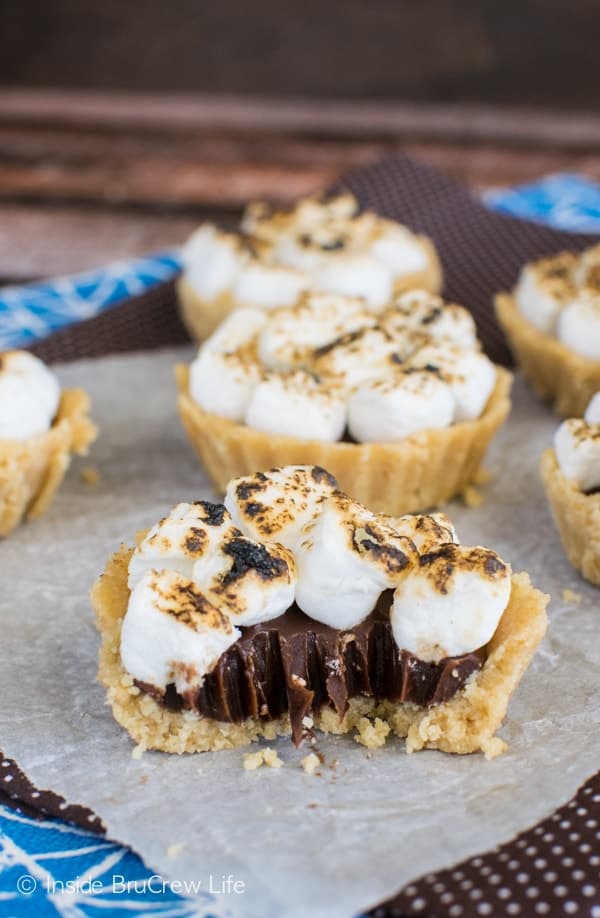 S'mores Pie
Woo hoo! It's national pie day! Time to get a pie and do a face plant, right? Oh, wait...I've got the wrong day. It's actually PI day...without the E! The day that all math freaks go nuts over!
But since I don't get all excited over numbers and accounting, and because my brain thinks crust and fillings when I here the word "PI", I'm going to go with celebrating with a dessert pie today!
Anyway, I realized that I haven't made a s'mores treat in a while, so I grabbed some Golden Oreos, chocolate chips, and marshmallows and my favorite mini tart pan. Ever since I made this cookies and cream fudge tart, I have been wanting to make another tiny version similar to the size of these strawberry tartlets.
A mini S'mores Pie is the easiest treat to make when you are craving something sweet.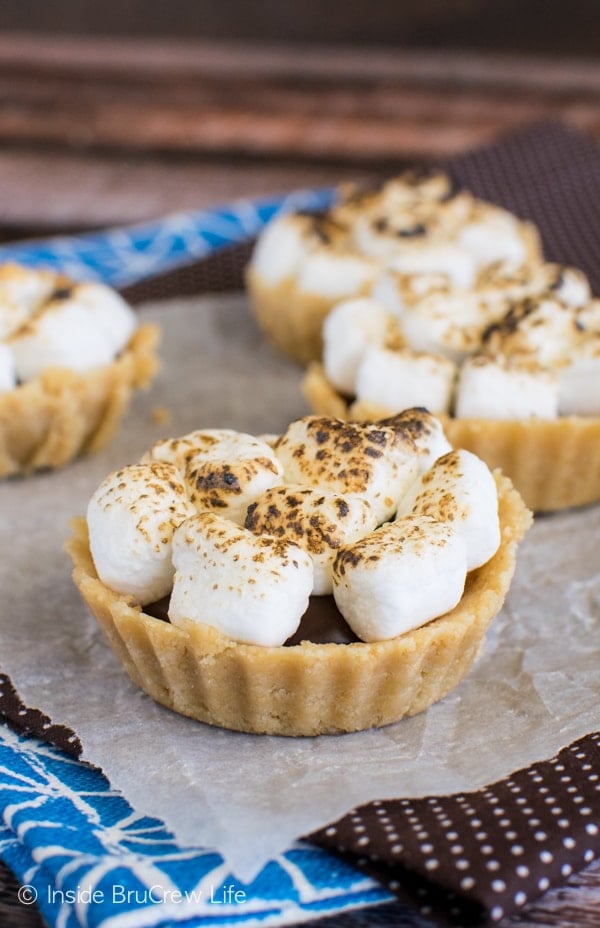 Of course, when you realize at 3 in the afternoon that you want to make a pie, photograph said pie, and then edit pie photos, you are limited on what kind of pie you can actually make. #foodbloggerproblems
Into my pantry I went to stare at the shelves and shelves of baking items trying to find something that could be made in just minutes. Yes, most of the shelves in our pantry are designated to my baking addiction.
My husband goes in there and just laughs because he says I have serious issues because we have 5 full shelves of sweets and one little cupboard of real food. Ok, he's probably right. But, hey, what can I say? I like to bake.
What You'll Need
Crust - Golden Oreo cookies and melted butter
Chocolate Filling - heavy whipping cream, chocolate chips
Topping - mini marshmallows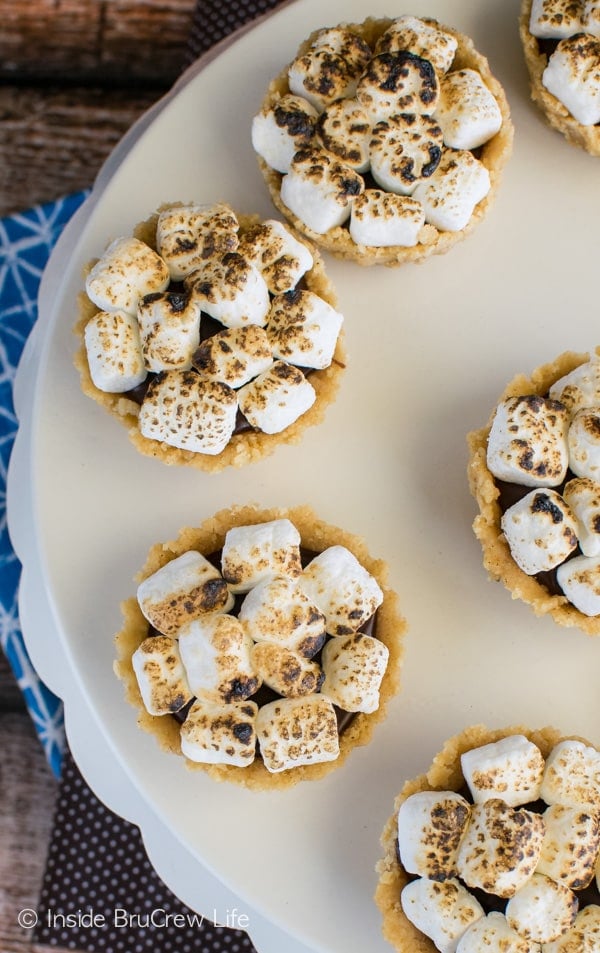 I also have been looking for more reasons to use our kitchen torch. We just got one in the last month, and I am having so much fun burning things in the kitchen!
How to make Mini S'mores Pie
Step One: Oreo Cookie Crust
Crush Oreos and stir in butter.
Press firmly in mini tart pan.
Freeze for 10 minutes.
Step Two: Chocolate Filling
Place whipping cream and chocolate chips in microwave safe bowl.
Heat 30 seconds. Stir until melted and creamy.
Spoon evenly into crusts.
Step Three: Topping
Top each pie with mini marshmallows.
Use a kitchen torch to give it a toasted look and flavor.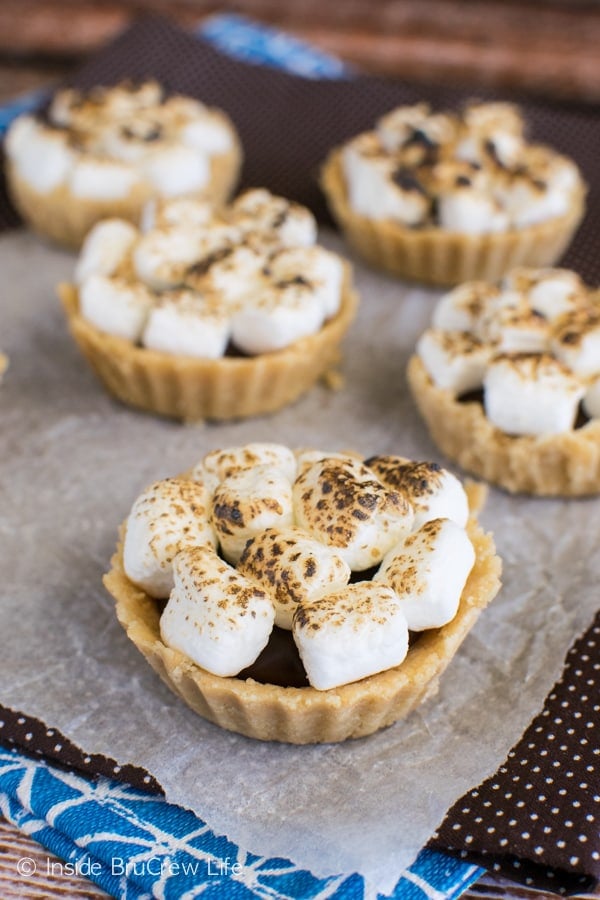 Of course, now that I'm staring at these cute little bites, I realize that I should have added a cute little Hershey bar to the top of each one. I'm sure there has to be some chocolate bars in the pantry, right? There is always next time for that though.
My kiddos were super excited about these no bake s'mores tarts. Our fridge is loaded with about 6 different types of cheesecakes at the moment, and they are going gaga for this no bake goodie. I guess I need to keep it simple more often...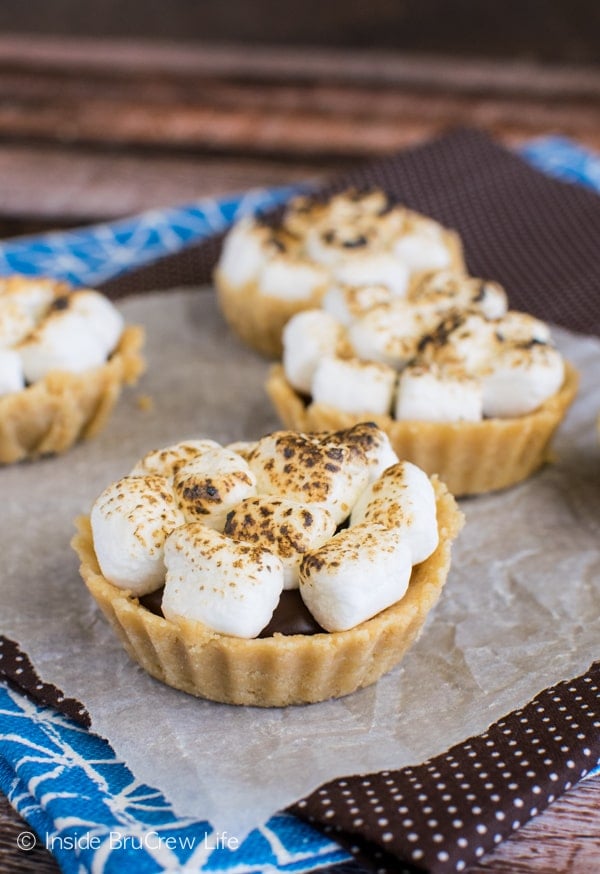 More fun S'mores Desserts