These creamy No Bake Rainbow Unicorn Cheesecake Bars are loaded with colored marshmallows and topped with sprinkles. It's the perfect spring dessert for any party or celebration!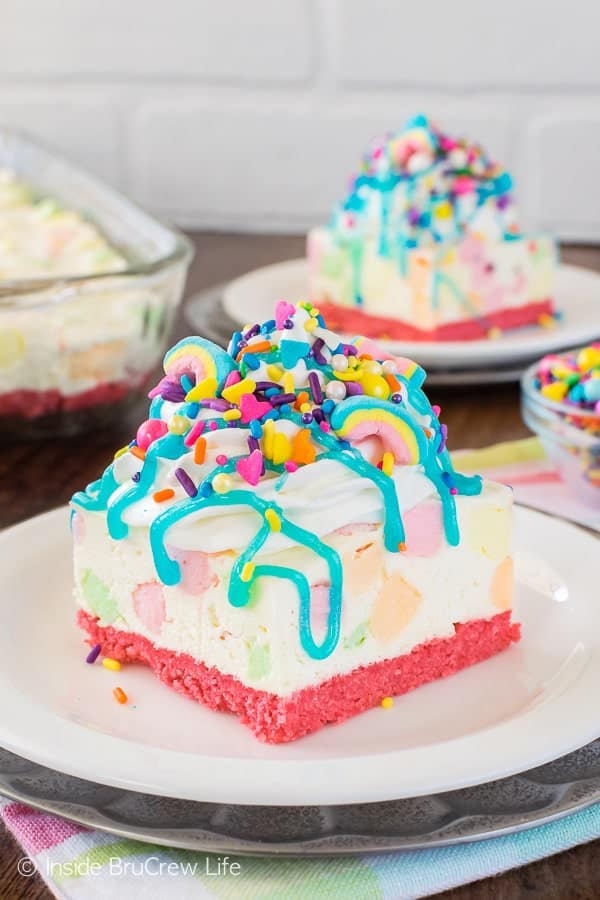 This past weekend our daughter had a few friends over. Of course, I had to have some sweet treats ready for the sleepover. This crazy colorful cheesecake idea has been in my head for some time now.
With 4 teenage girls in the house, I knew it had to happen ASAP. Of course, a pan of Homemade Chocolate Chip Brownies was a must as well.
As I threw a ton of colored marshmallows and sprinkles on these easy cheesecake bars, I was instantly transported back in time to my 7th grade year. The year when all things neon and Lisa Frank were super popular.
I can vividly remember shopping at Deb and buying neon pink and yellow shirts for the start of the new school year! Who am I kidding? I just bought a shirt the other day with neon colors on it. Apparently, I'm still a 12 year old!
I have to admit that I was grinning ear to ear as I put together this cheesecake for pictures. The bright colors in every layer made me so very happy!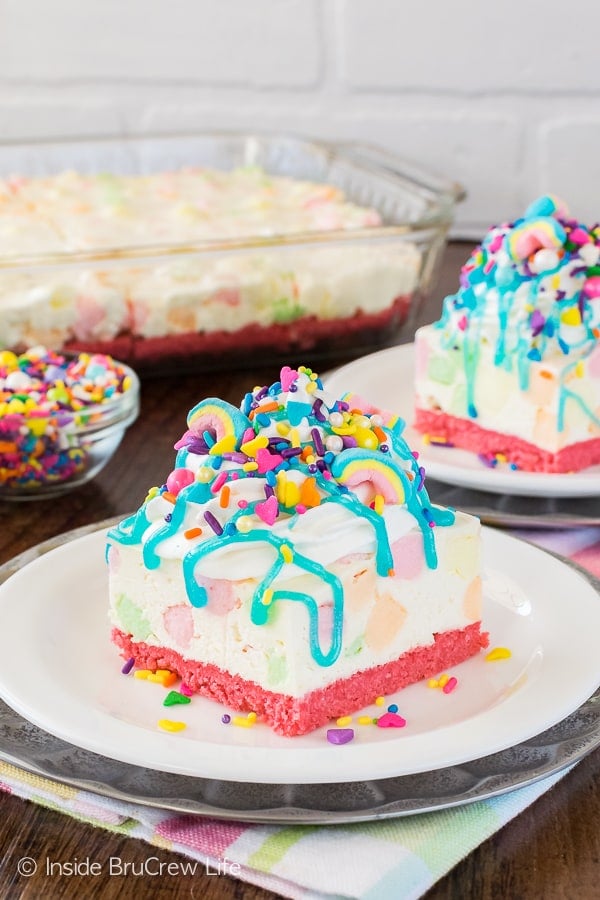 I realize that I'm a little behind on the whole rainbow and unicorn dessert trend. I've never been one to jump on a trend right at the beginning. Usually I have to see how it plays out, and if I really want to invest any time in it.
Although, a few years ago I did make these Rainbow Vanilla Cheesecake Bars, so maybe I was really just ahead of the trend this time.
Since unicorn desserts seem to be all the rage right now, I have had some ideas swirling around in my head for a fun cheesecake! This time I wanted it to be a no bake version because those are so much easier and faster to put together.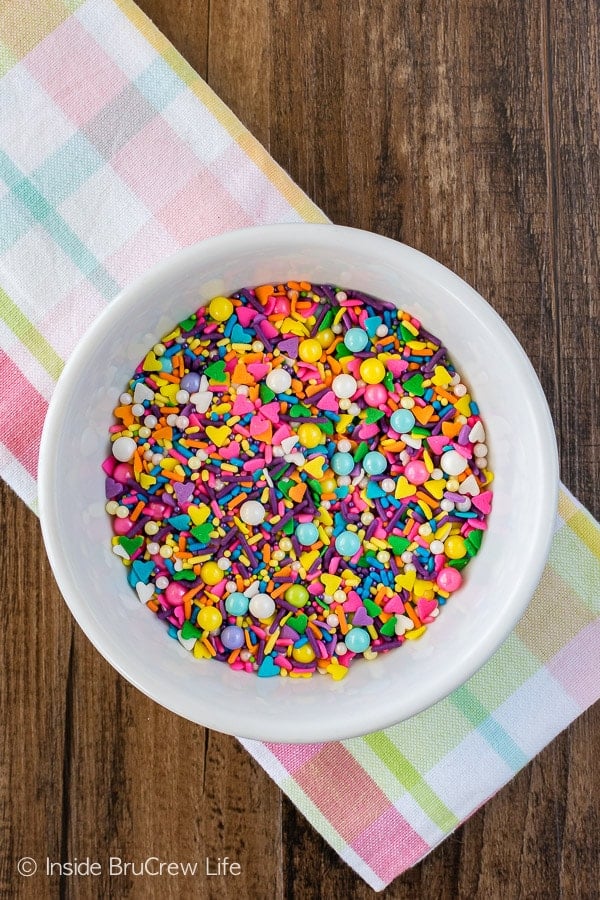 With any dessert that has the words rainbow and unicorn in it, there had to be sprinkles. Lots of them. In every bright color.
My pantry has a long spice rack on the back of the door, and over the past year I have filled it up with all sorts of sprinkles and spices.
So, I went through the rack and pulled out every bright color of sprinkle that I have ever bought. Then I took one or two tablespoons of each one and made one awesome unicorn dessert sprinkle mix!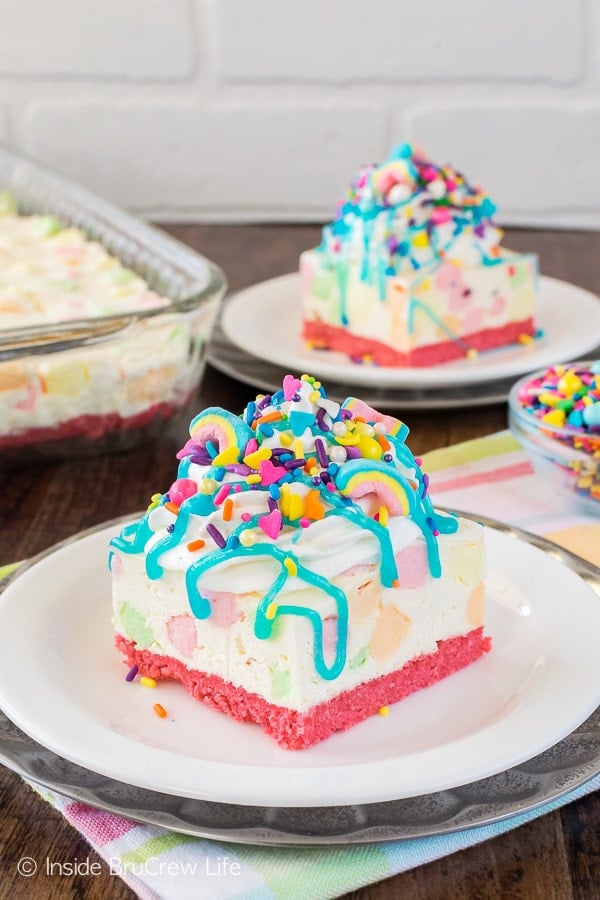 How to make No Bake Rainbow Unicorn Cheesecake Bars:
For the crust, you are going to crush pink wafer cookies into dust and then mix them with butter. The bright pink cookie makes such a fun crust for a unicorn dessert.
Make sure you set your cream cheese out ahead of time. It really does make it easier to beat the mixture together if the cream cheese is soft. If you forget, no biggie. Just take off the foil wrapping and microwave it for about 20-30 seconds.
Beat in the sugar and extracts until the cream cheese is very creamy. For these bars I knew I was going to be adding a bunch of fruity marshmallows, so I did a combination of vanilla, orange, and lemon extracts. Those three work so well together to make this a light flavored dessert.
Fold in some Cool Whip. Yes, you could use homemade whipped cream if you wanted to. But I happen to have a love for that creamy white stuff, so I use it regularly.
Stir in lots of colored marshmallows and spread the mixture on top of the crust. This cheesecake does need some time in the refrigerator because it needs to firm up and the marshmallows need to soften up. I realize that makes no sense, but just trust me on it.
The last step to this crazy dessert is to add more Cool Whip, bright blue sparkly frosting, and a huge handful of sprinkles! Then step back and dissolve into giggles because this is seriously the most fun dessert ever!!!
Of course, I'm on a rainbow and sprinkle kick right now, so I can't wait to make these Unicorn Baked Strawberry Donuts for breakfast.
And then these Rainbow Chocolate Chip Cookies filled with a batch of this bright colored Unicorn Ice Cream for dessert! Hello, color goodness!!!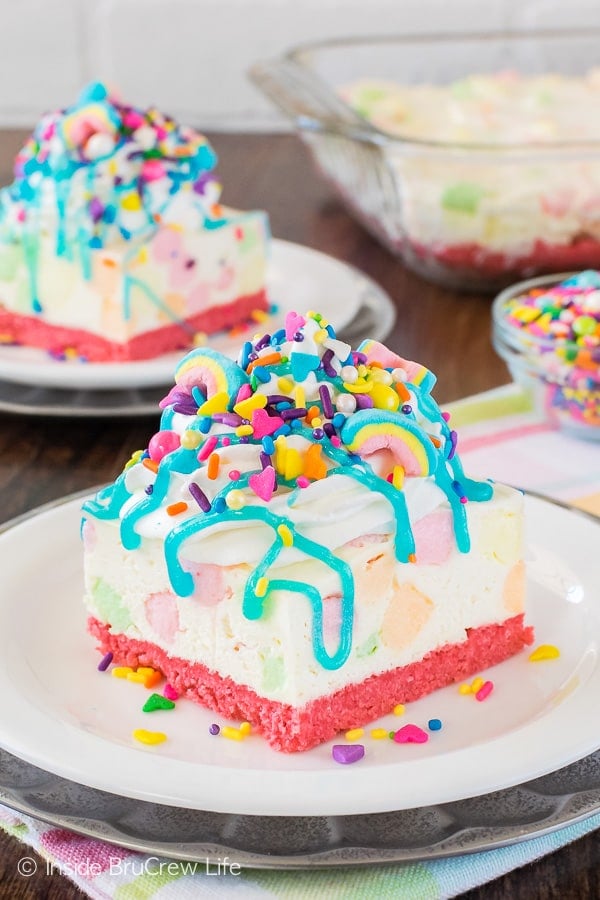 CLICK HERE TO PIN THIS RECIPE FOR LATER!