Tired of boring desserts? Brighten up the dessert table with these easy Rainbow Cheesecake Bars. They have a swirl of bright tie dye colors on top making it the perfect dessert any time of year. It is an easy cheesecake recipe to customize for any theme or holiday by changing the colors.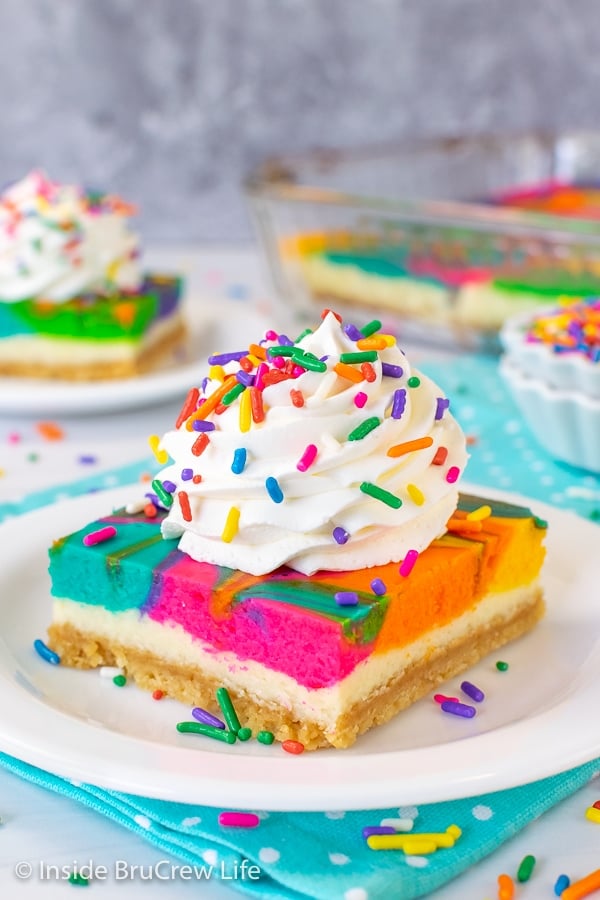 Spring has definitely arrived here in Florida. Flowers are blooming, and the weather has been getting warmer during the day. I love going to stores and seeing all the pretty plants that you can plant in your own yards.
I have been trying to acquire a green thumb by planting more flowers and plants outside. Over the years I have learned to avoid the inside plants because those tend to die way too quickly on my watch.
So far, only a few outdoor plants have decided to pass on living in my flower beds. A few others were nibbled on by the deer, so I'm not taking credit for their deaths.
It's probably better if I stick to being a baker and making cheesecake bars instead of trying to be a gardener. These fun vanilla cheesecake recipe was inspired by all the flowers that I want to plant.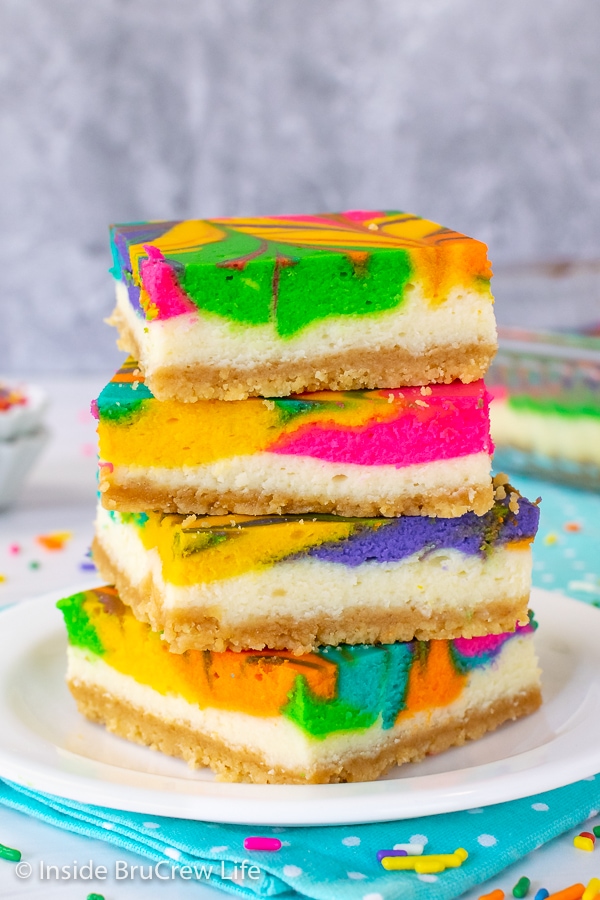 Cheesecake Bars
Cheesecake is one of those treats that you have to have patience with. You can't just dive into it as soon as it finishes baking. There is cooling time on the counter, and then more cooling time in the refrigerator.
If you are baking these rainbow cheesecake recipe, make sure to add the cooling time into your plans. Luckily, cheesecake bars cool a lot faster than a full sized cheesecake.
Ingredients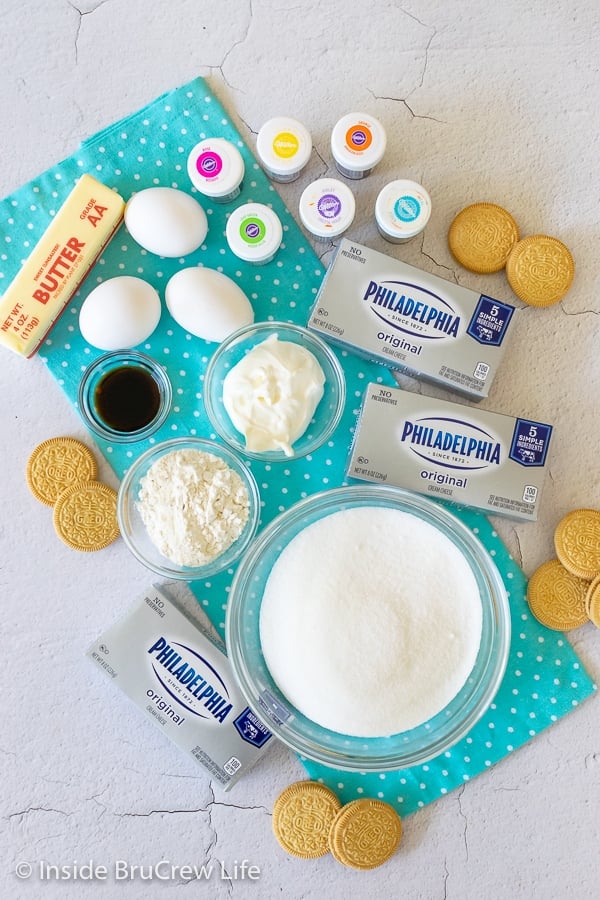 These bright colored cheesecake bars are the perfect dessert to make for spring or Easter.
Cream Cheese - Set the blocks out an hour or two ahead of time, so they are easier to beat into the sugar.
Sugar - Granulated sugar helps to break down the cream cheese into a creamy texture and sweeten the dessert bars.
Vanilla Extract - adds the vanilla flavor to the batter. You can also use vanilla bean paste instead of extract if you like seeing the vanilla bean flecks in your cheesecake.
Flour - A little bit of flour adds some structure to the cheesecake and keep it from cracking.
Sour Cream - Gives the vanilla cheesecake a little bit of tang like a New York style cheesecake.
Eggs - Adding eggs gives cheesecake a creamy and smooth texture. Avoid over beating once you add the eggs because it can add air bubble to the batter and cause it to crack when baking.
These vanilla tie dye cheesecake bars are baked on a vanilla cookie crust. Leave the filling in the cookies when you crush the Oreo cookies into crumbs. The cream filling helps the crumbs stick together, so you can use less butter.
How to make Rainbow Cheesecake Bars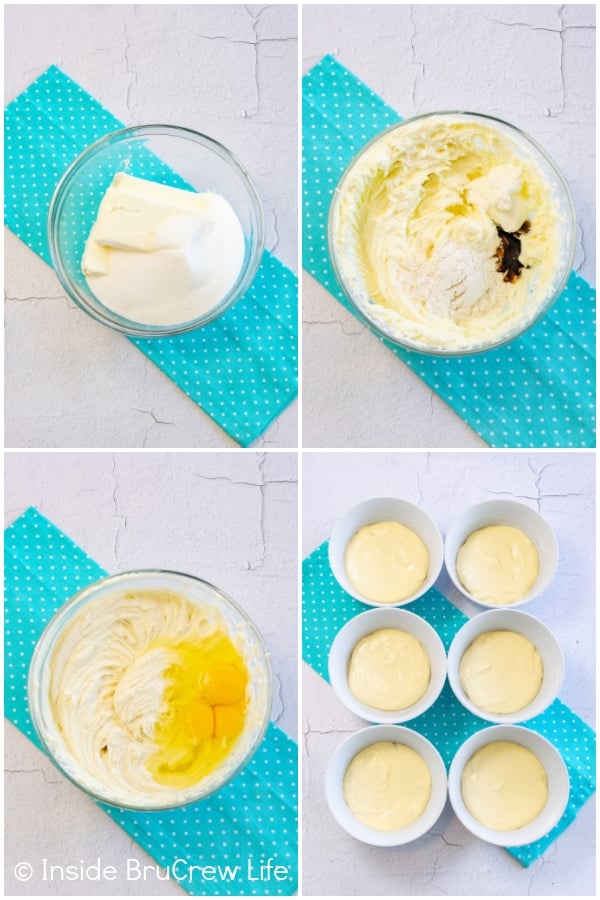 Step One: Make the Crust.
Crush the cookies and stir in the butter.
Press the cookie crumbs into a foil lined pan and bake. Foil is optional, but it does make it easier to lift the bars out later before cutting them.
Step Two: Make the Cheesecake Batter.
Beat the cream cheese and sugar until creamy.
Add the flour, sour cream, and vanilla and beat again.
Gently beat in eggs until just mixed in.
Place 3 cups of batter into 6 bowls. (½ cup in each)
Pour the remaining batter on top of the cooled cookie crust.
Step Three: Choose colors.
Choose how many colors you want to swirl on top of your tie dye cheesecake. You can do as many or as few colors as you want.
Color the bowls of cheesecake batter with different food coloring. Wilton gel colors are great because they do not add extra liquid to the cheesecake batter. They are available at craft supply stores like Michaels or Hobby Lobby in the cake decorating aisle.
Drop the colors randomly by spoonful onto the batter already in the pan.
Use a butter knife to very carefully swirl the colors together. Keep the knife at the top of the batter, so it doesn't mess with the vanilla layer underneath.
BRUCREW TIP: Use this fun technique to make seasonal cheesecake bars for every holiday. These Red White and Blue Cheesecake Bars are a fun variation for the 4th of July.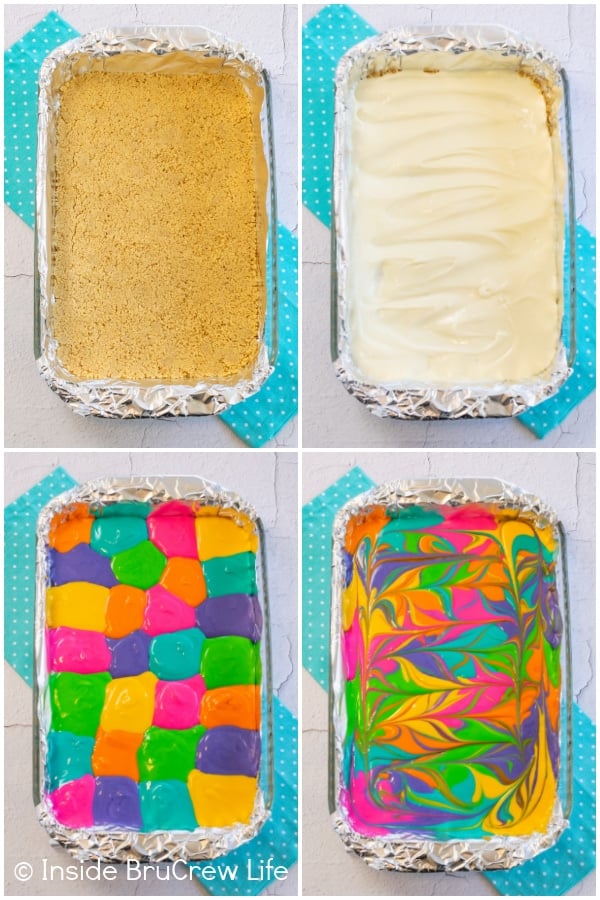 Step Four: Bake
Place the pan of cheesecake on an oven rack above a steaming pan of hot water. The water helps to add moisture and steam to the air inside the oven, so the cheesecake will bake up creamy.
Once it is done baking, remove and place on a wire rack for 1-2 hours to cool.
Cover and place in the refrigerator for a few hours to chill through.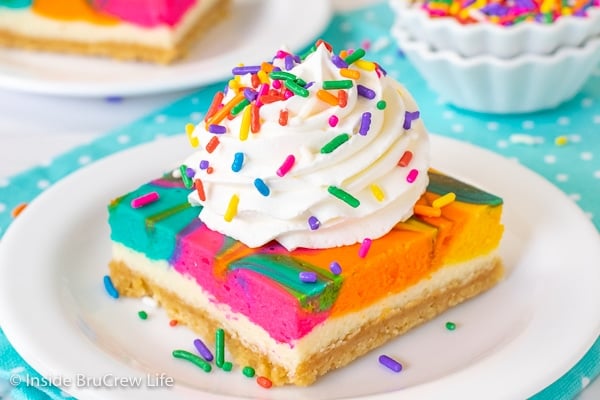 Tips and Tricks
How do you tell if cheesecake is done?
The secret is in the jiggle test. Gently shake the pan and watch for the wiggle. Cheesecake should be set on the outside and the center should jiggle slightly. It should remind you of a pan of Jello because it should jiggle as a whole.
How do you store cheesecake?
You will want to cover and wrap the cheesecake tightly in the refrigerator. This will prevent the cheesecake from drying out and from absorbing odors from the fridge.
Can I make cheesecake bars ahead of time?
Yes, cheesecake is a great dessert to make in advance. It can be made and covered up to 3 days earlier. You can also make it weeks ahead of time and freeze it. Defrost the frozen cheesecake in the fridge 24 hours before serving.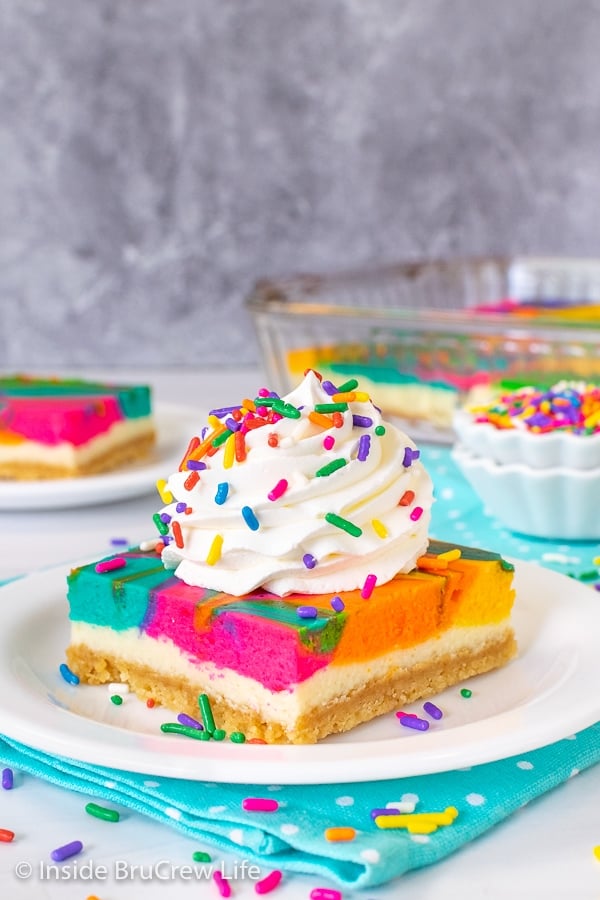 More Cheesecake Bars
Do you love a recipe you tried from Inside BruCrew Life?
Please leave a 5-star ⭐️ rating and a review in the comments section below.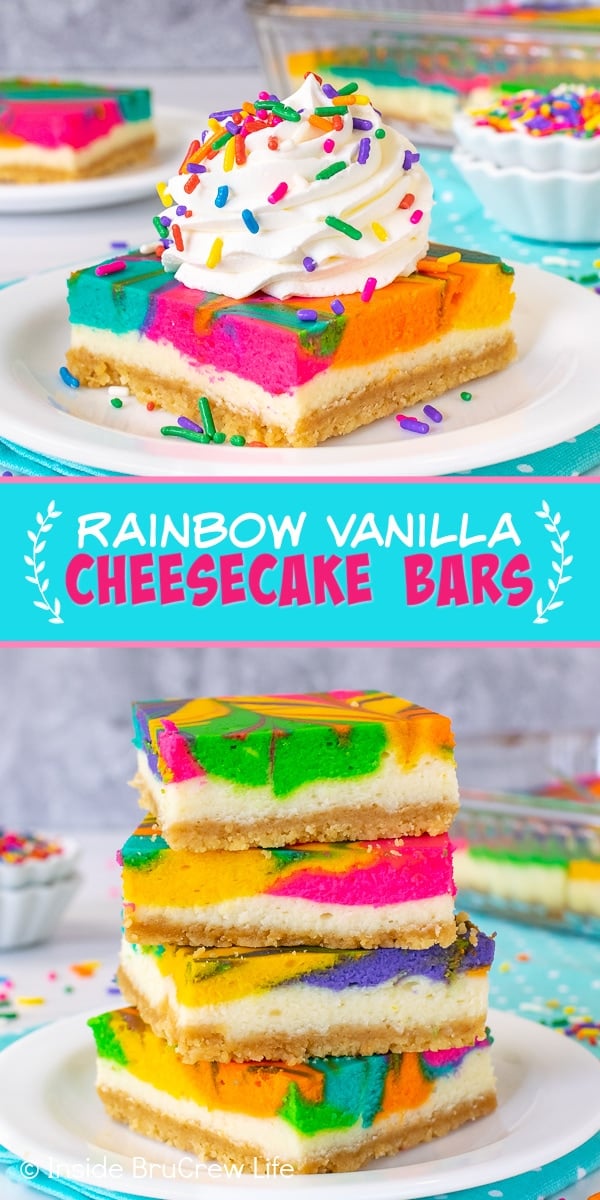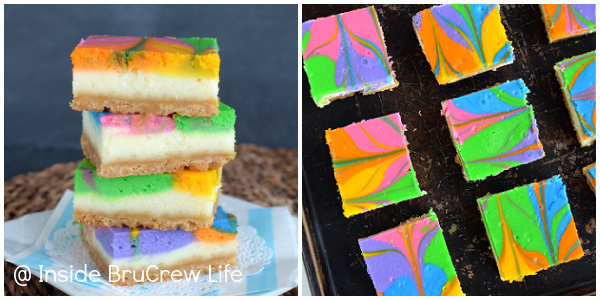 (original photos from 2014)
*The post for Rainbow Vanilla Cheesecake Bars was first published April 8, 2014. The post, photos, and recipe was updated and republished March 9, 2021.