Vanilla Cheesecake Bars with a swirl of rainbow colors is a perfect dessert to serve for any party or event.  It is easy to customize it to any theme.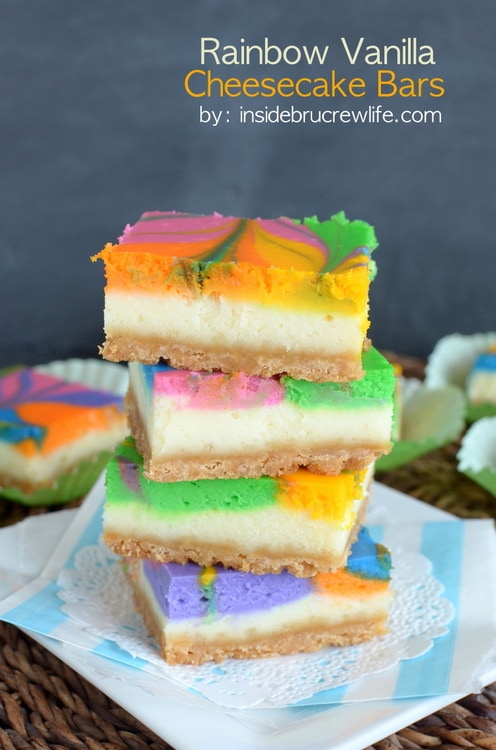 This past weekend we did some spring cleaning around the house and in the backyard.  My husband and the kids worked outside cleaning up sticks, leaves, and junk.  My job was the inside of the house.  I just had to do a regular cleaning to get ready for our life group.
Have you ever noticed how easy it is to get distracted when you are supposed to be cleaning?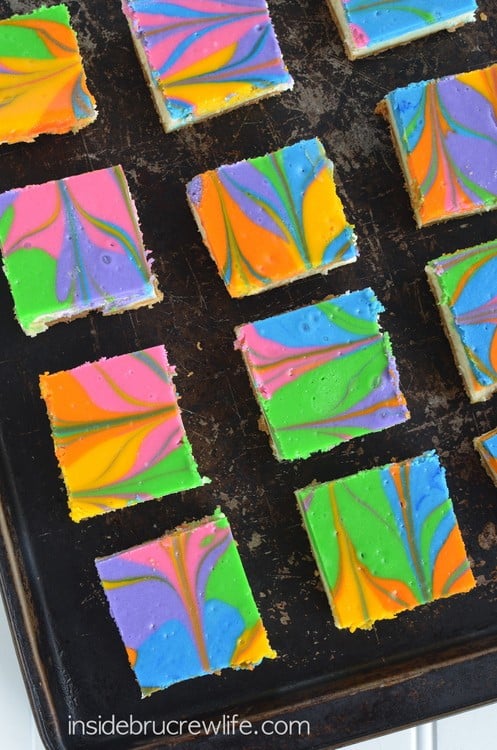 I picked up a pile of magazines and immediately started flipping through a few of them checking out some pictures and recipes.  10 minutes later I realized that I wasn't cleaning anymore.
Then I carried a pile of papers to the office, and I remembered I didn't have my pictures edited for the next day.  So, I pulled up the file on the computer and did a little bit on that.  20 minutes later.  Oh, yeah, I need to dust and vacuum.   But first I needed a cup of coffee.  Just a quick browse on my phone while the coffee is brewing.  Gotta check out my mail and FB!
Time for the bathrooms.  But before I get to that maybe I should work ahead and edit some pictures for the following week.  Another 20 minutes and finally time to work on the bathroom.  Wait, I need to answer that text.  And check my mail.  And FB.  Maybe a little Pinterest too while I'm at it.
Yeah, it's pretty easy to see how distracted I get when cleaning.  It's probably a good thing I don't run a cleaning business 🙂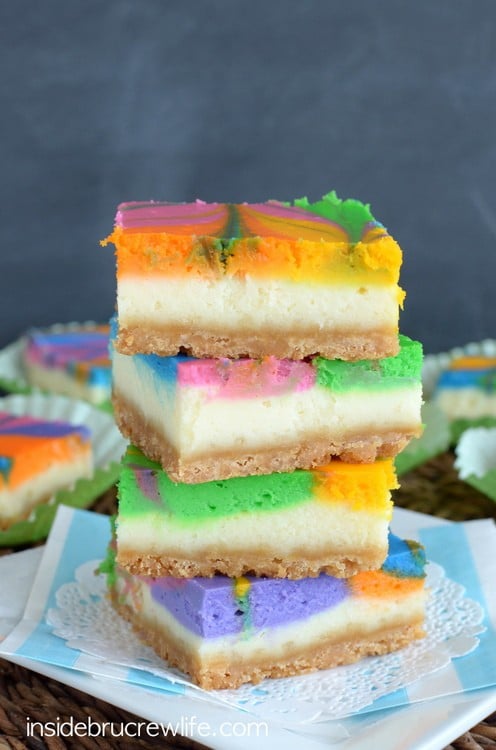 Since I will be sticking to my day job of making drool worthy desserts and dinners for you, can I distract you for a little bit with these fun, colorful cheesecake bars?
These bars are just a basic vanilla cheesecake baked on a vanilla cookie crust.  Go ahead and leave the filling in the cookies when you crush them into crumbs.  The cream filling helps the crumbs stick together, and you can skip the butter in the crust.  Gotta love saving extra calories.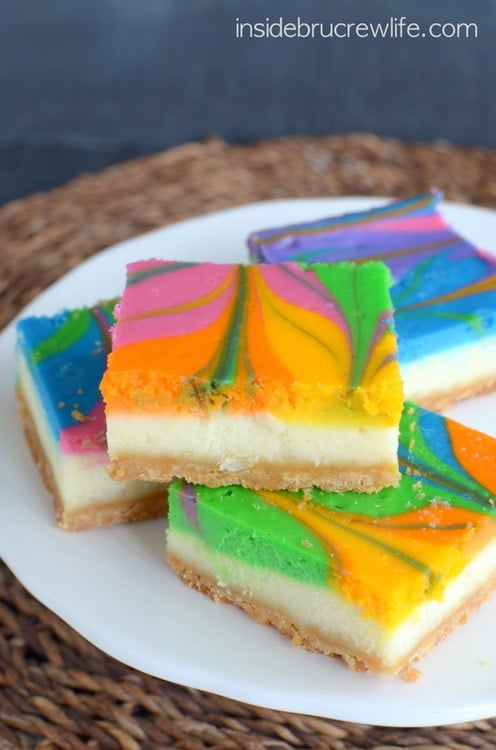 After you mix up your cheesecake batter, spoon half the batter onto the prepared crust.  Now choose how many colors you want to swirl on top of your cheesecake.  You can do as many or as little colors as you want.  I did 6 colors to make a rainbow effect.
Divide that remaining batter into bowls and color them with food coloring.  I like using Wilton gel colors because it doesn't add extra liquid into the treats I'm baking.  Those are available at most craft supply stores like Michaels or Hobby Lobby.  You can find them in the cake decorating aisle.  Just be careful because you can get distracted by all the other fun baking things they carry.  I'm speaking from experience here!
Drop the colors randomly by spoonful onto the batter already in the pan.  Use a butter knife to very carefully swirl the colors together.  Try to keep the knife at the top of the batter, so it doesn't mess with the vanilla layer underneath.  Time to go in the oven.
Cheesecake is one of those treats that you have to have patience with.  You can't just dive into it as soon as it finishes baking.  There is cooling time on the counter, and then more cooling time in the refrigerator.  Make sure to add that cooling time into your baking plans.
You could always do some cleaning while the cheesecake cools.  Or read a magazine.  Or surf FB and Pinterest.  That's usually where you will find me 🙂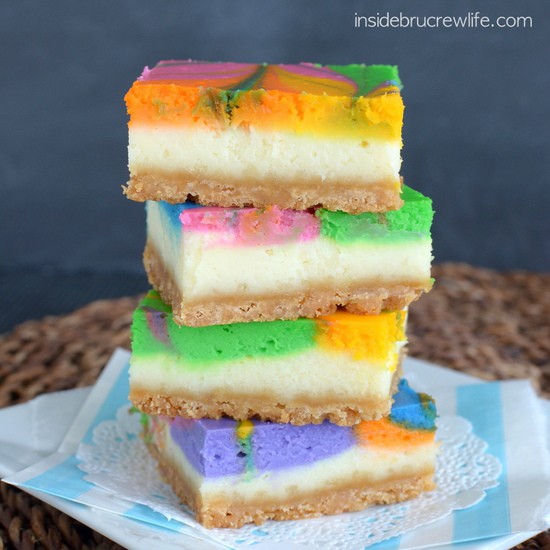 Stay up to date on all the BruCrew baking here:
FACEBOOK | PINTEREST | GOOGLE+ | TWITTER | INSTAGRAM | BLOGLOVIN
Yield: 24 cheesecake squares
Rainbow Vanilla Cheesecake Bars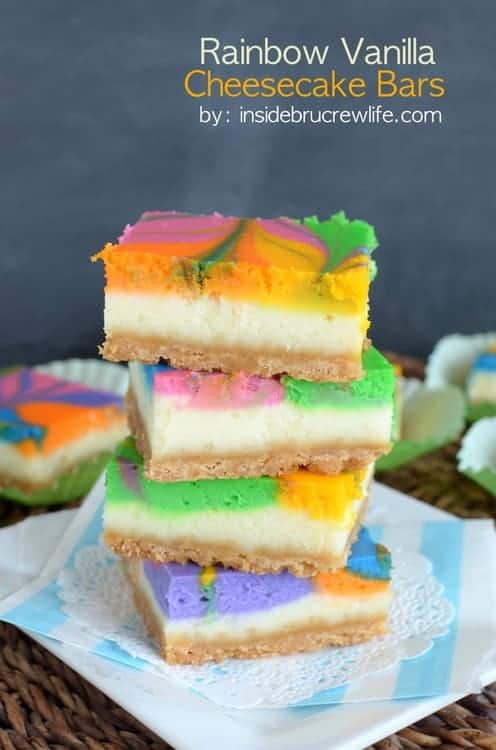 Vanilla cookies and vanilla cheesecake gets a fun twist from the rainbow swirl of colors on top. Change out the colors to customize it for any party or event.
Total Time
1 hour
10 minutes
Ingredients
30 Vanilla cream filled cookies
3 - 8 ounce packages cream cheese, softened
1 1/2 cups sugar
3 eggs
3 Tablespoons sour cream
1 1/2 teaspoons vanilla extract
3 Tablespoons flour
6 gel food colorings
Instructions
Preheat oven to 325 degrees. Place a large sheet pan on the bottom rack of the oven and fill with water.
Spray a 9x13 pan with nonstick baking spray.
Crush the cookies (with the filling still in them) into fine crumbs. Press into the bottom of the prepared pan.
Beat the cream cheese and sugar until creamy.
Add the eggs, sour cream, vanilla, and flour and beat again. Spoon half the batter onto the prepared crust.
Divide the remaining batter evenly into 6 bowls. Color the batter with the food colorings until the color you desire is achieved.
Spoon the colored batter onto the plain batter in a random pattern. Use a knife to swirl gently. Do not over swirl or put the knife in too far.
Bake for 40-45 minutes. Let cool 2 hours on the counter. Refrigerate 4-6 hours or until completely chilled. Store leftovers in a sealed container in the refrigerator.
Notes
*Feel free to make these cheesecake bars without the colors if you like.
Recommended Products
As an Amazon Associate and member of other affiliate programs, I earn from qualifying purchases.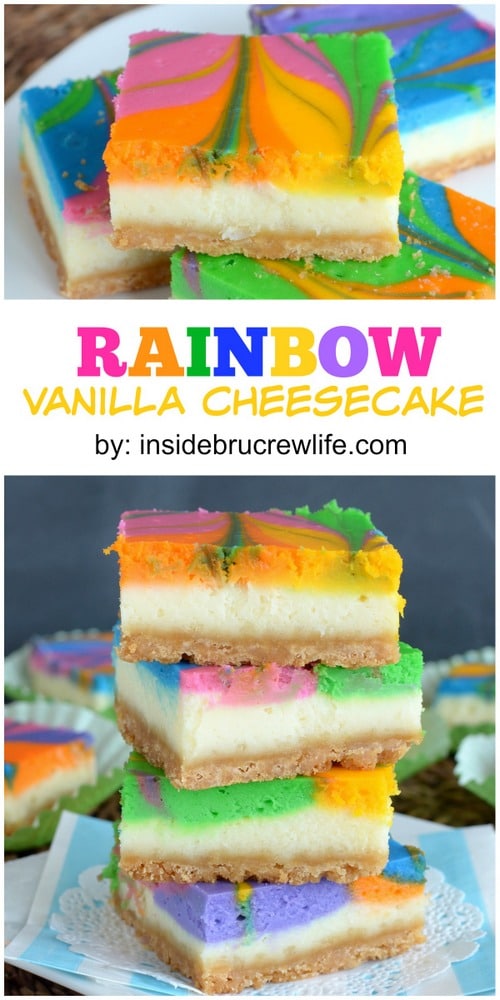 More fun and delicious cheesecake recipes for you to enjoy: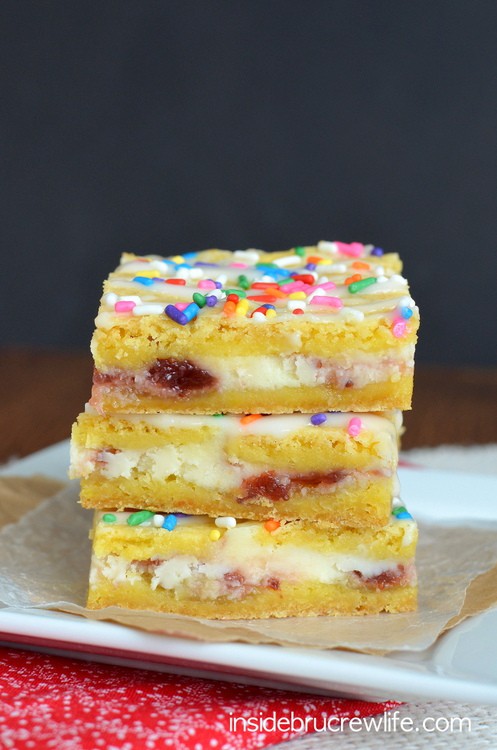 Strawberry Cheesecake Lemon Bars