Adding extra cookie chunks and candies make these Nutter Butter Reese's Pieces Cookies a fun treat to find in the cookie jar.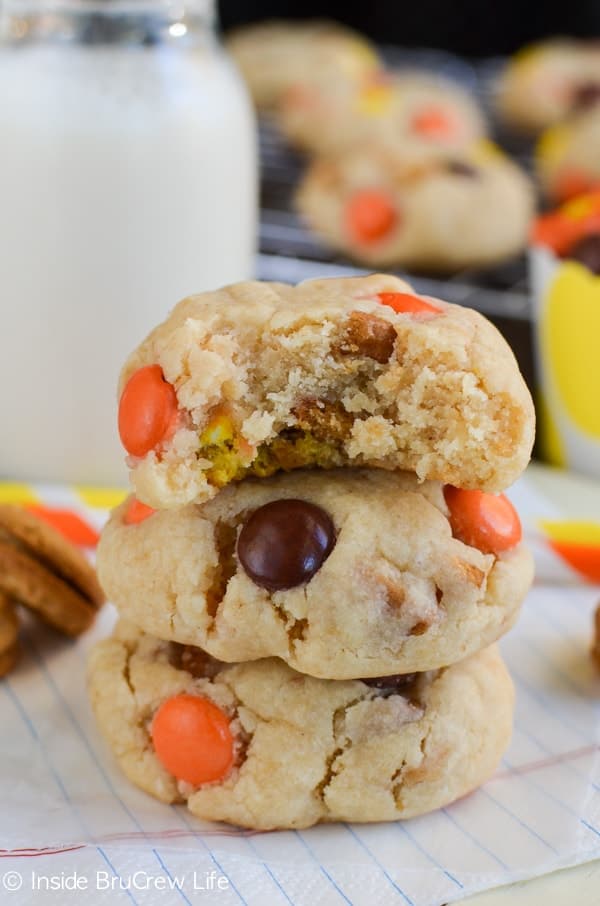 I don't know about your summer, but here in the midwest we are experiencing quite the chilly summer.  Usually our summer's are spent chilling out at the pool trying to not sweat to death.  Instead of sweating we are pulling out jeans and sweatshirts because it has only been 70 degrees.
Not that I mind too terribly because fall is my favorite season of the year.  It just makes it hard for the kids who are trying to enjoy summer and want to go to the pool every day.  The frugal side of me doesn't like to pay for swimming when it is so chilly.  I mean they aren't going to enjoy it that much or stay in that long, so why pay for it.  So "what are you doing?" and "can you play with me?" have become the questions we hear all day every day.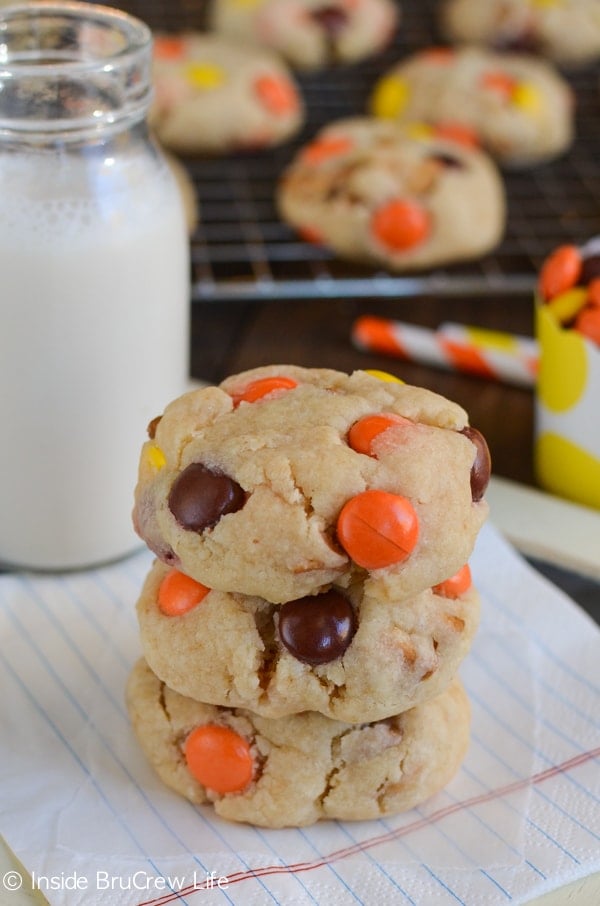 Speaking of fall, anyone realize there are only like 5 weeks of summer vacation left?  That's seriously crazy!  I feel like school just ended, but it's actually going to be starting up again soon.  Not that I'm counting down the days or anything.  LOL!  I haven't…yet.
But I have thought about things to pack in lunches.  Cookies are always a must make every week, so I'm always looking for fun ways to change up the cookie look. Actually I'm always finding new ways to hide things inside cookies.  Biting into caramel cookies and finding a candy bar is always a fun surprise.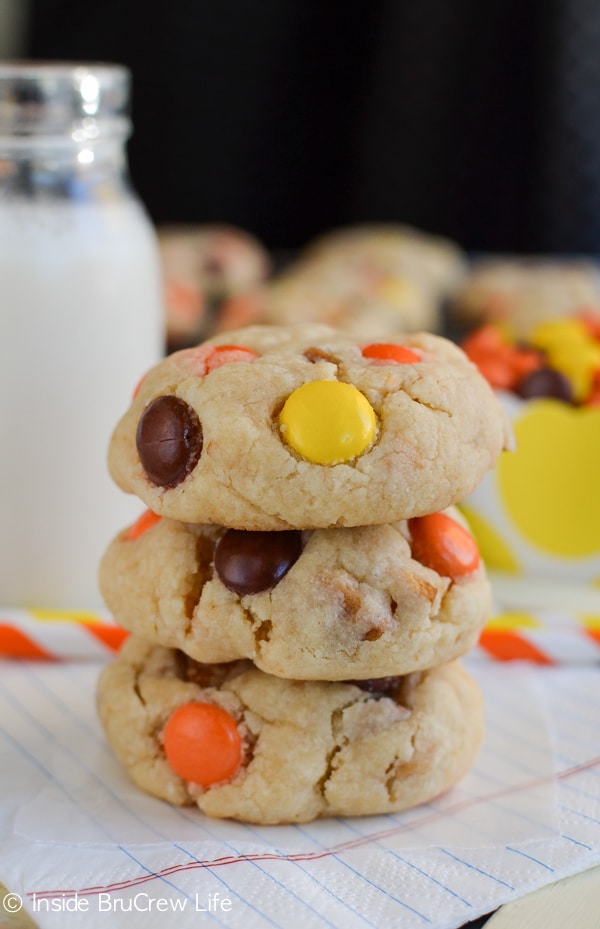 Confession…I buy cookies to hide inside cookies.  It's what I do.  My family knows if there is a pack of cookies under the left side of the cupboard, it is off limits.  Of course that didn't stop the teenager from opening a box of cookies that was in there. I guess he had noticed it had been in there for 2 months without moving and thought it was fair game.
These cookies are one of my favorite easy treats.  They start with a basic cake mix, but after all the "extras" we add, they are not going to be very cake like.  A few ingredients added to the mix, makes a delicious soft cookie that is a springboard for lots of fun. I found Nutter Butters and Reese's Pieces hanging out in my baking cupboard, so those got stirred into the cookie dough.
What extras would you add to your cookies?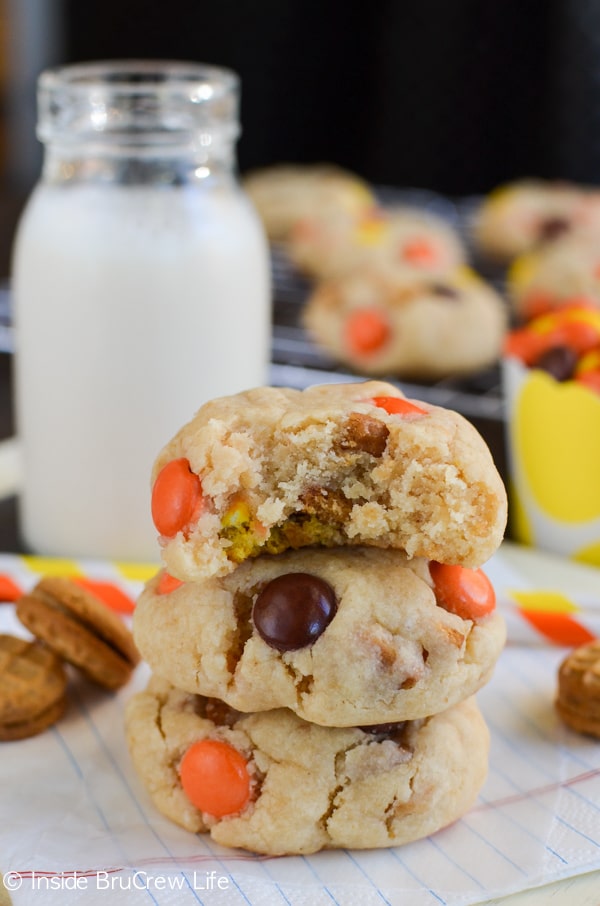 Stay up to date on all the BruCrew baking here:
FACEBOOK | PINTEREST | GOOGLE+ | TWITTER | INSTAGRAM | BLOGLOVIN
 Sign up to receive an email in your inbox for each new recipe:
EMAIL SUBSCRIPTION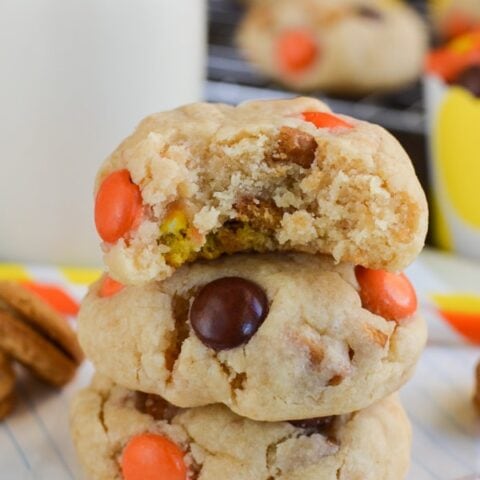 Nutter Butter Reese's Pieces Cookies
Nutter Butter cookies and Reese's Pieces add a fun taste and texture to these easy peanut butter cookies. These cookies stay soft for days.
Ingredients
1 vanilla cake mix
8 Tablespoons butter, melted
1 egg
1/4 cup peanut butter
4 ounces cream cheese, softened
1 cup Nutter Butter cookie chunks
1 cup Reese's Pieces, divided
Instructions
Beat together the cake mix, butter, egg, peanut butter, and cream cheese until a soft dough forms.
Stir in the cookie chunks and 3/4 cup candies gently. Chill the dough for 30 minutes to an hour.
Roll into 24 balls. Press the remaining candies into the tops of the cookies. Place on a cookie sheet and bake at 350 degrees for 9-10 minutes. Do not over bake. Cool on the cookie sheet for 2-3 minutes before removing to a wire rack to cool completely. Store in a sealed container. Makes 24 cookies.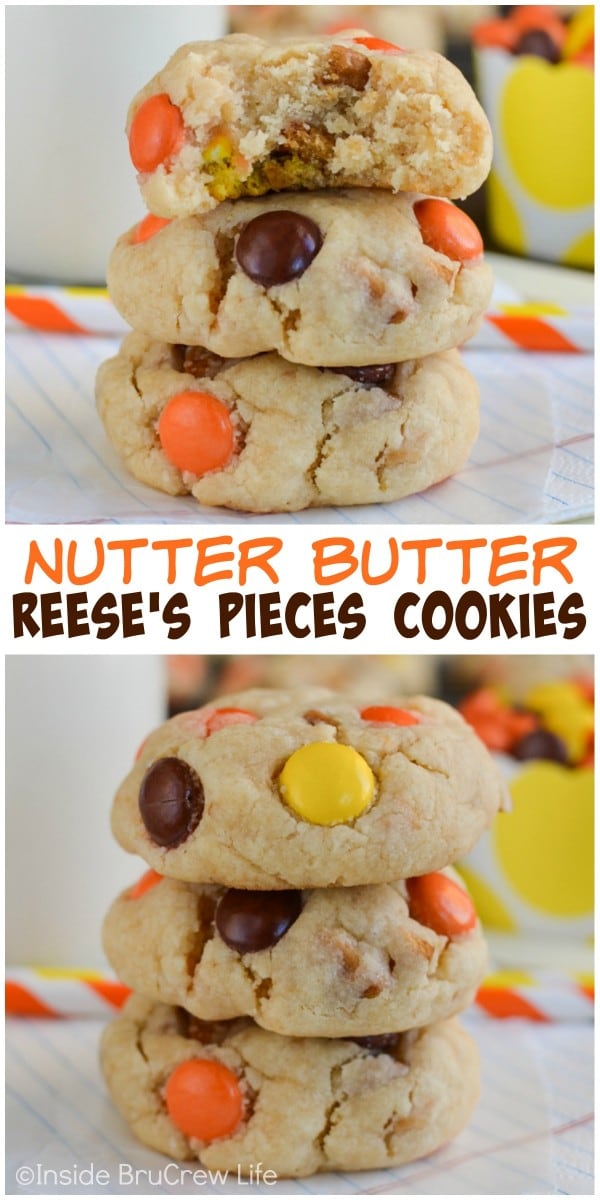 A few of our favorite recipes that my kids like to find in our cookie jar: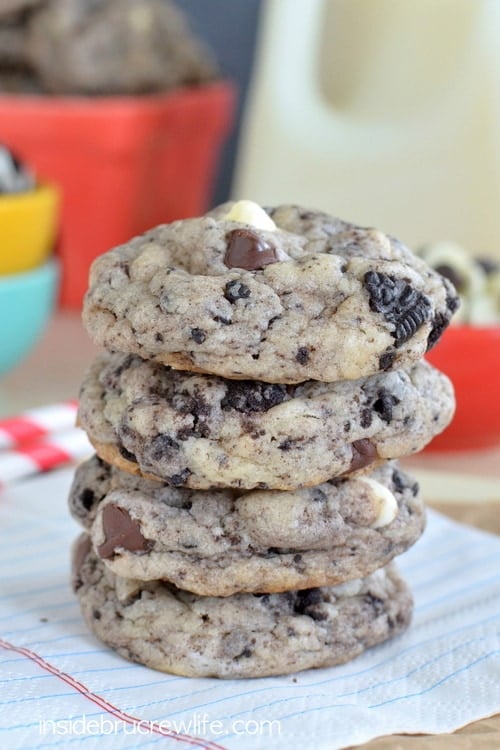 Chocolate Chip Cookies & Cream Cookies