These Caramel Peanut Butter Snickers Cookies have a hidden candy bar center and a sweet chocolate glaze. Fill your empty cookie jar with a batch of soft cake mix cookies this week.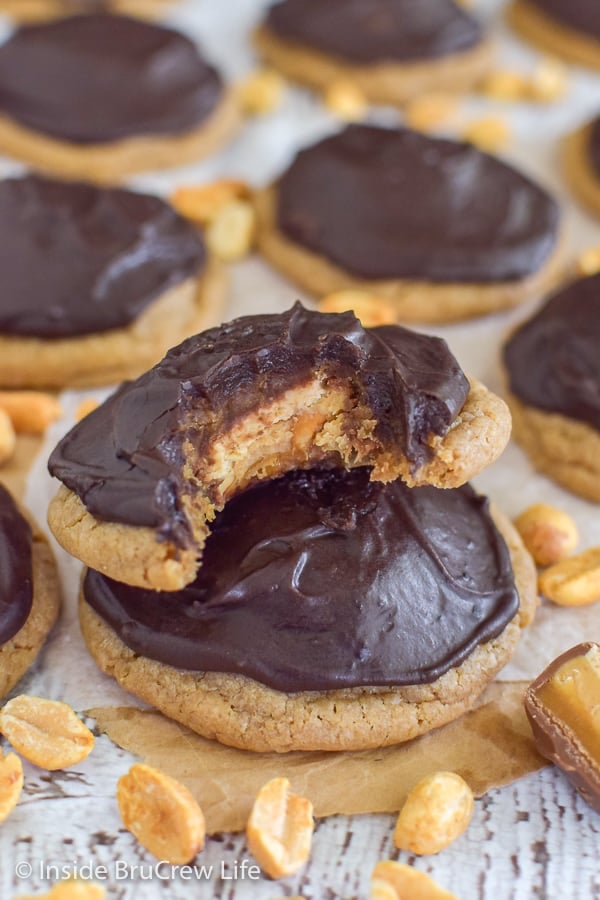 Chocolate and peanut butter are my kryptonite. Ok, so maybe just sugar in general can do me in.
But chocolate and peanut butter are at the top of that sugar list. I have the hardest time resisting these Peanut Butter Cup Rice Krispie Treats because of those two ingredients. So why do I keep making things that I'm going to have a hard time saying no to???
Well, I'm just trying to practice my self control. Just so you know, mission stay out of cookies this week was a complete and utter failure. Tomorrow is a new day...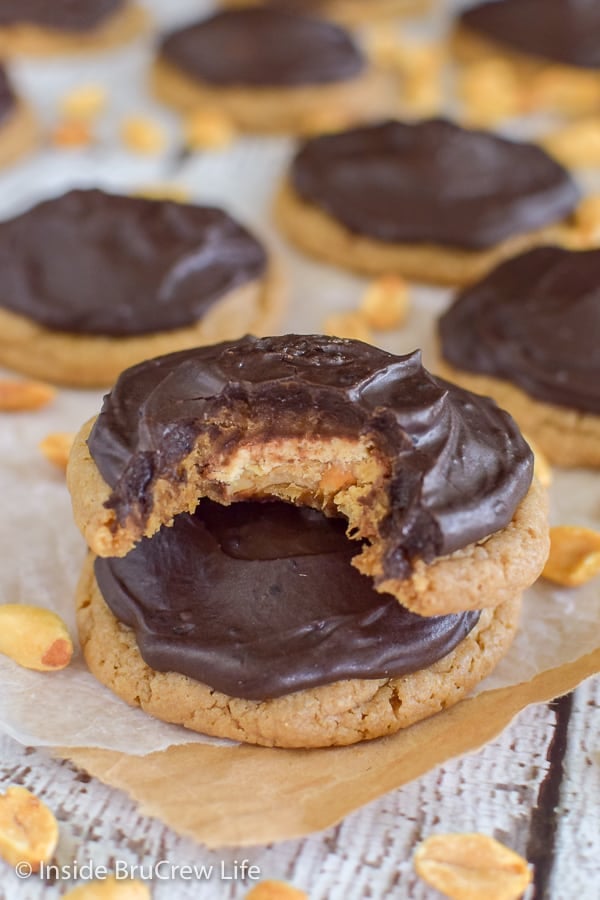 Although, there are still quite a few of these cookies in the kitchen, so I'm thinking my new mission should be avoid the kitchen at all costs.
I haven't figured out how I'm going to get my breakfast from the fridge on this new mission. Or how I'm going to make kids lunches...me thinks they are on their own in the morning.
And making dinner tonight might pose a new set of problems. Drive-thru, anyone?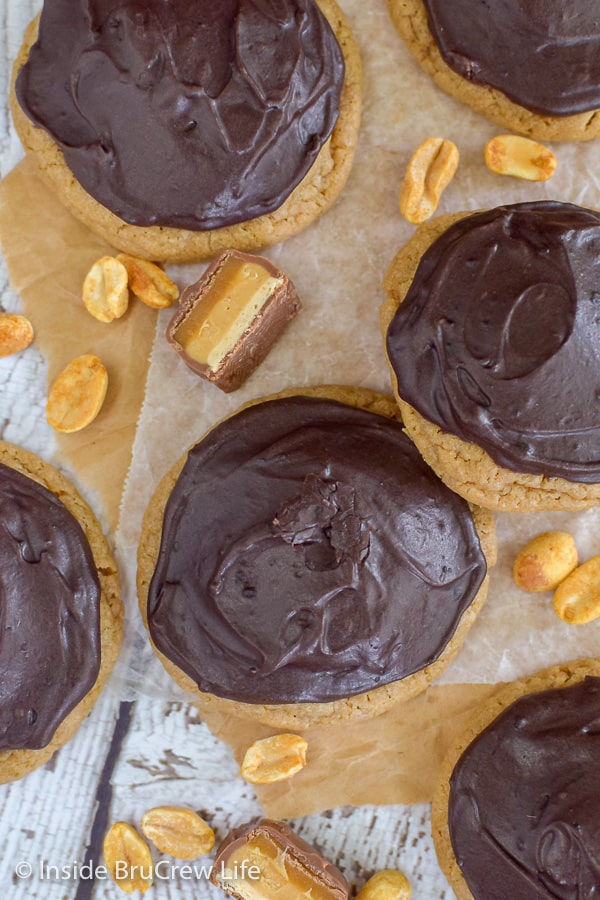 Let's just talk about these candy bar stuffed cookies for a minute. We all know how much fun I have been having hiding candy inside cookies, right? I mean these Cinnamon Caramel Cookies speak for themselves.
So, when I found a bag of fun-sized Peanut Butter Snickers at the store, I just had to bring them home with me.
Then the caramel cake mix in the cupboard started calling out and asking to be made into cake mix cookies. True story. Food talks to me.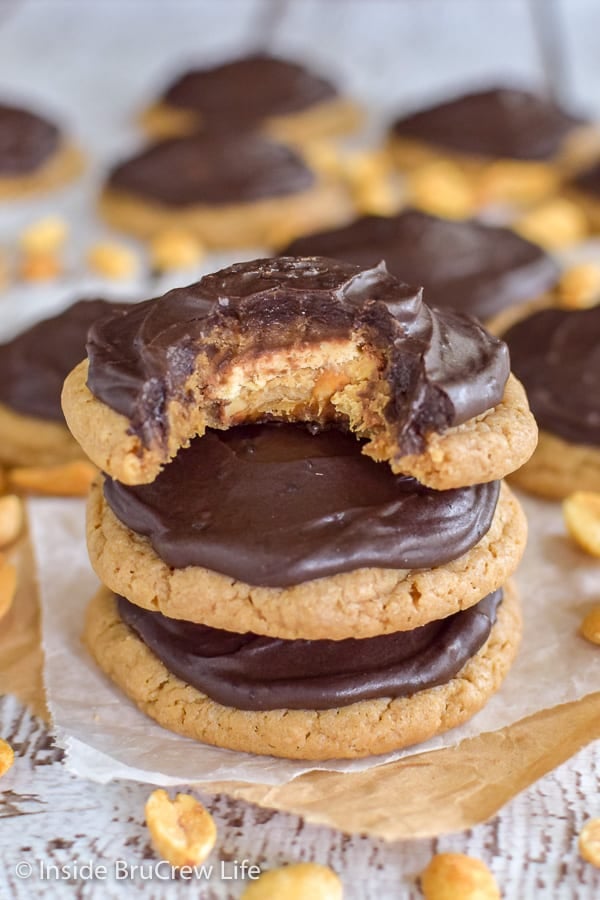 How to make Caramel Peanut Butter Snickers Cookies
Mix together the cake mix, butter, egg, and cream cheese until a soft dough forms. Refrigerate the dough for at least 1 hour.
Roll the dough into 24 balls. Refrigerate longer if it is too sticky to work with.
Flatten each dough ball and place a candy bar in the center.
Roll the dough around the Snickers bar. Bake and cool.
Spread the chocolate glaze on top of the cooled cookies. (full recipe below)
Recipe Tips
When you pull the cookies from the oven, you are going to think they are undone. Do not be alarmed! This is how they should look.
Bake the cookies for 10 minutes. This will produce a soft cookie inside. If you want to bake it another minute or two, the cookie will be more firm inside. It's totally up to you.
Let the cookies sit on the cookie sheet for a few more minutes. The heat from the pan will continue to cook the cookies. Use a flat spatula to tap the tops of the cookies before moving them to parchment paper to cool all the way.
These cookies look kind of ugly when they cool. A chocolate glaze on top fixes that problem. It hides the bump in the cookie from that hidden candy bar. Plus, adding more chocolate is never a bad idea!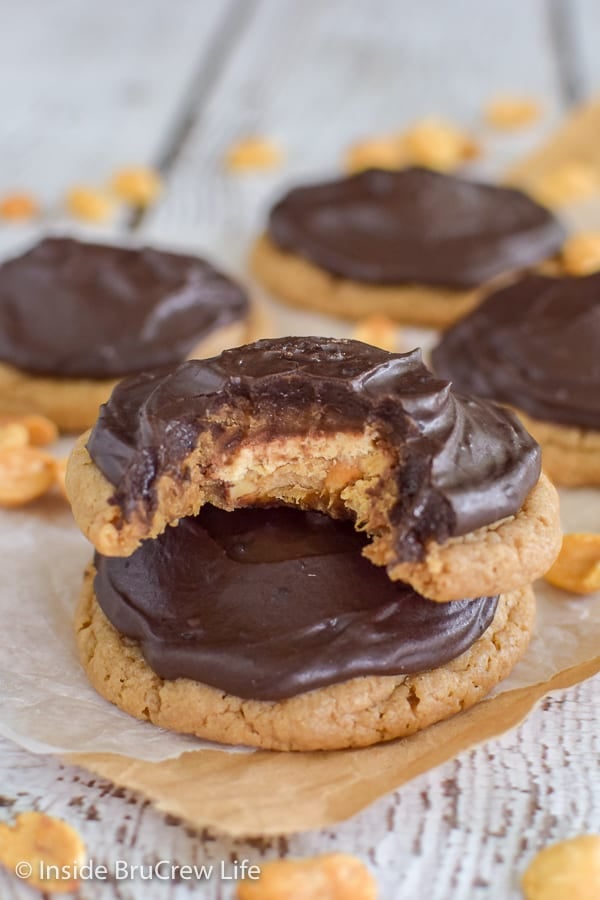 More stuffed cookies that you may like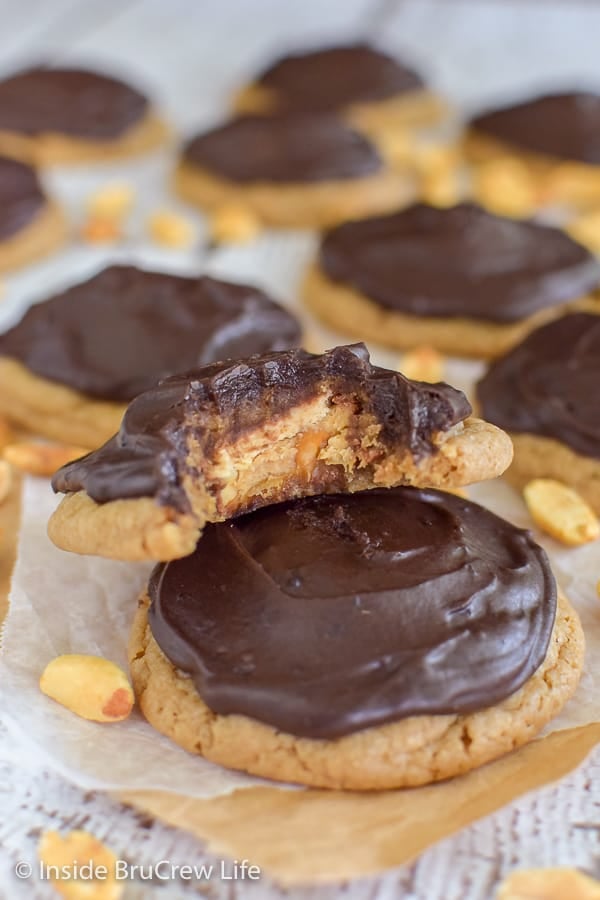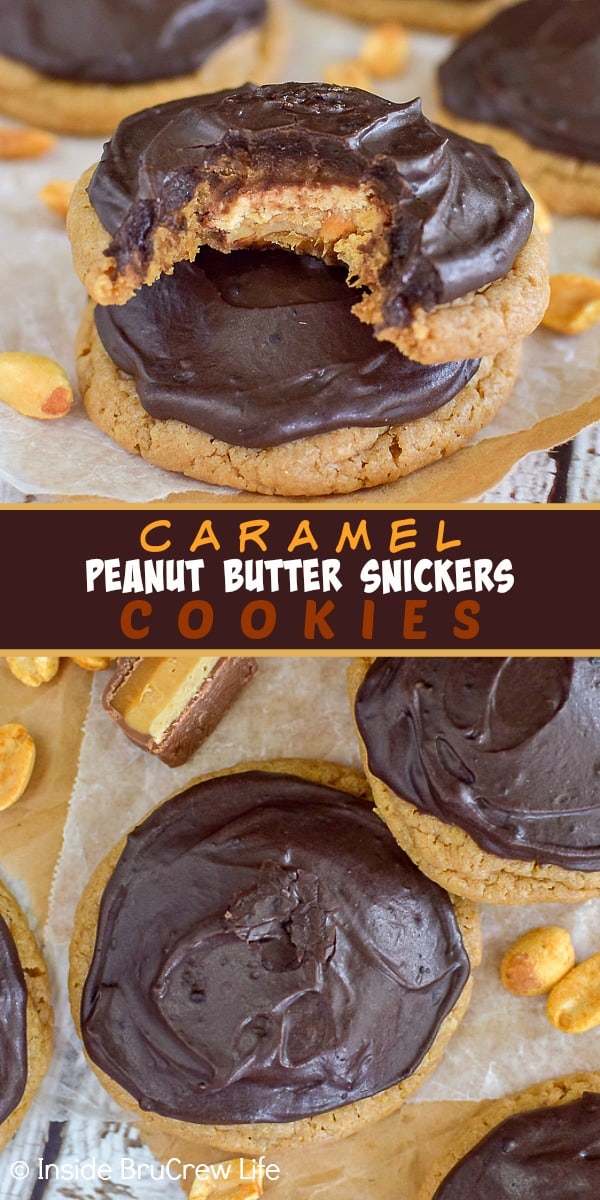 *The post for Caramel Peanut Butter Snickers Cookies was first published on May 18, 2015. The photos and post were updated and republished on January 29, 2020.