Candy bars and chocolate frosting is a great way to add some fun to your cookies.  These Caramel Peanut Butter Snickers Cookies are a delicious cookie with a hidden candy bar center.  Perfect treat to fill the cookie jars with this week.
*Do you love these recipes?  Be sure to sign up for the BruCrew email to have the recipes delivered to your inbox each time a new recipe is shared here.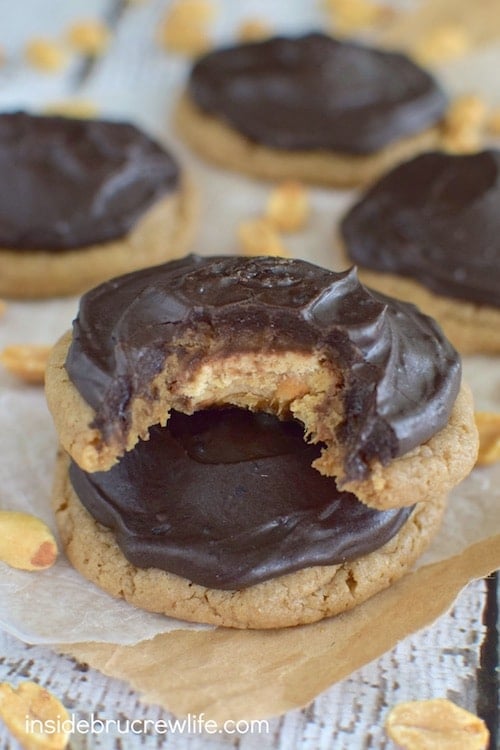 Chocolate and peanut butter are my kryptonite.  Ok, so maybe just sugar in general can do me in.
But chocolate and peanut butter are at the top of that sugar list.  I have the hardest time resisting treats with those two ingredients in them.  So why do I keep making things that I'm going to have a hard time saying no to???
Well, I'm just trying to practice my self control.  Just so you know…mission stay out of cookies this weekend was a complete and utter failure. Tomorrow is a new day…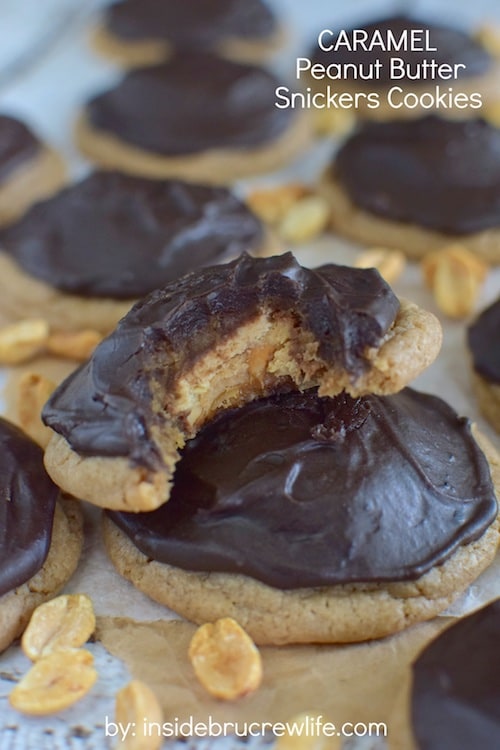 Although, there are still quite a few of these cookies in the kitchen, so I'm thinking my new mission should be avoid the kitchen at all costs.  I haven't figured out how I'm going to get the juice from the fridge on this new mission.  Or how I'm going to make kids lunches…me thinks they are on their own in the morning.
Good thing two of them have finals and get to leave before lunch.  And the youngest lives on Ramen, so he can handle that on his own.  Sheeewww…I'm glad this worked out in my favor today.  Now making dinner might pose a new set of problems.  Drive-thru, anyone?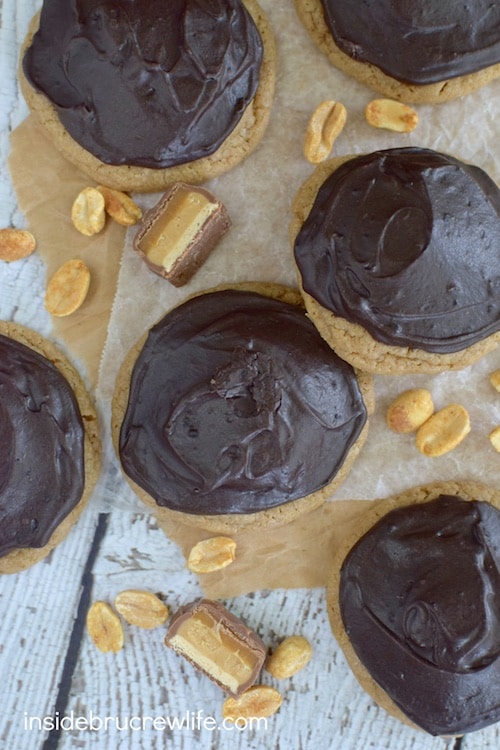 Let's just talk about these problem cookies for a minute.  We all know how much fun I have been having hiding candy inside cookies, right?  I mean these Cinnamon Caramel Cookies speak for themselves.
So, when I found a bag of fun sized peanut butter Snickers at the store, I just had to bring them home with me.  Then the caramel cake mix in the cupboard started calling out and asking to be made into cookies.  It was fate that these cookies happened in the kitchen soon after that.  Fate or a diet gone way wrong…I'm not sure which.
When you pull the cookies from the oven, you are going to think they are undone.  Don't be alarmed!  This is how they should look.  I only bake mine for 10 minutes.  This will produce a soft cookie inside.  If you want to bake it another minute or two, the cookie will be more firm inside.
Then let the cookies sit on the cookie sheet for a few more minutes.  The heat from the pan will continue to cook the cookies.  Use a flat spatula to tap the tops of the cookies before moving them to parchment paper to cool all the way.
I'm not going to lie…these cookies look kind of ugly when they cool.  But I fixed that by adding a chocolate glaze on top.  It hides the bump in the cookie from that hidden candy bar.  And let's face it.  Adding more chocolate is never a bad idea!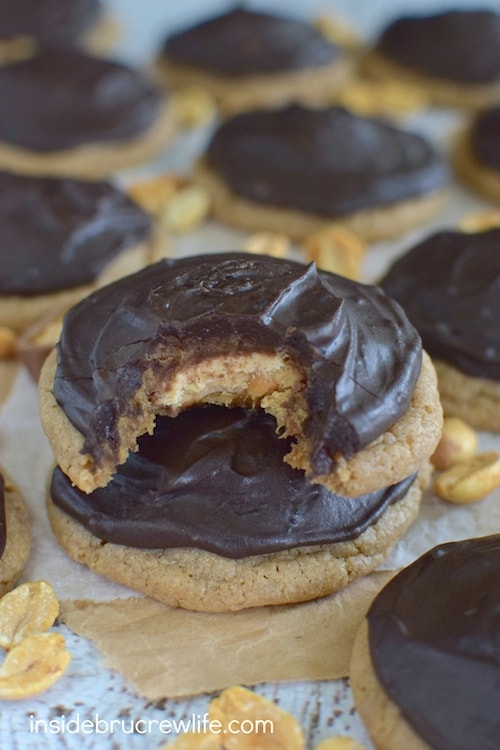 Stay up to date on all the BruCrew baking here:
FACEBOOK | PINTEREST | GOOGLE+ | TWITTER | INSTAGRAM | BLOGLOVIN
 Sign up to receive an email in your inbox for each new recipe:
EMAIL SUBSCRIPTION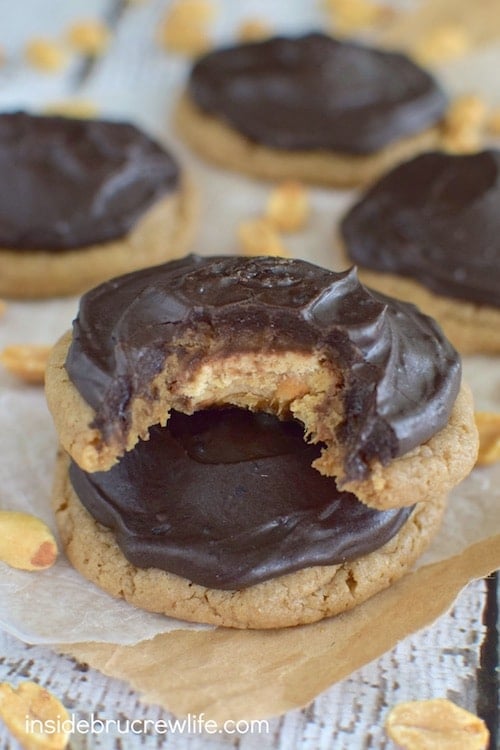 Adding candy bars and chocolate frosting to caramel cookies is a fun way to change up those weekly cookies.
Ingredients
1 caramel cake mix
8 Tablespoons butter, melted
1 egg
4 ounces cream cheese, softened
24 mini peanut butter Snickers bars
For the Chocolate Glaze

2 Tablespoons butter, melted
2 Tablespoons dark cocoa powder
2 cups powdered sugar
3 Tablespoons milk
Instructions
Combine the cake mix, butter, and egg. Mix until a soft dough forms. Add the cream cheese and beat again until mixed in. Refrigerate the dough for 1 hour. Roll into 24 even dough balls. (Refrigerate longer if dough is still sticky.)
Flatten a dough ball and press an unwrapped peanut butter Snickers bite into the middle. Roll the dough around the candy bar.
Bake the cookies at 350 degrees for 10 minutes. Remove from the oven and let sit on the hot cookie sheet for 3-4 minutes before moving to parchment paper on the counter. Tap the tops of the cookies gently with the flat side of a spatula to even them out. Let cool completely.
Whisk together the glaze ingredients. Spread on the tops of the cookies. Let set. Makes 24 cookies.
Notes
*If you bake these cookies for 10 minutes, they will be very soft inside. This is how I bake mine every time!
**Bake the cookies for another 1-2 minutes for cookies that are set up and firm inside.
https://insidebrucrewlife.com/caramel-peanut-butter-snickers-cookies/
Copyright Inside BruCrew Life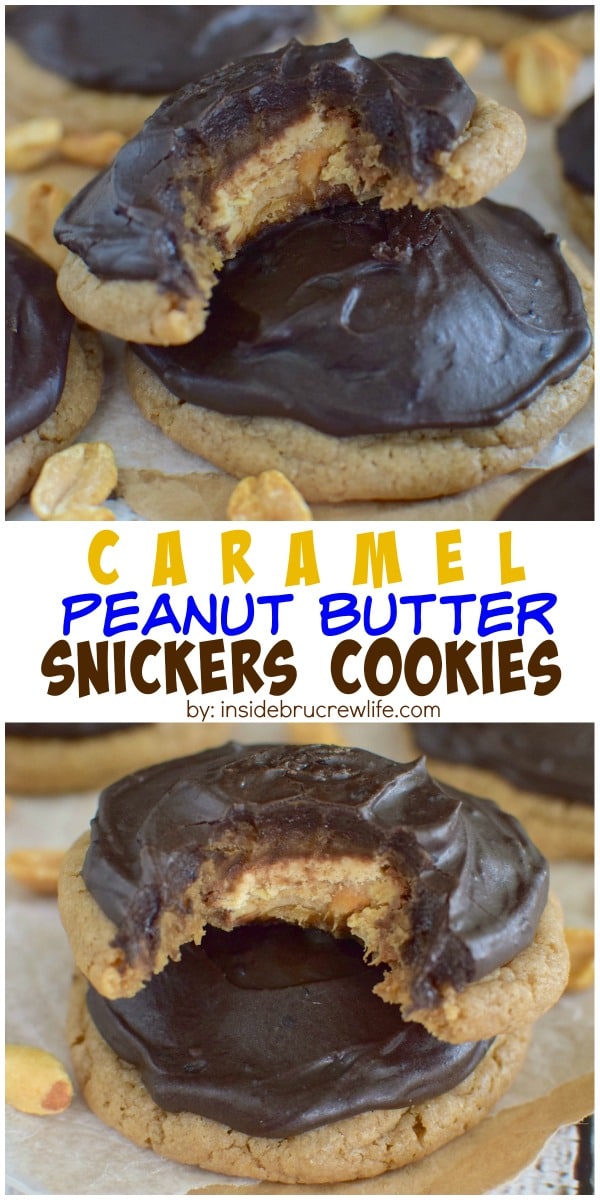 Other fun cookies that we stuffed candy bars inside: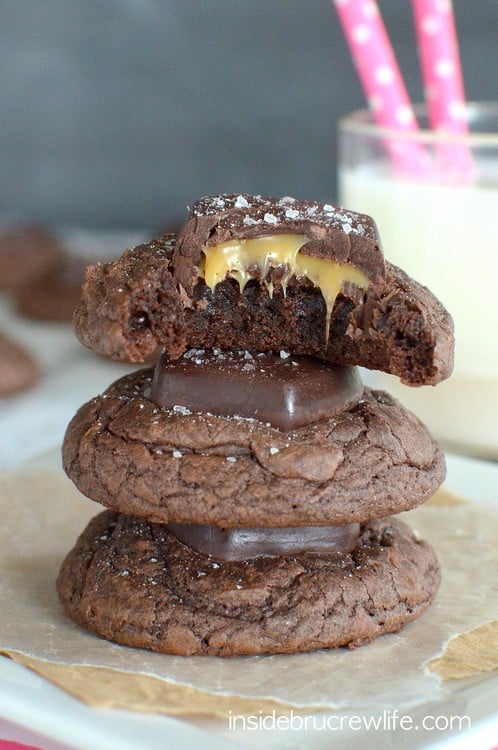 Salted Caramel Brownie Cookies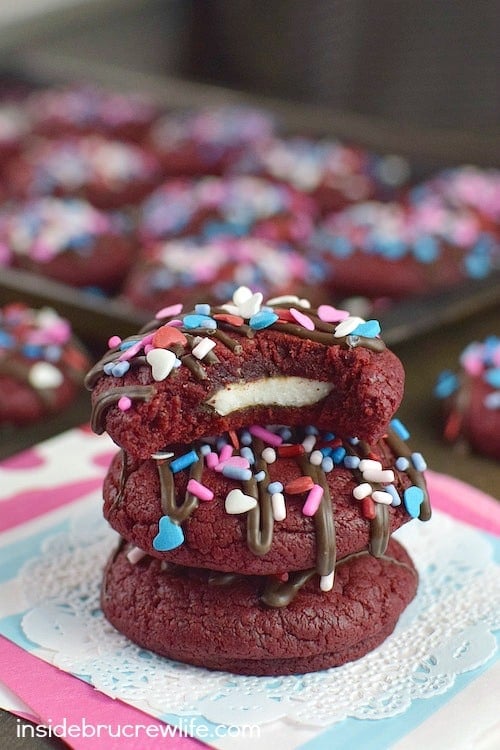 Red Velvet Peppermint Pattie Cookies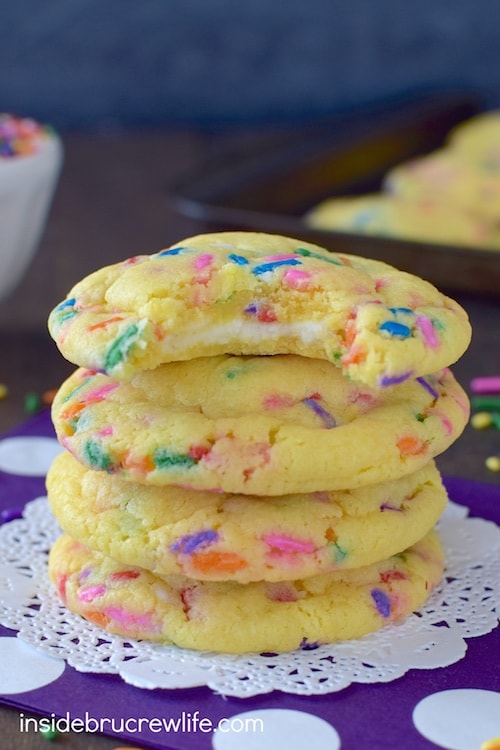 More fun stuffed cookie ideas from friends:
**This post contains affiliate links. We will only share products that we know and love this way. If you purchase items through these links, Inside BruCrew Life may receive a small commission. Thank you for supporting BruCrew Life through your purchases!**