These Cookies and Cream Cookies made with two kinds of chocolate chips and Oreo cookie chunks is our number one cookie recipe. Cake mix cookies are the perfect dessert for any occasion because they are so easy to make and fun to customize.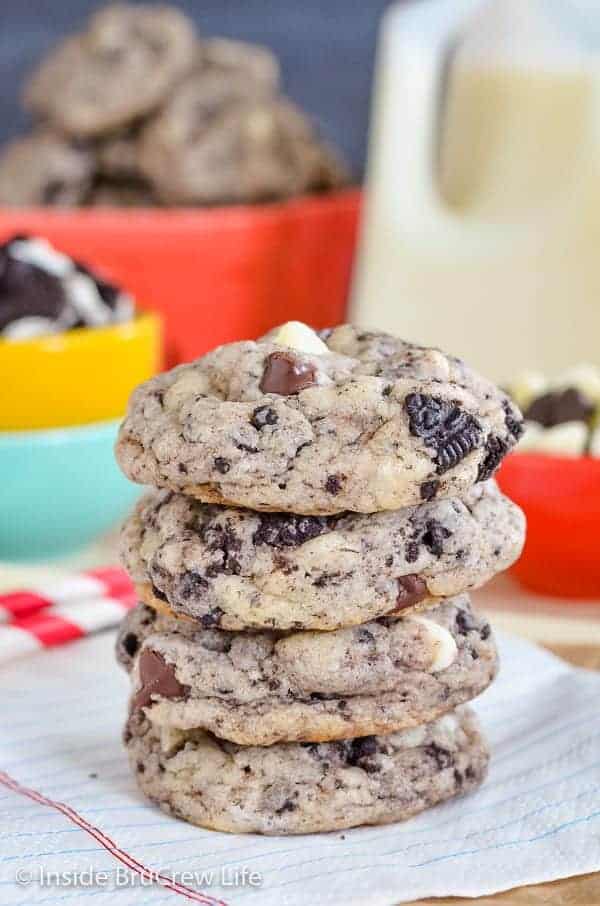 Cookies and Cream Cookies
For some reason this week I am obsessed with all things cookies. Not just any cookies though. Easy cake mix cookies have become my favorite type of cookie to make.
They are easy to mix up, you can customize them with your favorite mix-ins, and they stay soft and chewy for days.
These cookies and cream cookies made with a cake mix, chocolate chips, and Oreo cookies are one of our daughter's favorite cookies. Of course, anything with cookies and cream is never a bad idea!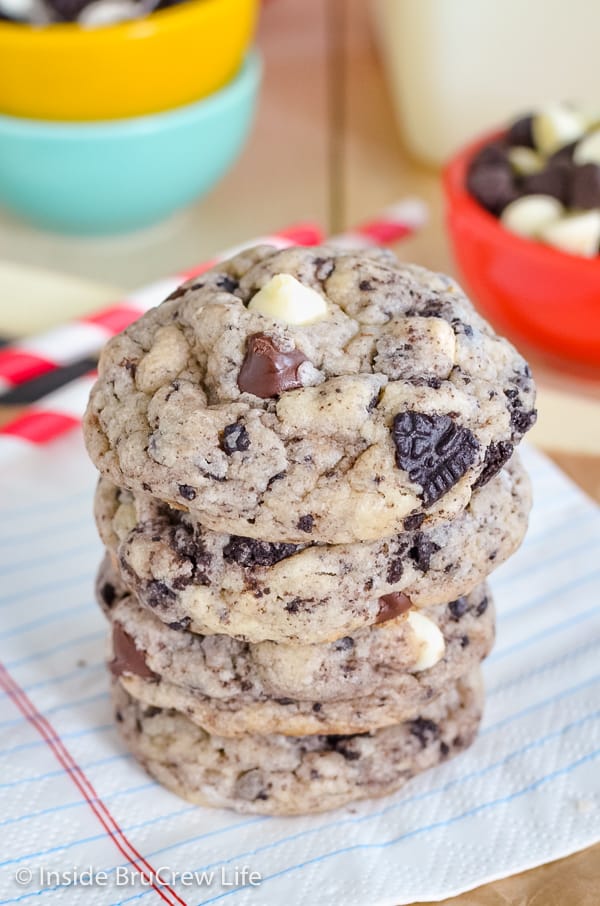 What are Cake Mix Cookies?
Cake mix cookies are a shortcut cookie made from using a store bought cake mix instead of regular dry ingredients.
Using just a few more ingredients, you can transform any flavor of cake mix into a soft delicious cookie.
The fun comes when you start deciding what extra ingredients you want to add to the cookie. Here is a list of some of our favorite mix-ins:
Candy - M&M's, Reese's Peanut Butter Cups, Butterfingers, Bunch a Crunch, Reese's Pieces, Peppermint Patties, Rolos
Dried Fruit - cherries, blueberries, cranberries, shredded coconut
Cookies - Oreos, Nutter Butters, Chips Ahoy, Animal Crackers
Chocolate Chips - white chocolate, dark chocolate, milk chocolate, butterscotch, peanut butter, mint, peppermint
Extras - Sprinkles, Nuts, Maraschino Cherries
Ingredients for Cookies N Cream Cookies
These cake mix Oreo cookies are so easy to make in minutes with a cake mix and a few other ingredients. Trust me and make a double batch because the cookies and cream goodness will disappear in a hurry.
Vanilla Cake Mix - you are only using the dry powdered mix
Butter - set it out ahead of time so it is soft enough to mix in
Egg - provides moisture to create a soft cookie dough
Cream Cheese - gives these cake mix cookies a soft and gooey texture
Vanilla - adds a splash of flavor
Oreo Cookies - chop or crush the cookies into chunks. Be careful not to crush them into crumbs.
Chocolate Chips - use a mixture of white and milk chocolate chips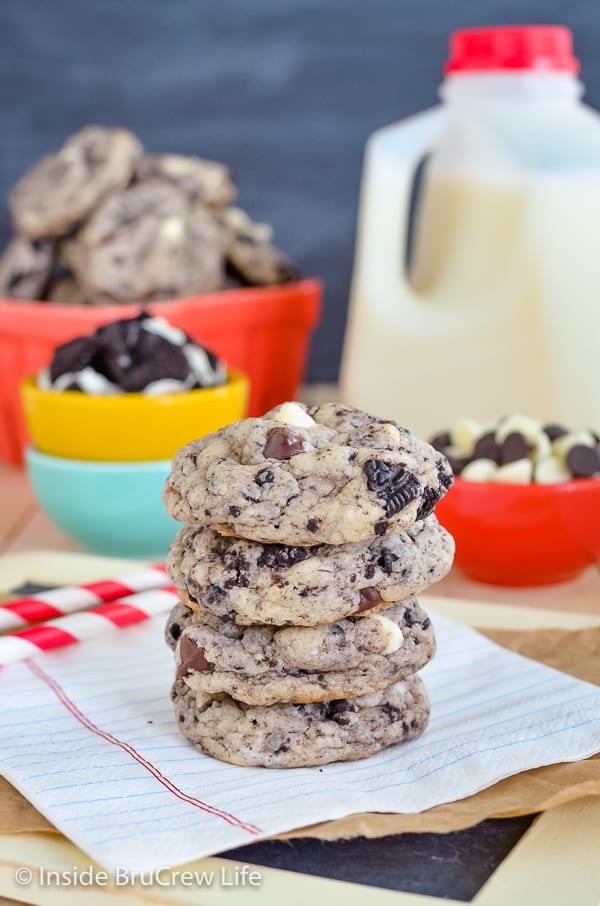 How to make Cookies and Cream Cookies
The dough for these chocolate chip cookies and cream cookies comes together in minutes. Be sure to plan enough time because the dough does need some chill time before baking.
Mix together the dry cake mix, butter, cream cheese, egg, and vanilla until a soft dough forms.
Gently stir in chocolate chips and Oreo cookie chunks. Do not over mix.
Refrigerate dough for 60 minutes.
Scoop dough into 24 even dough balls and bake.
Recipe Tips
Adding cream cheese to the batter makes these white cake mix cookies taste like Oreo cheesecake cookies. Make sure you set the butter and cream cheese out ahead of time.
Feel free to use your favorite mix-ins. Today we went with Oreo cookie chunks and two kinds of chocolate chips. There is no right or wrong combo when it comes to these easy cake mix cookies.
Make sure you do not over bake them. They WILL look under done when the timer goes off! Trust me, and take them out of the oven.
These easy cookies and creme cookies will continue to bake on the hot baking sheet! Give the tops of the cookies a tap with a flat spatula after 2 minutes if they are too puffy. When they cool completely, they will be set up and ready to eat.
Storage
You can make the dough for these cookies one to two days ahead of time. Keep the dough in a covered container in the refrigerator until ready to bake. You can also freeze the dough balls in a freezer bag. Thaw before baking.
Store the baked cookies in a tightly sealed container once they have cooled completely.
Baked cookies can also be made ahead of time and frozen for later. Place cookies in individual bags or in between layers of parchment paper in larger bags or containers. They will keep for 1-2 months.
Holiday Variations
These cookies and cream cookies are so easy to customize for different holidays by using colored candies, sprinkles, and different flavors of Oreo cookies.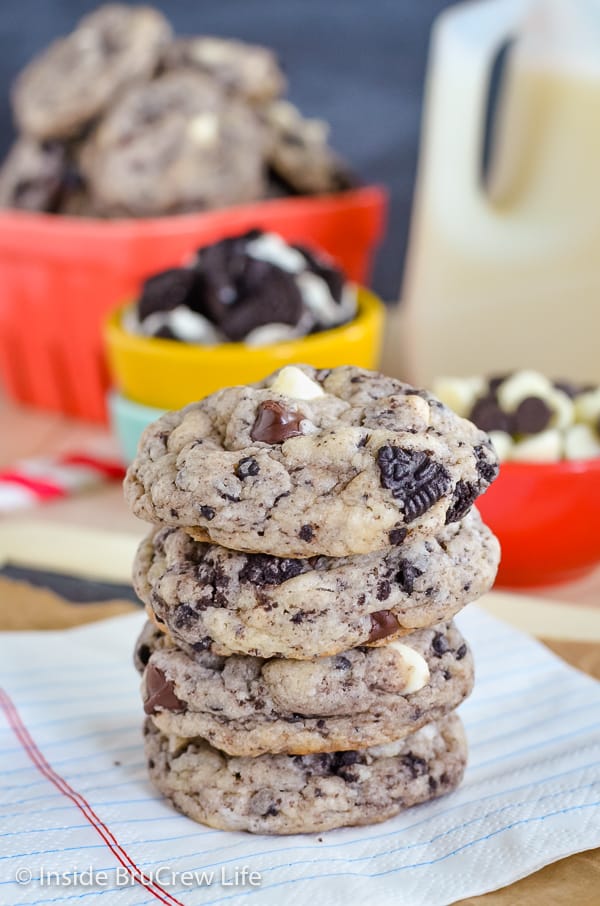 More cake mix cookies recipes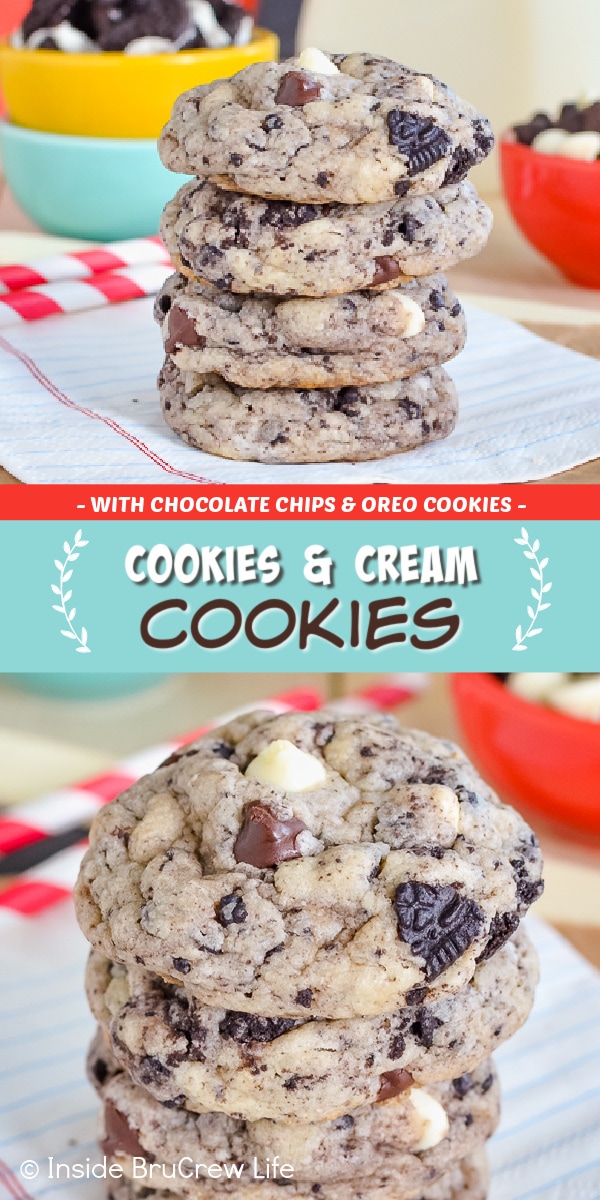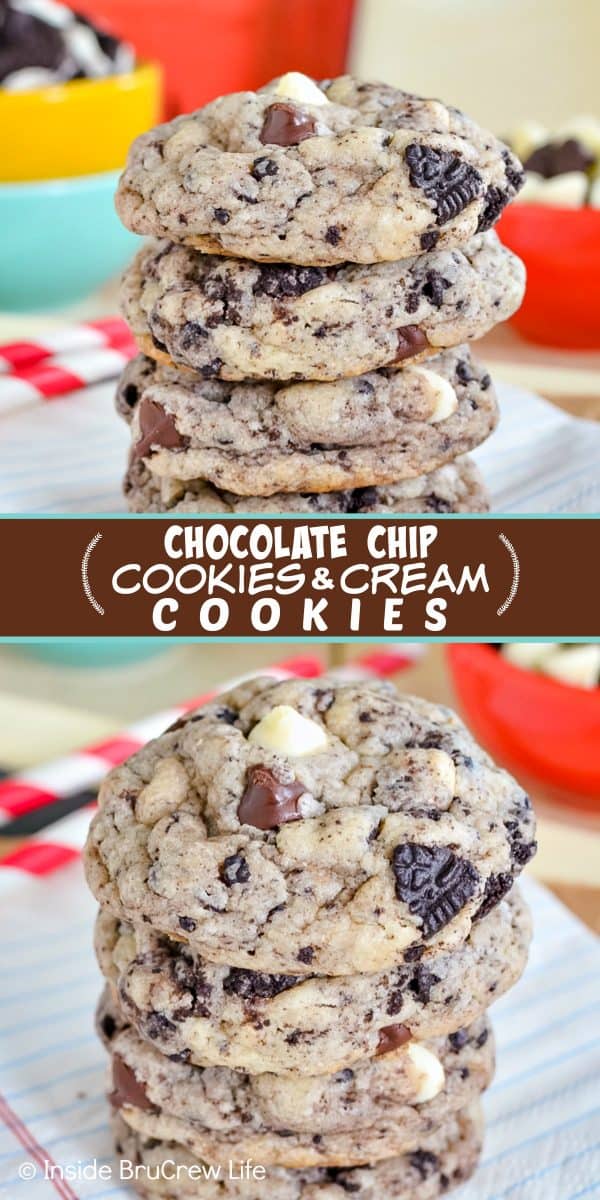 *The post for Chocolate Chip Cookies and Cream Cookies was first published on February 18, 2014. The photos have been updated, and it was republished on April 19, 2021.