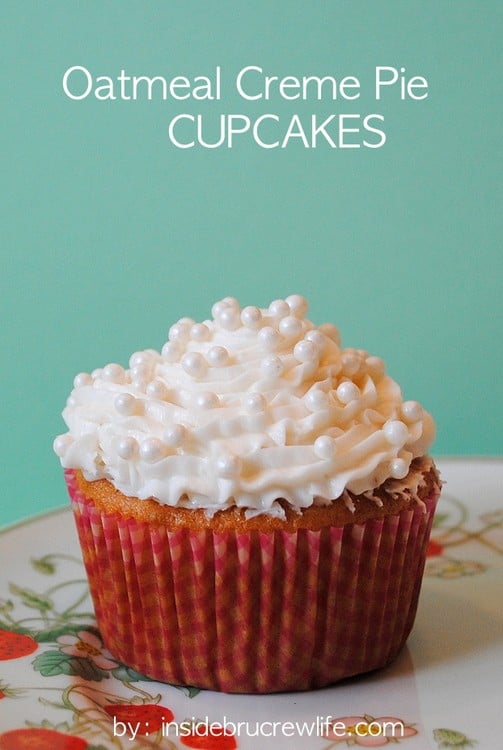 Ok, confession time!
I absolutely adore Little Debbie Oatmeal Creme Pies.
They have been my favorite since like forever.
In fact I love them so much that
I have been known to eat an entire box by myself.
(that was many years ago...don't judge me)
Now I just buy them and
hide them in the back of the cupboard.
One time I even tried a
homemade oatmeal cream pie
.
So one day I was making some cupcakes and
a light bulb went off in my head!!!!
Oatmeal creme pie baked into a cupcake!!!!
So, being the adventurous baker that I am...
I plopped one in!
Boy, am I glad I did!
It was amazing!
Tasted just like a vanilla cupcake with an oatmeal pie in it!!!
LOL!
Bet you would never have guessed that 🙂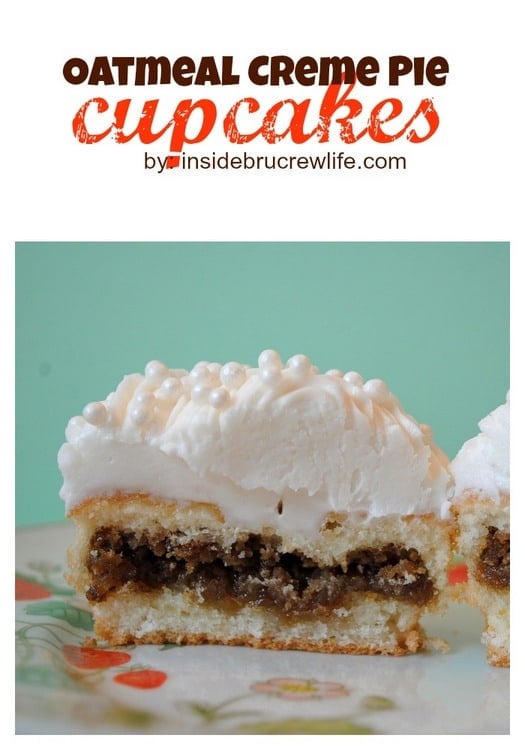 But seriously if you like Oatmeal Creme Pies
you need to try this version!
You can thank me later!
See how absolutely scrumtious that looks inside???
You need these cupcakes like NOW!
Don't listen to your thighs...
you can work these off later.
Right now...
enjoy the calorie s:-)
Plus, it is my birthday week
and we all know those calories don't count...
right????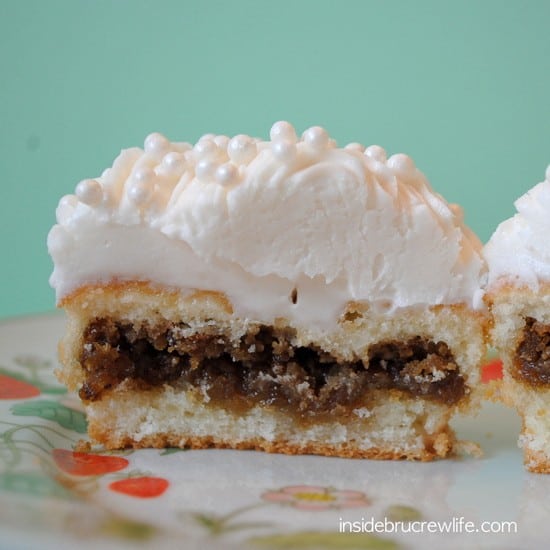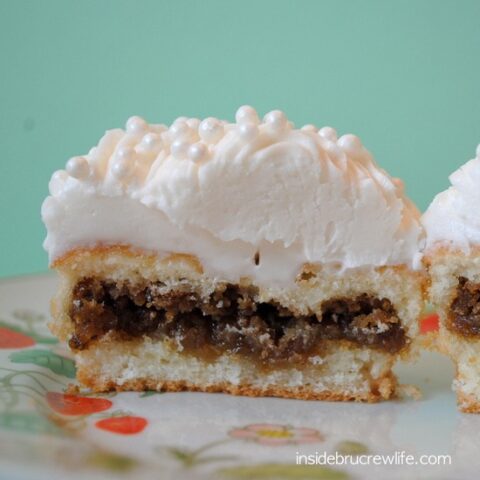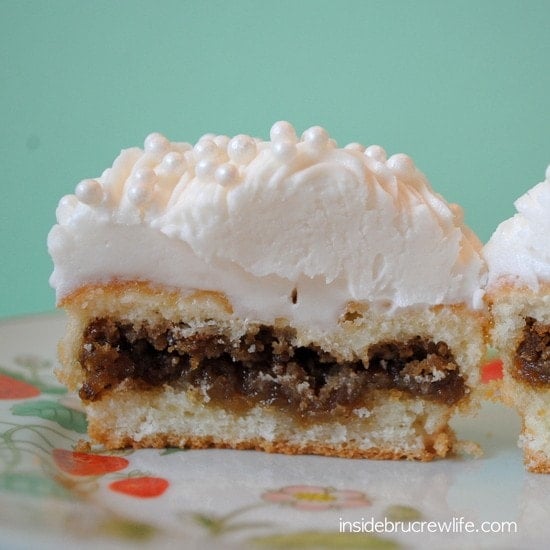 Oatmeal Creme Pie Cupcakes
Vanilla cupcakes have a hidden Oatmeal Creme Pie surprise.
Ingredients
For the Cupcake
1 vanilla cake mix
24 Oatmeal Creme Pies, unwrapped
For the Frosting
½ cup unsalted butter
½ cup vegetable shortening
⅛ teaspoon salt
3 tablespoons heavy whipping cream
1 tablespoon vanilla extract
4 cups powdered sugar
Instructions
Preheat oven to 350°.
Prepare the vanilla cake mix according to the package directions. Place one Tablespoon batter in 24 cupcake liners.
Cut circles out of the Oatmeal Creme Pies to fit on top of the batter in the liners. You want the circle to be big enough to stay in the middle of the liner without sinking to the bottom of the cupcake. Fill the liners ¾ full with batter, covering the pies.
Bake for 18-20 minutes. Let cool.
Beat butter and shortening until creamy.
Add the salt, whipping cream, and vanilla and cream again. Slowly add the powdered sugar.
Frost cupcakes and top with sprinkles. Makes 24 cupcakes.
Nutrition Information:
Yield:

24
Serving Size:

1
Amount Per Serving:
Calories:

384
Total Fat:

16g
Saturated Fat:

7g
Trans Fat:

0g
Unsaturated Fat:

9g
Cholesterol:

15mg
Sodium:

340mg
Carbohydrates:

57g
Fiber:

1g
Sugar:

39g
Protein:

2g
Nutrition facts are an estimate and are not guaranteed to be accurate. If you need special diet advice, please see a registered dietician.