Now to make up for being gone from blog land for a while,
and to prove that we
don't
just eat sugar
all the time around here I have a dinner and dessert recipe for you.
With summer in full swing,
I am on the lookout for easy light summer recipes.
I found this Pizza Pasta Salad
in my May All You magazine,
and I knew it would be a hit with my family.
I mean we
love
pizza
and we love
pasta
…
so this was a winner in our books.
I did modify the recipe slightly,
but I will make a note of where for you.
Pizza Pasta Salad
1 lb. pasta (shells, bowties, or penne)
salt and pepper
1/4 c. olive oil (i used canola)
1/3 c. rice vinegar (again i just used reg vinegar)
1/2 c. chopped sun dried tomatoes (we aren't a big fan of sundried tom, so I used cherry tom)
3/4 c. chopped artichoke hearts
8 oz. small fresh mozzarella nuggets (i cheated and chopped up string cheese)
4 oz. diced pepperoni
1/2 c. shredded fresh basil leaves (i didn't have this so i left it out)
2 tbsp. chopped fresh oregano (i used dried oregano that we use in our pizza sauce)
*I added 1/2 chopped green pepper for some color
*extras that I want to use next time:
chopped black olives, mushrooms, and parmesan cheese on top to serve
Boil water and cook pasta about 8 min. Drain and cool. Put pasta in large bowl and stir in oil and vinegar. Add chopped ingredients. Toss well and season with salt and pepper.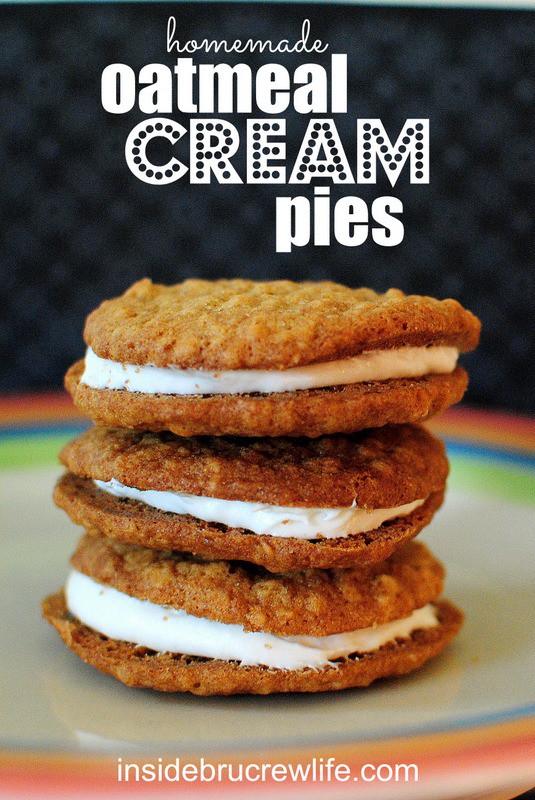 One of my favorite Little Debbie's
is the Oatmeal Cream Pies.
(I have been known to eat an entire box myself)
(no, not all at once)
Here is my attempt at some homemade cream pies…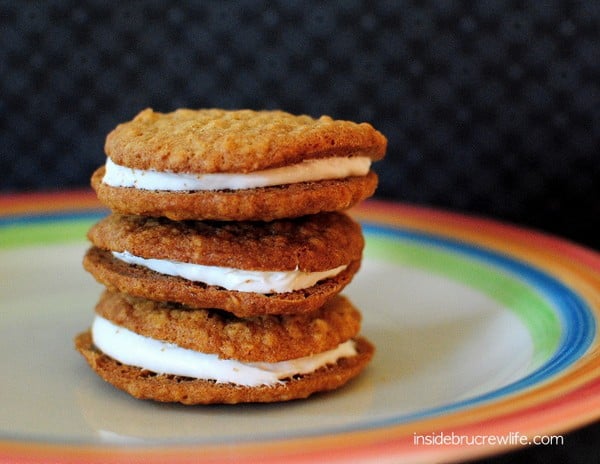 Homemade Oatmeal Cream Pies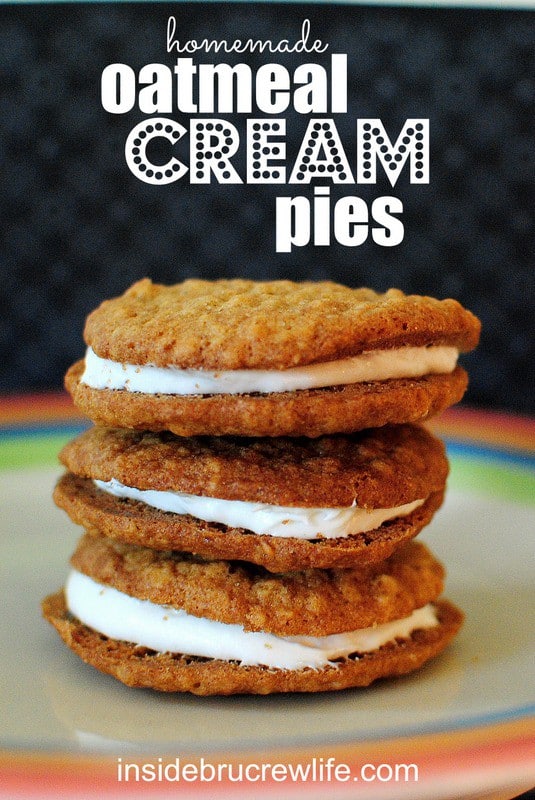 Homemade Oatmeal Cream Pies filled with a marshmallow filling are the perfect after school snack.

Prep Time 15 minutes

Cook Time 10 minutes

Total Time 25 minutes
Ingredients
For the Cookies
1/2 cup butter
1/2 cup shortening
3/4 cup brown sugar
1/2 cup sugar
1 Tablespoon molasses
1 teaspoon vanilla
2 eggs
1 1/2 cups flour
1/2 teaspoon salt
1 teaspoon baking soda
1/2 teaspoon cinnamon
1 1/2 cup quick oats
For the Filling
1 Tablespoon hot water
1/4 teaspoon salt
1 - 7 ounce jar marshmallow creme
1/2 cup shortening
2/3 cup powdered sugar
1 teaspoon vanilla
Instructions
Preheat the oven to 350 degrees.
Cream butter, shortening, sugars, molasses, vanilla, and eggs.
Combine flour, salt, soda, and cinnamon. Add to creamed mixture. Mix well.
Mix in oats and drop by teaspoon on baking sheets. Bake for 10-12 minutes.
Let cool for a few minutes on the pan, then remove to a wire rack to cool completely.
Dissolve the salt in the hot water and let cool.
Combine marshmallow creme, shortening, sugar, and vanilla until fluffy.
Add the salt water and mix well. Spread filling on one side of a cookie and top with another cookie.