Eating these Peanut Butter Cheesecake Cookie Bars will send you to your sugar happy place right away.  This bar cookie recipe would be a great addition to your dessert table anytime.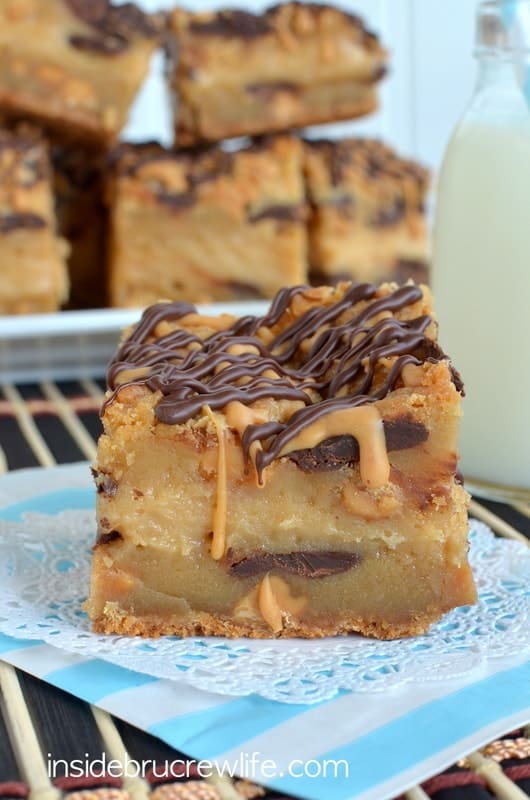 PIN IT NOW TO SAVE FOR LATER!
There is nothing that I would classify as too sweet.  I am quite a dessert heavy weight (LOL literally).
Now my hubby on the other hand, he takes one or two bites and he is over it.  We were at Cheesecake Factory a few weeks ago, and we both ordered cheesecake after dinner.
Now I purposefully only ate a small portion of dinner because one must leave room for cheesecake when you come to a place called The Cheesecake Factory.  It is a given.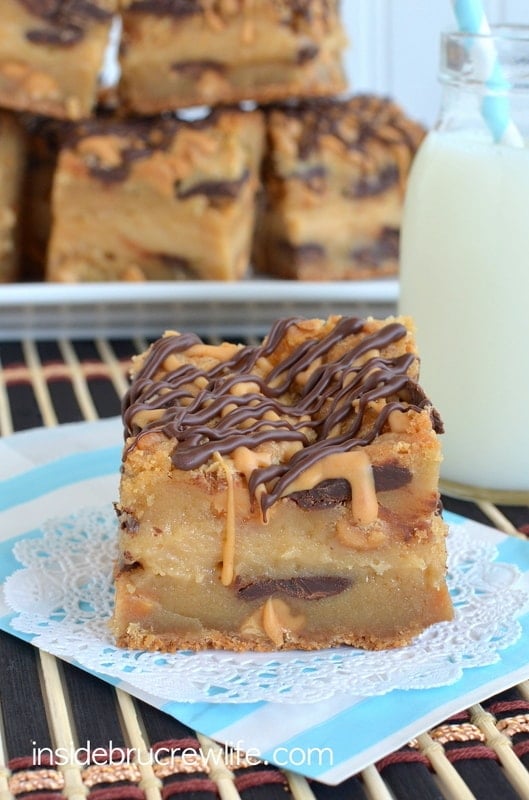 Anyway, I had no problem downing my cheesecake and a few bites of my hubby's.  He had a few bites and was going on about how sweet it was, and that it was too rich for him.
He even said that he was getting the shakes and the sweats from trying to eat all that sugar.  I just had to laugh at him and call him a dessert light weight.  I guess I have had a lot more practice holding my sugar with all the desserts I keep cranking out.
After having that cheesecake a few weeks ago, I was craving some cheesecake goodies.  One of my favorites from last year were these Key Lime Cheesecake Cookie Bars, so I knew I wanted to make another variation of that recipe.
And since Reese's are my absolute all time favorites, I decided to make another peanut butter version with Reese's peanut butter chips, because clearly you can never have enough of that!!!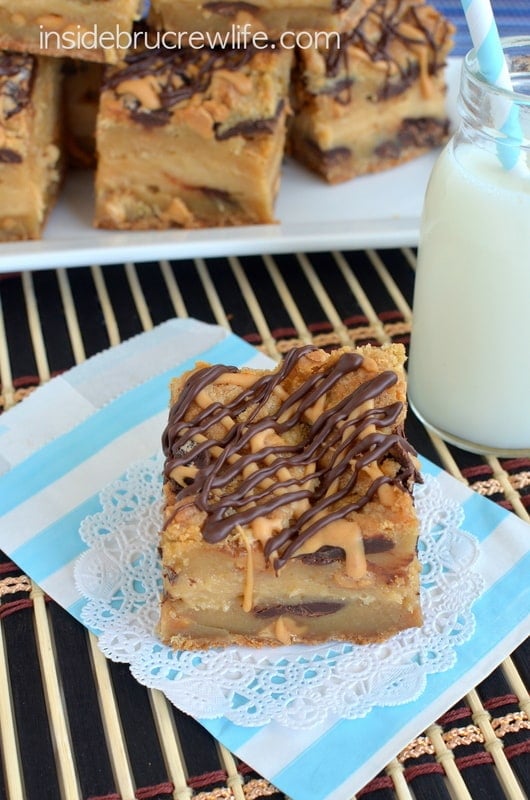 These peanut butter cheesecake cookie bars are purely decadent.  Thick layers of chocolate and peanut butter chip cookie dough with a generous layer of peanut butter cheesecake in the middle.  Oh yeah!!
I like my bars super thick, but if you like yours thinner, go ahead and bake these in a 9×13 pan.  Just make sure to adjust your baking time to about 30 minutes.
I also used the Hershey's baking melts in place of the chocolate chips.  I liked biting into the big chunks of chocolate.  Who doesn't though…
And of course everything is better with more chocolate right?  So, go ahead and drizzle your bars with more melted chocolate and Reese's peanut butter chips!!!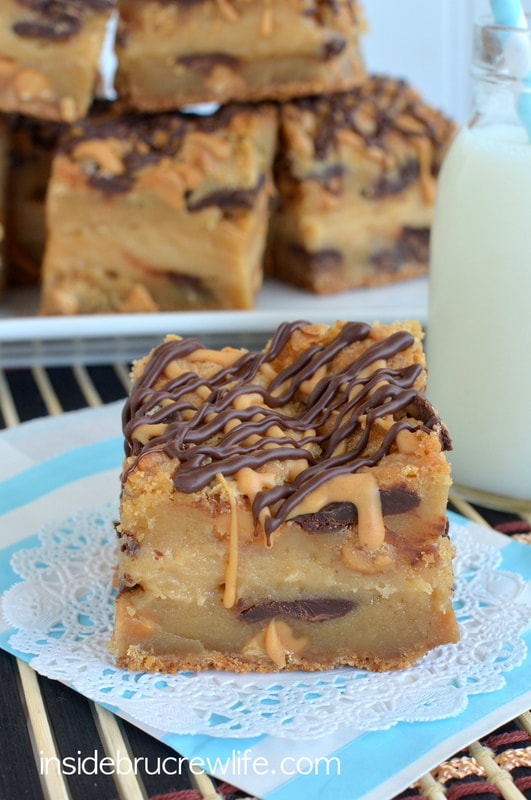 Stay up to date on all the BruCrew baking
by following here:
BLOGLOVIN | FACEBOOK | PINTEREST | GOOGLE+ | TWITTER | INSTAGRAM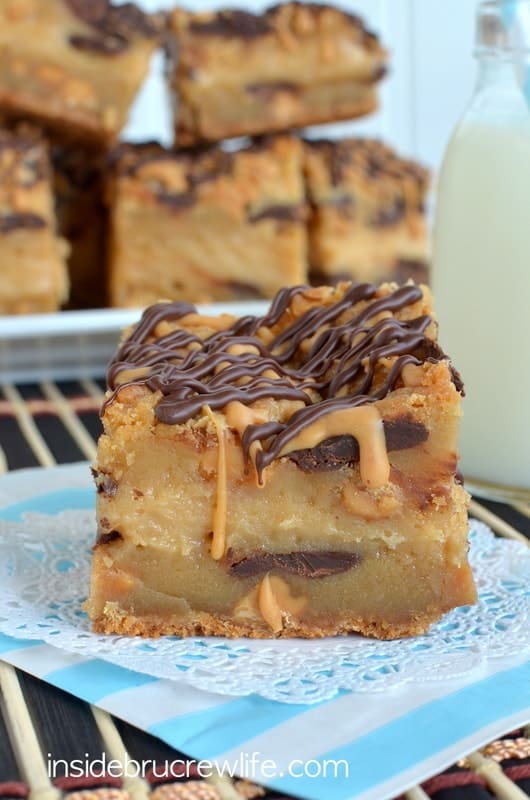 Peanut butter and chocolate chip cookie dough with a layer of peanut butter cheesecake. This will take dessert to a whole new level.
Ingredients
For the Cookie Dough

1/2 cup butter, softened
1/2 cup shortening
1/2 cup sugar
1 cup brown sugar
2 eggs
1 teaspoon vanilla
1/2 teaspoon salt
1/2 teaspoon baking soda
2 1/2 cups flour
1 cup peanut butter chips
1 cup Hershey's baking melts
For the Cheesecake

1 - 8 ounce package cream cheese, softened
1/2 cup sugar
1 egg
1/4 cup peanut butter
For the topping

1/4 cup peanut butter chips
1/4 cup chocolate chips
1 teaspoon shortening
Instructions
In a large mixing bowl, cream the butter, shortening, and sugars until light and fluffy. Add the eggs, vanilla, and salt and cream again. Sift together the baking soda and flour. Slowly add to the butter mixture until incorporated. Stir in the peanut butter chips and baking melts by hand.
Press half the dough into the bottom of an 8x8 baking pan. Set aside.
In another bowl, beat the cream cheese and sugar until creamy. Add the peanut butter and beat until smooth. Add the egg and beat until mixed in. Pour the cheesecake top of the cookie dough in the pan.
Press small pieces of cookie dough onto the top of the cream cheese layer. Continue until all the dough has been used and the cheesecake has been covered. Bake at 350 degrees for 45 minutes. Remove and let cool for one hour, and then refrigerate until completely chilled. Cut into 16 bars.
In a small bowl, combine the peanut butter chips and 1/2 teaspoon shortening. Heat for 30 seconds in the microwave. Stir until melted and smooth. Spoon into a plastic bag that has one corner cut off. Drizzle over bars. Repeat with chocolate chips. Keep refrigerated. Makes 16 bars.
Notes
You can also bake these bars in a 9x13 pan, if you want shorter thinner bars. Bake at 350 degrees for 25-30 minutes.
https://insidebrucrewlife.com/peanut-butter-cheesecake-cookie-bars/
Copyright Inside BruCrew Life

I am slightly addicted to Reese's…here are a few of my favorites.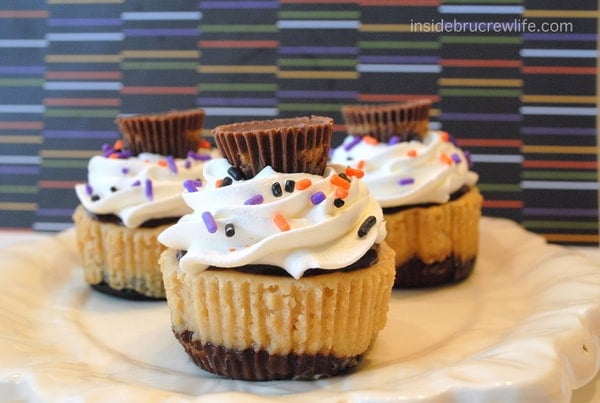 Reese's Peanut Butter Threat Cheesecakes