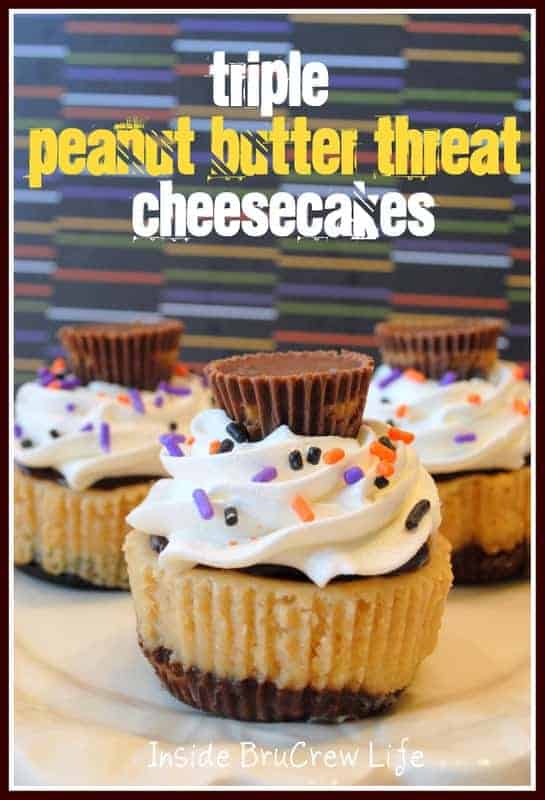 Driving through parking lots can be very tricky.
I have a very bad habit of looking for a closer spot than necessary
because I don't want the extra exercise that comes from parking 3 spots down:-)
I get very excited when I spot a potential spot…
but then I get to it and there is a itty bitty little car
pulled all the way up to the line.Seriously?
You had to pull all the way up?
I think they do that on purpose just to trick lazy people like me.Of course with the extra calories I just consumed in these cheesecakes
I am pretty sure I should park across the street from the store…
probably even down the street:-)These babies need to be made in YOUR kitchen today…
not mine…
because I already made and ATE them all.
And they were freaking delicious.I know your diet angel is screaming NO into your ear right about now,
but you really should make these…
just this once.
Then just park farther away on your next shopping trip to make up for it.
Your thighs will love you forever.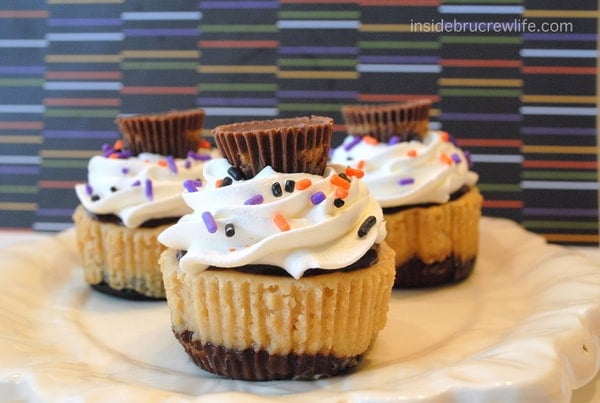 I double dog dare you to make these;-)
Yield: 16 cheesecakes
Triple Peanut Butter Threat Cheesecakes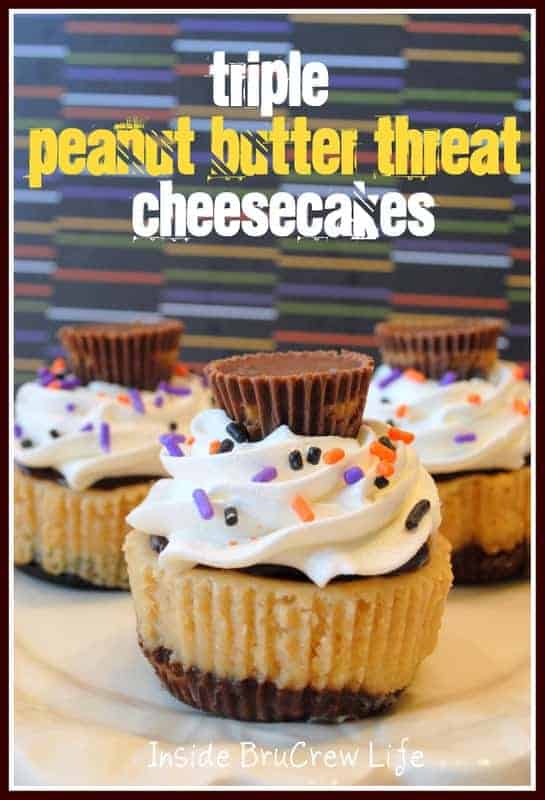 Peanut butter cheesecakes with Reese's peanut butter cups baked in the bottom and garnished on top.
Ingredients
2 - 8 ounce packages cream cheese, softened
1/2 cup sugar
2 eggs
2 Tablespoons sour cream
4 Tablespoons honey
1/2 cup peanut butter
16 regular Reese's Peanut Butter cups
16 miniature Reese's Peanut Butter cups
1/2 cup whipping cream
1 cup chocolate chips
Instructions
Preheat oven to 350 degrees. Place 16 cupcake liners in a muffin tin.
Place a large unwrapped peanut butter cup in the bottom of each cupcake liner.
Beat cream cheese and sugar until creamy. Add in the sour cream, honey, and peanut butter. Beat until creamy.
Add the eggs one at a time and beat until mixed in.
Spoon the batter onto the peanut butter cups.
Bake for 20-22 minutes. Cool in pan for about 15 minutes, then carefully remove to a wire rack to finish cooling.
Place in the refrigerator to chill completely.
Heat whipping cream to just below boiling, remove from heat, and stir in chocolate chips. Continue stirring until chips are completely melted.
Top each cheesecake with a generous spoonful. Cool.
Before serving, top with Cool Whip, sprinkles and a miniature Reese's peanut butter cup. Keep refrigerated