Peanut Butter Cupcakes with Banana Butter cream are a fun dessert to serve at any party. The hidden Reese's peanut butter cup in each one will make everyone smile.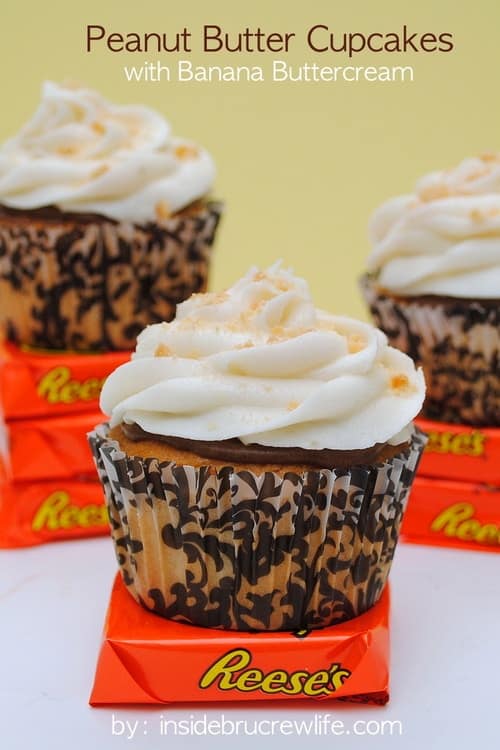 Want to know a common misconception about me?
Most people thing I am an awesome cook...but you guys know better, right?
I mean do you ever see "real" food on here? Nope! Just loads and loads of sugar!
(I should probably do something about the sugar overload!)
Now honestly I can cook...I just don't LIKE to do it.
When dinner time comes around, my mind hits a brick wall, and I seriously can't think of a single thing to make. Well, other than chocolate chip cookies and brownies 🙂 Thinking of desserts is the easy part!
It doesn't matter that we just made a meal list the day before AND went shopping for all the ingredients.
Poof! It just vanishes! I seriously can't think of a single thing to make.
Kids, we are having stove top mac and cheese AGAIN!
(Insert groaning)
We can survive on mac & cheese and banana waffles, right? Because that is about the extent of my dinner planning!
LOL! I'm kidding about the noodles and cereal...
but not about the poof part.
Totally true.
It is a very good thing that I have a husband that LOVES
to cook and plan meals, otherwise it could get boring.
There is only so much mac-n-cheese we can handle!
Now when I get an idea for a cupcake...that never disappears.
(Even though I try very hard not to think about it!)
But seriously, cupcakes with whole Reese's peanut butter cups baked into the bottoms are very unforgettable!
I mean look at that delicious cupcake bottom!!!
You want one, don't you?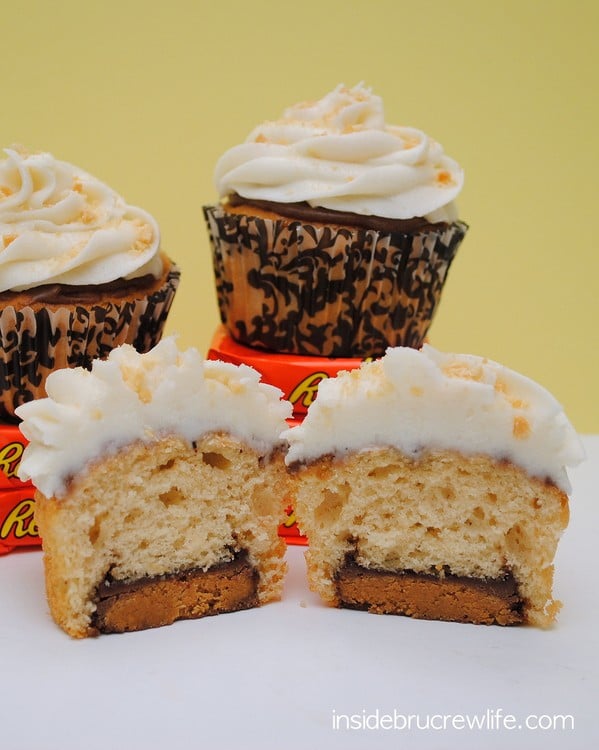 What's that?
You don't want one???
OH, you want TWO!!!
I understand♥
You don't need dinner!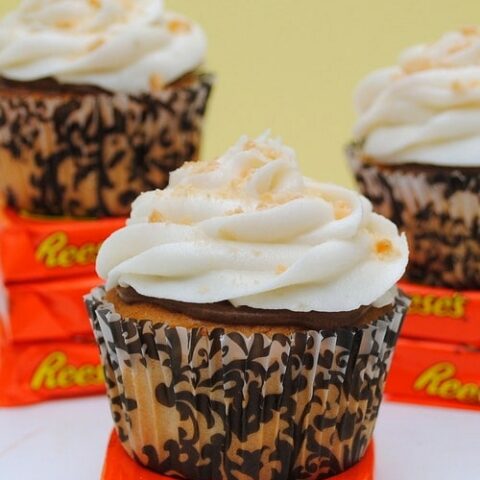 Peanut Butter Cupcakes with Banana Butter Cream
Peanut butter cupcakes with a hidden peanut butter cup and banana butter cream is a delicious and fun way to enjoy a cupcake dessert.
Ingredients
For the Peanut Butter Cupcakes
1 white cake mix
¾ cup water
⅓ cup oil
4 large eggs
⅓ cup creamy peanut butter
2 Tablespoons honey
24 Reese's Peanut Butter Cups
For the Chocolate Glaze
4 Tablespoons unsalted butter
3 Tablespoons cocoa powder
2 cups powdered sugar
½ teaspoon vanilla extract
¼ cup milk
For the Banana Buttercream
½ cup mashed banana
½ teaspoon lemon juice
4 Tablespoons butter, softened
4 ounces cream cheese, softened
1 teaspoon vanilla extract
¼ teaspoon salt
8 cups powdered sugar
½ cup chopped peanuts
Instructions
Preheat oven to 350 degrees. Place 24 cupcake liners in 2 - 12 count muffin tins.
Combine the cake mix ingredients. Beat on low for 1 minute, then on medium high for 1-2 minutes.
Unwrap the Reese's peanut butter cups. Place 1 in the bottom of each cupcake liner.
Fill the cupcake liners ¾ full of cupcake batter. Bake for 18-20 minutes, or until the tops spring back. Cool completely.
Melt the butter in a small saucepan over medium heat. Remove when melted.
Combine the cocoa powder and powdered sugar in a bowl. Add the melted butter, vanilla, and milk and beat until creamy.
Place a spoonful on top of each cooled cupcake and spread out. Let set.
Stir the lemon juice into the mashed bananas and set aside.
Beat the butter and cream cheese until creamy. Add the vanilla, salt, and mashed bananas and beat again.
Slowly start adding the sugar a little at a time. Continue to beat until all the sugar is mixed in.
Pipe generously on top of the chocolate glaze. Store the cupcakes in the refrigerator in a sealed container.
Nutrition Information:
Yield:

24
Serving Size:

1
Amount Per Serving:
Calories:

542
Total Fat:

26g
Saturated Fat:

9g
Trans Fat:

0g
Unsaturated Fat:

7g
Cholesterol:

49mg
Sodium:

256mg
Carbohydrates:

76g
Fiber:

2g
Sugar:

70g
Protein:

8g
Nutrition facts are an estimate and are not guaranteed to be accurate. If you need special diet advice, please see a registered dietician.