Peanut Butter Cupcakes with Banana Butter cream are a fun dessert to serve at any party. The hidden Reese's peanut butter cup in each one will make everyone smile.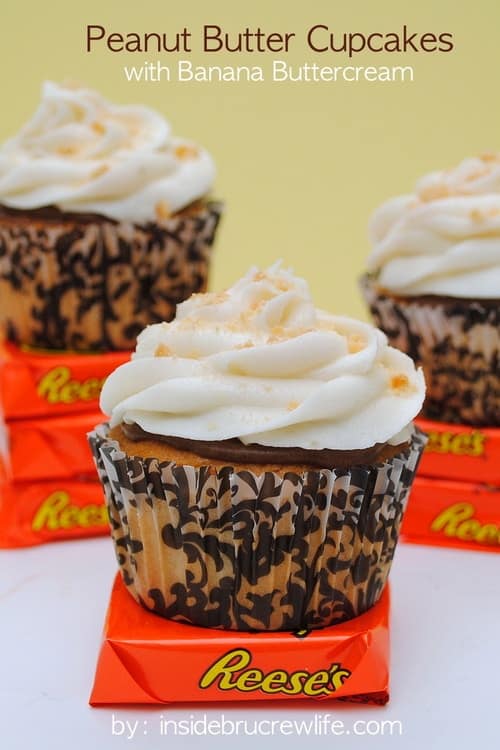 Want to know a common misconception about me?
Most people thing I am an awesome cook...but you guys know better, right?
I mean do you ever see "real" food on here? Nope! Just loads and loads of sugar!
(I should probably do something about the sugar overload!)
Now honestly I can cook...I just don't LIKE to do it.
When dinner time comes around, my mind hits a brick wall, and I seriously can't think of a single thing to make. Well, other than chocolate chip cookies and brownies 🙂 Thinking of desserts is the easy part!
It doesn't matter that we just made a meal list the day before AND went shopping for all the ingredients.
Poof! It just vanishes! I seriously can't think of a single thing to make.
Kids, we are having stove top mac and cheese AGAIN!
(Insert groaning)
We can survive on mac & cheese and banana waffles, right? Because that is about the extent of my dinner planning!
LOL! I'm kidding about the noodles and cereal...
but not about the poof part.
Totally true.
It is a very good thing that I have a husband that LOVES
to cook and plan meals, otherwise it could get boring.
There is only so much mac-n-cheese we can handle!
Now when I get an idea for a cupcake...that never disappears.
(Even though I try very hard not to think about it!)
But seriously, cupcakes with whole Reese's peanut butter cups baked into the bottoms are very unforgettable!
I mean look at that delicious cupcake bottom!!!
You want one, don't you?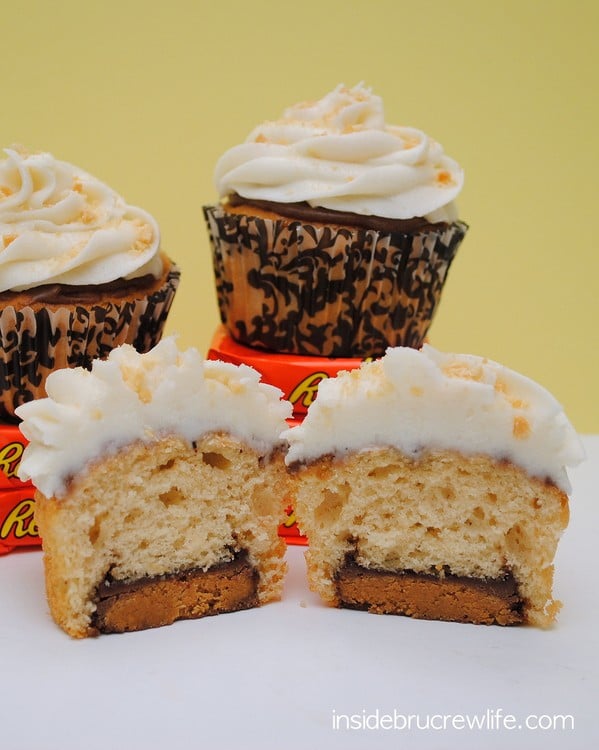 What's that?
You don't want one???
OH, you want TWO!!!
I understand♥
You don't need dinner!