A stack of fluffy Banana Waffles served with your favorite toppings is the best way to start any morning. These easy homemade waffles have a crispy outside and a soft tender inside with the perfect banana bread flavor. They are a delicious and easy breakfast that everyone in your family will love.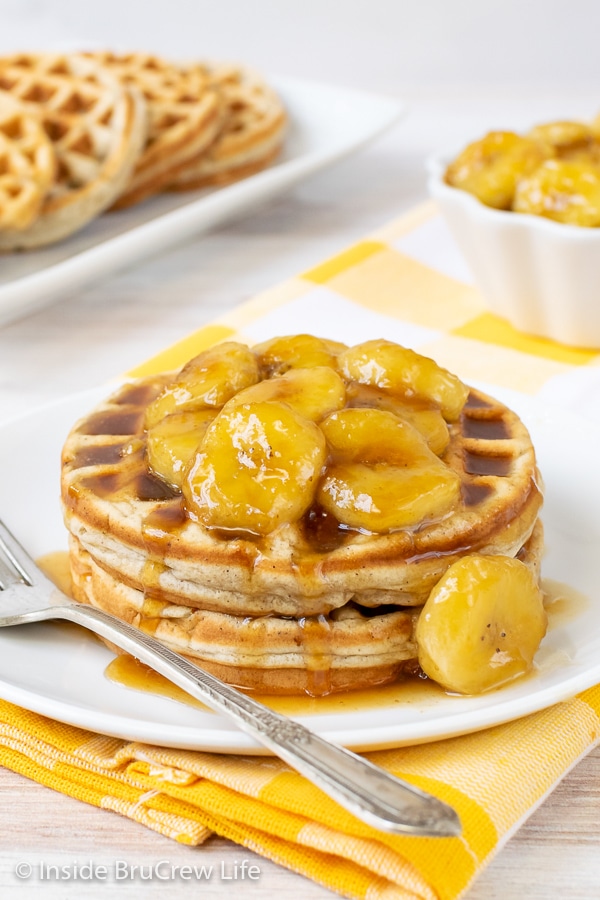 Banana Waffles
I adore making recipes with bananas. There is always at least one bunch on our counter waiting for snack time. I'm just over here waiting for everyone to forget about the yellow fruit, so I can bake more banana treats.
We usually make these Banana Pancakes for breakfast, but this week I decided to change it up and make a batch of homemade banana waffles for breakfast. A few tweaks to these Apple Waffles, and we had a new breakfast favorite.
Sure, you could make waffles from a box mix, but waffles from scratch are just as easy and taste so much better. Trust me. These homemade waffles are quite simple and can be made in minutes.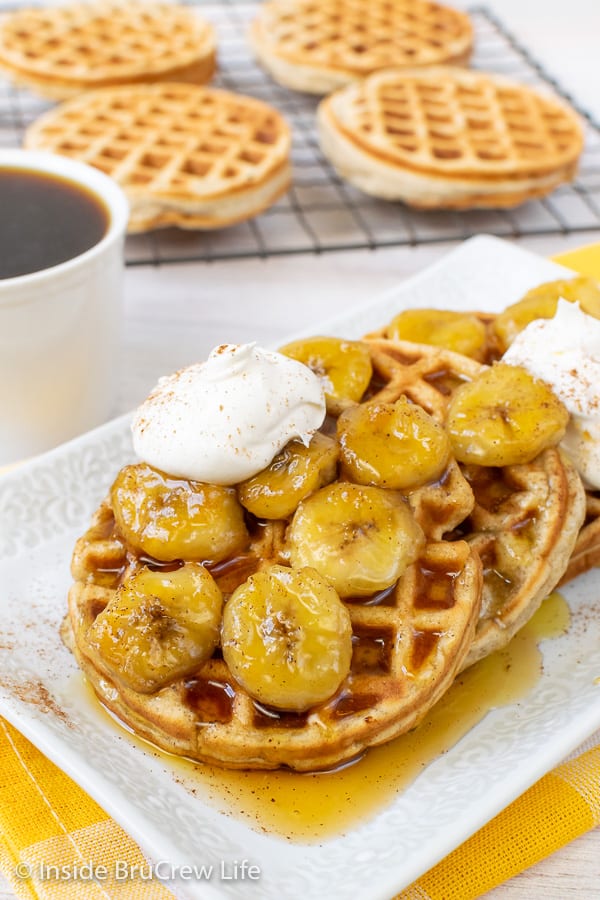 Ingredient List
These homemade waffles can be made with ingredients you probably already have in your pantry and refrigerator.
Flour - we usually use all purpose flour, but gluten free or
Cornstarch - gives a good crispy texture to the outside of the homemade waffles
Baking Powder, Baking Soda - gives the waffles the lift they need to be fluffy
Salt, Spices and Vanilla Extract - give it a good flavor
Brown Sugar - sweetens the waffles. Granulated sugar can be used too.
Eggs, Oil, and Milk - provides moisture needed for the batter
Bananas - three large sized overripe bananas should give you 1 ½ cups mashed banana. Frozen ripe bananas can be used too. Thaw and drain the excess liquid before mashing.
If the bananas on your counter are not ready for baking, see how to quickly ripen bananas in the oven.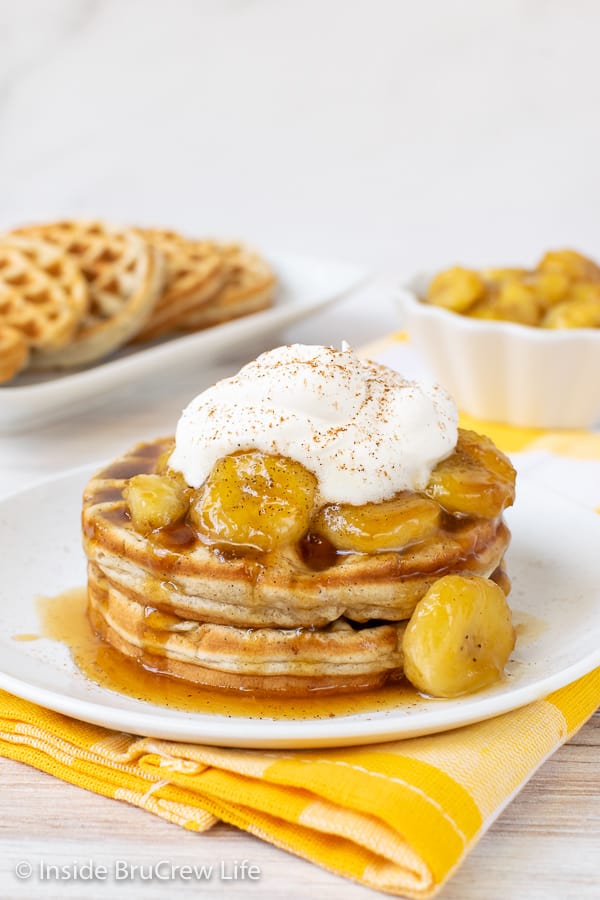 How to make Homemade Banana Waffles
These fluffy banana bread waffles are so easy to make. Mix everything in one bowl and spoon onto a heated waffle iron. Everyone will be racing to the breakfast table in a hurry when you make this banana waffle recipe!
Stir together all your dry ingredients in a bowl.
Create a "hole" in the center of the dry ingredients.
Add the eggs, oil, milk, vanilla, and mashed bananas to the bowl and gently mix until everything is combined.
Let the batter sit for about 10 minutes while your waffle iron heats up.
Place spoonfuls of waffle batter on a greased heated iron and cook for 3-5 minutes.
Remove with a fork and place on a wire rack.
Add your favorite toppings and serve hot.
Recipe Tips
Do NOT over mix the waffle batter. Too much mixing can create a waffle that is chewy and tough. It's ok if there are some lumps in your batter.
You can use pureed pumpkin, mashed sweet potato, shredded apple or zucchini, or mashed pears in place of the banana.
Know your waffle iron and how it cooks. All of them are different and will cook differently. I like to use a small Dash waffle maker, so that they fit in our toaster for reheating later.
Place cooked waffles on a wire rack to cool. Stacking hot waffles WILL result in soggy waffles.
Freeze a batch of banana waffles for later.
For toasted waffles, use a toaster to add a crisp outside to the refrigerated or frozen waffles.
CLICK HERE TO PIN THIS RECIPE FOR LATER!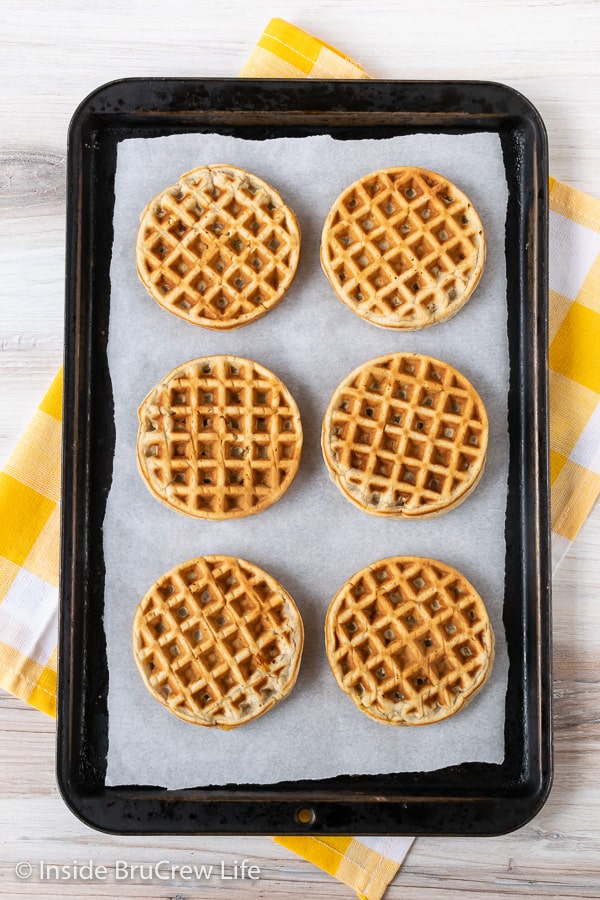 Storage
Refrigerator - Keep uneaten waffles in a covered container in the refrigerator. These will keep for 4-5 days.
Freezer - Place them on a parchment lined tray and freeze for 30 minutes, then place in a freezer safe bag for up to one month.
Reheat - Place in a toaster on a low-medium setting for two cycles.
Toppings for Banana Waffles
These homemade waffles are absolutely delicious all by themselves, but add a few toppings and they are even better! Try one or more of these waffle toppings for a decadent cafe breakfast in the comfort of your home. My favorite combo was caramelized bananas, Cool Whip, and cinnamon!
Cinnamon Syrup, Honey, or Chocolate Syrup
Peanut Butter or Nutella
Chocolate Chips - stir ¼ cup mini chocolate chips into the batter before cooking
Fresh Fruit - strawberries, blueberries, raspberries, blackberries
Caramelized Bananas
Chopped Nuts - walnuts, pecans, almonds
Cool Whip or Whipped Cream recipe - try this homemade Spiced Whipped Cream for a fun treat
Spices - cinnamon, nutmeg
Frequently Asked Questions
What makes homemade waffles from scratch crispy?
Cornstarch is the secret to crispy waffles. It adds the perfect crisp to the outside while the inside stays soft and tender.
How long do you cook waffles?
That will depend on what model of waffle maker you are using. Most waffles cook somewhere between 3-4 minutes.
How do you keep homemade waffles crisp as you are making more?
Heat oven to 200 degrees. Put a sheet pan with a cooling rack in it inside the oven. Place finished waffles on the rack in a single layer while you are cooking. Serve warm waffles all at once.
What else can you make with a waffle iron?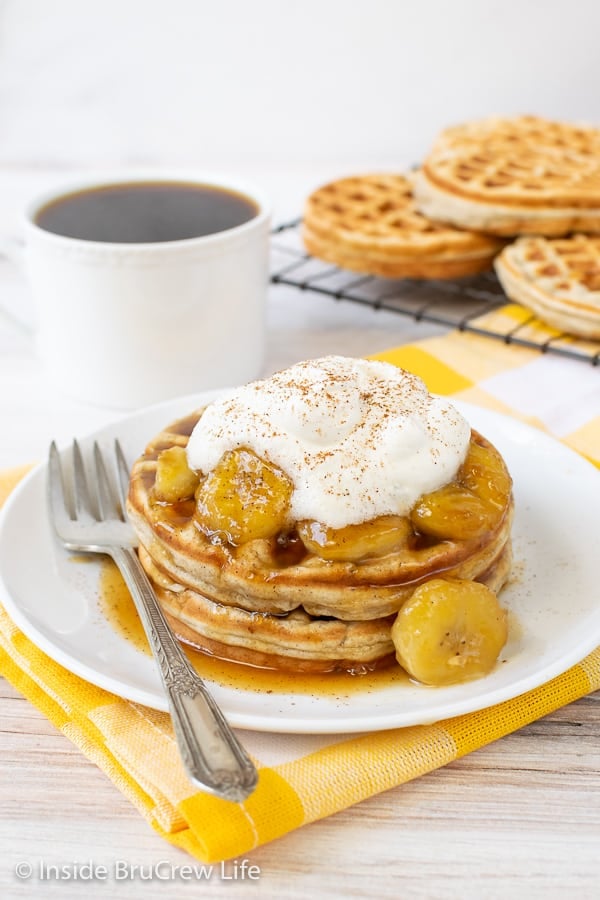 More Easy Banana Recipes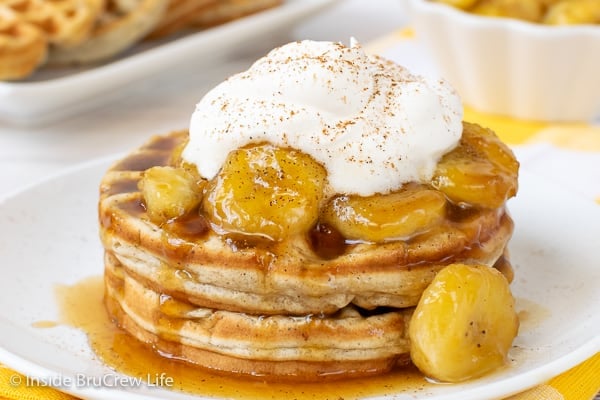 Love a recipe you tried from Inside BruCrew Life?
Please leave a 5 star ⭐️ rating and/or a review in the comments section further below.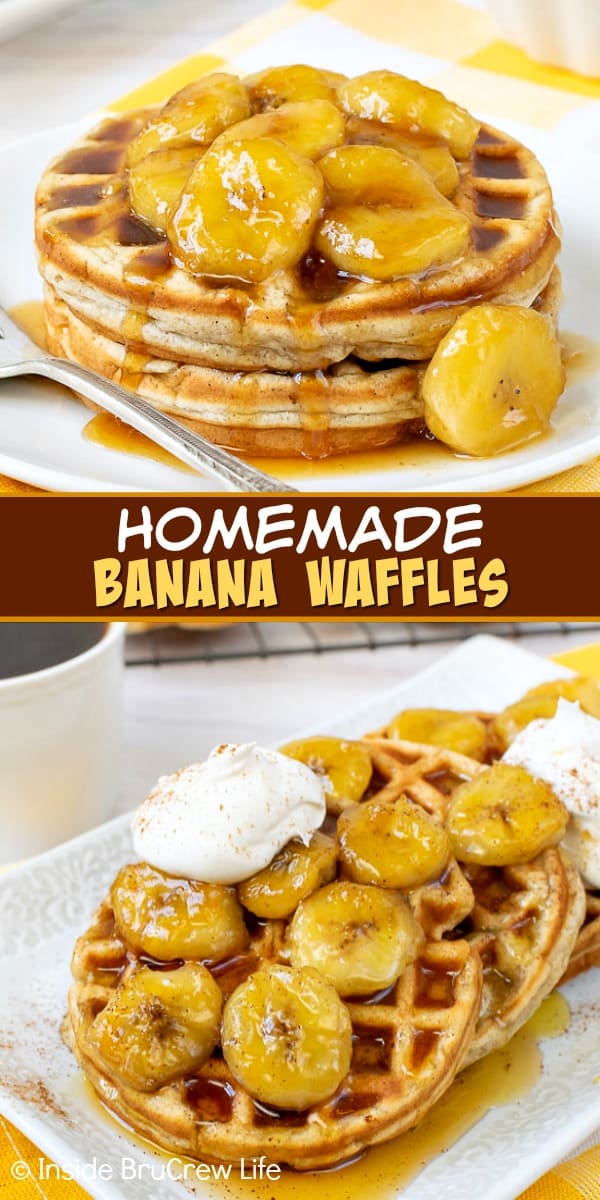 *The post for Homemade Banana Waffles was first published February 27, 2020. The post was updated and republished April 30, 2021.