Candy eyes and purple sprinkles make these easy Peanut Butter Monsters a fun no bake treat to share at Halloween parties.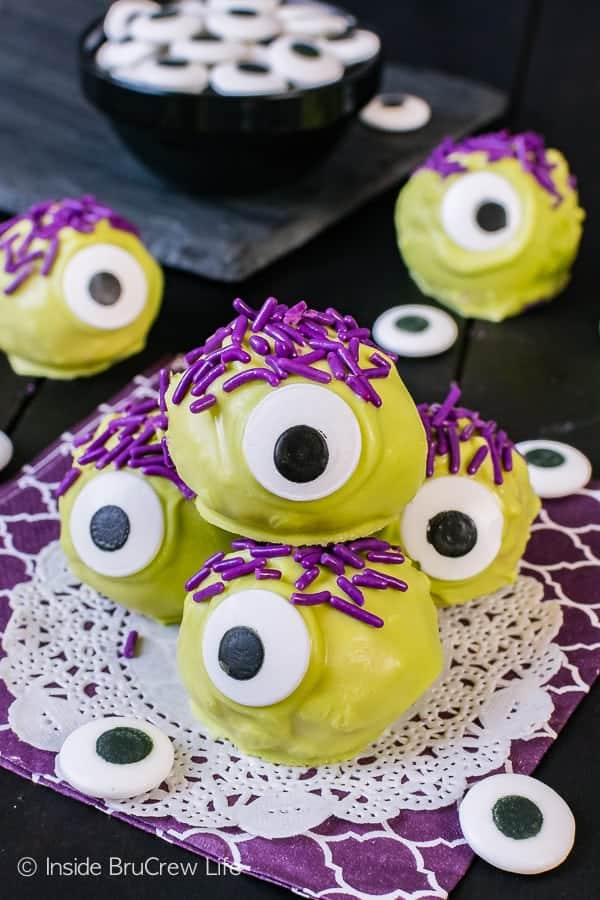 CLICK HERE TO PIN THIS RECIPE FOR LATER!
We just found out that there is a long, black, creepy, crawly monster living outside our garage door. I may never set foot outside again.
Of course, eventually I'm going to run out of my four main staples. You know, chocolate, coffee, flour, and sugar. Time to set up a delivery plan, or have my hubby do all the grocery shopping from here on out. Wait…that could be bad. You see, he is much better about avoiding extra things at the grocery store. I'm the one who throws things in the cart on a whim and a prayer.
Hey, that's how things like this Salted Caramel Oreo Bark come alive. I had no idea what I was going to do with those cookies when I first bought them. Ok, fine. I have to leave the house eventually. But now that I know a giant man eating snake lives in our bushes, I will be putting my running skills to the test.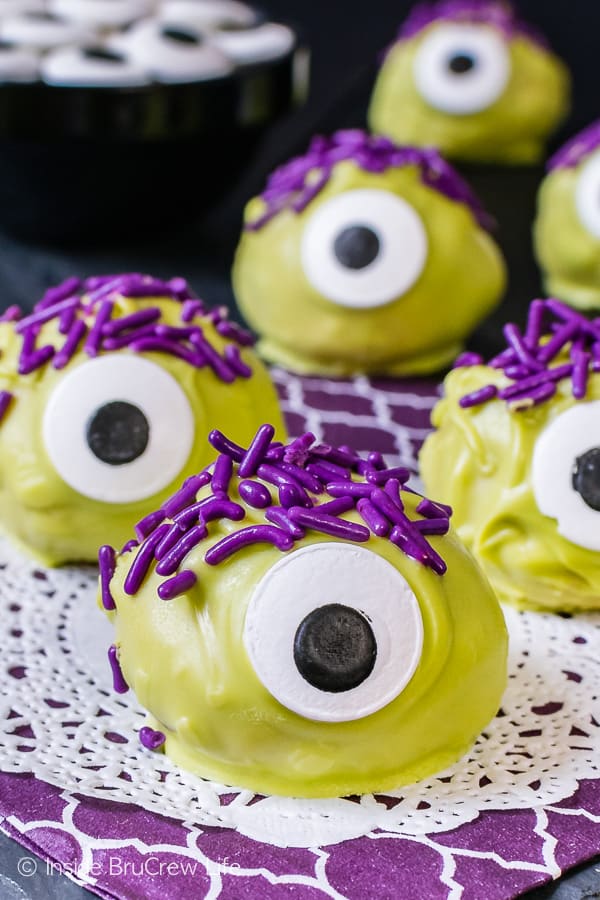 Fine, so maybe I'm exaggerating just a little bit. I don't think it's really a man eating snake. Maybe he just dropped by to snack on the rat we saw the other night in our garbage. At this point, I don't know which one I want gone first.
The other day my hubby came back in the house and said there was a black snake under our car. I went out thinking it was probably just a little tiny five inch garter snack.
Nope! A big 3 foot monster slithered out from under the car and disappeared in the flower bed. There is no way I'm ever pulling weeds out there again.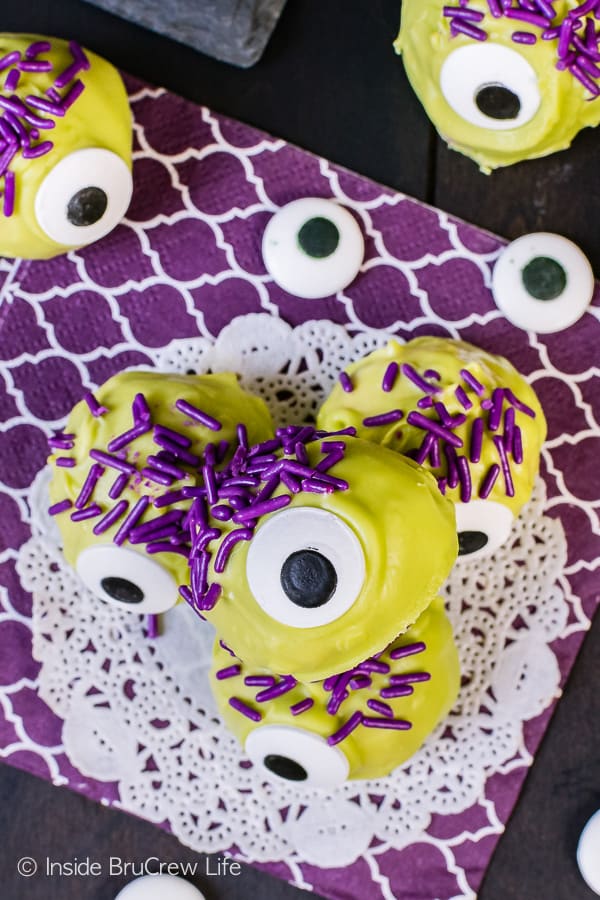 Since our outside is infested with nature monsters, I decided to get busy and make some fun cute monster treats for the inside. Snack-able monsters are the only kind I let in the door. Well, other than my children that is.
Our kids love when I make these Peanut Butter Zombie Eyeballs for halloween. I have to admit, they are one of my all time favorites too.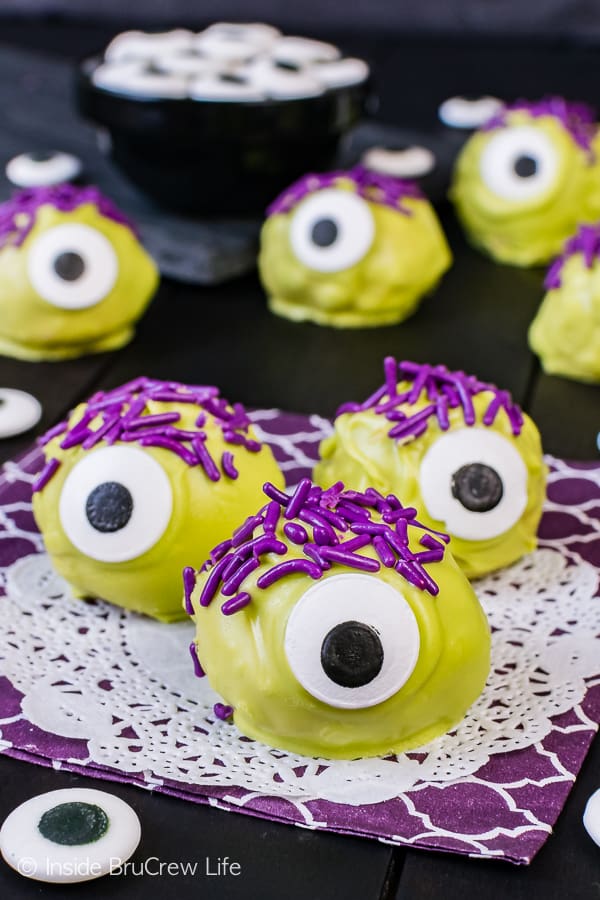 Peanut Butter Monsters
This year I made the same Peanut Butter Balls, but this time I dipped them in green chocolate. Googly eyes and purple sprinkles made these little peanut butter monsters look so cute.
The one big eyeball just cracks me up! Of course, anything made with those little candy eyes makes me giggle. Can't stop, won't stop using them.
If you are as crazy for those candy eyes as I am, here are a few fun halloween treats you have to see. These mummy halloween cupcakes would be the perfect party treat. And how fun are these easy chocolate werewolf cookies? I'm thinking a batch of this monster mash halloween candy bark is going to be the perfect way to use up all our extra candy this year.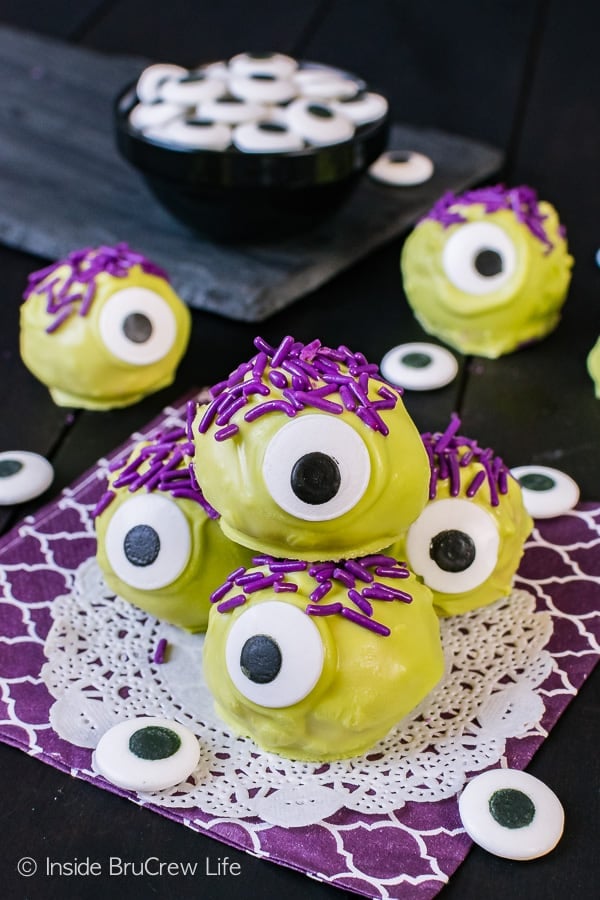 Stay up to date on all the BruCrew baking here:
FACEBOOK | PINTEREST | TWITTER | INSTAGRAM | BLOGLOVIN
Sign up to receive an email in your inbox for each new recipe:
EMAIL SUBSCRIPTION
Peanut Butter Monsters recipe: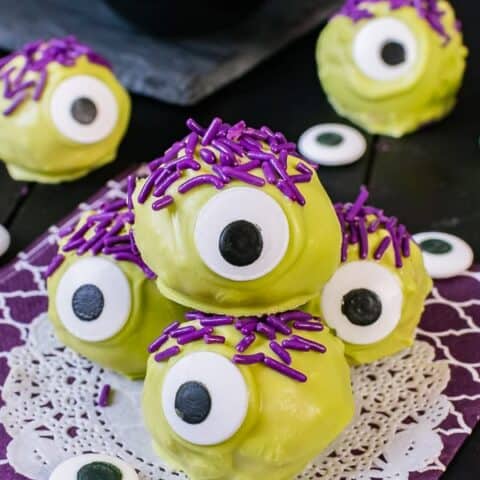 Peanut Butter Monsters
Yield:
30 peanut butter monsters
Candy eyes and sprinkle hair make these easy Peanut Butter Monsters a fun no bake treat to share at Halloween parties.
Ingredients
6 Tablespoons butter, softened
1/2 cup creamy peanut butter
1/4 cup marshmallow cream
1/2 teaspoon vanilla
pinch of salt
2 cups powdered sugar
1 bag green candy melts
30 large candy eyes
purple sprinkles
Instructions
Beat together the butter, peanut butter, marshmallow, vanilla, and salt until creamy.
Slowly beat in the powdered sugar. Roll the mixture into 30 even balls. Place in the refrigerator for at least an hour.
Melt the candy melts according to the package directions. Use a toothpick to dip the peanut butter balls in the melted candy. Place on a piece of parchment paper and pull the toothpick out. Use the toothpick to cover the hole and to drag across the melted candy to create a fur effect.
Press a candy eye in the front and add sprinkles to the top. Let set.
Notes
*Dip the chilled peanut butter balls in batches. I like to pull 10 out at a time to dip in the melted candy melts.
Nutrition Information:
Yield:

30
Serving Size:

1
Amount Per Serving:
Calories:

102
Total Fat:

4g
Saturated Fat:

2g
Trans Fat:

0g
Unsaturated Fat:

2g
Cholesterol:

6mg
Sodium:

46mg
Carbohydrates:

15g
Fiber:

0g
Sugar:

12g
Protein:

1g