Serve up some eye popping fun this year!  Oozing red gel frosting and a candy eye add a fun and spooky flair to these easy no bake Peanut Butter Zombie Eyeballs. These are an awesome treat treat for Halloween or Walking Dead parties!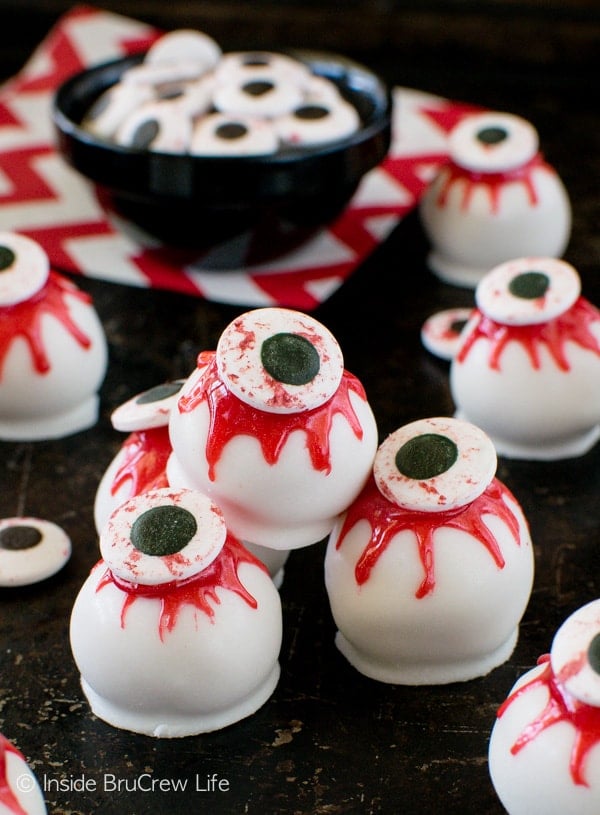 CLICK HERE TO PIN THIS RECIPE FOR LATER!
Every year at this time our boys ask if I am going to make spooky eyeballs again.  A few years ago I made these fun treats for a party, and now they want a batch of eyes for Halloween every year.
Most of the treats that I make around here are crazy ideas that I have come up, so if the boys request a dessert, I am all over it.  And of course, any chance I get to eat chocolate and peanut butter is always a good day.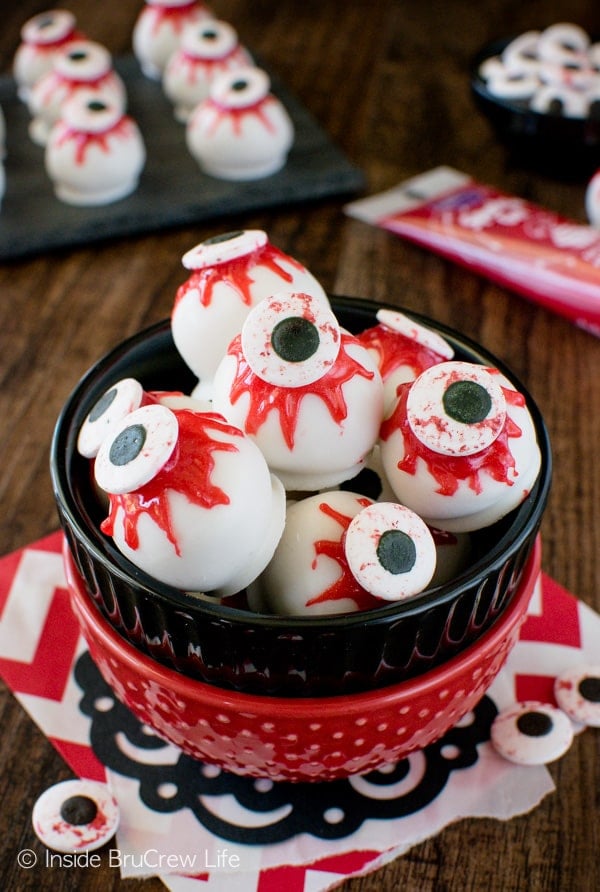 I am definitely used to gross things like boogers, farts, and burps because I live with three boys.  So, oozing bloody eyes do not phase me at all.  Ok not true because if I actually had to see that kind of thing in real life I would be grossed out!  These treats are cool because it is just candy and frosting.
This past weekend the boys were super pumped to watch The Walking Dead.  I have to admit, I have not gotten into this show, even though they keep trying to get me to watch.
First of all, I would have to binge watch zombies for a long time to catch up, and that idea doesn't thrill me. Finally, it is about zombies. I really have a ton of other things I could be working on.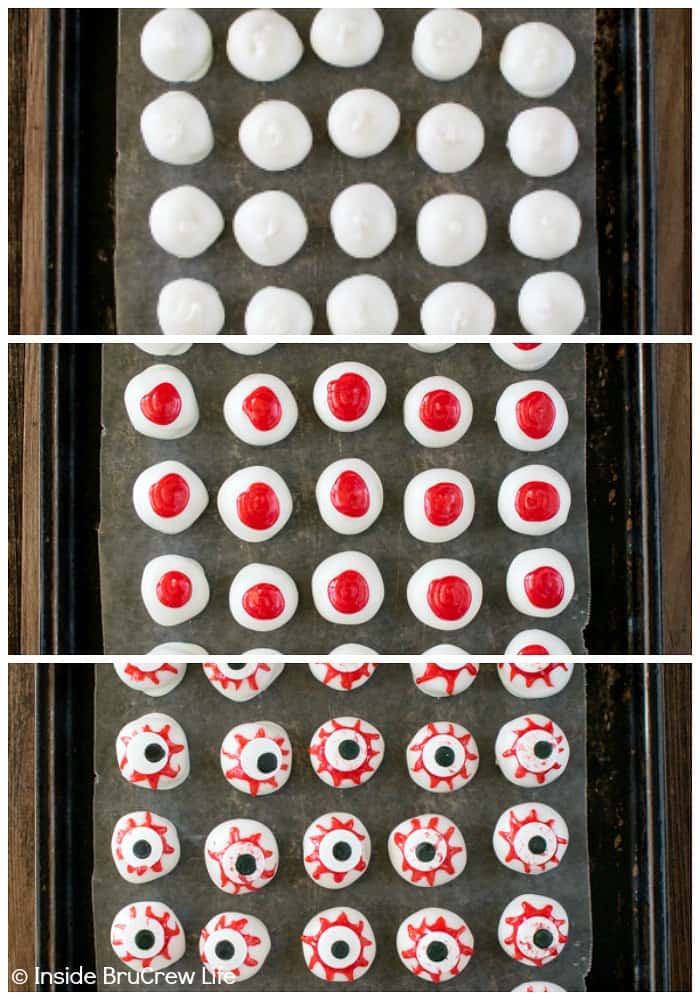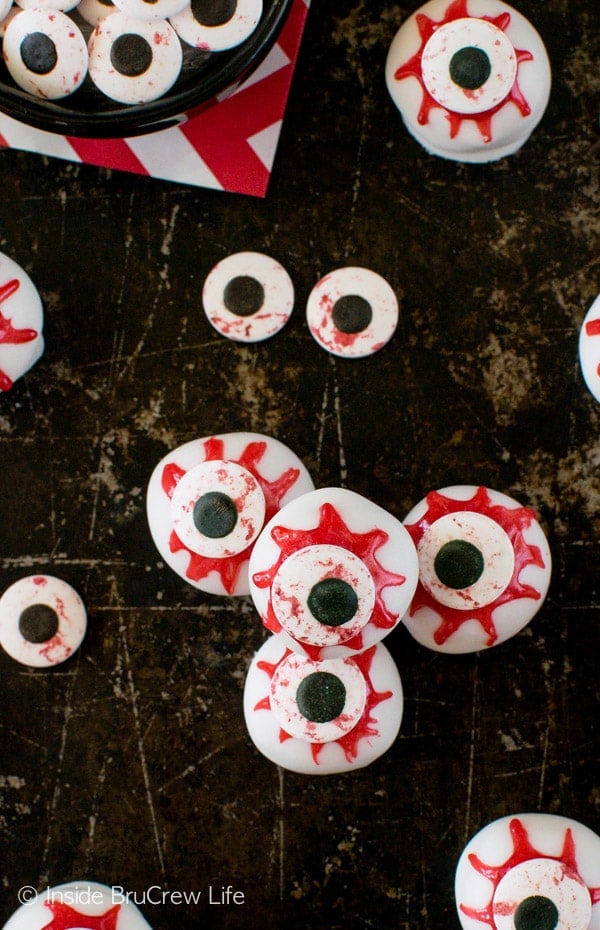 My husband saw these peanut butter zombie eyeballs chilling on the counter, and he said they look like Glenn's eyeball.  Because they had told me what happened on the show, I knew what he was talking about.
But then he pulled up replays…and made me watch the eyeball scene.  Eeeewww eeeewwww!  I have no idea how people watch this show…that's all I have to say about it.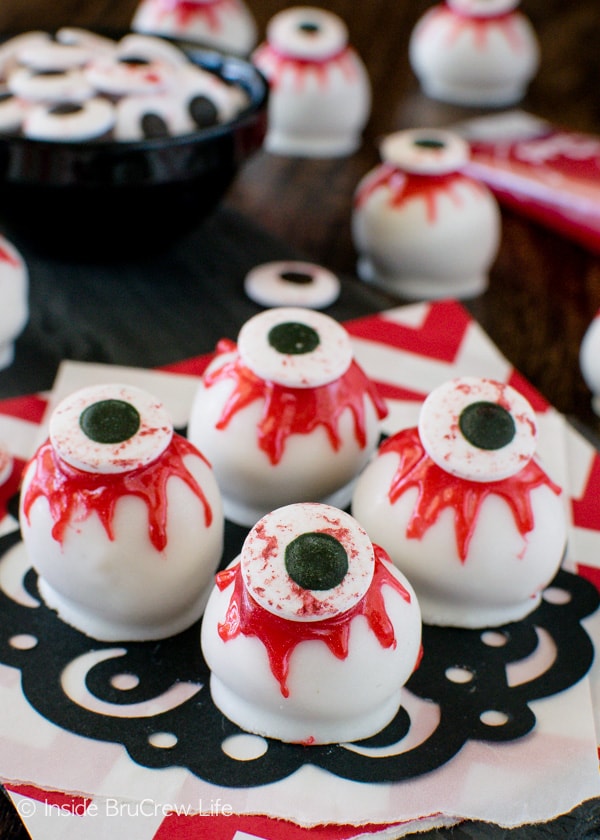 Due to all the blood in that one scene, I would much rather be in the kitchen baking up fun treats like these Frankenstein marshmallows rather than watching gore and zombie guts.  Just saying!
Now you should recognize this recipe because it is the same as our popular peanut butter balls but with a Halloween twist!  Or a Walking Dead twist if that's how you roll.
Just roll the easy peanut butter mixture into even balls, and then dip them in white chocolate.  Squeeze some red gel frosting on the tops and drag it down with toothpicks. Finally, place a candy eye right on top.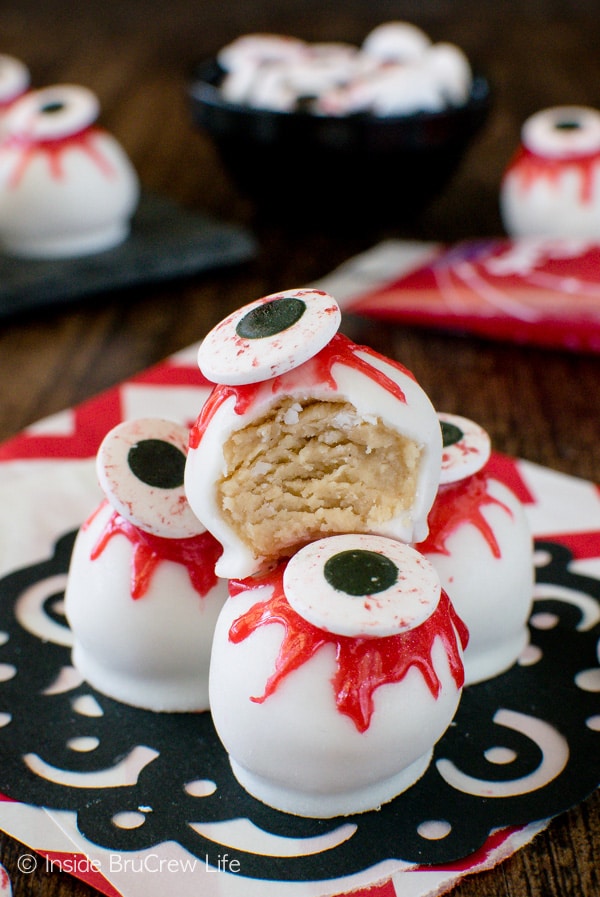 Stay up to date on all the BruCrew baking here:
FACEBOOK | PINTEREST | GOOGLE+ | TWITTER | INSTAGRAM | BLOGLOVIN
 Sign up to receive an email in your inbox for each new recipe:
EMAIL SUBSCRIPTION
Yield: 36 eyeballs
Peanut Butter Zombie Eyeballs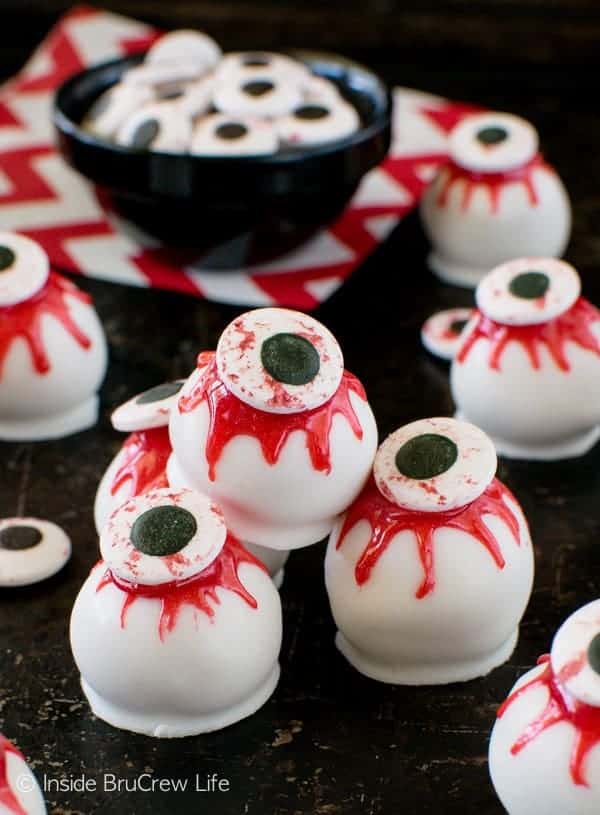 Oozing red gel frosting and a candy eye adds a fun and spooky flair to these easy no bake Peanut Butter Zombie Eyeballs. These are an awesome treat for halloween parties!
Ingredients
6 Tablespoons butter, softened
1/2 cup creamy peanut butter
1/4 cup marshmallow creme
1/2 teaspoon vanilla extract
pinch of salt
2 cups powdered sugar
1 bag (10 oz.) white candy melts
1 tube (2 oz.) red sparkle gel
36 large candy eyes
Instructions
Mix together the butter, peanut butter, marshmallow, vanilla, and salt until creamy.
Slowly add the powdered sugar and mix until a soft dough forms.
Roll the mixture into 36 even balls. Place on a wax paper lined tray and refrigerate for at least 30 minutes.
Melt the chocolate according to the package directions. Use a toothpick to dip each peanut butter ball. Place on the wax paper lined tray. Cover the toothpick hole with more chocolate. Let set.
Squeeze a circle of red gel on the top of each peanut butter ball. Use a toothpick to drag the side down the sides of each truffle. Top with the candy eyes. Let set. Store in a loosely sealed container. Makes 36 peanut butter zombie eyeballs.
Nutrition Information:
Yield:
36
Serving Size:
1
Amount Per Serving:
Calories:

88
Total Fat:

4g
Saturated Fat:

2g
Trans Fat:

0g
Unsaturated Fat:

2g
Cholesterol:

5mg
Sodium:

39mg
Carbohydrates:

14g
Net Carbohydrates:

0g
Fiber:

0g
Sugar:

10g
Sugar Alcohols:

0g
Protein:

1g
More fun and easy Halloween treats for your parties: