This fun Peanut Butter Mousse Cake has layers of white cake and a fluffy peanut butter filling. It's an impressive dessert to share at any party.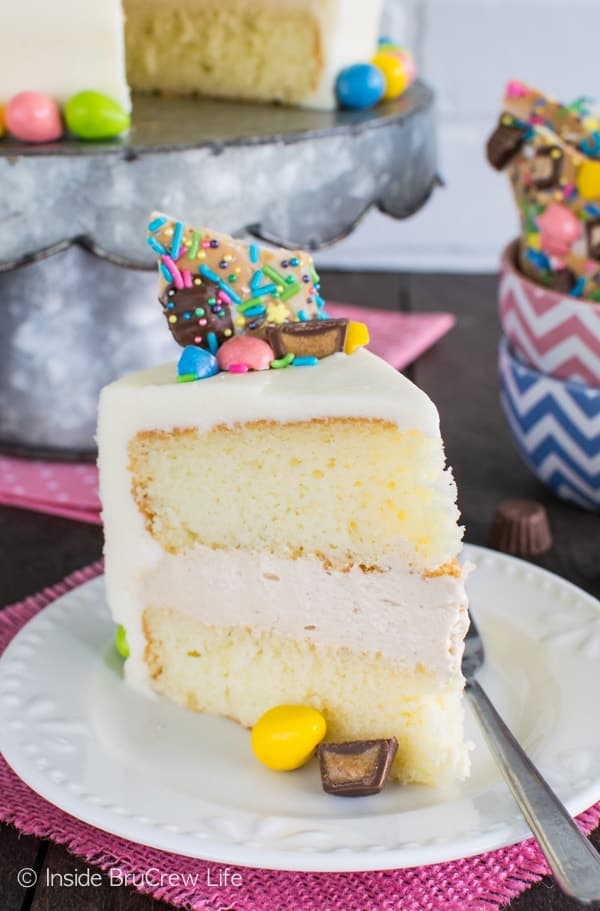 So, I have some big, monstrous, fun news to share with you! And of course, we can't celebrate this news without cake, right? Something about cake says party to me!!!
Have you noticed lately that I have slowed down on the recipes and posts around here? Some of that is due to moving and life changes. Packing up an entire household and moving across the country to learn a new culture and area can be taxing. But honestly, that isn't the big reason for slowing down...
Most of my time and energy has been going into cheesecaking everything!!! If you have been reading our blog for a few years, you know that we love to include cheesecake in just about everything! You may have also noticed that there has been a shortage of cheesecake recipes here in the past 6 months or so.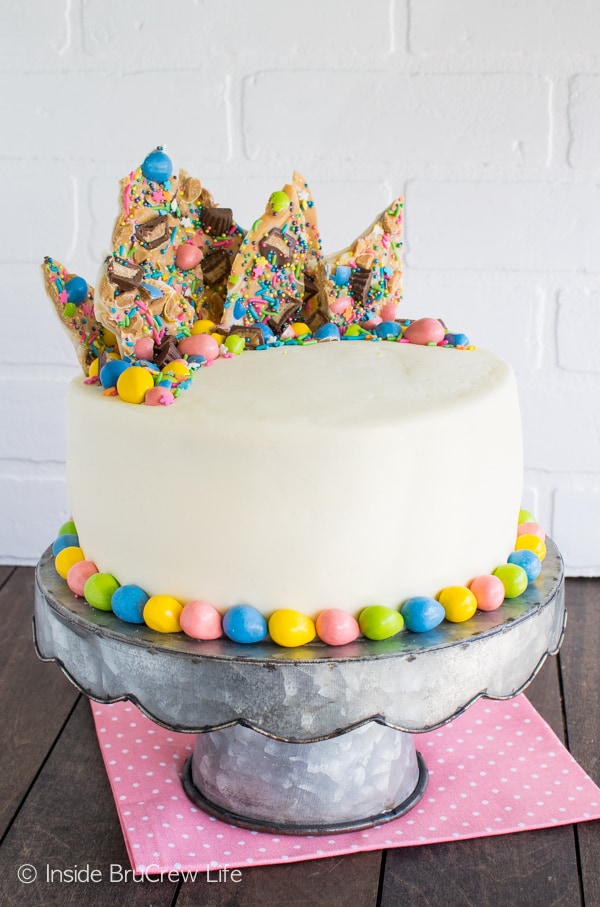 Have no fear!!!! Your cheesecake dreams are about to be fulfilled with my big project!!! I am writing a COOKBOOK all about CHEESECAKE!!!
That's right! This fun book will show you just how easy baking (and eating) cheesecake is! There will be full-sized cheesecakes, mini cheesecakes, brownie cheesecakes, cheesecake pies, cheesecake pastries, and so much more cheesecake! You will just have to be patient though. It doesn't come out until next spring. I know...it's forever away. But I promise it will be worth the wait!
My fridge has been packed with 5-6 different cheesecake treats lately! So much cheesecake has been happening that is has been ridiculous...and crazy! In fact, everyone in our house has stopped eating it, so I have been sending it to our church for Wednesday night dinners. Thank goodness someone is eating it!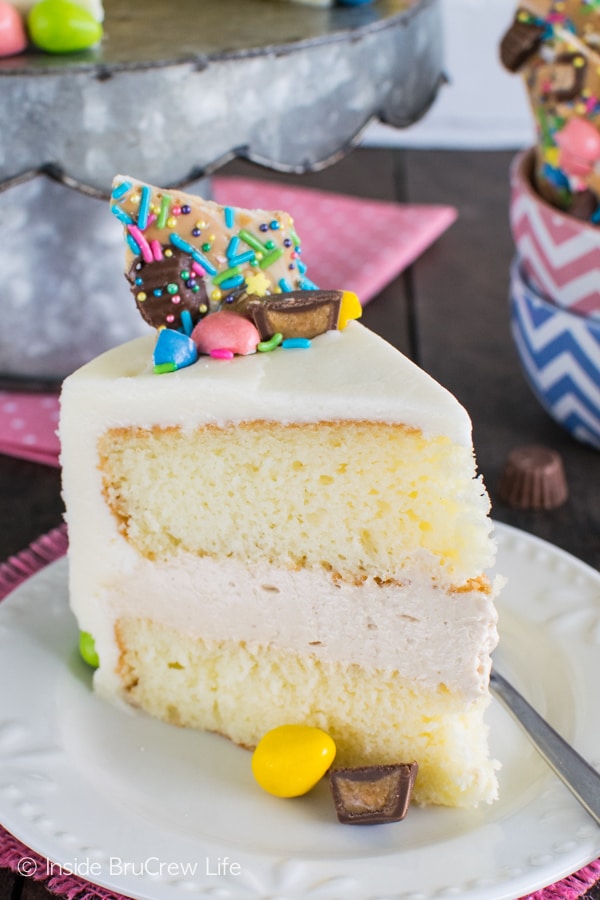 I never realized how much work went into writing a book. Part of me is so excited for this opportunity...but there is this part of me that is scared to death! What if it flops? What if the recipes work for me, but not for others? What if I can't get it written on time? What if's are plaguing me right now!
When life gets scary and stressful, cake helps! Am I right? Something about a fluffy cake filled with a peanut butter mousse filling, covered in frosting, and topped with candy makes it all seem ok.
Well, until you consume 3 slices and realize that now your skinny jeans don't fit. Must add more workouts to my current situation...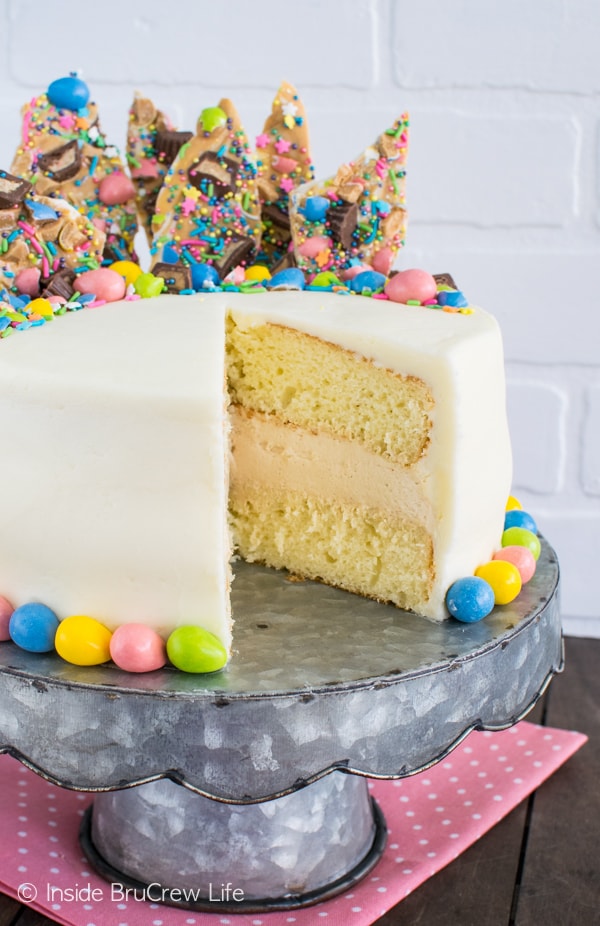 Last month I made this strawberry mousse cake, and I just couldn't wait to make another version. That fluffy no bake cheesecake mousse filling was all I could think about.
So after I made this white chocolate peanut butter bark this week, I realized it would make the perfect party topping to a cake!
Just don't make the same mistake I made and shove the bark into the cake without some prep! You can't see it in the pictures, but the back half of my cake broke apart right after I took pictures. Turns out if you shove a bunch of big things into the very edge of a soft cake, it will break. I'm glad I could troubleshoot this for you!
I have a solution that I really should have known ahead of time! Lollipop sticks!!! That's right. Melt a little bit of white chocolate and add some lollipop sticks to the back of the bark pieces BEFORE you stick them into your cake. Also, don't put them in too close to the edge of the cake. I suggest moving the decorations just slightly toward the center. Just my helpful FYI for the day!
Now go make your self a peanut butter mousse cake because we need to celebrate this new cookbook journey together. And I don't want to be the only one with tight jeans...
Cake is just such a fun way to celebrate different things. Right now I'm loving this Hidden Rainbow Easter Egg Cake, 15 Minute Sunflower Peep Cake, and this Ombre Easter Cake. They are all so pretty and fun colored and perfect for fun Easter celebrations!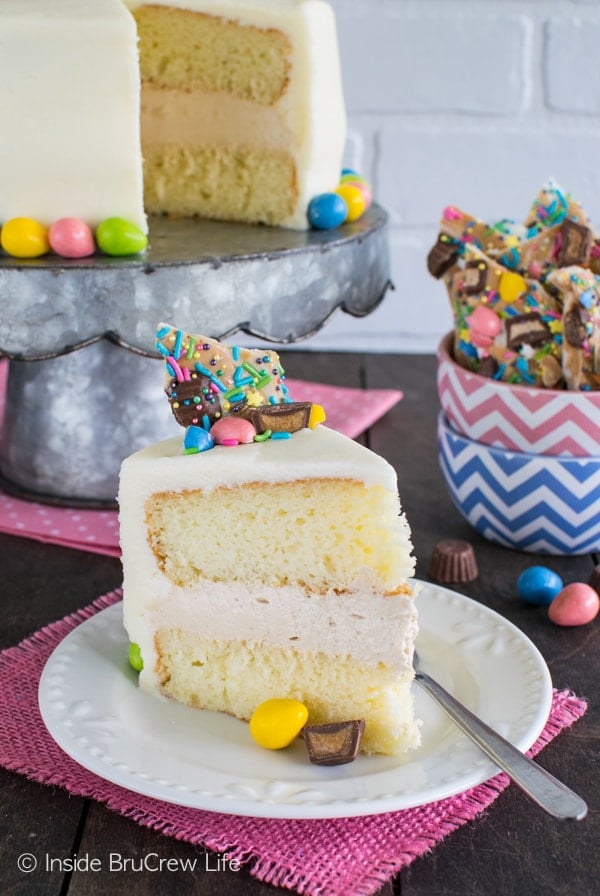 Love a recipe you tried from Inside BruCrew Life?
Please consider leaving a 5 star ⭐️ rating and/or a review in the comments section further below.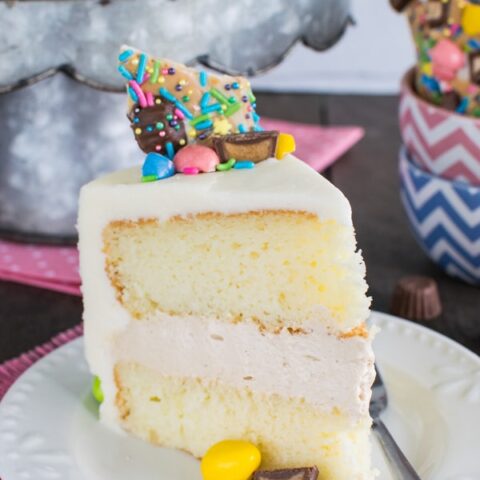 Peanut Butter Mousse Cake
Layers of white cake and a fluffy no bake peanut butter filling make this Peanut Butter Mousse Cake a fun and delicious dessert for any party.
Ingredients
For the Cake
1 white cake mix
½ cup oil
½ cup sour cream
3 eggs
1 cup milk
For the Filling
12 ounces cream cheese, softened
½ cup sugar
1 cup creamy peanut butter
2 cups Cool Whip
For the Frosting
1 cup butter, softened
1 teaspoon vanilla
½ teaspoon salt
4 ½ cups powdered sugar
½ cup heavy whipping cream
2 ounces white chocolate melting chocolate
lollipop sticks
Reese's Pieces eggs
Reese's PB Cup minis, cut in half
sprinkles
Instructions
Mix together the cake mix, oil, sour cream, eggs, and milk. Beat on low for 1 minute, then increase the speed and beat on medium for 2 minutes.
Pour into 2 greased 8 inch pans. Bake at 350 degrees for 26-28 minutes or until a toothpick comes out mostly clean.
Remove and cool 15 minutes in the pan, then gently flip out onto a wire rack and cool completely.
Beat the cream cheese until creamy. Add the sugar and beat again until smooth.
Add the peanut butter and beat until creamy. Fold in the Cool Whip gently. Refrigerate while you make the frosting.
Beat the butter until creamy. Add the salt and vanilla and beat again. Slowly add the powdered sugar and whipping cream alternately until both have been mixed in.
Beat on high for a few minutes to get it light and fluffy.
If needed, cut off the tops of both cakes to make them flat and level. Place one layer on a plate. Spread the peanut butter mousse evenly over the top, keeping it slightly away from the edge. Top with the other cake. Refrigerate for 30 minutes.
Spread the frosting over the entire cake with a spatula. Try to get it as even and smooth as possible. Let it set for 20 minutes, then smooth it out with a piece of parchment paper. Refrigerate the cake until time to serve.
Melt the white chocolate and use it to add lollipop sticks to the backs of a few pieces of bark. Chop a few Reese's eggs for decoration. Gently stick the bark sticks into the cake. Do not put them too close to the edge. Add some chopped eggs, peanut butter cup halves, and sprinkles around the bark. Keep the cake refrigerated if not being eaten. Makes 1 - 8 inch cake with 10-12 slices.