Lots of sprinkles and candy make this White Chocolate Peanut Butter Bark a fun treat to share at any party.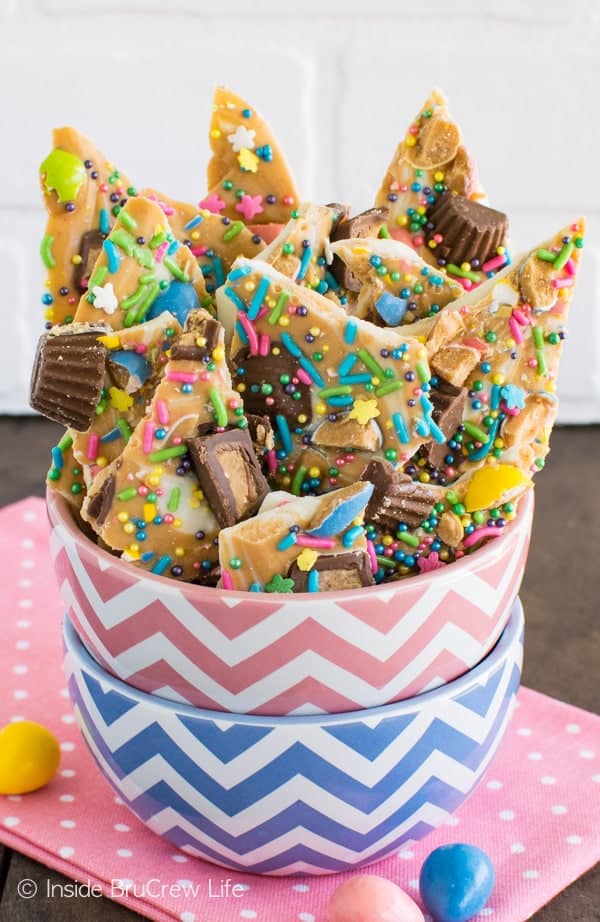 Last week our kids were on spring break. With my husband just starting his new job a few months ago, we couldn't really go any where this year. Although before we were trying to escape the cold of the midwest, living in TX we don't have to worry about leaving for warmth.
I needed a break from my crazy projects, so my daughter and I took a little road trip over to Fort Worth to see my sister and her little munchkin. Then we headed out to Waco to check out the Magnolia Market and a few shops nearby. Apparently everyone else had the same idea for spring break. It was crazy nuts there! We stood in line for 2 hours just to get in the front door.
It was fun, and we were glad we went and checked it out. Although the little ones weren't as excited about standing in line so long in the hot sun. Thank goodness they had a grassy area with some games and some food trucks to distract kids from how long it actually was.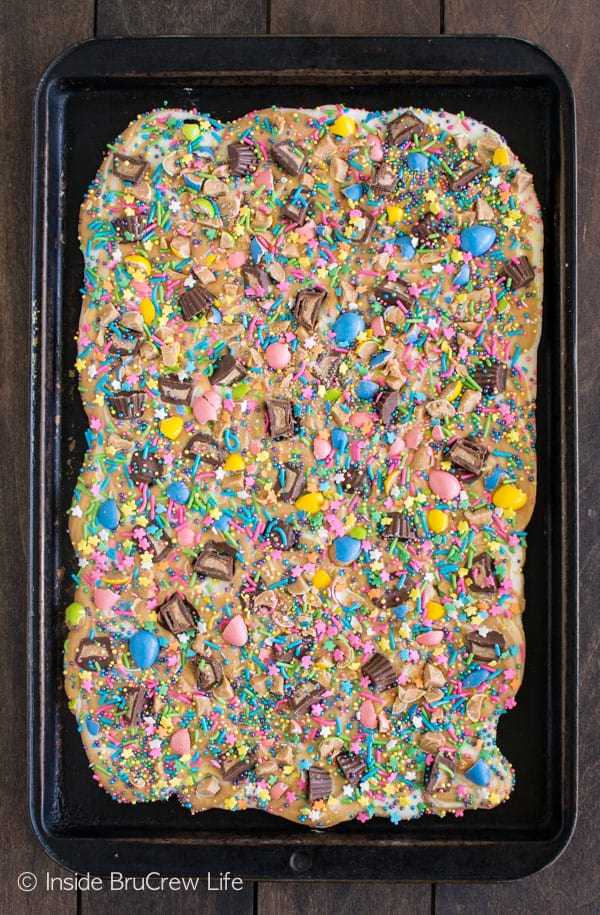 The hard part was driving home two days later. I now realize why parents put their small babies in the car and go for a drive to get them to sleep. Put me in a moving vehicle, and I cannot stay awake for anything.
The first night we drove out I was tired, but I did ok with staying awake. A big mug of this salted caramel mocha latte is a good thing for late night driving. Coming home was not as easy! I seriously could not keep my eyes from drooping! We stopped multiple times, just so I could stand up and get some fresh air. Even a big cup of coffee didn't help much!
At one point I asked my daughter to talk to me about anything that was on her mind. She looked at me a little strange, then all of a sudden she said, "What does a unicorn do when it farts?" (cue wild laughing) "It farts sprinkles!" She couldn't stop laughing which made me laugh too!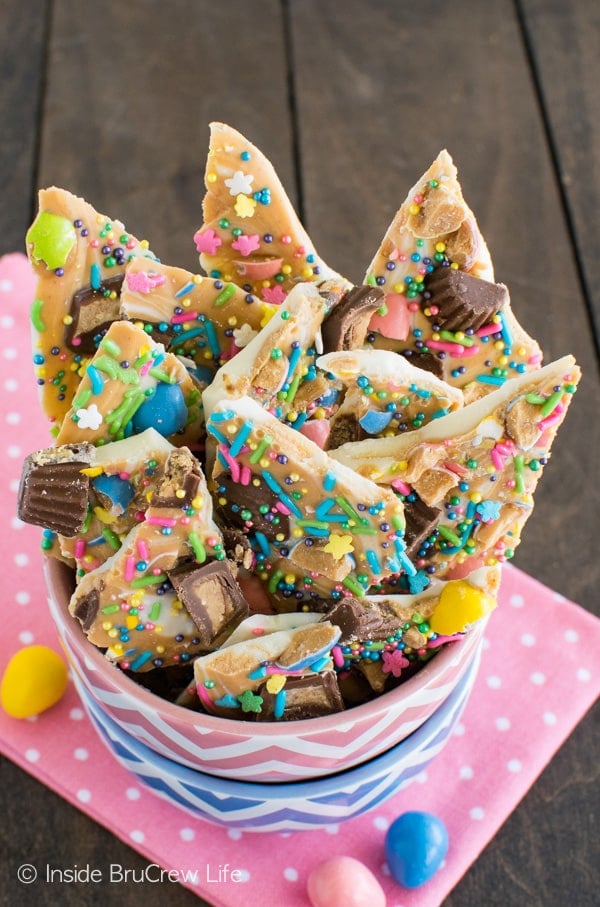 Of course, she has laughed wildly about this little joke of hers for days and days! So, I had to create this crazy sprinkle laden Easter bark just for her. I don't know what it is about tons of sprinkles that makes everyone think about unicorns, but I'm going with it!!!
I'm pretty sure if I would have had a bag of this white chocolate peanut butter bark while driving, I would have been awake for hours and hours.
Note to Self: make lots of sugar laden treats for the next road trip.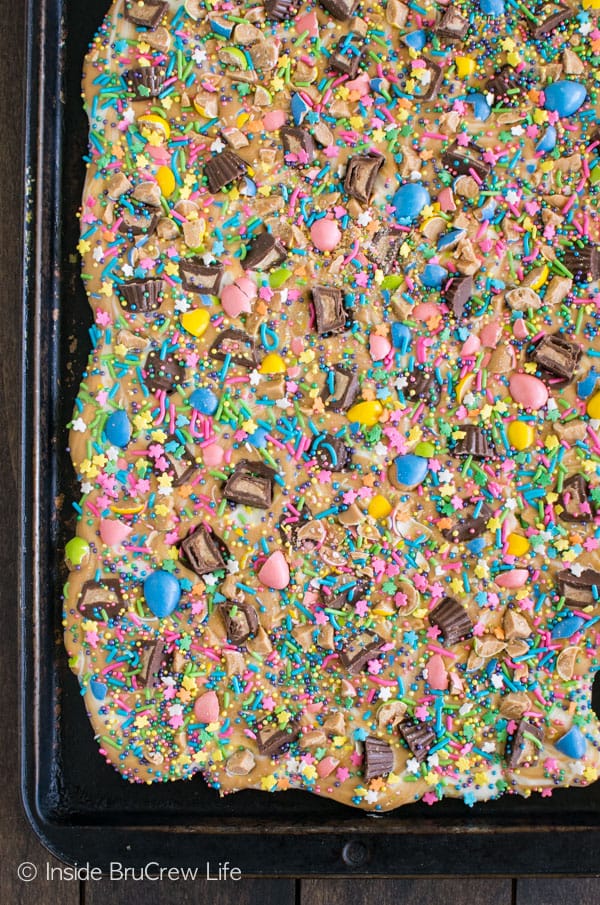 I love how easy candy bark is to make. 1. Melt chocolate. 2. Toss on any and all sprinkles and candy.
Yup, that's it. Two steps and you can have sprinkle madness in your house too! Of course, if you are like me...you will have sprinkles everywhere by the time you are done.
I'm still finding sprinkles on the counter and floor days later...and I have wiped everything down and vacuumed a few times!
Still have lots of candy and sprinkles to use up? I'm looking forward to using my kid's candy for these Chocolate Pudding Cookies with Mini Robin Eggs, this Easter Candy Milkshake, and a batch of these Malt Ball Mini Cheesecakes.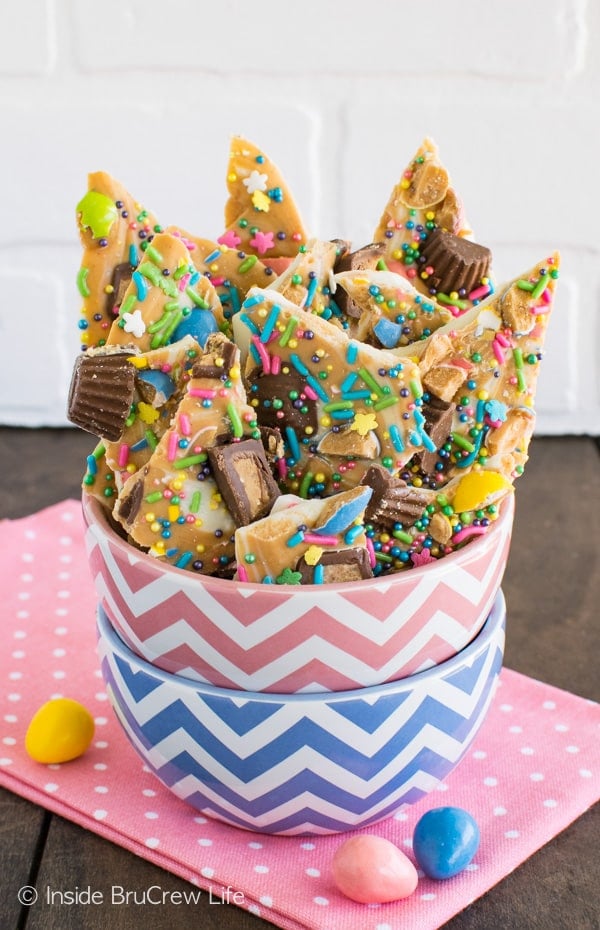 Do you love a recipe you tried from Inside BruCrew Life?
Please leave a 5-star ⭐️ rating and a review in the comments section below.

More fun Easter treats