Three kinds of peanut butter added to the top of a chewy brownie is definitely a treat you don't want to miss. These Peanut Butter Nutter Butter Brownie Bars are a delicious treat to enjoy after dinner. Or for breakfast...you won't find me judging.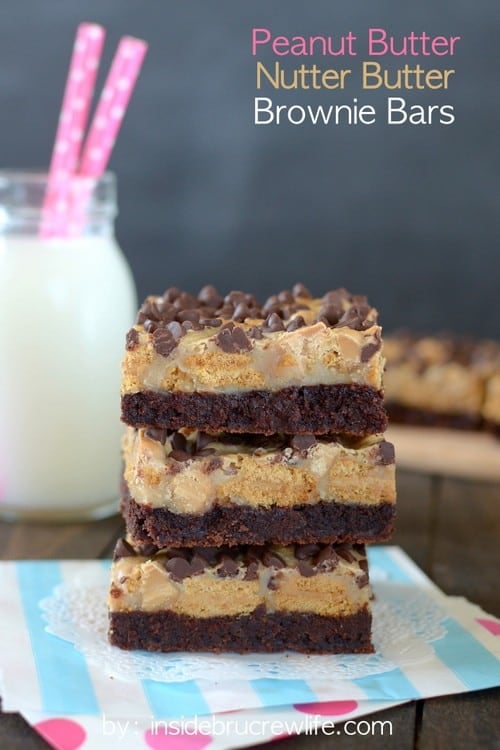 Raise your hand if you are a brownie lover. Now brownie lovers...raise your hand if you like peanut butter. If you aren't raising your hand, you might want to skip this recipe. These bars are loaded with peanut butter and brownie love through and through.
There is something about a gooey bar that I just can't resist. Of course maybe if I would only bake once a week, I could resist better 🙂 But since I have this crazy desire to bake all the time, I end up taste testing all these recipes.
And by taste testing, I really mean eat 4 bars in one day. What? I'm just making sure they hold up well. You never know how an hour could change things, right? #foodbloggerproblems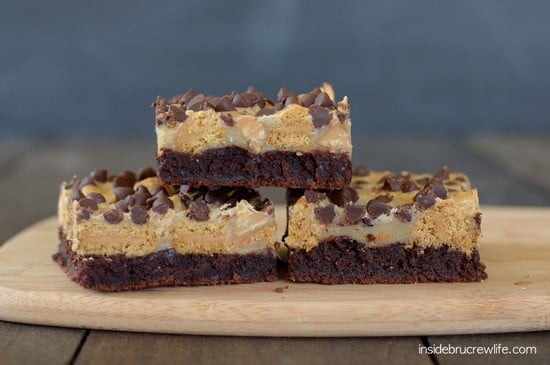 Now I do love baking muffins and cookies, but something about a delicious and easy brownie/bar just calls out to me. I'm sure it is the easy factor that I tend to go for.
The brownie crust in these bars is chewy and chocolatey. You will make it using a box brownie mix and just a few ingredients. This brownie is not your typically fluffy brownie. Mixing in a stick of softened butter and 1 egg makes a soft dough that you will press into the bottom of the pan.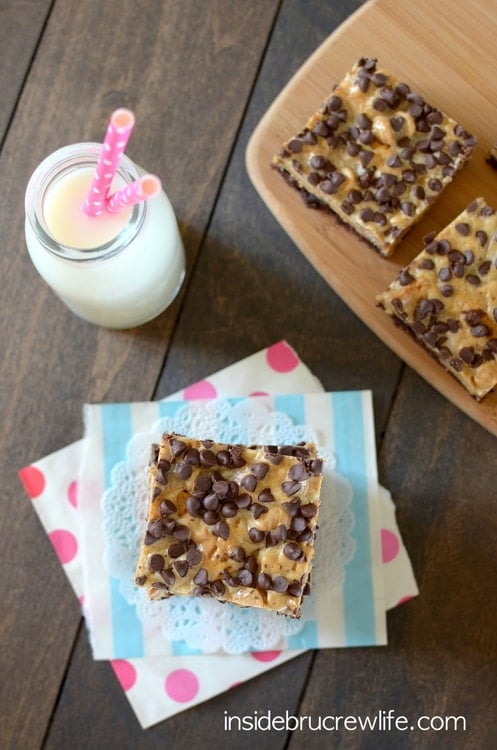 Now for all the peanut butter goodness on top.
Nutter Butter cookies and peanut butter chips get sprinkled on top. Don't worry about it looking good because you will cover it all with a peanut butter sweetened condensed milk mixture. That's three times the peanut butter love on top of that amazing brownie crust. Sprinkle the top with some mini chocolate chips. Or don't. That's up to you. But honestly if you are turning down extra chocolate, who are you?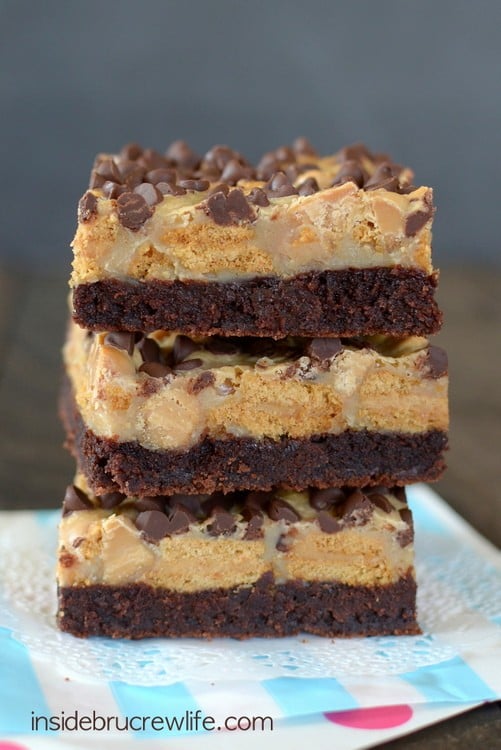 Waiting for these to bake and cool is definitely hard to do. You could do some house cleaning or go for a walk while you wait. Anything to distract you from cutting into the bars before they are ready. Although, I'm really thinking a bowl of this hot brownie with ice cream on top does sound like an awesome thing. Ok, never mind. You don't have to wait. Just add ice cream to cool it off a bit so you don't burn your tongue on the hot topping.
Or show some restraint and wait to cut them into nice cute squares. It's your call 🙂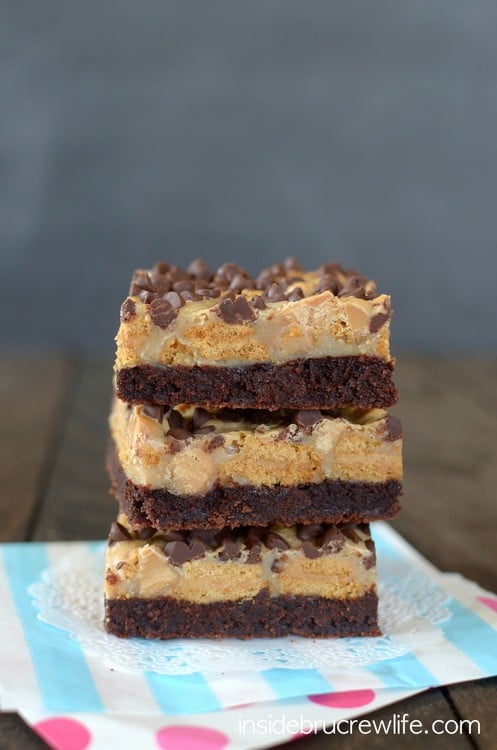 Stay up to date on all the BruCrew baking here:
FACEBOOK | PINTEREST | GOOGLE+ | TWITTER | INSTAGRAM | BLOGLOVIN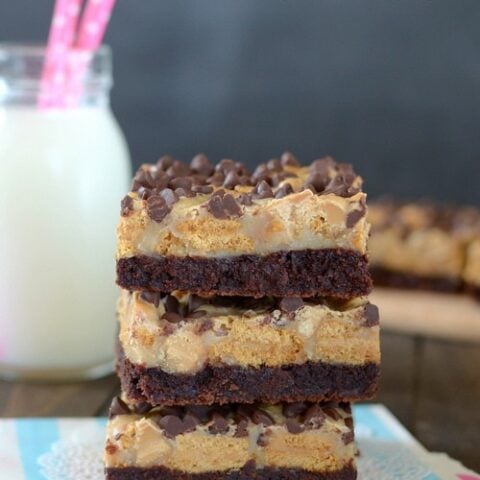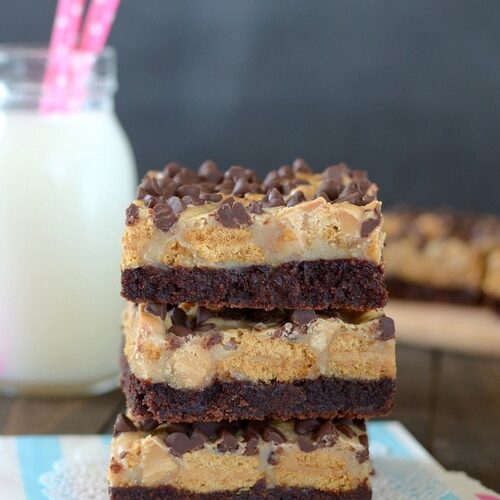 Peanut Butter Nutter Butter Brownie Bars
A gooey brownie crust topped with three times the peanut butter goodness.
Ingredients
1 brownie mix (for 9x13 pan)
8 tablespoons unsalted butter, softened
1 large egg
1 teaspoon vanilla extract
1 - 8 ounce bag Nutter Butter Bites
½ cup peanut butter chips
1 cup sweetened condensed milk
¼ cup creamy peanut butter
½ cup miniature chocolate chips
Instructions
Preheat oven to 350°.
In a mixing bowl, cream together the dry brownie mix, butter, egg, and vanilla until a soft dough forms.
Press the dough evenly into the bottom of a 9x13 pan that has been sprayed with non stick spray.
Break the Nutter Butter Bites into chunks and place on top of the dough. Sprinkle with the peanut butter chips.
Place the peanut butter in a glass bowl and microwave for 30-60 seconds or until melted. Stir into the sweetened condensed milk. Drizzle this over the top of the cookie chunks and chips. Sprinkle with the mini chocolate chips.
Bake for 25-30 minutes. Do not over bake. Let cool completely before cutting into 24 bars. Store in a sealed container on the counter.
Nutrition Information:
Yield:

24
Serving Size:

1
Amount Per Serving:
Calories:

203
Total Fat:

16g
Saturated Fat:

9g
Trans Fat:

0g
Unsaturated Fat:

6g
Cholesterol:

43mg
Sodium:

106mg
Carbohydrates:

12g
Fiber:

1g
Sugar:

10g
Protein:

3g
Nutrition facts are an estimate and are not guaranteed to be accurate. If you need special diet advice, please see a registered dietician.
More peanut butter recipes that never last long in our house: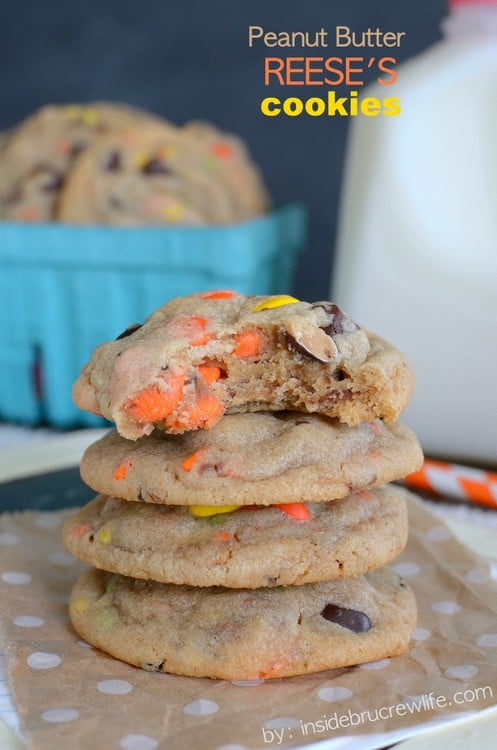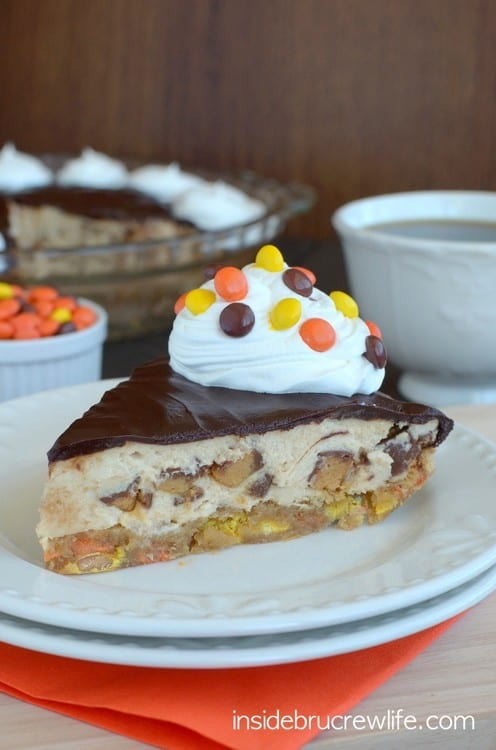 Triple Peanut Butter Cookie Pie