Layers of chocolate, peanut butter, and candy make these Peanut Butter Pie Parfaits disappear in record time around our house. Try them and see what happens in your house.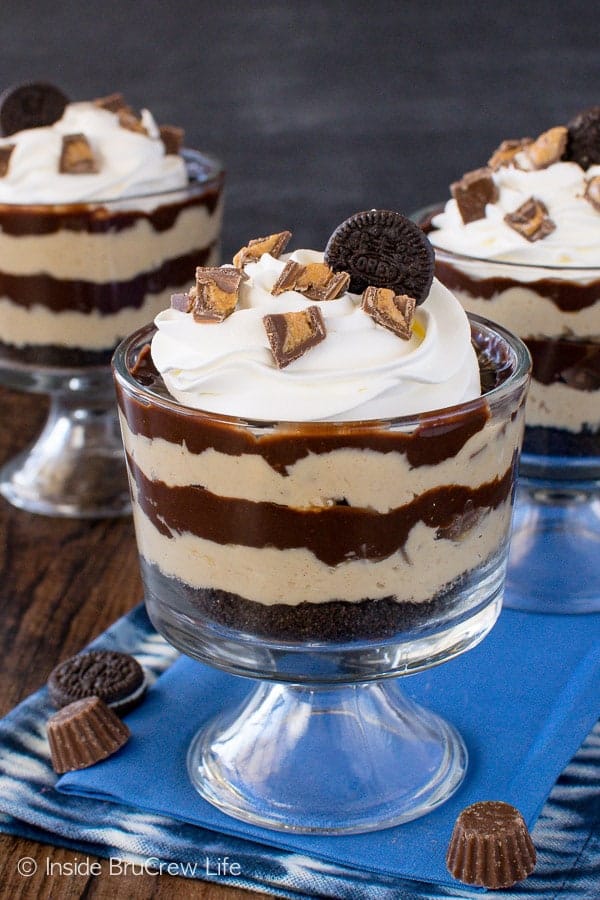 (photos updated February 2017)
CLICK HERE TO PIN THIS RECIPE FOR LATER!
I seriously am starting to think I am allergic to dust. Sorry honey, I just can't do anymore house cleaning. I know that as a SAHM that is part of my job requirements, but you don't want me sneezing all the time, do you???
Maybe hiring it out is a good idea because I'm definitely allergic. Last week we added some more shelves in our bedroom closet because I had finally had it with dumping my sweater box out on the bed each time I wanted to find anything.
Having extra shelves to display the folded sweaters was my solution. My sweet husband bought all the shelves and installed them right away because he is the best.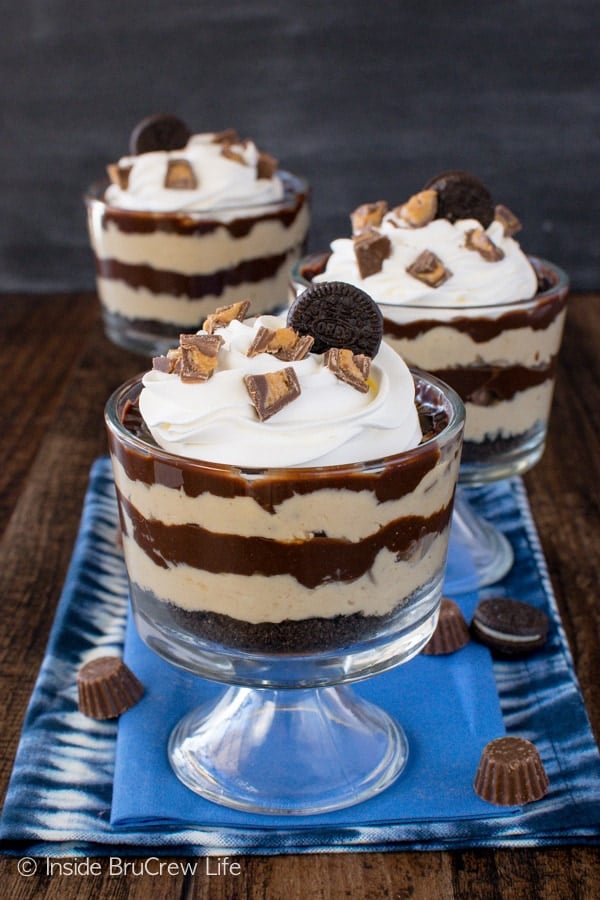 Of course, that meant I had to do a deep clean of the closet. And I had to go through all my shoes. As I moved the shoes from the bottom of the closet, I found out where all the dust bunnies have been hiding. Maybe I should clean our closet more often because it was pretty bad in there.
Trying to organize multiple shoes while sneezing isn't the best idea. I may or may not be addicted to cute shoes. I'm definitely not allergic to those!
Saying no to shoes in the store is just so hard to do! I have the same problem saying no to these Peanut Butter Balls. Cute shoes and cute little candies...why do they tempt me so?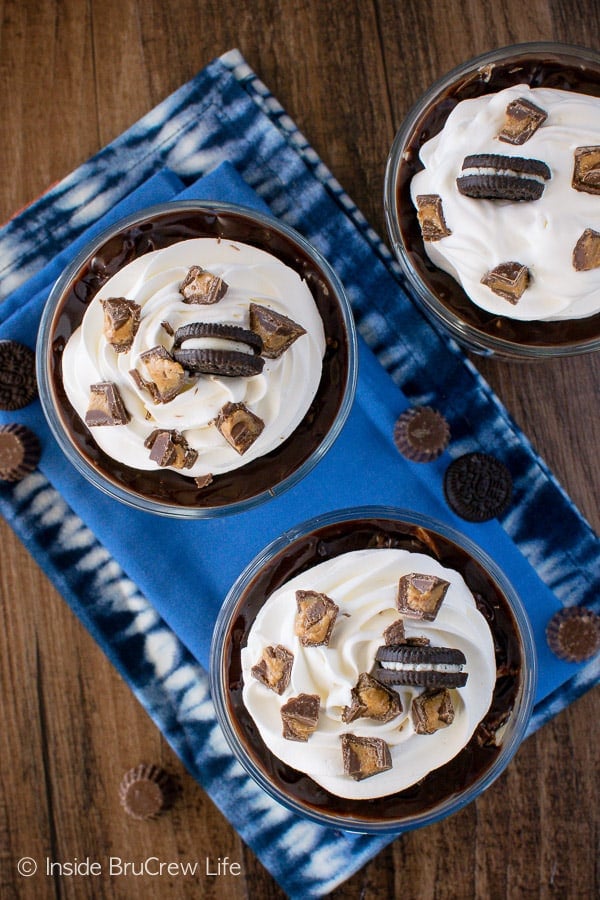 I'm not ready to divulge my shoes numbers, but I will give you the recipe for these peanut butter parfaits.
Do we have a deal???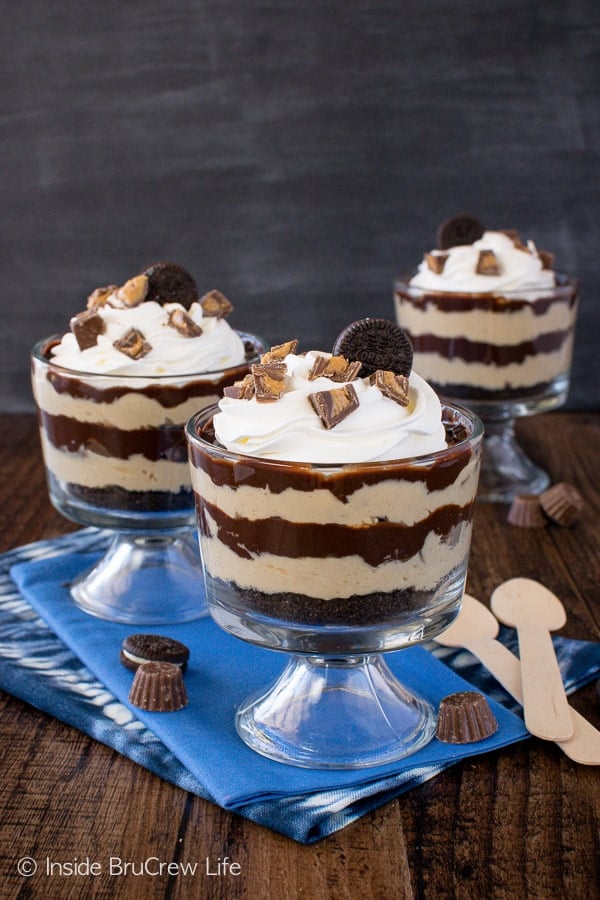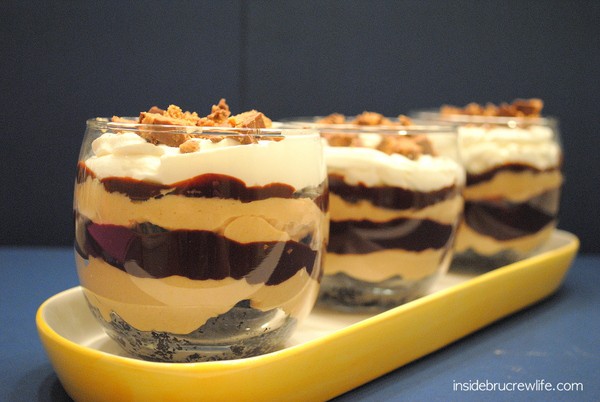 (original photo from January 2011)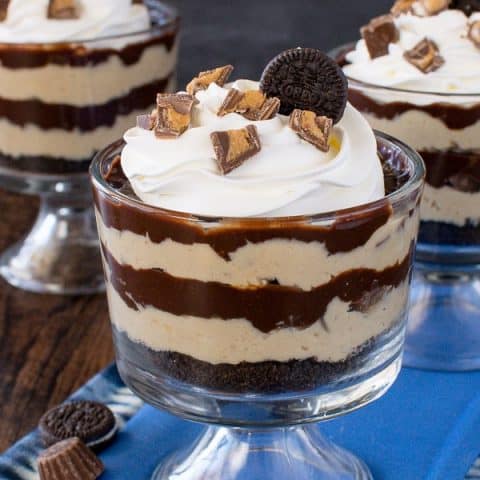 Peanut Butter Pie Parfaits
Layers of peanut butter pie, chocolate topping, and peanut butter cups make these Peanut Butter Pie Parfaits an extra decadent dessert.
Ingredients
8 chocolate cream filled cookies, crushed
1 cup chocolate chips
½ cup heavy whipping cream
4 ounces cream cheese, softened
½ cup powdered sugar
½ cup creamy peanut butter
8 ounce container Cool Whip, thawed & divided
1 cup chopped Reese's peanut butter cup minis
4 mini Oreo cookies
Instructions
Divide the cookie crumbs into the bottoms of 4 large parfait glasses. Set aside.
Place the whipping cream and chocolate chips in a microwave safe bowl. Heat for 30 seconds. Stir until melted and creamy. Heat for 15 more seconds, if needed. Let cool slightly.
In a mixing bowl beat the cream cheese and sugar until creamy. Add the peanut butter and beat again. Fold in 1 ¼ cups Cool Whip gently.
Layer the peanut butter filling, chocolate sauce, and peanut butter cups in the parfait cups making sure to have 2 layers of each.
Top with the extra Cool Whip, extra peanut butter cups, and mini cookie. Keep refrigerated. Makes 4 large parfaits.
Notes
*You could also make these in 8 small Mason jelly jars.
Nutrition Information:
Yield:

4
Serving Size:

1
Amount Per Serving:
Calories:

1292
Total Fat:

88g
Saturated Fat:

44g
Trans Fat:

0g
Unsaturated Fat:

38g
Cholesterol:

66mg
Sodium:

612mg
Carbohydrates:

122g
Fiber:

8g
Sugar:

96g
Protein:

20g
Nutrition facts are an estimate and are not guaranteed to be accurate. If you need special diet advice, please see a registered dietician.