Three times the peanut butter makes this Triple Peanut Butter Cookie Pie one dessert you don't want to miss.  Make sure you have a glass of milk or cup of coffee ready to wash down this rich, decadent, and truly amazing pie.
 I puffy heart love peanut butter.  It is one thing that I could use in baking every single time because I love it that much.
My husband on the other hand must be an alien because he doesn't like peanut butter as much as me.  He makes faces whenever I say I'm making more peanut butter desserts.  I think it's that alien side of him trying to get out.
Oh, he eats peanut butter with his apple slices almost every day.  That man has the self control like no one I have ever seen.  He prefers apples to dessert.  What the what?   That's totally crazy talk!  Now don't get me wrong here.  I do love apples too…just not for my dessert.  Bring on the pie, candy, and Cool Whip because that's how I like it!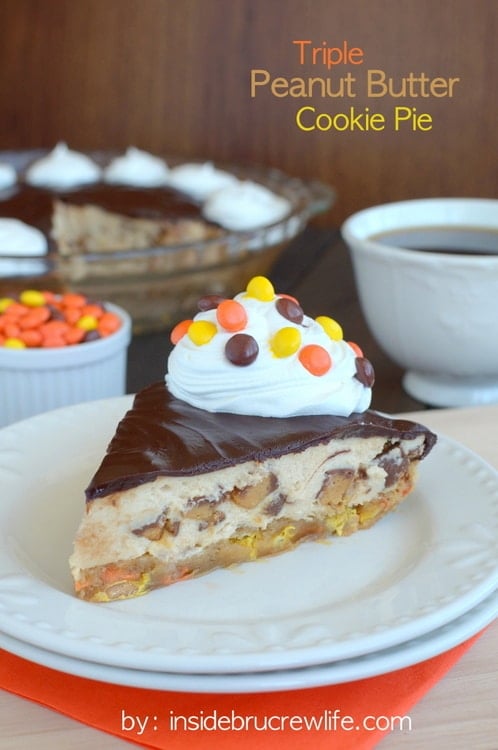 This peanut butter pie has been on my list to make for quite a while.   Aaaaakkkk!  Those lists are so long, I may be baking for 10 years straight.  Hope you don't mind…
Anyway, this pie slowly kept getting bumped up to the top and then moved down a few spaces.  Until I found a package of peanut butter cookie dough with Reese's Pieces in it.  You can also just use a plain peanut butter cookie dough.  Those little orange, yellow, and brown candies really are my favorite.  Ok, so I say that about any candy that I like.   Really, I just like candy in all shapes  and forms.


The cookie dough literally jumped into my shopping cart.  No really!  I don't remember putting in there.  Or maybe I just grabbed it so fast that I don't remember.  Either way it came home with me.  I had a feeling that it would make an awesome crust for that pie on my list.
Press the cookie dough into a greased pie plate.  Make sure you don't forget to grease the pie plate.  No one wants their crust left behind when you try to scoop it out later.  Bake the cookie for 14 minutes.  Do not over bake it!!!  It will still look puf
fy and under done when you pull it out!  That is ok.  Just trust me and let it cool.  That's all the baking you will do for this pie.  The rest is easy peasy!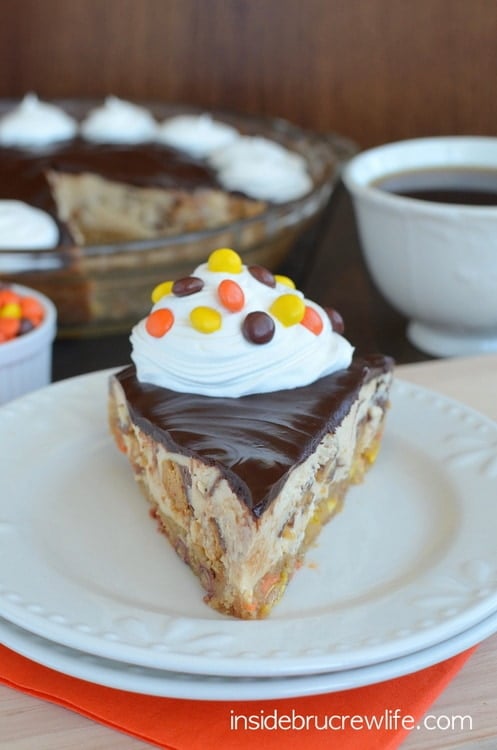 Beat together the filling ingredients.  Make sure you set out your cream cheese ahead of time.  It will be easier to beat into a smooth, creamy filling.
Time to chop up the peanut butter cups!  I actually used the peanut butter Easter eggs because I just love those so much.  I figured it was better to get them out of my house in a pie, otherwise I would devour the entire bag of eggs.  Not a good thing with summer coming so quickly!
The last part of this pie is the chocolate topping.  Do not skip the chocolate topping.  It balances out the peanut butter perfectly.  Bring the whipping cream to a boil and then remove it from the heat.  Pour in the chocolate chips.  Leave the mixture alone for 1-2 minutes.  The chips will get soft in the hot milk and you will be able to stir it easier.  Spread it on top and let it cool for 1-2 hours.  You can eat it right away, but it will be a little softer than I recommend.
But if you can't resist all that peanut butter any longer, I totally understand!
Stay up to date on all the BruCrew baking here:
FACEBOOK | PINTEREST | GOOGLE+ | TWITTER | INSTAGRAM | BLOGLOVIN



Three times the peanut butter makes this one decadent pie to enjoy any time of day.

Ingredients
1 - 16 ounce package Pillsbury peanut butter cookie dough with Reese's Pieces
1 - 8 ounce package cream cheese, softened
1/2 cup peanut butter
1/4 cup sugar
1 1/2 cups Cool Whip + extra for garnish
1 cup chopped Reese's Peanut Butter Cups
1/4 cup whipping cream
1/2 cup chocolate chips
mini Reese's Pieces
Instructions
Press the cookie dough evenly into the bottom and sides of a greased 10 inch pie plate. Bake at 375 degrees for 14 minutes. Do not over bake. Let cool completely.
Beat the cream cheese, peanut butter, and sugar until creamy. Fold in 1 1/2 cups Cool Whip. Stir in the peanut butter cup chunks. Spoon into the cooled cookie crust. Refrigerate.
Bring the whipping cream to a boil. Remove from the heat and pour in the chocolate chips. Let sit for 1-2 minutes. Stir until creamy. Spread over the top of the chilled pie. Refrigerate for 1-2 hours. Garnish with extra Cool Whip and mini Reese's. Cut into 12 slices. Store the pie in a sealed container in the refrigerator.
https://insidebrucrewlife.com/triple-peanut-butter-cookie-pie/

Copyright Inside BruCrew Life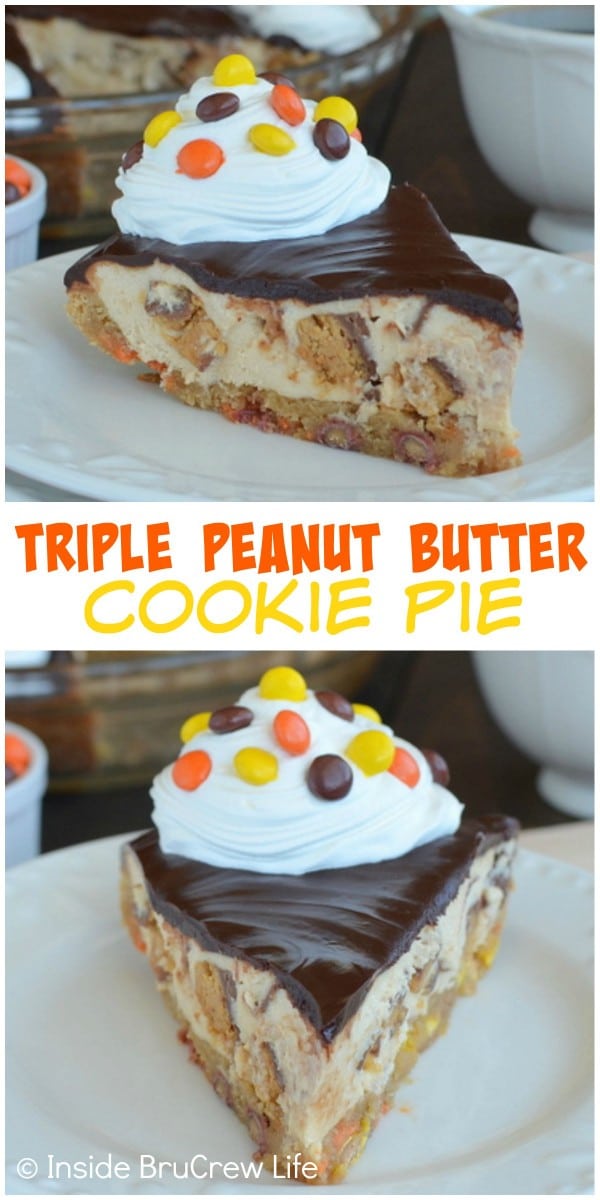 A few more delicious peanut butter desserts for you to enjoy: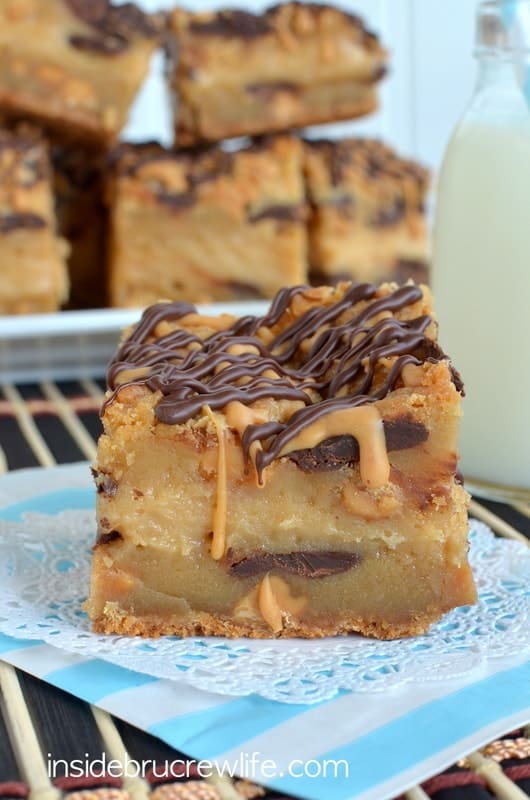 Peanut Butter Cheesecake Cookie Bars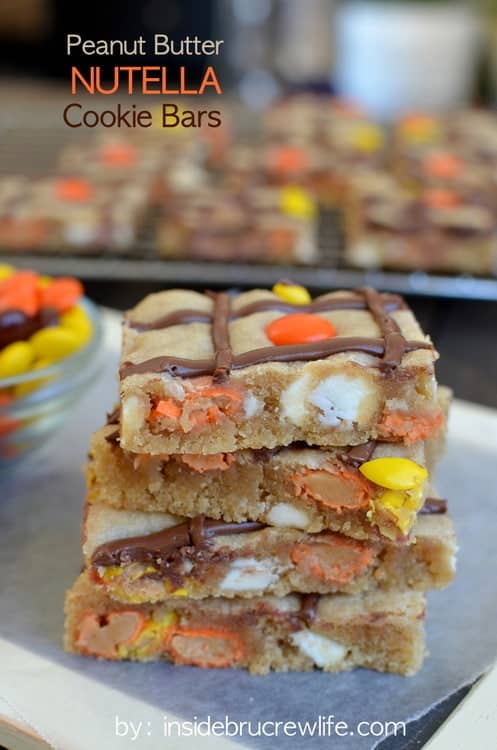 Peanut Butter Nutella Cookie Bars