Peppermint Bark Cheesecake Brownie Pie: A brownie pie topped with white chocolate cheesecake and peppermint bark is sure to get you in the holiday spirit.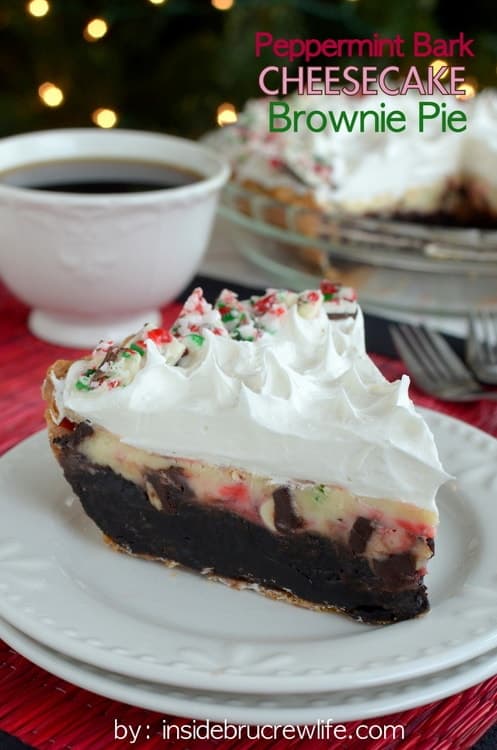 Right now we are living in a winter wonderland. The last few days it has snowed quite a bit. The ground is covered in fluffy white, and the trees are glistening with the snow. It looks beautiful…but can I be honest with you? I am a snow hater. (Ducks as invisible snowballs are hurled)
Oh, I kind of like it at this time of year. Who doesn't want to wake up on Christmas morning to a white winter wonderland. But then it can melt 😉 But alas, I am in for a long few months of cold and ice and cold and snowy days…and did I mention cold?
The older I get the less I can handle being cold. Although at least being cold, you can put layers and layers of clothes on and sit in front of a space heater. I've got one blasting at my feet right now. When you are hot, there is only so much you can take off. So, I guess that is one bright spot to being cold. Bring on the layers.
I love to bake in layers too. These brownie cheesecake pies are starting to become a regular around here. So, I just knew I had to come up with a fun holiday version.
Brownie, cheesecake, Cool Whip, and peppermint bark. It is Christmas joy in one bite.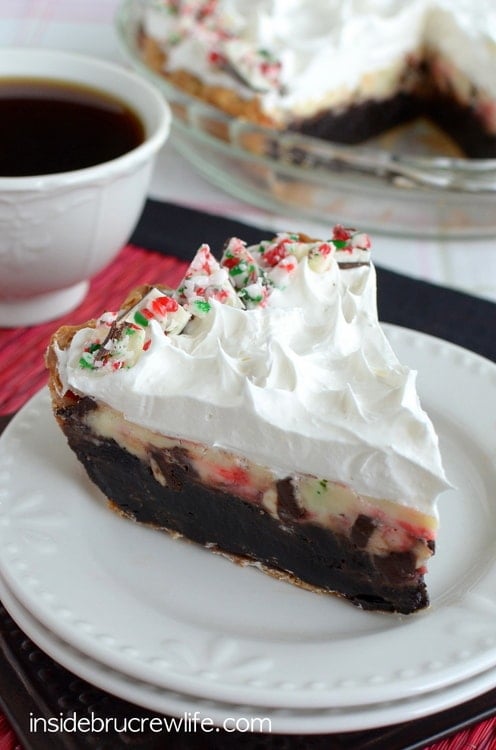 I even decorated it with layers. This peppermint bark is so easy to make. Melt chocolate chips and spread on a prepared pan. Let it set and top it with melted white chips. A fun sprinkle of crushed candy canes gives it the holiday touch.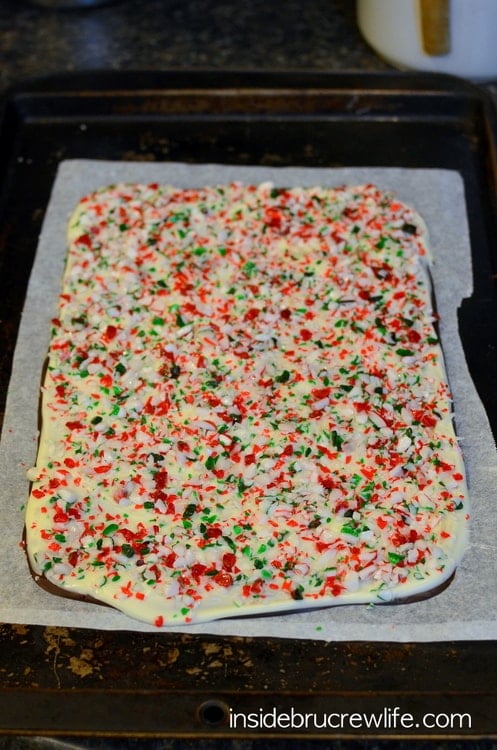 Go ahead and break the bark into bite sized pieces…and yes, snack on some while you do this. You will have enough to bake in the cheesecake, decorate the top, and snack some more while you wait for it to cool. Maybe even wrap it up in a gift bag and hand it out to someone just to say thank you.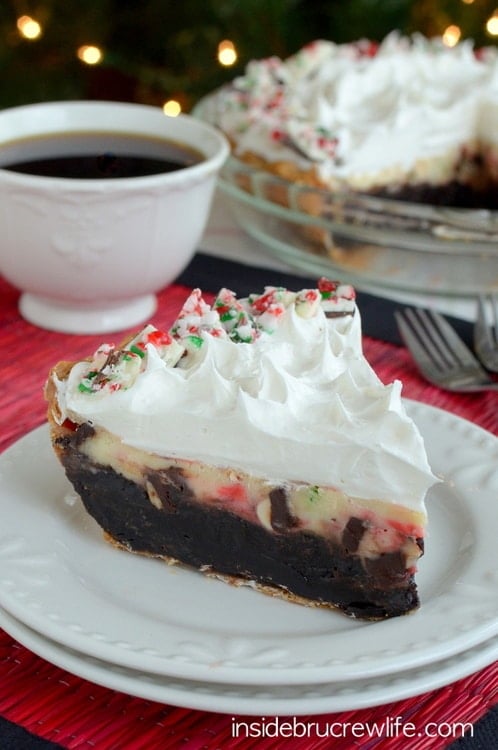 Of course I recommend you taking them a slice of this Peppermint Bark Cheesecake Brownie Pie too. They will love you even more. Then sit and chat about the weather and the holidays.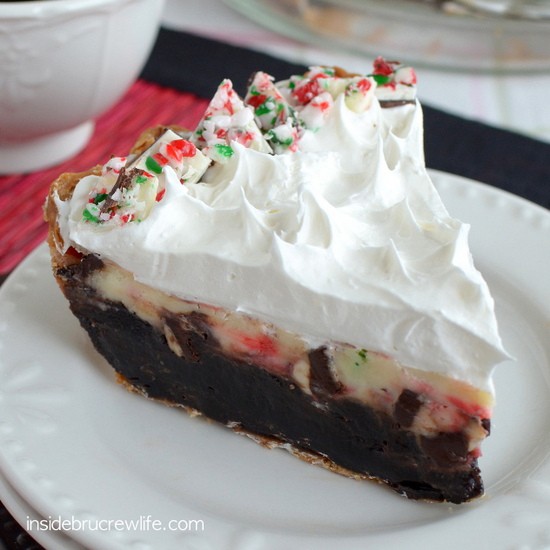 Stay up to date on all the BruCrew baking here:
FACEBOOK | PINTEREST | GOOGLE+ | TWITTER | INSTAGRAM | BLOGLOVIN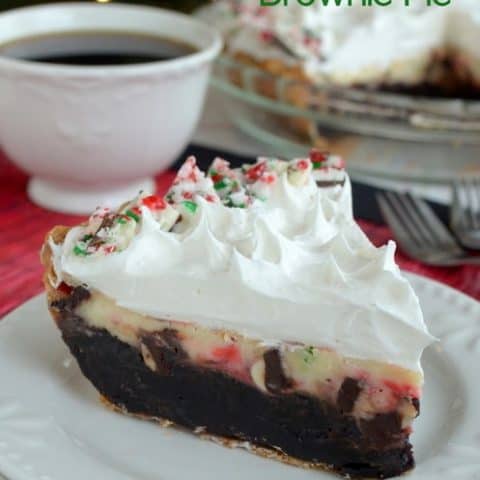 Peppermint Bark Cheesecake Brownie Pie
Total Time:
1 hour
25 minutes
A brownie pie topped with peppermint bark cheesecake is a delicious way to end any holiday meal.
Ingredients
For the Peppermint Bark
1 cup dark chocolate chips
1 cup white chocolate chips
1 teaspoon shortening, divided
1/4 cup crushed candy cane pieces
For the Pie
1 refrigerated pie crust
1 box brownie mix for a 9x13 pan
1 egg
1/4 cup water
1/4 cup oil
1 - 8 ounce package cream cheese, softened
1 egg
1/4 cup sugar
1/4 cup white chocolate chips
1/2 teaspoon shortening
1 - 8 ounce container Cool Whip, thawed
Instructions
Place a piece of parchment paper on a large baking sheet.
Place the dark chocolate chips and 1/2 teaspoon shortening in a glass bowl. Heat for 30 seconds in the microwave. Stir and repeat. Stir until creamy.
Spread the melted chocolate evenly into a 11x7 rectangle. Let set.
Repeat with the white chocolate chips and spread over the set chocolate. Sprinkle with the candy canes. Let set. Break into bite sized pieces and set aside.
Preheat the oven to 350 degrees. Press the pie crust into a 9.5 inch deep dish pie plate according to the package directions. Set aside.
Mix the brownie mix, water, oil, and egg together. Spread in the bottom of the pie crust. Bake for 30 minutes.
While the brownie is baking, beat the cream cheese, egg, and sugar until creamy.
Melt the white chocolate chips and shortening in the microwave for 30 seconds. Stir until creamy.
Beat into the cream cheese mixture. Stir in 1 cup peppermint bark pieces.
When the brownie is done baking, spread the cheesecake mixture on top gently. Cover the edges of the pie crust with foil or a pie shield. Bake for another 25-30 minutes.
Let the pie cool on a wire rack for 2 hours, then refrigerate until completely chilled.
When the pie is completely cool, spread the Cool Whip on top. Decorate the edges of the pie with more peppermint bark. Keep refrigerated until serving.
Notes
*If you don't want to make your own peppermint bark, feel free to use any peppermint bark chocolate candy bars that you find at the grocery store. Just chop them into bite sized pieces.
Recommended Products
As an Amazon Associate and member of other affiliate programs, I earn from qualifying purchases.


More peppermint treats for any holiday parties: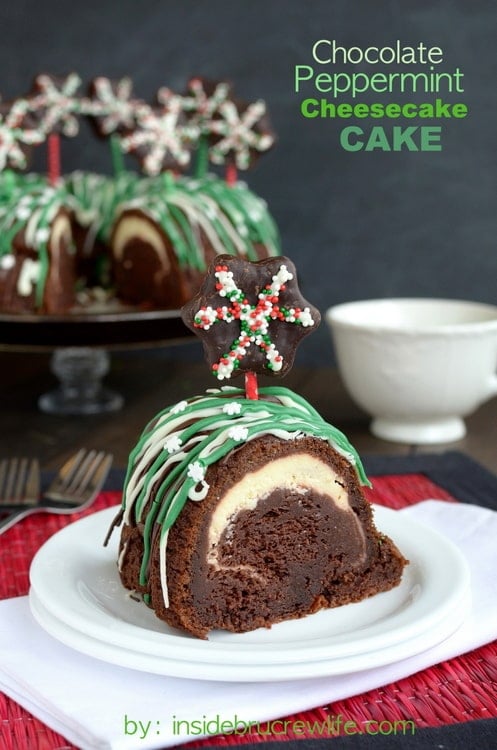 Chocolate Peppermint Cheesecake Cake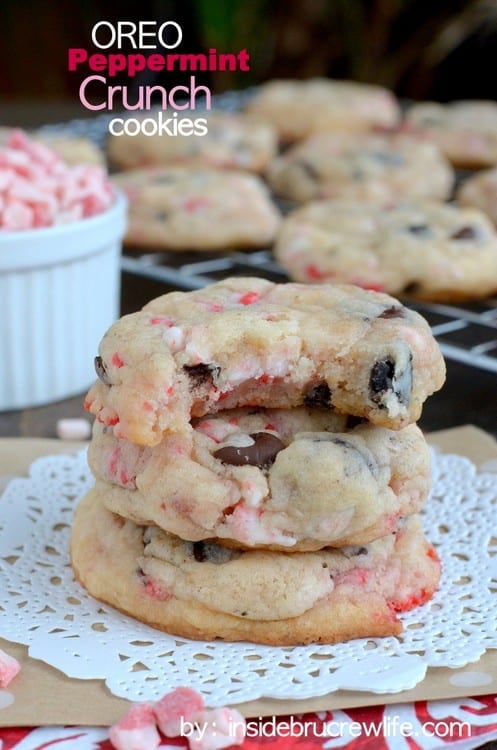 Oreo Peppermint Crunch Cookies