The classic Oreo truffle gets a holiday make over this time of year with Andes peppermint crunch baking chips.  Add these Peppermint Crunch Oreo Truffles to your holiday baking list and watch them disappear.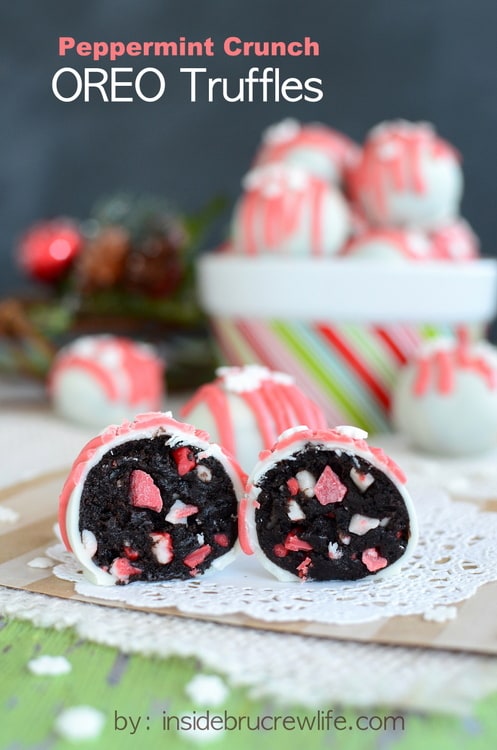 Do you decorate your house for Christmas before or after Thanksgiving?
We are firm believers in waiting until after Thanksgiving to bring out the red and green decorations or to turn on the holiday music.
Until this year…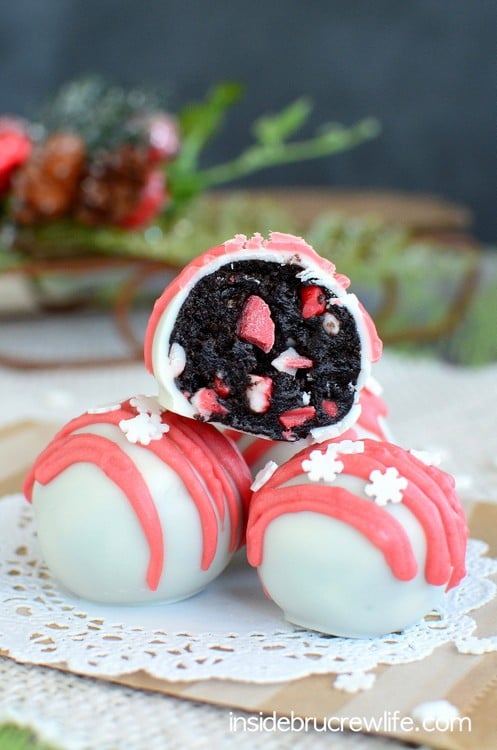 This year we were looking at the calendar and realized that we are going to be gone all day the Saturday after Thanksgiving.  That has always been our holiday decorating day, but this year we will be taking our kids to see Elf in the theatre that day.  It will a fun day, but there will be no time to break out  the boxes of decorations and lights.
Then a few days later my husband will be leaving for a missions trip to Haiti. (read more about that and how you can help HERE)  So the only logical explanation was to start decorating this week.  We are doing it gradually over the next few weeks until Thanksgiving.  My house isn't a winter/holiday wonderland…yet.  Give it a few more days.  But my snowman collection is out, one tree in the dining room is up, and there is garland around the top of the kitchen counters.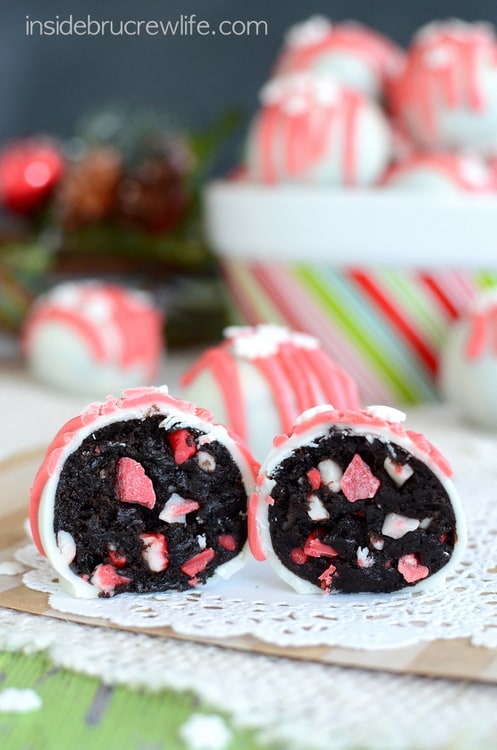 We also realized that a real tree wasn't logical this year.  A few months ago we had new carpet put in our living room.  Real tree with needles and sap…not the best thing for new carpet.  So last night we were at Target, and we found one on sale that actually looks kind of real.  That will be up and hopefully decorated this week.
All of the decorations going up and all the fun holiday baking I have been doing is really getting me into the holiday spirit.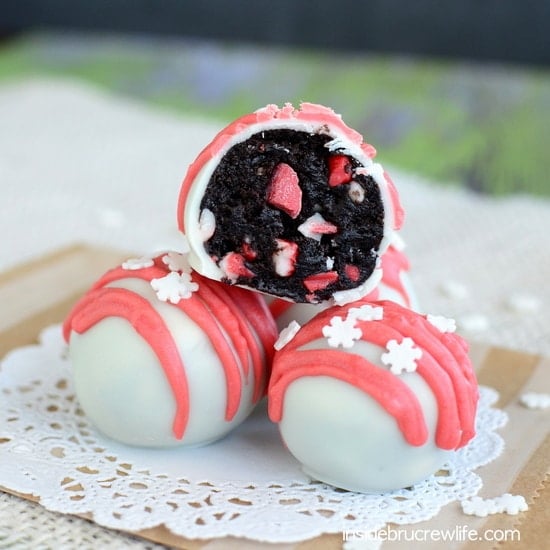 This past week we had a teachers appreciation lunch at one of the local schools.  I helped set up and bring food for it.  When I saw the sign up the week before, of course I put my name down for Broccoli Cheese Soup and cookies.
Any chance I get to bake and send the treats out of my house right away is one I will jump at.
The Andes peppermint crunch chips have been calling my name for the past few weeks.  Those things are dangerous…you start munching on them and you won't want to stop.
I decided to add some of the peppermint crunch pieces to a basic Oreo truffle.  Those are another dangerous treat to be around.  I may have cheated on my diet because I couldn't resist that goodness staring back at me when I was taking pictures.
For a little bit more fun, you will melt some of those peppermint chips for a festive topping.  Go ahead and put the melted chips in a ziplock bag with one tip cut off.  This is my favorite way to drizzle cookie truffles and candies.  Drizzle the tops and then throw away the bag.  Gotta love that kind of clean up.
Make sure you have some one help you with the sprinkles though…these peppermint chips set up a lot faster than regular one.
Quick baking tip:  if the chocolate sets up before you get the sprinkles on, pull out a blow dryer.  Turn it on low and go over the tops of the truffles.  It will melt the chocolate just enough for you to add the sprinkles on top.
Go ahead and make these up…they will get your holiday spirit going too.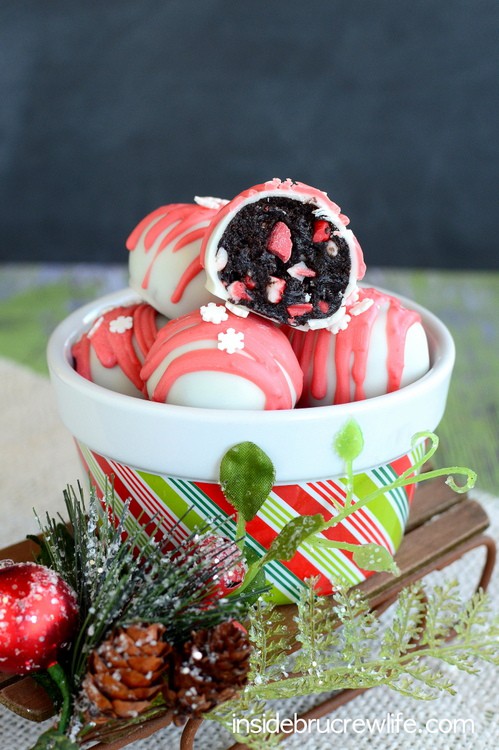 I found this cute little sled and bowl at Michaels.  It is the perfect size for gift giving or for leaving on your counter filled with holiday candies.  If you wanted to gift this, put it on a small cardboard circle and wrap some cellophane and ribbon around it.
Stay up to date on all the BruCrew baking by following here:
FACEBOOK | PINTEREST | GOOGLE+ | TWITTER | INSTAGRAM | BLOGLOVIN
Yield: 40 truffles
Peppermint Crunch Oreo Truffles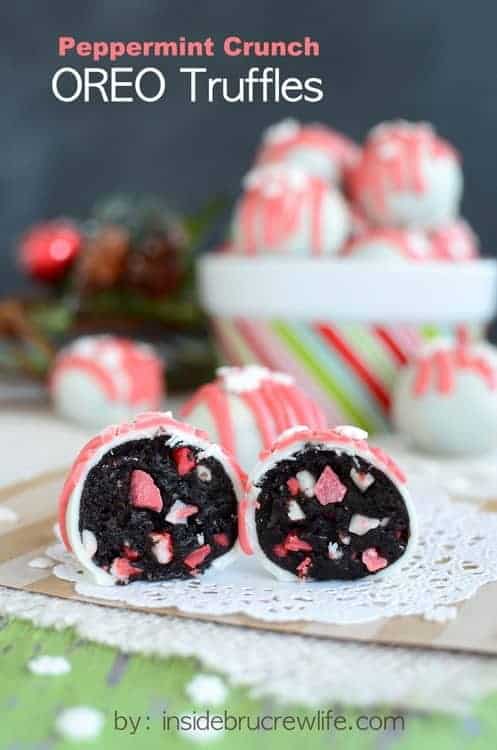 Oreo truffles get a fun holiday twist when Andes peppermint crunch pieces are added.
Ingredients
1 package Oreo cookies, crushed
1 8 ounce package cream cheese, softened
2 cups Andes peppermint crunch pieces, divided
1 - 10 ounces package white chocolate melts
1/2 teaspoon shortening
holiday sprinkles
Instructions
Combine the crushed cookies and cream cheese in a mixing bowl. Beat until a soft dough forms.
Stir in 1 3/4 cups Andes peppermint pieces. Roll into 40 balls. Place in the refrigerator for at least 30 minutes.
Melt the white chocolate melts according to the package directions. Dip the Oreo balls into the chocolate using a toothpick. Set on wax paper until set.
Heat the extra 1/4 cup peppermint pieces and 1/2 tsp. shortening in the microwave for 30 seconds. Stir until creamy.
Spoon into a ziplock bag with one corner cut off. Drizzle over the Oreo truffles and top with sprinkles.
Keep refrigerated in a sealed container.
Notes
*If you can't find the Andes peppermint crunch pieces, feel free to substitute Andes mint baking chips.
Recommended Products
As an Amazon Associate and member of other affiliate programs, I earn from qualifying purchases.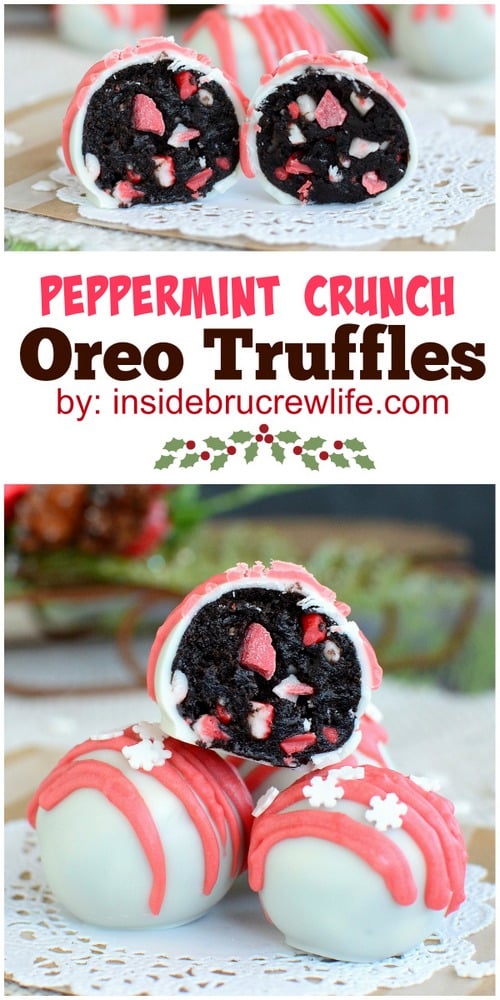 More peppermint treats to go on your holiday trays: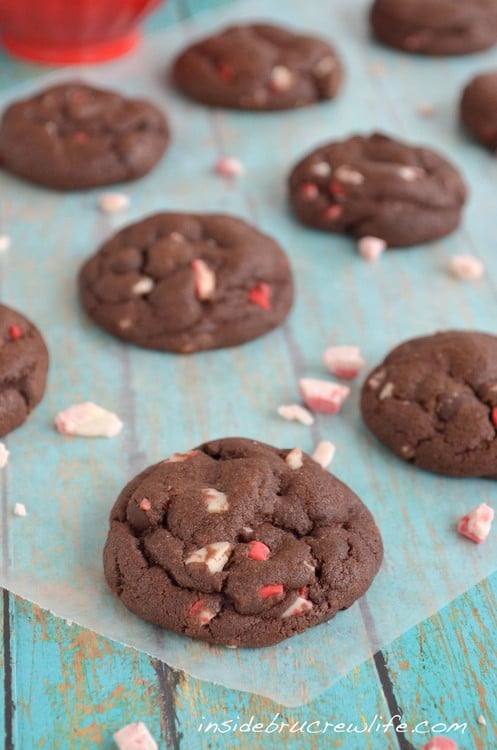 Peppermint Mocha Pudding Cookies