Add these Peppermint Crunch Oreo Truffles to your holiday cookie list and watch them disappear in a hurry. The classic Oreo truffles get a holiday make over with Andes peppermint crunch baking chips inside and drizzled on top.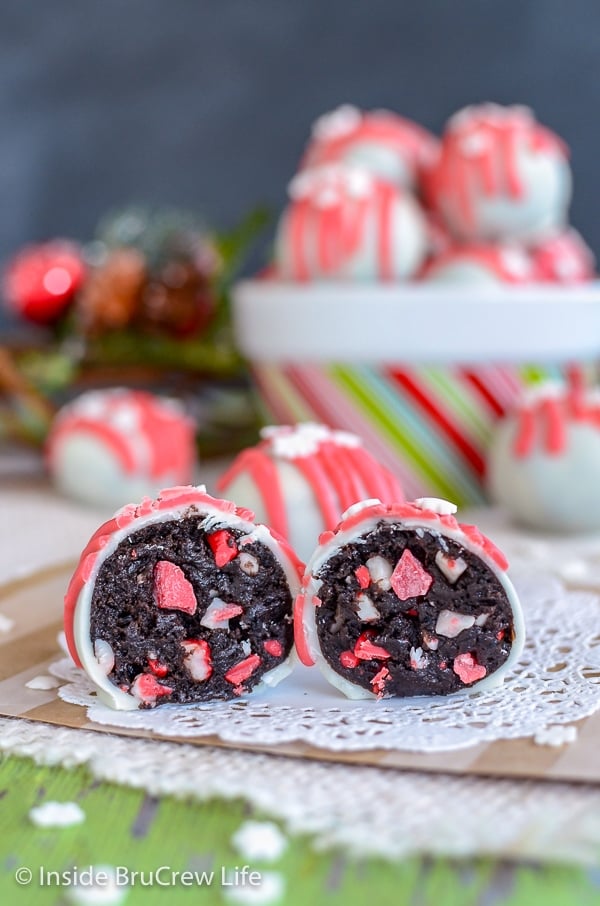 The Andes peppermint crunch baking chips in our pantry have been calling my name for the past few weeks. Bags of these holiday chips are so dangerous to keep on hand, so I have to keep them hidden on the very back shelf.
If I see them, I will open the bag and start munching on them. And when that happens, the bag disappears so quickly. No, not in one night, but let's just say I have a problem. LOL!
These peppermint pieces are probably my absolute favorite thing to use in Christmas recipes. Some of my all time favorite recipes from the past few years are these Oreo Peppermint Crunch Cookies and this No Bake Peppermint Oreo Cheesecake.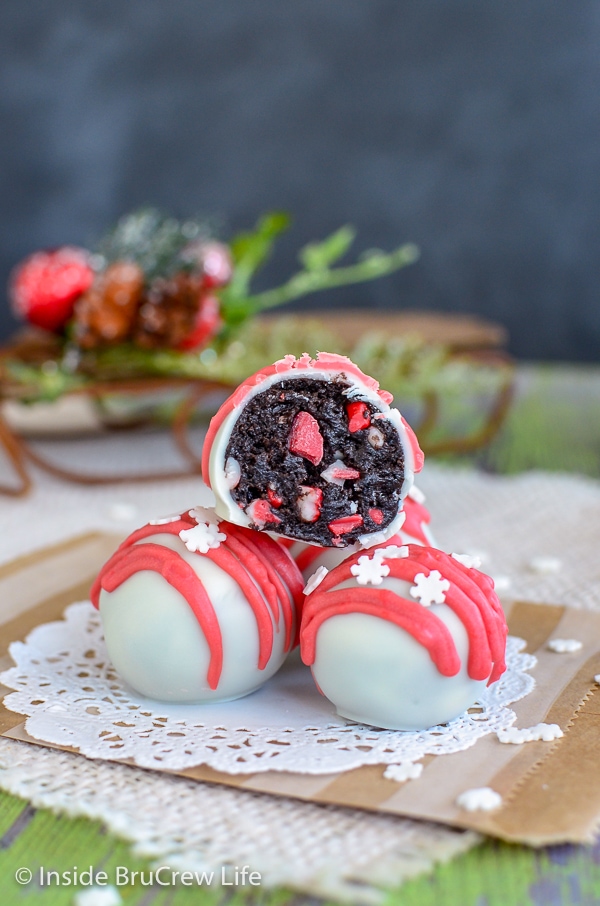 When I was in the pantry raiding the peppermint crunch stash, I found a package of Oreos, so I decided to add some of the peppermint crunch pieces to no bake Oreo truffles.
Now I have another dangerous treat to be around. I may have cheated on my healthy eating plan because I couldn't resist the goodness staring back at me when I was taking pictures.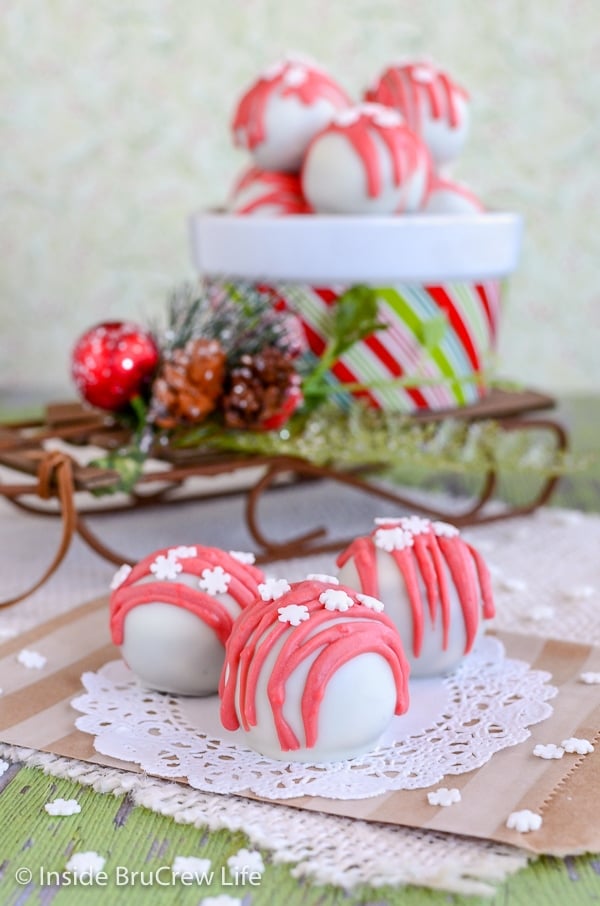 I love that these are so quick and easy to make. They are a great no bake dessert to make and take to Christmas parties because you only need four ingredients. Five, if you count the sprinkles on top.
Ingredients:
Oreo Cookies - You will use an entire 16 ounce package of cookies (cream included).
Cream Cheese - Soften an 8 ounce block of cream cheese ahead of time, so it is easier to mix with the crumbs.
Andes Peppermint Crunch Baking Chips - You will use an entire 10 ounce bag of these peppermint pieces. I highly recommend buying two bags because you know you want to snack on a few handfuls.
White Chocolate Melting Wafers - My favorite chocolate to use for dipping candies and truffles are the Ghirardelli melting wafers. They melt so easily, and you can use either white or dark chocolate.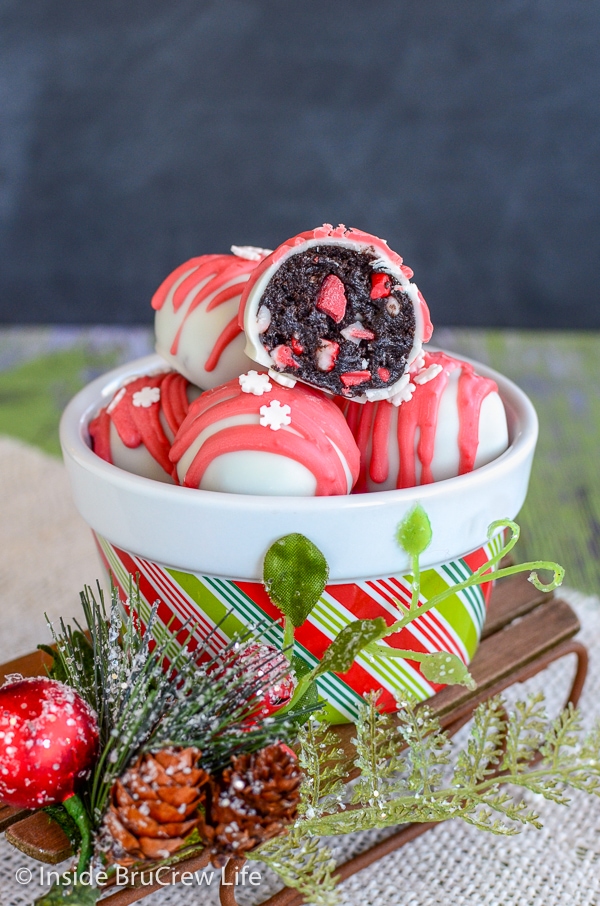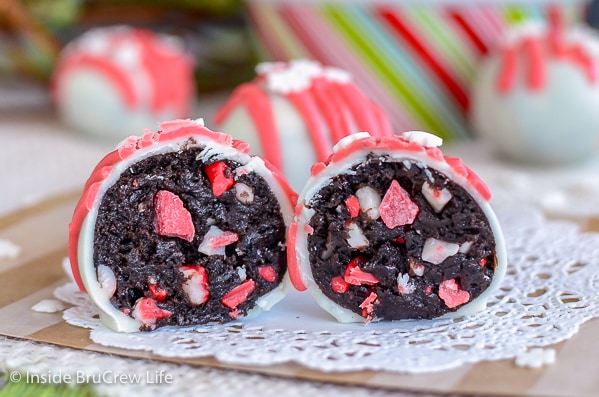 How to make Peppermint Crunch Oreo Truffles:
Crush the entire package of Oreo cookies, including the cream filling. A food processor or blender works for this.
Mix together the crushed cookies and the soft cream cheese gently. Stir in the peppermint baking chips.
Roll the mixture into 40 even balls. Refrigerate for at least 30 minutes.
Melt the chocolate according to the package directions.
Use a toothpick to dip the chilled Oreo balls in the melted white chocolate. Place on parchment and let set.
Melt the remaining peppermint pieces with a little bit of shortening. Spoon into a plastic bag and cut one corner off.
Drizzle the melted peppermint chocolate over the tops of the truffles and add sprinkles quickly. Let set, then store in a tightly sealed container in the refrigerator.
The melted peppermint chocolate will set up pretty quickly when you drizzle it on the tops. It is helpful to have someone else adding the sprinkles.
PRO TIP: If the chocolate sets up before you can get the sprinkles on, pull out a blow dryer. Turn it on low and go over the tops of the truffles. It will melt the chocolate just enough for you to add the sprinkles on top.
Do Oreo Truffles need to be refrigerated?
Yes, they need to be stored in a container in the refrigerator because they are made with cream cheese.
How long Oreo Truffles good for? Can I make Oreo balls ahead of time?
These are a great treat to make ahead of time. If wrapped tightly, the Oreo balls will keep in the fridge for 3-4 weeks.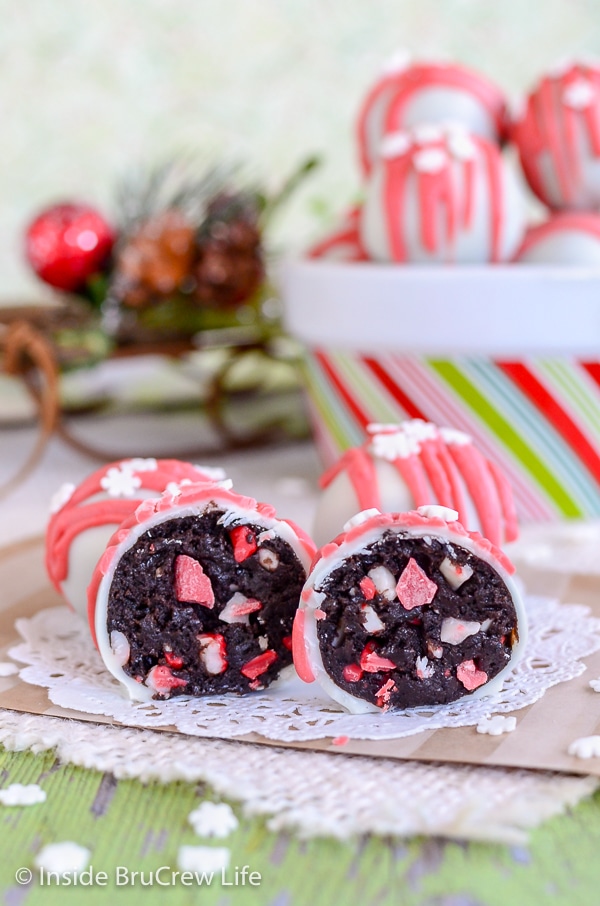 CLICK HERE TO PIN THIS RECIPE FOR LATER!
Other easy peppermint desserts: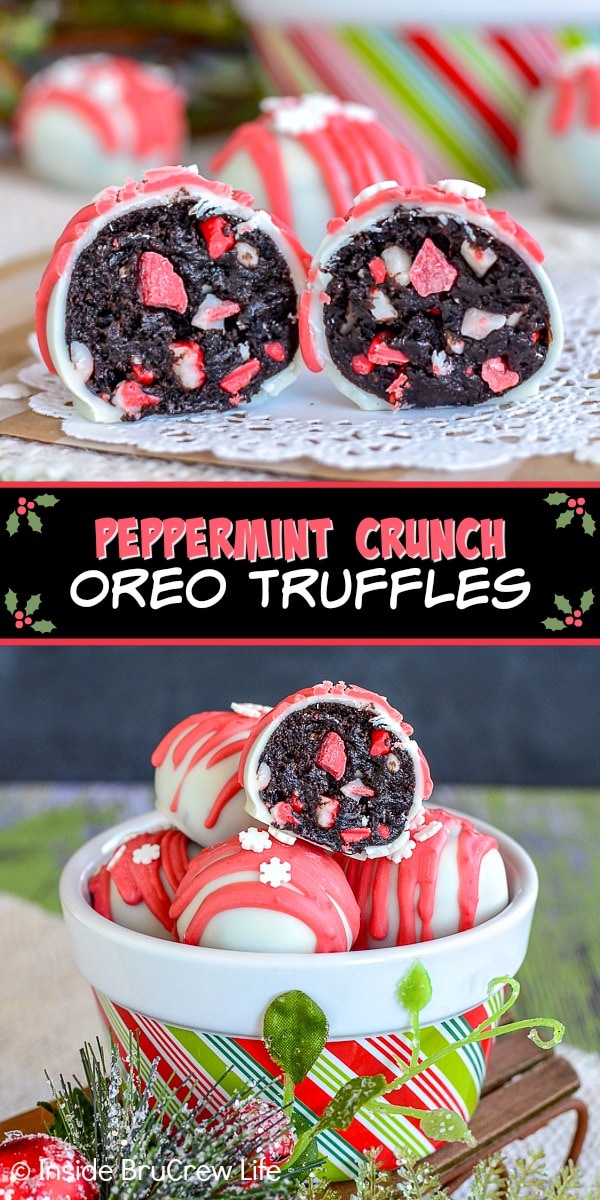 *The post for Peppermint Crunch Oreo Truffles was first published November 17, 2013. The photos and post were updated and republished December 8, 2020.