These easy no bake Peppermint Mocha Cookie Dough Truffle Bars are just what your holiday cookie trays need this year.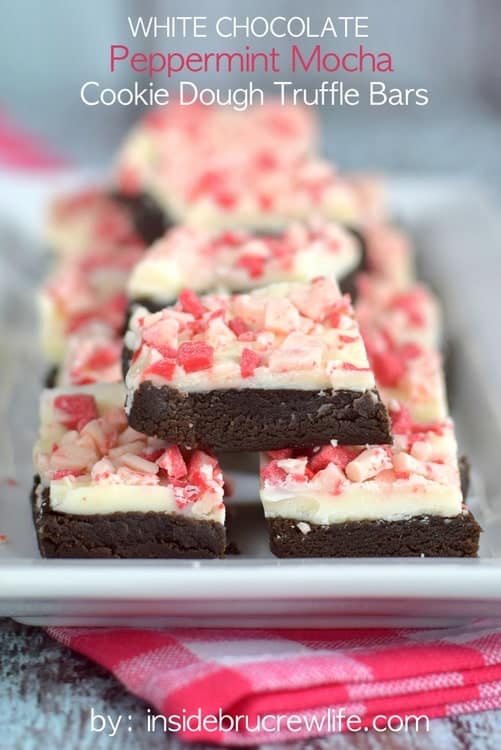 Do you know what time it is? It's peanut butter jelly time...wait a minute? That's not right.
Ok, how about it's all things peppermint time!!! Oh, yeah baby! Time to bake those holiday treats like there is no tomorrow. I have been anxiously waiting for this day to get here. I mean if Hobby Lobby can decorate their stores in July for Christmas, it's ok if I start cranking the peppermint treats now, right?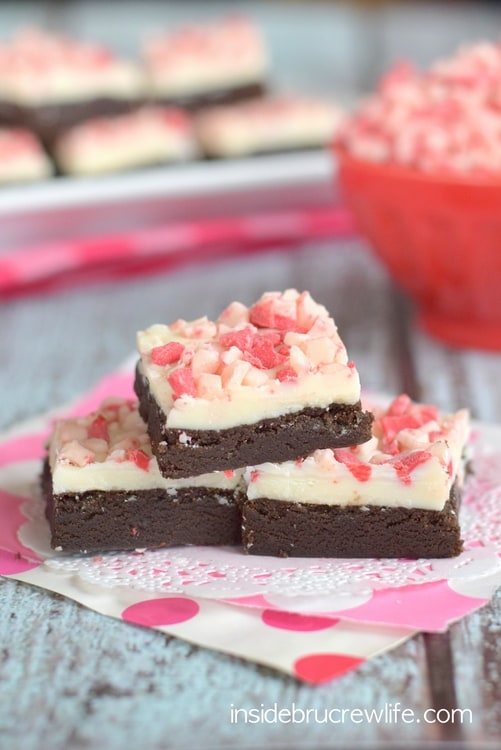 We always wait until the Saturday after Thanksgiving to decorate our house for Christmas. It has been our family tradition to get the tree that day and start to pull out all the boxes from storage.
This year though, I am ready to put it all out now. The other day I was at Target (surprise, surprise) and I was going crazy over all the cute holiday stuff! I found these cute lanterns to make a centerpiece for our table. I figured why not put them out...no one will even notice if I start putting one thing out at a time, right?
Wrong! My husband walked through the room that night. He got all the way through, then stopped and said, "Wait!". He turned around and walked right to the table. He says the decorations are not allowed out yet. But the lanterns are still there. I'm just waiting for him to notice that I added a snowflake table runner to the table. (Hey, babe...did you notice it was there yet?)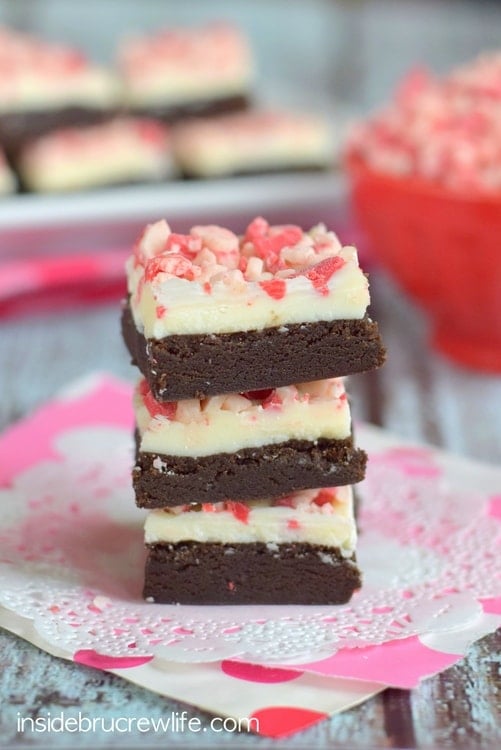 I also bought a few bags of Andes Peppermint Crunch Chips from Walmart. I couldn't wait any longer to bust open a bag and getting going on a fun treat. And to eat a few handfuls...I seriously love those chips!!!
I took these Andes Mint Cookie Dough Truffle Bars and gave them a delicious holiday twist.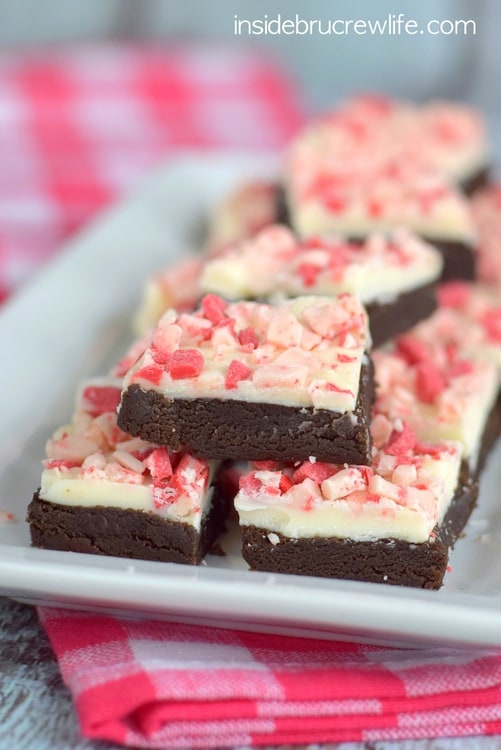 It has been a while since the last coffee treat, so I jazzed up the chocolate cookie dough with some instant coffee and coffee extract.
Now before you tell me that you don't like coffee, let me tell you that you cannot taste the coffee. So why do I put it in my chocolate? It enhances the chocolate and gives it a stronger chocolate taste. Who wouldn't want a better chocolate flavor in their treats?
The cookie dough doesn't have any eggs, so don't freak on me for that. Just butter, sugar, and flour pressed into a pan. Melt some chocolate and sprinkle with the peppermint goodness. Easy peasy pepperminty squeezy! Feel free to use whatever white chocolate you like. White chips, CandiQuik, Almond Bark, basically any white chocolate you have on hand or buy.
Just remember if you use white chocolate chips, you really will need to add some shortening to get it to melt properly. Yes, I said shortening! It won't kill ya! I use it all the time in my frosting and baking, and I'm still kicking! I really don't recommend butter for melting chocolate because there is still a little bit of water in butter, and that causes chocolate to seize. Believe me I tried for you. My white chocolate chips looked more like chocolate molding clay. So if you are going to use white chips, just for the love all things chocolate, use the shortening! Or use CandiQuik. I love how well that melts in the microwave. Just remember that it will end up a bit harder when it sets up, so cutting through it is just a bit harder. Make quick sharp cuts and you will be fine.
My husband and my youngest both agreed that these truffle bars were awesome...and they are my two that really don't care for sweets. So if they said these are good, you better make a batch pronto because that means they really are amazeballs!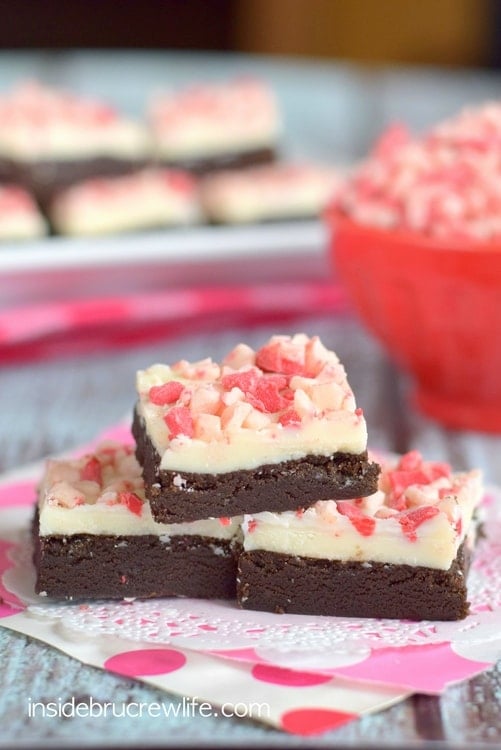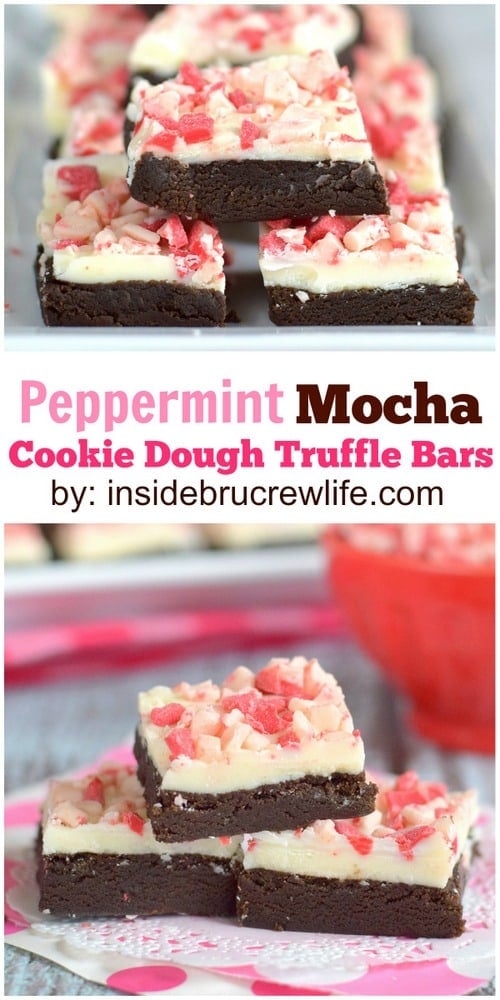 More delicious and fun ways to use the Peppermint Crunch Chips in your holiday baking!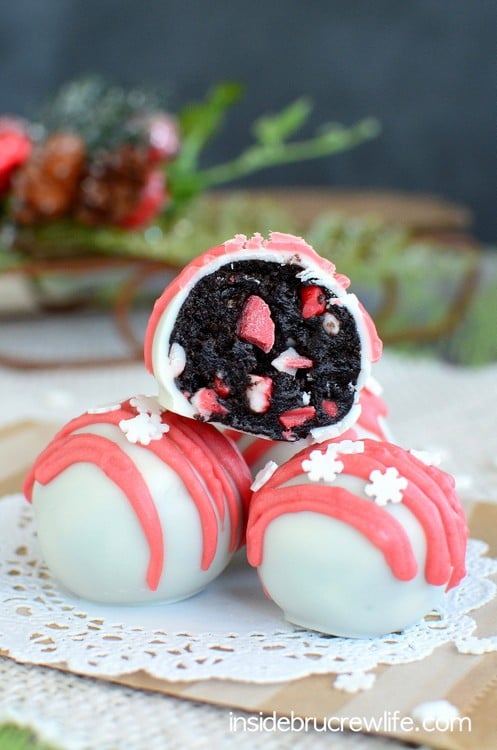 Peppermint Crunch Oreo Truffles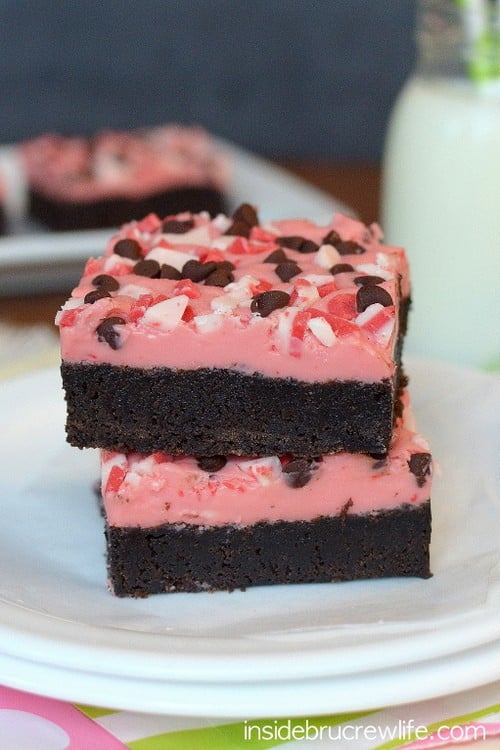 Peppermint Chip Brownies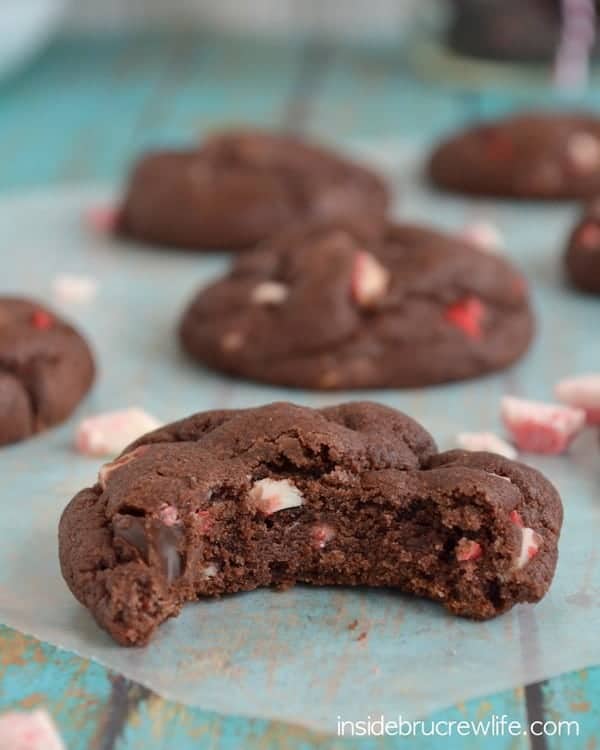 Peppermint Mocha Pudding Cookies