Homemade brownies topped with a peppermint chip frosting is the way to go.  Give these Peppermint Chip Brownies a try the next time you get a peppermint craving.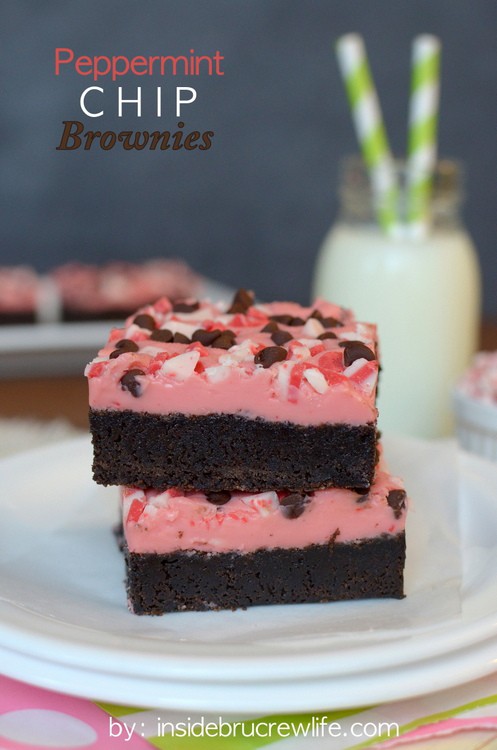 Yes, that is a homemade brownie.  And yes, it is peppermint sitting on top of it.
I realize that it is only the beginning of November, but I have been craving peppermint like crazy lately.  Don't worry!  I haven't forgotten about Thanksgiving…there are still a few pumpkin treats that I need to share with you.
But today, indulge me for a minute!  I made these brownies this week, and they were so good that I had to share them with you right away.    Forget waiting until December…you need these today!!!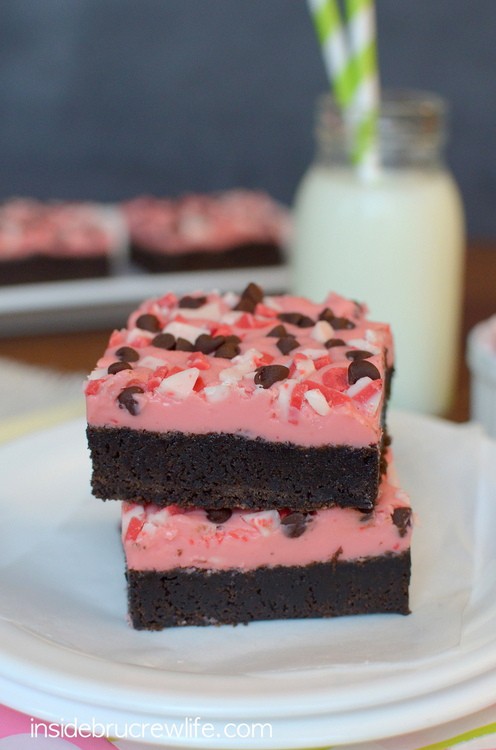 Please tell me that I am not the only one wanting to cram as much peppermint into my mouth as possible.
Have you seen these peppermint crunch chips?  I used them quite a bit last year, but for some reason this year I am going even crazier for them.  I think every time I run into the store for something I have been grabbing another bag of them.  At this rate I will be stocked for next year very soon.
It is also very possible that I  might have been eating them by the handfuls while I was waiting for the brownies to bake.  What?  They are that good!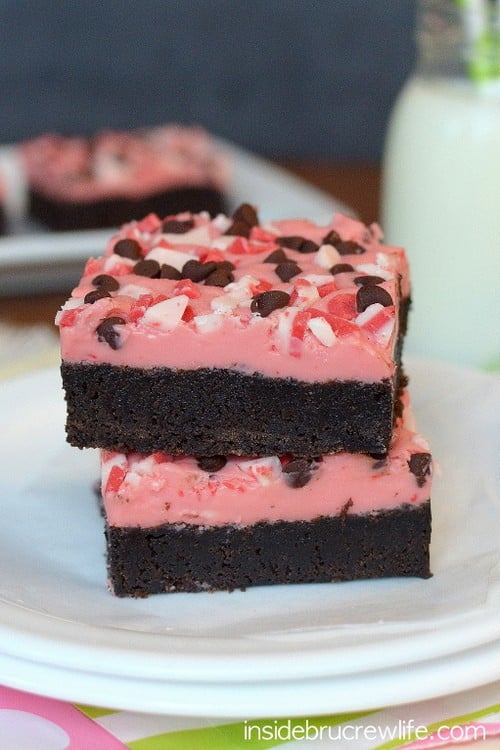 These homemade brownies bake up so rich and decadent.  There is something about them that makes them pretty irresistible.  But top them with a melted peppermint chip topping and they become down right dangerous.
My husband really isn't a big sweets eater, but he ate quite a few of these brownies.  He even took the pan over to the church to share with the staff, but I really think he just wanted them closer to his office.
I hope you are ready for me to go all peppermint crazy on you because is almost that time of year.  And now that I have started, I know I won't be able to stop.  Each day I have been thinking up new things to make using my new favorite baking chips.  Let's ride this peppermint wave into the holidays!
Now excuse me while I go finish off the last brownie that I hid in our refrigerator.  I need my peppermint fix for today!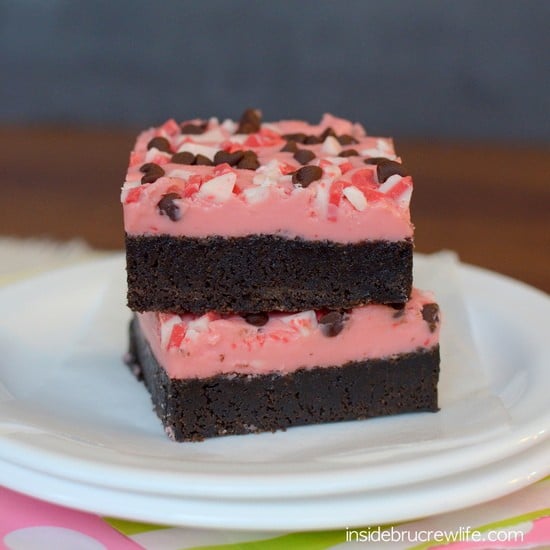 Stay up to date on all the BruCrew baking here:
FACEBOOK | PINTEREST | GOOGLE+ | TWITTER | INSTAGRAM | BLOGLOVIN
Yield: 16 brownies
Peppermint Chip Brownies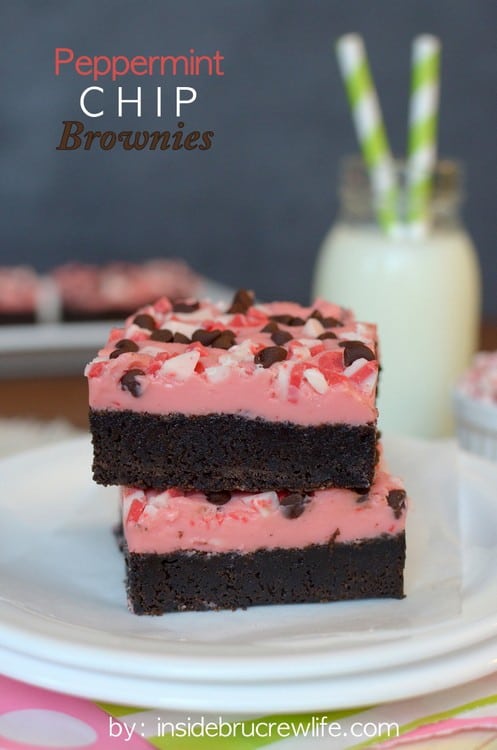 These homemade Peppermint Chip Brownies are topped with a peppermint fudge layer. Easy and delicious treat for holiday treat trays.
Ingredients
1/2 cup butter
1/4 cup dark cocoa powder
2 eggs
1 cup sugar
1 teaspoon vanilla
1/2 teaspoon salt
3/4 cup flour
1/2 teaspoon baking powder
3/4 cup Andes peppermint crunch pieces, divided
1/2 cup white chocolate chips
1/4 cup white chocolate peppermint coffee creamer
2 Tablespoons mini chocolate chips
Instructions
Preheat the oven to 350 degrees. Spray an 8x8 baking pan with nonstick spray.
In a small saucepan melt the butter. Whisk in the cocoa powder. Set aside.
Beat the eggs until light colored. Add in the sugar and vanilla and beat again.
Add 1/4 cup of the hot butter and chocolate mixture and beat. Now add the rest of the chocolate and beat again.
Sift together the salt, flour, and baking powder. Beat into the egg mixture gently. Spread in the prepared pan. Bake for 25 minutes. Cool completely.
In a small saucepan, bring the coffee creamer to a very low boil. Remove from the heat immediately and add 1/2 cup peppermint crunch pieces and white chocolate chips. Let this sit for 1-2 minutes.
Stir until creamy. Spread over the top of the cooled brownies. Sprinkle with the extra 1/4 cup peppermint pieces and mini chocolate chips.
Let set before cutting. Cut into 16 brownies. Store in a sealed container.
Notes
*If you can't find the peppermint coffee creamer, you can also use heavy whipping cream.
Recommended Products
As an Amazon Associate and member of other affiliate programs, I earn from qualifying purchases.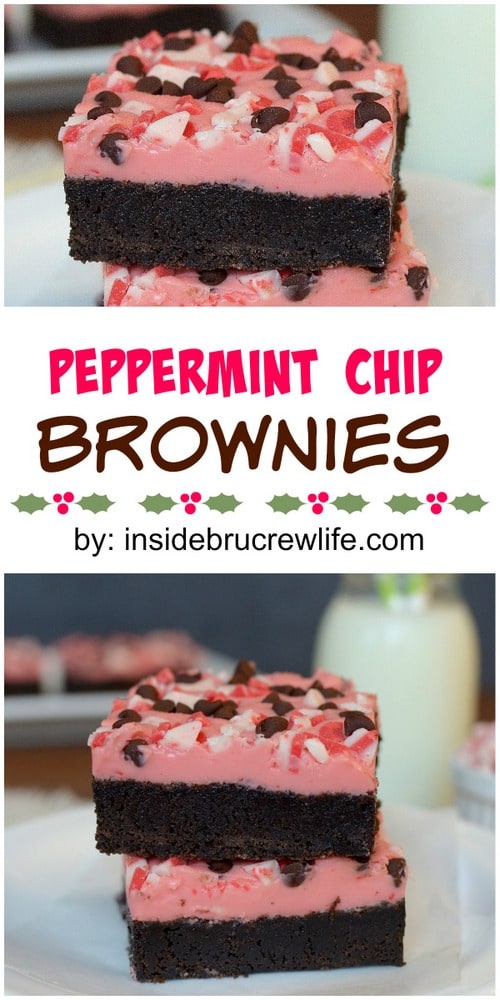 *This post contains an affiliate link. Inside BruCrew Life may receive a small percentage from sales made through these links.  Thank you for letting us share products this way.