Make a pan of the best Peppermint Chip Brownies the next time you get a chocolate and peppermint craving. Homemade brownies topped with peppermint chip frosting is the way to go this holiday season.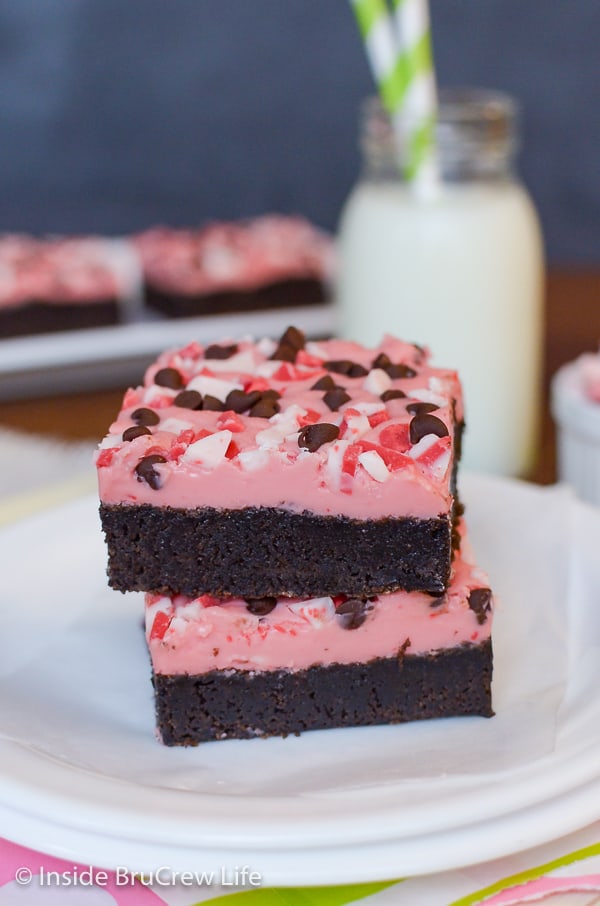 Yes, that is a homemade brownie staring you down. And yes, that is peppermint fudge frosting calling your name. You are welcome!
Lately I have been craving peppermint like crazy. I guess that's only logical because Christmas is in 14 days! Holy cow! How is it so soon? I seriously do not have anything done this year.
Ok, so that's not totally true. We put up the trees, lights, and decorations in the house. And my my hubby put the lights on the house yesterday. Of course, we haven't plugged them in yet, so I sure hope they still work from last year.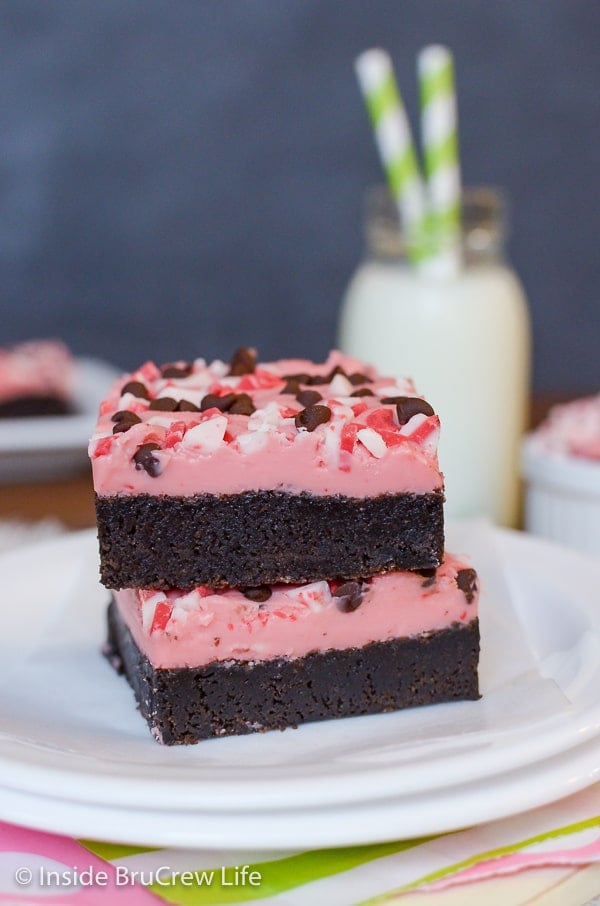 Other than that nothing else has been done around here. Maybe I should think about doing some Christmas shopping for our family in the very near future.
Until then, I'm going to sit here and dream about how yummy these peppermint brownies were.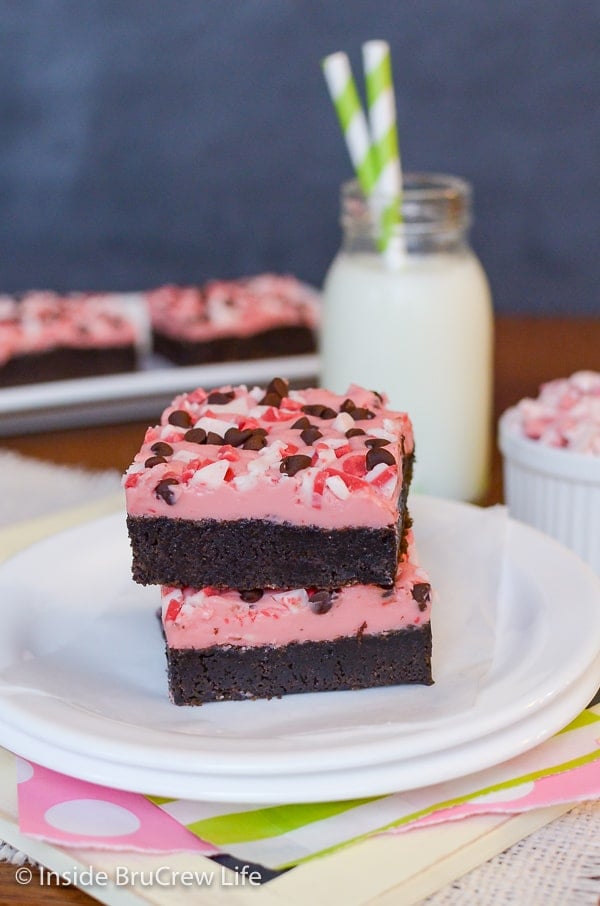 Please tell me that I am not the only one wanting to cram as much peppermint into my mouth before the end of the year.
I'm still in love with using peppermint crunch chips for all the holiday desserts. I think every time I run into the store for something I have been grabbing another bag of them.
At this rate it is possible that I will be stocked up for the whole next year. Yay for having this Oreo Peppermint Crunch Cookies all year long though!
It is also very possible that I may have been eating them by the handfuls while I was waiting for these brownies to bake. What? They are that good!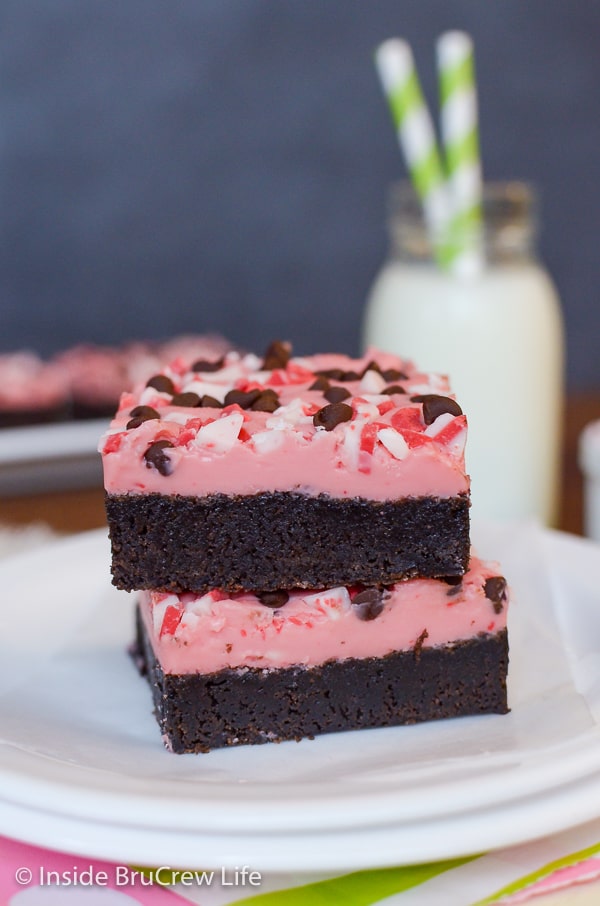 These Homemade Chocolate Chip Brownies bake up so rich and decadent. There is something about them that makes them pretty irresistible by themselves.
But if you top them with a melted peppermint chip fudge topping, they become down right dangerous. The only thing better would be having a scoop of this Peppermint Stick Ice Cream on top.
How to make Peppermint Chip Brownies
Preheat oven and line a pan with foil or parchment paper and spray it with nonstick baking spray.
Whisk together the melted butter and dark cocoa powder.
Beat the eggs for a few minutes or until light colored. Add the sugar and vanilla and mix in.
Add the melted butter mixture to the egg mixture and mix.
Stir in the dry ingredients gently. Spread in the prepared pan and bake.
Heat the coffee creamer in a sauce pan until hot, but not boiling. Stir in the peppermint chips and white chips until melted and creamy.
Let the mixture cool for a few minutes, then spread on top of the cooled brownies.
Sprinkle the top of the peppermint fudge with the extra peppermint chips and mini chocolate chip before it sets.
Make sure you give the peppermint fudge topping enough time to set before you cut into the brownies. It's a true test of patience, but so worth it.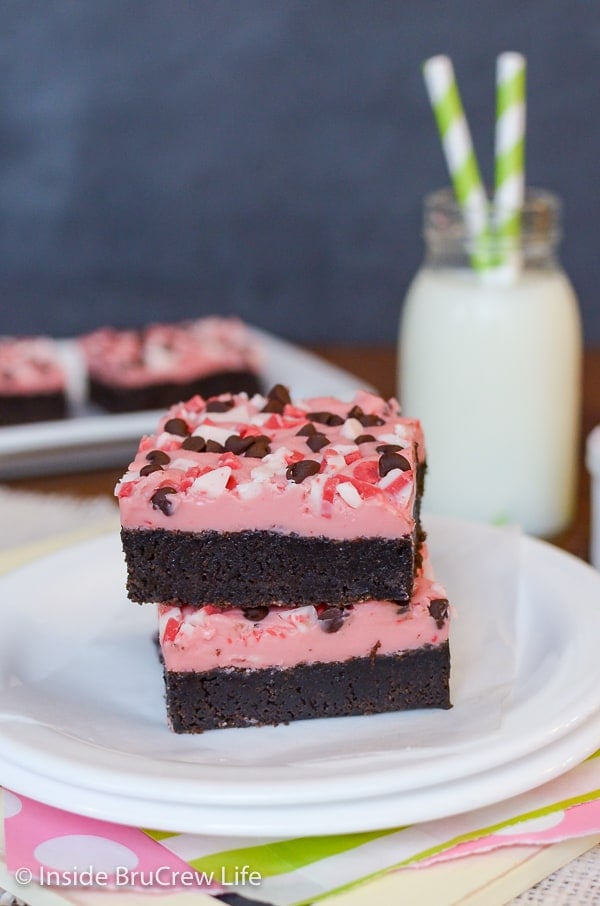 More easy peppermint desserts you may like
CLICK HERE TO PIN THIS RECIPE FOR LATER!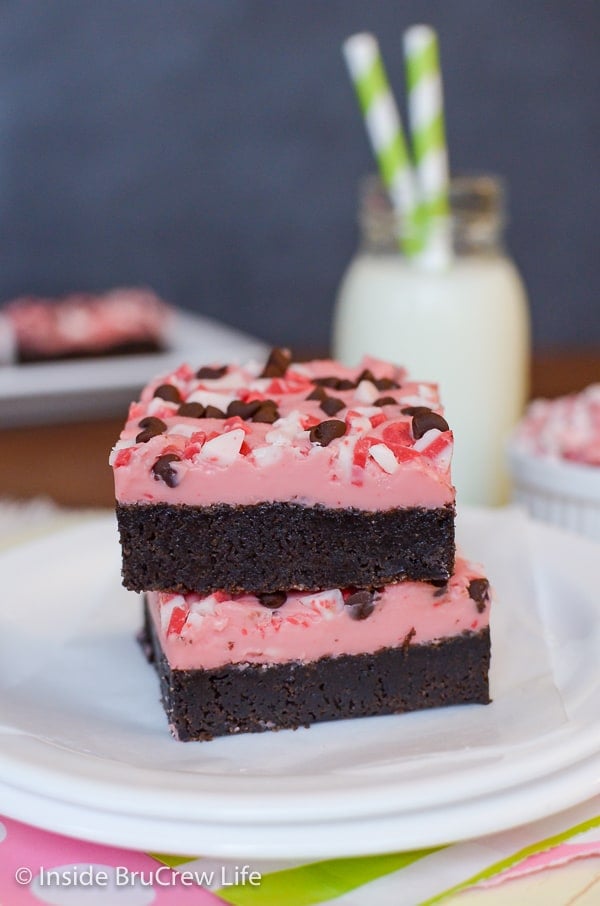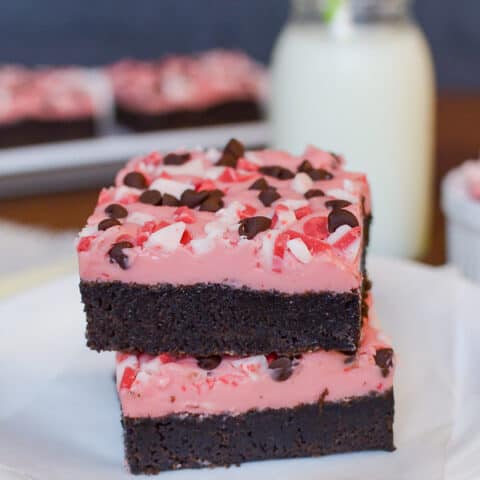 Peppermint Chip Brownies
These homemade Peppermint Chip Brownies are topped with a peppermint fudge layer. Easy and delicious treat for holiday treat trays.
Ingredients
1/2 cup unsalted butter, melted
1/4 cup dark cocoa powder
2 large eggs
1 cup sugar
1 teaspoon vanilla
1/2 teaspoon salt
3/4 cup all purpose flour
1/2 teaspoon baking powder
3/4 cup Andes peppermint crunch pieces, divided
1/2 cup white chocolate chips
1/4 cup white chocolate peppermint coffee creamer
2 Tablespoons mini chocolate chips
Instructions
Preheat the oven to 350 degrees. Spray an 8x8 baking pan with nonstick spray.
Whisk together the melted butter and cocoa powder. Set aside.
Beat the eggs for a few minutes until light colored. Add in the sugar and vanilla and beat again.
Add the butter and chocolate mixture and mix together.
Sift together the salt, flour, and baking powder. Sowly add it to the the egg mixture and beat gently. Spread in the prepared pan. Bake for 25 minutes. Cool completely.
In a small saucepan, heat the coffee creamer to just below boiling. Remove from the heat immediately and add 1/2 cup peppermint crunch pieces and white chocolate chips. Let this sit for 1-2 minutes.
Stir until creamy. Spread over the top of the cooled brownies. Sprinkle with the extra 1/4 cup peppermint pieces and mini chocolate chips.
Let set before cutting. Cut into 16 brownies. Store in a sealed container.
Notes
*If you can't find the peppermint coffee creamer, you can also use heavy whipping cream.
Recommended Products
As an Amazon Associate and member of other affiliate programs, I earn from qualifying purchases.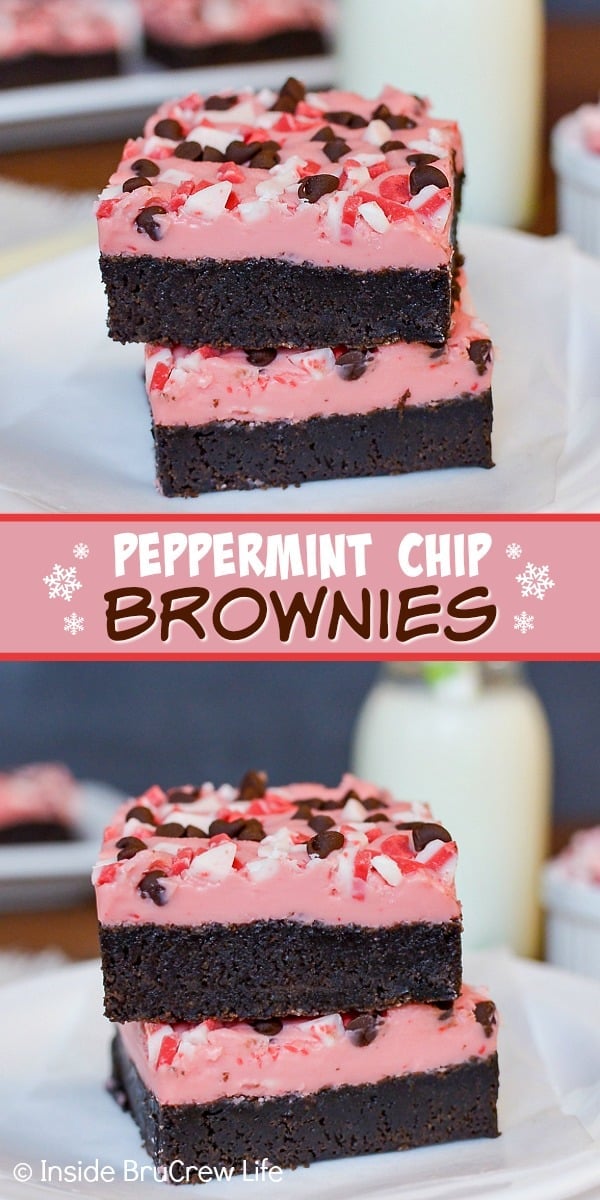 *The post for Peppermint Chip Brownies was first published on November 2, 2013. The photos and post have been updated and republished on December 11, 2019.