With just a few ingredients and a few minutes you can have a batch of Peppermint Oreo Bark on your counter. It's a great last minute holiday treat for parties or hostess gifts.
Yes, I know it's only a week until Christmas, and yes, I'm pretty sure you all have your cookies and sweets picked out or already made for your holiday parties and family events.
But trust me when I say making this easy Peppermint Oreo Bark needs to be added to your plans! It only has a few ingredients, and it can be done in about 15 minutes. In just a few minutes you can be snacking on peppermint goodness!
Plus, I'm still in love with all things peppermint, so here we go with another easy peppermint treat for the season.
Believe me, believe me my jeans are so mad at my snacking habits this month. It's not pretty. But oh, it tastes so good!!!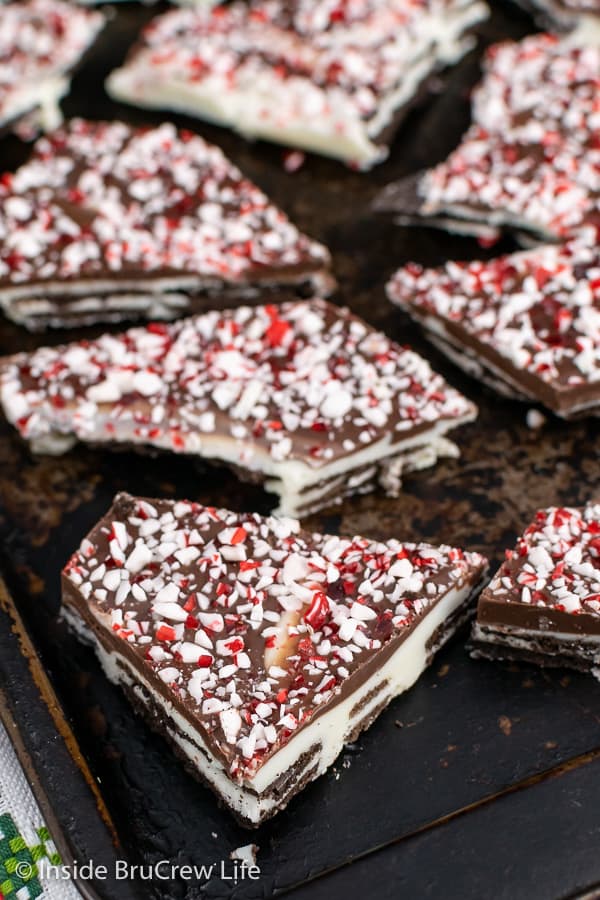 A few years ago I made this Candy Cane Pretzel Bark, and then promptly ate half the batch. True story!
So this year, I thought I would try something different. Turns out putting Oreo Thins in the center of chocolate and topping it with peppermint bits doesn't stop you from munching. My sweet tooth needs a rehab from this easy four ingredient chocolate bark!
Using those same cookies and making Peppermint Bark Oreo Thins is another reason I need to rehab that pesky tooth.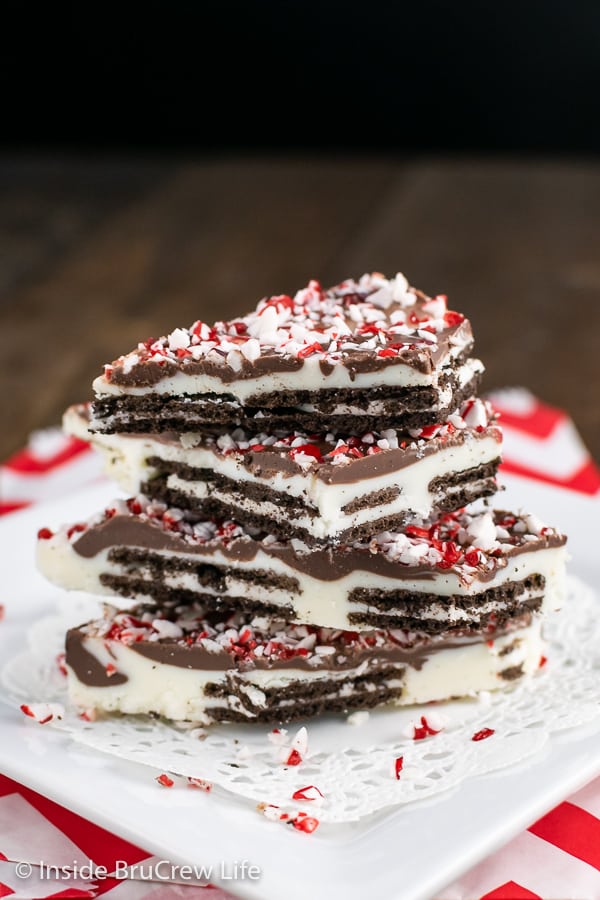 Swirls of dark and white chocolate, crunchy cookies, and sweet peppermint bits is never a bad idea. Well, that is if you have willpower and can resist that kind of holiday goodness.
My plan is to work on finding my willpower in January. Until then, you can find me hiding in the closet with chocolate smears on my face.
How to make Peppermint Oreo Bark
Use a good quality chocolate for the bark. Not only will it melt smooth and creamy, but it will taste good too.
Line your pan with foil or parchment paper. This will help you get all the chocolate goodness out after it sets.
Dip the bottoms of the cookies in melted white chocolate before putting them on the foil. This keeps them from moving all over the place when you spread the rest of the white chocolate on top.
Drop the melted dark chocolate in puddles over the top and then swirl gently. You want to keep the chocolate on the top, so that when you cut it you have layers of white and chocolate.
Sprinkle the peppermint bits on top before the chocolate sets up.
Use a knife to cut the bark into triangles. It doesn't break right just using your hands.
Give away most of the bark away before you eat it all!
Thank goodness I was able to send most of this Oreo peppermint bark to our church. I didn't want to be the only one who couldn't fit in their jeans. I mean I wanted to share the peppermint happiness with everyone. Wink, wink!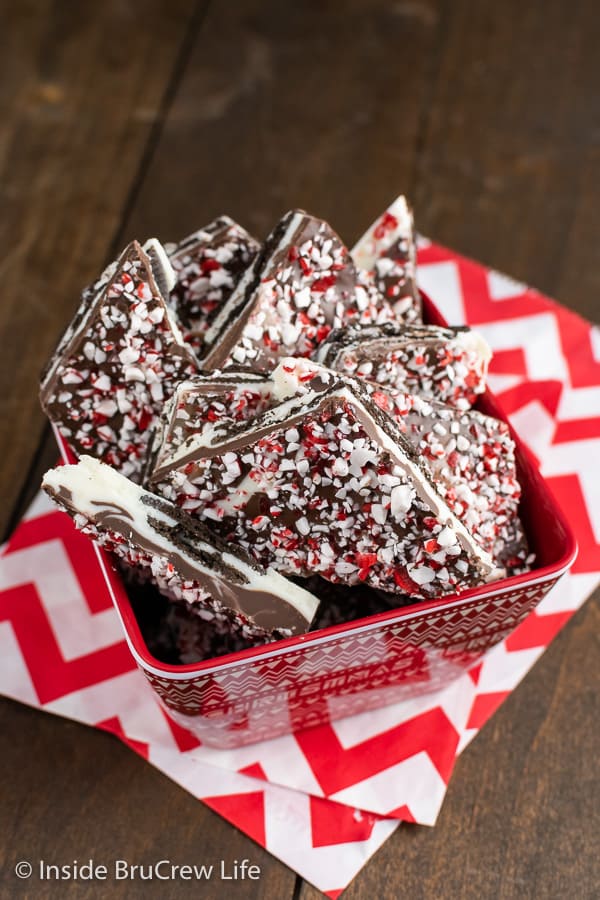 More No Bake Holiday Desserts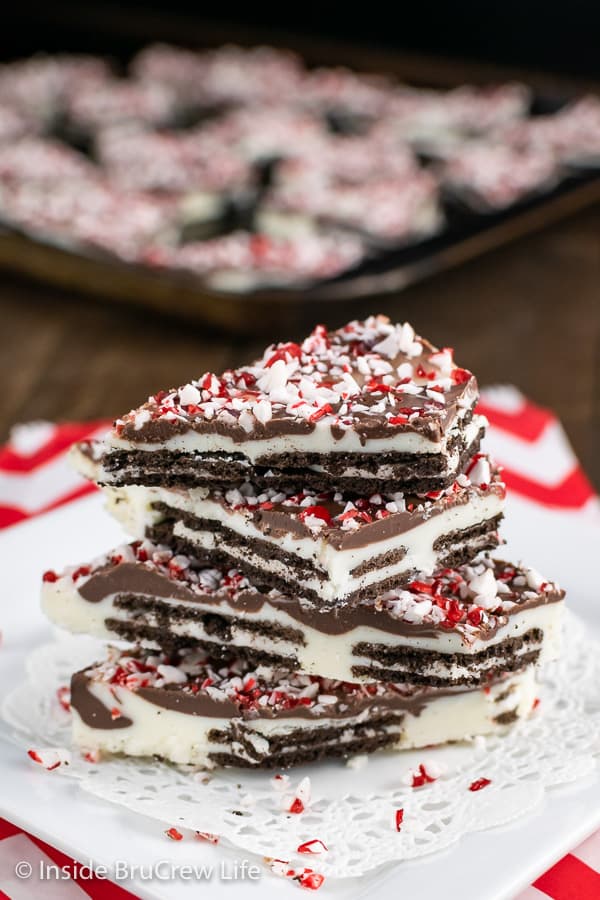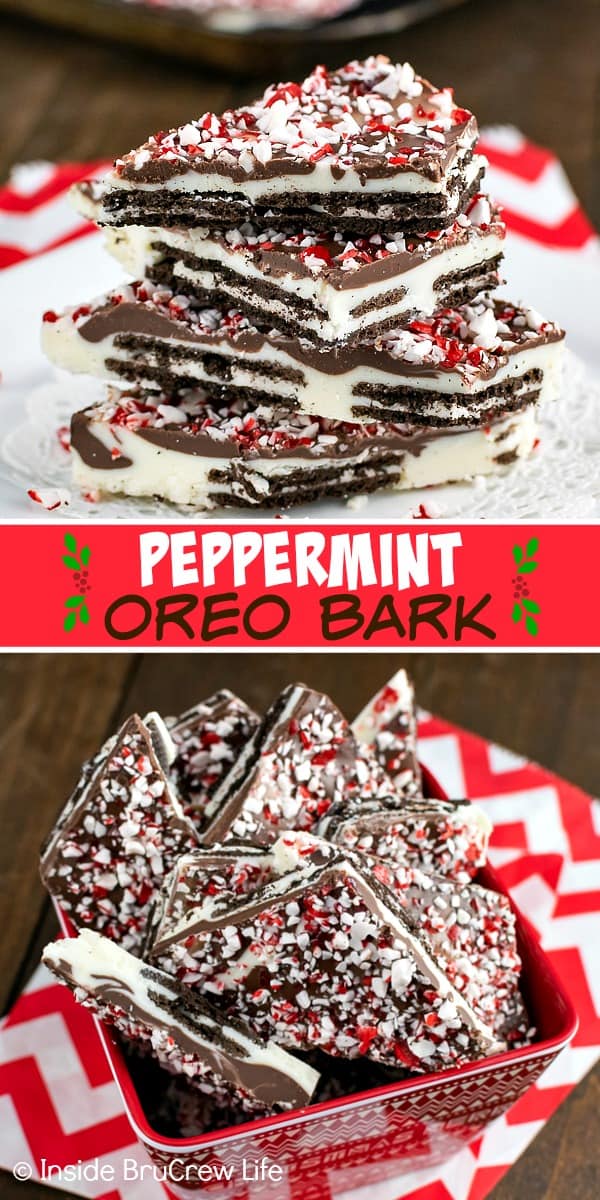 *The post for Peppermint Oreo Bark was first published on December 22, 2015. The photos and post have been updated and republished on December 15, 2019.