These easy, no bake Peppermint Bark Oreos will make a big statement on your holiday cookie trays this year. Perfect holiday treat to make when you do not have time to bake.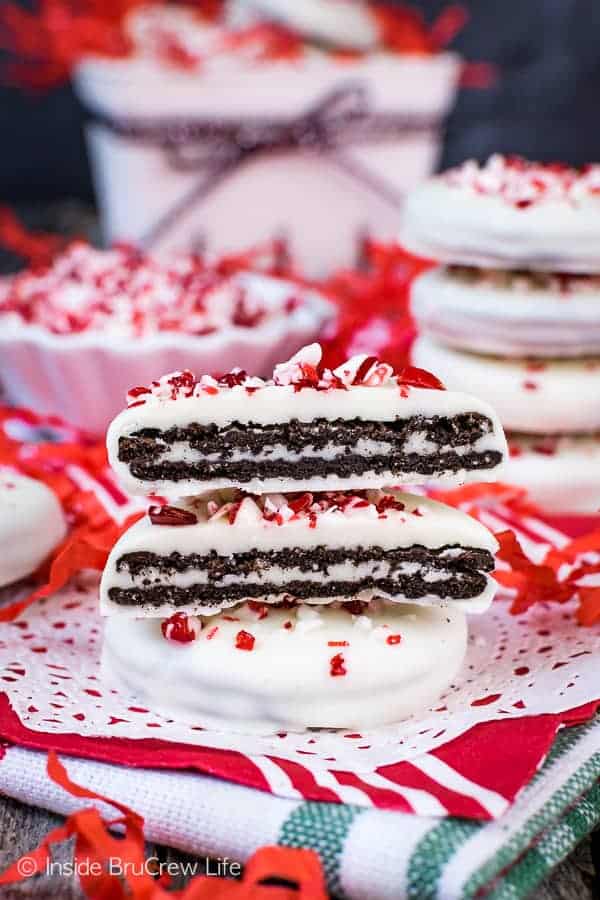 Is your schedule quickly filling up with events and parties? Yesterday I realized that we have quite a few things already on our schedule making the month feel busy before it has even really begun.
Soccer games, dinners, choir concert, service project for school, small group party, and a hot chocolate and cookie outreach event are just a few of the things on the calendar so far.
Plus, we have family coming into town for the week of Christmas, so that week will be filled with lots of family fun.
Every year we make a list of cookies that we want to bake for the holidays, but this year I'm just not feeling the motivation to bake a bunch of different kinds. Of course, the family favorites like these Peanut Butter Cup Cookies and these Oreo Peppermint Crunch Cookies will happen at some point.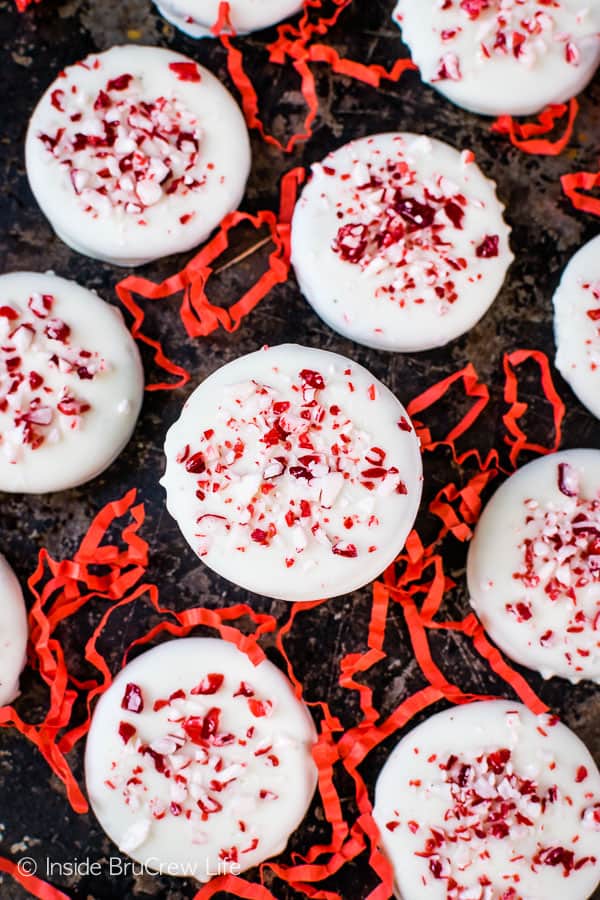 But for some reason all I want to do is make no bake holiday treats this year. Is it still a holiday cookie if you buy them from the store, dip them in chocolate, and add candies or sprinkles? Our kitchen floor is covered in sprinkles and peppermint bits from the chocolate party I have been having lately.
The holidays can't go by without having some easy peppermint bark too. I took the bark one step further by adding it to Oreos.
Yes, I realize that you can buy the Oreo cookies already covered in white fudge, but I like that these are a little bit smaller and have peppermint candies added to the top.
Adding peppermint to all the things is my life goal for the month of December. In fact, these easy no bake cookies would be the perfect addition to this pretty pink Peppermint Stick Ice Cream from the other day.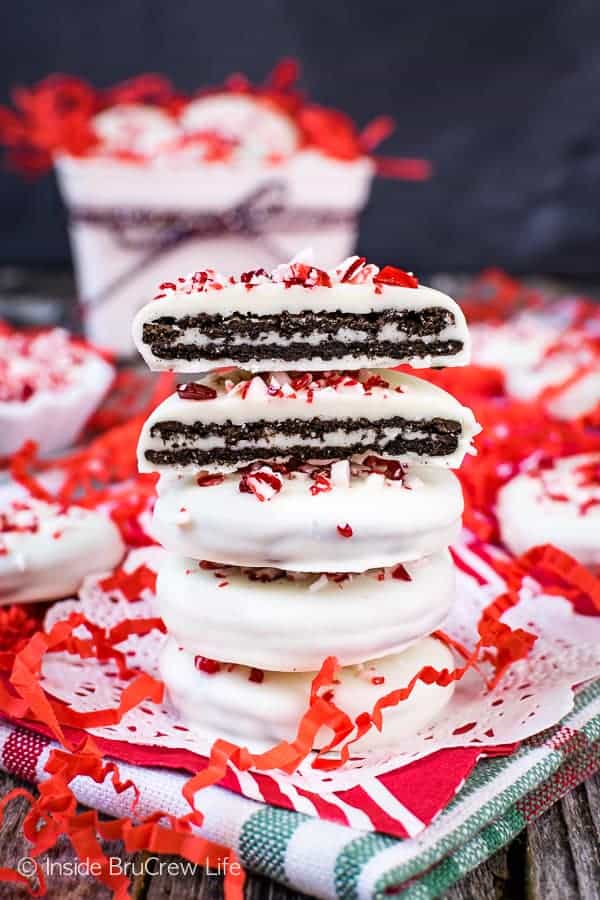 Ingredients Needed
One package of Oreos - Regular or Thins
One bag of white chocolate melts
Peppermint Candy Bits
How to Make Peppermint Bark Oreo

s

Start with a good quality chocolate. I like to use the Ghirardelli chocolate melts. They melt easily and dry smooth.

Place the white chocolate melts in a microwave-safe bowl and heat for 30 seconds. Give it a stir and heat for another 15-20 seconds.

Heat it in small increments so the chocolate doesn't scorch and burn. It's never a good day when you have to throw out an entire bowl of chocolate.

Drop one cookie at a time into the melted chocolate. Use a spoon to cover the top of the cookie with chocolate.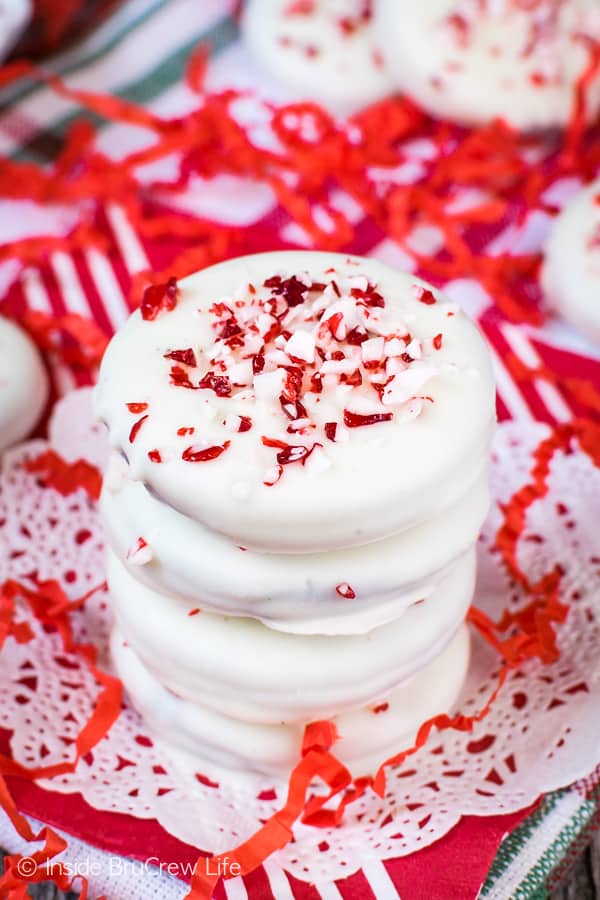 Lift the cookie out of the chocolate with a fork. Tap the handle of the fork on the bowl gently to remove the excess chocolate.
Once the extra chocolate has dripped off place the cookie on a sheet of parchment and top with peppermint bits.
Repeat with the remaining cookies and chocolate. The chocolate may start to thicken up in the middle of your cookie session, so just pop the bowl in the microwave for about 10 seconds and stir it up again.
Once the chocolate has set up, you can place these Peppermint Bark Oreo Thins in little boxes. Add some red filler, a bow, and wrap them in plastic for a fun little holiday gift.
This Snowman Candy Jar filled with these cookies would also be a super cute gift.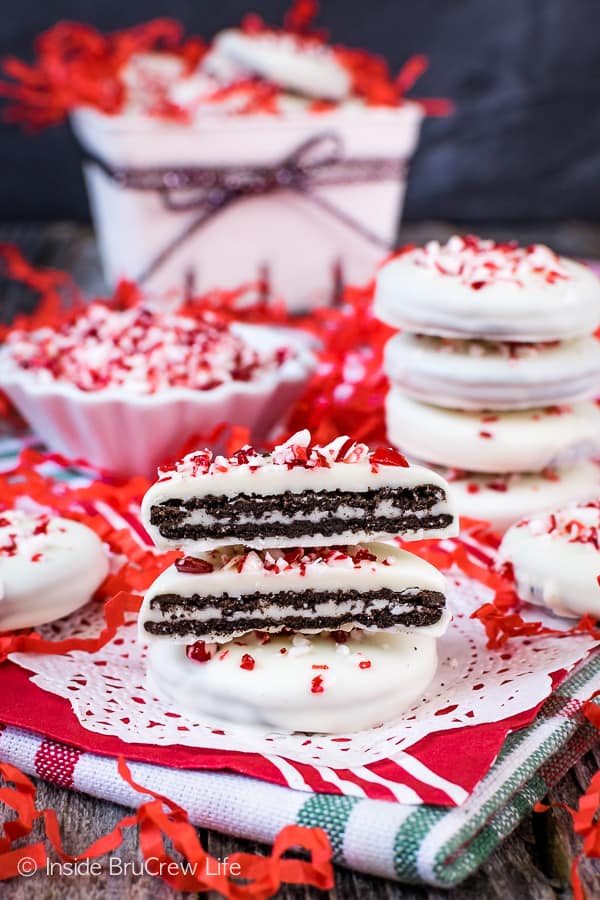 More easy Peppermint Desserts
This easy homemade Peppermint Whipped Cream is the perfect addition to all your holiday desserts. It's especially good on hot coffee.
A plate full of these Peppermint Brownie Truffles will not last long at your holiday parties. These easy treats look like they came from the store, but are easy to make at home.
Cookie chunks and peppermint baking chips add a fun flair to this easy Peppermint Cookies and Cream Fudge. It's one of my favorite holiday fudge treats because of the color and taste!
Make a big bowl of this Chocolate Peppermint Popcorn for holiday movie nights or for gifting to friends and family.