Make a few of these Floating Marshmallow Snowmen to add the cutest touch to your hot chocolate. These simple and cute marshmallows are a fun craft that the kids can help make.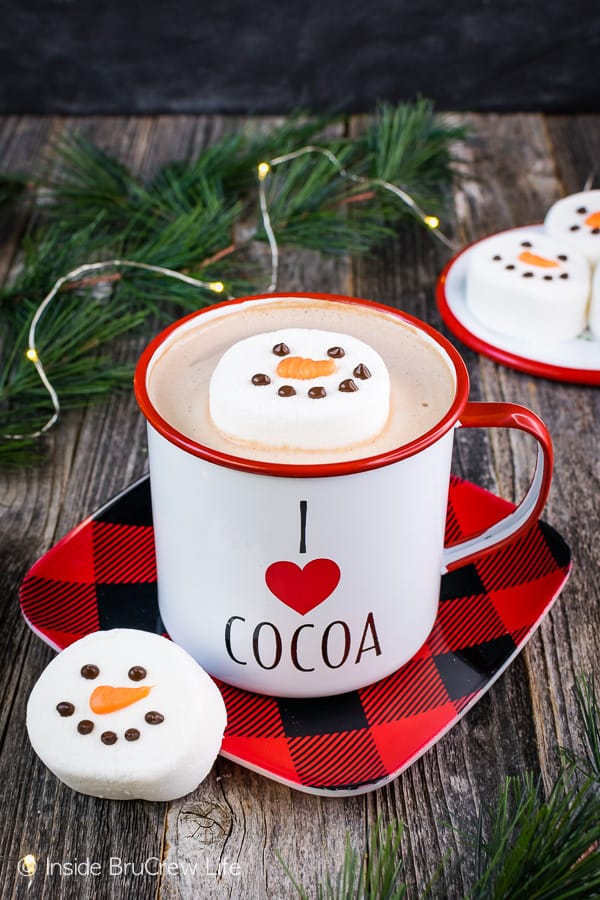 Over the years, I used to collect snowmen that I would decorate our house with during the winter. I say used to because after moving three times in a year an a half, I purged a lot of items as we were packing.
Each time we pulled the Christmas boxes out to decorate the current house, I gave more and more away to Goodwill. Now I only have a few snowmen on a few shelves.
I did keep most of the snowmen ornaments for our Christmas tree though. Do you do themed trees in your house? We have one that is semi-themed. It is mostly snowmen. We also add the cute kids ornaments that they made in grade school to it, along with some turquoise ornaments and white silk poinsettias.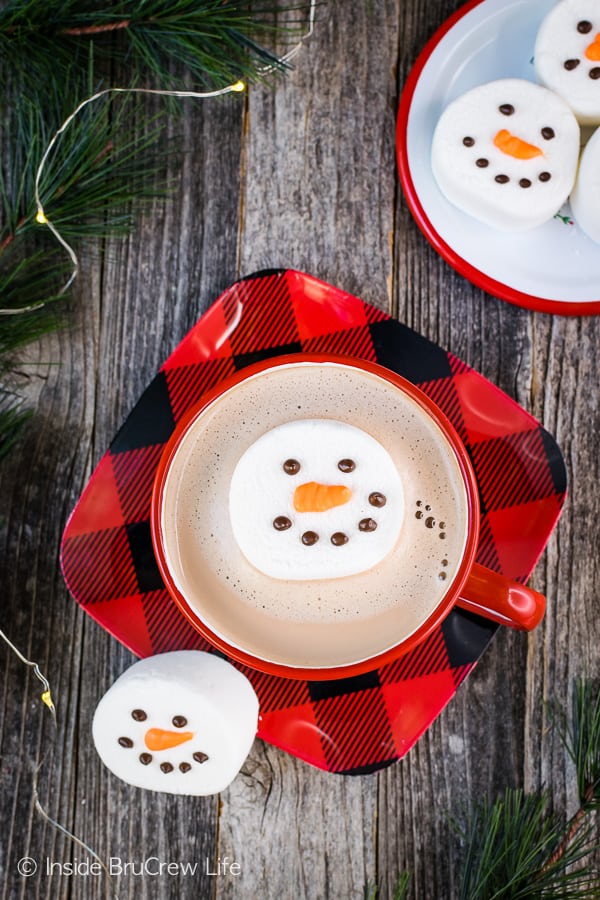 I used to do all kinds of wood crafts many years ago too. Each year I would create a fun new snowman to add to the growing collection. Over the years, I have kind of stopped doing those kind of things.
Although, I did have a slight crafty moment when I made these Rustic Wood Ornaments to add to our tree this year.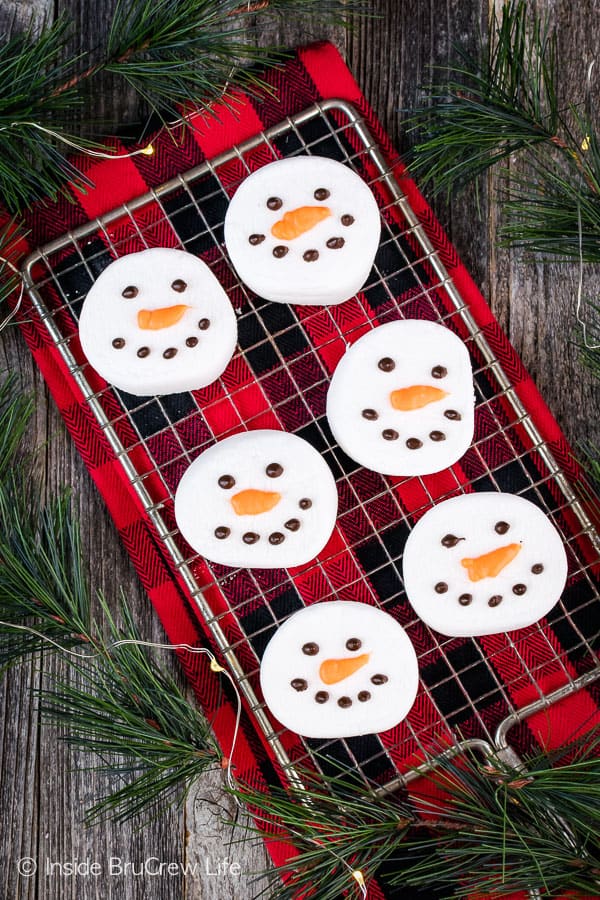 Now a days most of my crafting is done with food. Usually I find a way to incorporate those candy googly eyes to something each holiday.
This year though, I used chocolate to make some faces for some hot chocolate marshmallow toppers. An edible marshmallow snowman in a cup of Peppermint Mocha Hot Chocolate always gets smiles.
What you need
extra large marshmallows
kitchen scissors
powdered sugar
cornstarch
white chocolate melts
chocolate melts
orange gel food coloring
small plastic baggies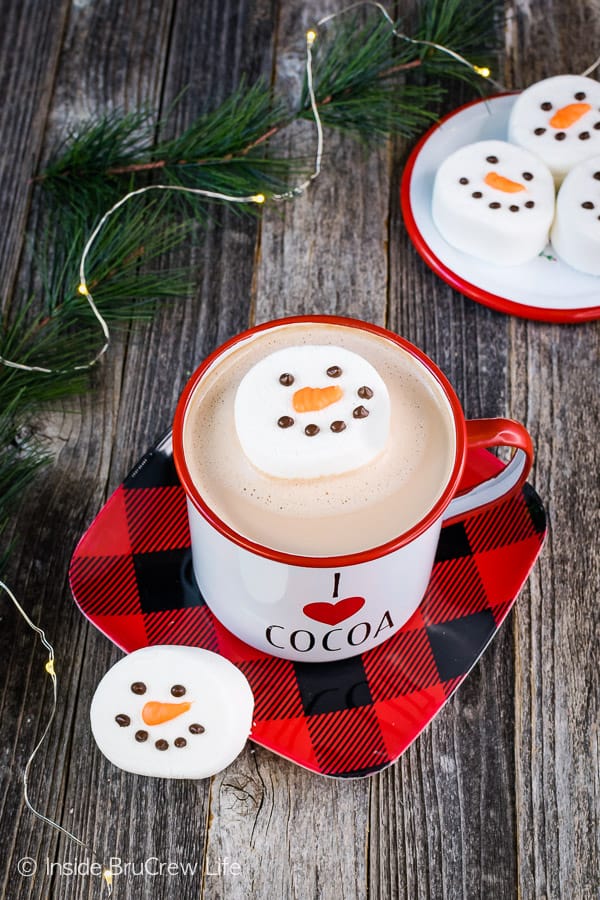 How to make Marshmallow Snowmen
Mix together the cornstarch and powdered sugar in a bowl.
Cut the marshmallow in half with a pair of kitchen scissors. Dip the sticky end in the powdered sugar mixture. Make sure to tap off all the excess powder.
Melt the chocolate melts in a microwave safe bowl for about 20-30 seconds. Stir until melted. Spoon into a plastic bag and cut a tiny corner off. Use it to make the eyes and mouth on the tops of the marshmallows.
Melt the white melts the same way. Stir in a little bit of orange food coloring. Spoon into another plastic bag and cut a tiny corner off. Make a carrot nose on each marshmallow.
Let the chocolate set before packaged the marshmallows in a tightly sealed bag.
Float a marshmallow snowman on the top of your hot chocolate or coffee for a fun daily treat this winter.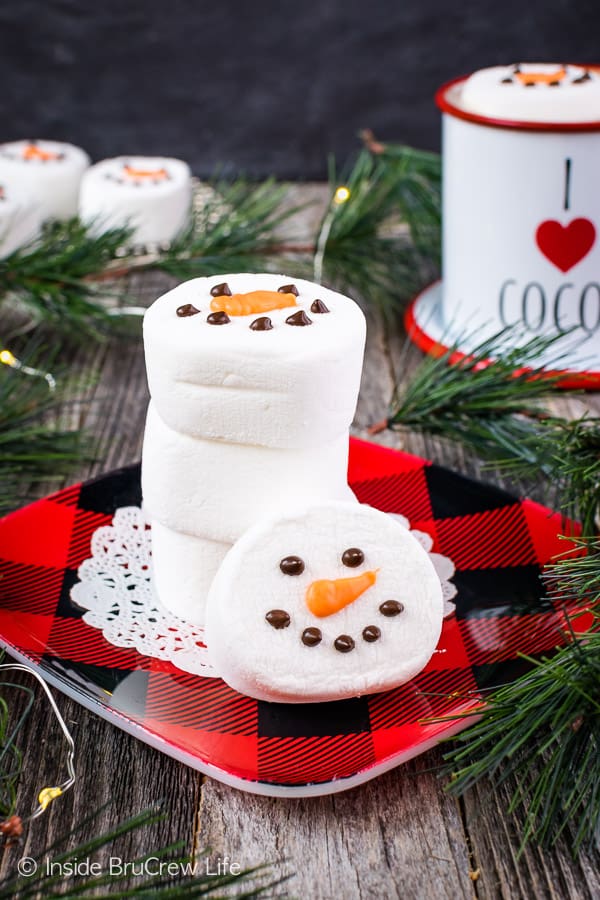 Recipe Questions
What size marshmallows should I use?
You can honestly use any size marshmallow, but I used the largest roasting marshmallow that the store had.
Do I have to use chocolate?
No you can also use edible markers to draw the faces on the marshmallows.
What do you do with the snowmen marshmallows?
Float them on top of your hot chocolate, lattes, or coffee.
Make cute little gift bags to give away with a mug and some hot chocolate mix.
Other easy holiday treats
These little Reindeer Snack Cakes are an easy treat that the kids can help make. Decorate snack cakes with pretzels and candies for a fun holiday treat.
Marshmallow Frosty Hats are easy to make with cookies, marshmallows, and melted chocolate.
With just a few ingredients and a few minutes you can have a batch of Peppermint Oreo Bark on your counter.
These no bake Peppermint Rice Krispies Pinwheels are an easy and fun treat for the holidays. You can wrap each one individually for a cute "candy" package.