The homemade sweet and spicy salad dressing adds a fun kick to this easy Pineapple Sriracha Chicken Salad. This is such a healthy and refreshing salad for summer nights.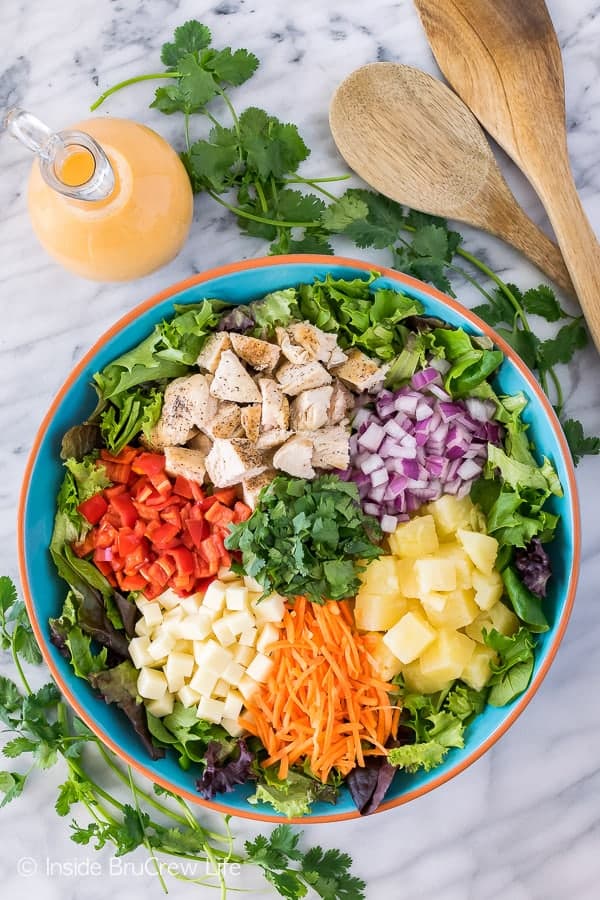 There are two times a year that I go on a big salad kick. Now don't get me wrong, we eat salad all year long because it's healthy and delicious. Everyone in our family enjoys a big giant salad for dinner. Especially one that looks like a giant beach ball before it gets tossed!
But for me, the beginning of the year and the beginning of spring are the two times I get the urge to eat even more salads than normal. Of course, at the beginning of the year it's mostly because I indulged a little too much in holiday treats. Salad is necessary to battle that cookie bulge.
I do really well for a month or two before slipping back into my old eating habits. Before I know it, spring has arrived and it's time to bring out the shorts and t-shirts. The only problem is that once again there are bulges to be battled. Bring on the protein shakes and salad dinners because mama wants to wear shorts this summer. Please tell me I'm not alone in these salad phases.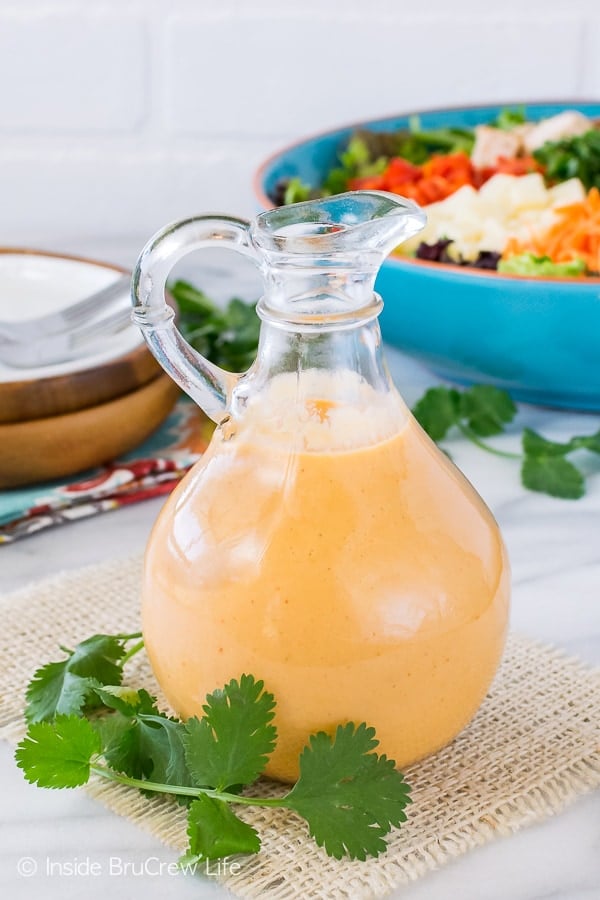 A few years ago I made this strawberry orange spinach salad and realized just how much I love having fruit with my veggies and chicken. There is just something about that juicy fresh fruit that compliments a salad so much.
In the past few months a few more restaurants have opened in our area. One is a healthy smoothie shop with smoothies as big as your head. Ok, so maybe that's exaggerating a bit, but seriously they are huge. They also serve flatbreads and wraps that are tasty too!
Recently we got a flyer in our mailbox for one of their new flatbread creations. The pineapple sriracha drizzle on the wrap caught my eye, and I decided right then and there that I wanted all that goodness on a giant green salad. Like I said, I'm all about the salad right now.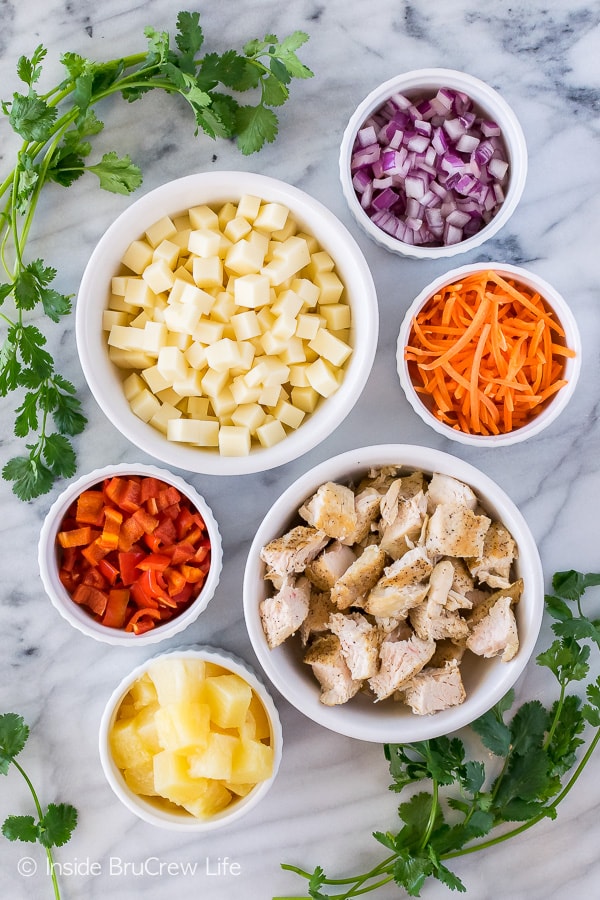 The wrap had carrots, pineapple, chicken, and a pineapple salsa on it, so I chopped up those same veggies for our salad. I also chopped up some red peppers because I always add them to this pineapple peach salsa for color. Plus, if I didn't use them now there is a good chance they will die a slow death in the crisper.
Next it was time for the dressing. I tossed some pineapple, yogurt, Sriracha, honey, oil, and vinegar in my Ninja and gave it a whirl. To be honest, I wasn't sure how it was going to turn out, but after one taste I was in love! It has the right blend of sweet and spicy!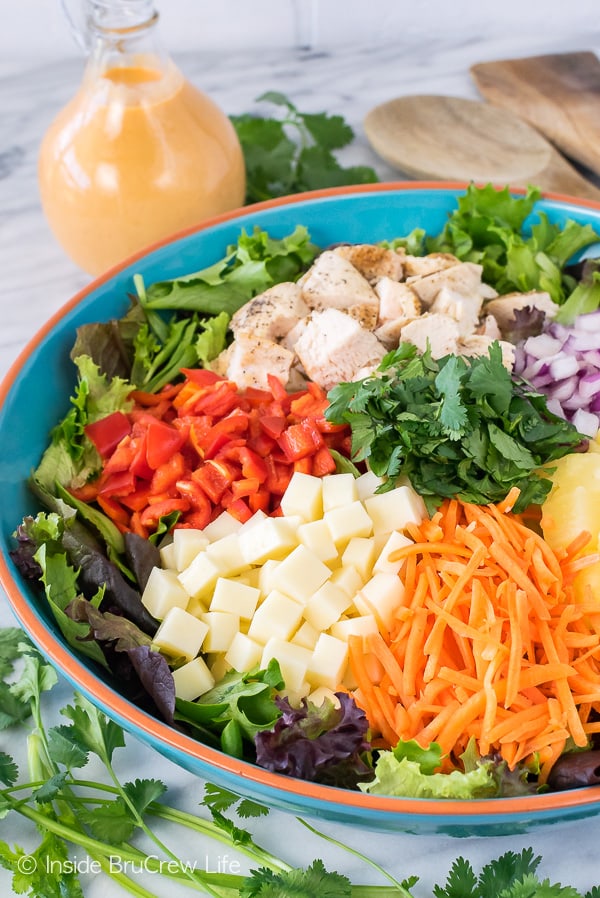 I couldn't wait until dinner to sample this bright and colorful salad, so I made another small salad from the leftover veggies and chicken, drizzled on that amazing dressing, and dug in for lunch! This pineapple Sriracha chicken salad is definitely a keeper!!!
Plus, it is so easy to prep everything early, so all you have to do is pull the salad and dressing out of the fridge when everyone walks in the door for dinner! Boom! Dinner is served!!!
Still looking for more salad ideas? This Strawberry Pecan Salad is next on my list to make. I also can't wait to try this Asian Chicken Cranberry Salad and this Avocado and Tomato Salad. Both sound so fresh and delicious for hot summer days!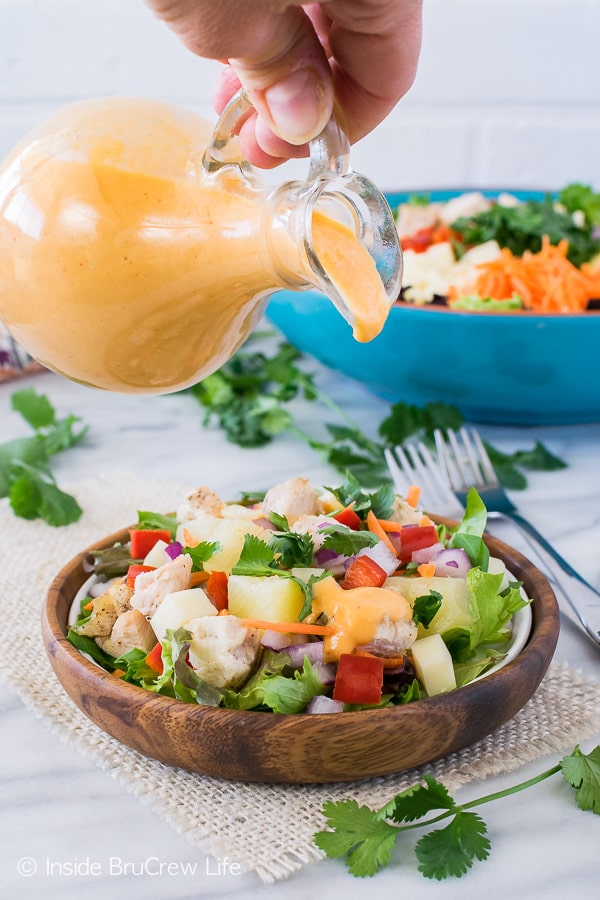 *This post contains affiliate links. Inside BruCrew Life may receive a small percentage from sales made through these referral links. As always, these do not cost you any extra. Thank you for letting us share products we use and love this way.