This Strawberry Orange Spinach Salad with chicken is a delicious side dish or main meal to bring for any dinner party. Fresh fruit, nuts, cheese, and chicken on a bed of spinach and drizzled with homemade balsamic dressing is the perfect meal.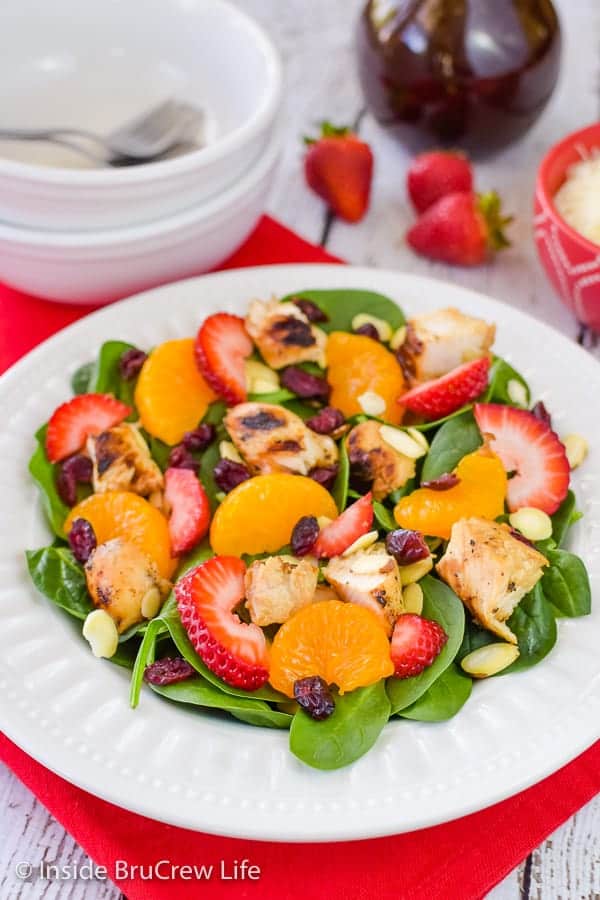 Most of the time I share all the fun baking that happens in our kitchen, but healthy dinners actually happen more often than sugar treats.
Salads and lean and greens are what we make and eat for dinner because one cannot live on sweets alone. I know it seems like we eat Homemade Chocolate Chip Brownies and Salted Caramel Chocolate Cake all the time, but we really do try to make and share those when we have different activities and dinners to go too.
The other day after church we went out to eat with some friends. Since I am also trying to make better food choices when we go out to eat, I decided to only look at the salads on the menu. Normally, I'm all about the cheese and pasta, so this was a big deal for me.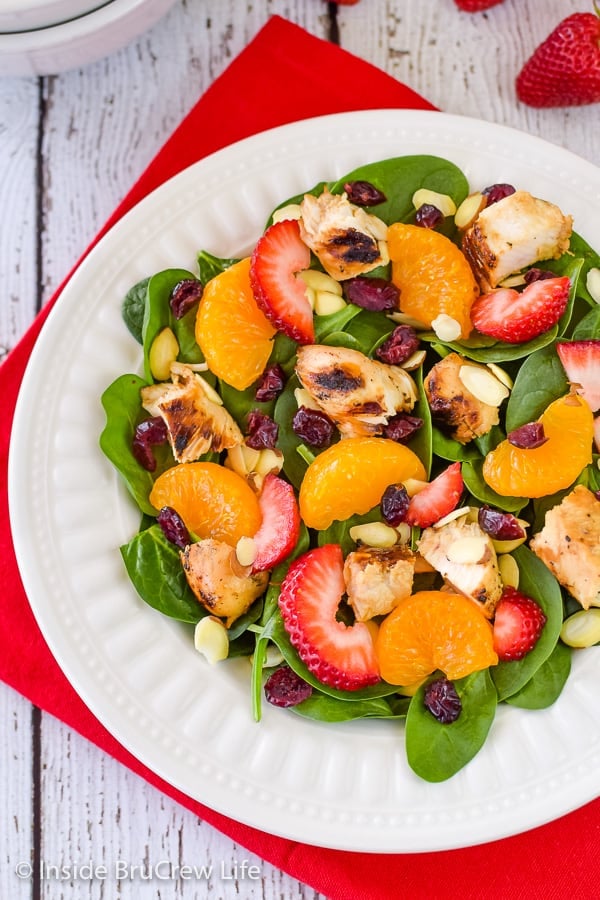 The strawberry spinach salad on the menu caught my eye right away. It had fruit, nuts, cheese, and chicken on a bed of spinach with balsamic drizzled on top. Hello, gorgeous goodness! I ate every single bite of this salad and was totally satisfied.
All week long I just could not forget about how good this salad was. I know!!! Me...craving salad. It's a crazy turn of events! I think all the exercise and running I have been doing might be affecting my brain.
I headed to the grocery store and bought all the ingredients to create a strawberry spinach salad recipe for dinner because I had to have it again.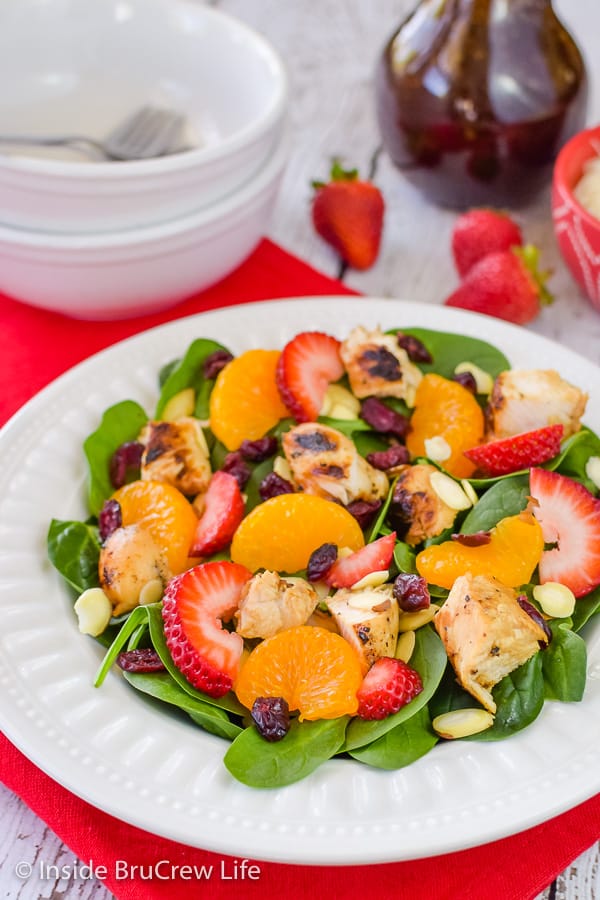 For this particular spinach salad I added strawberries, oranges, cranberries, almonds, and mozzarella cheese to the spinach and grilled chicken. I used to be against fruit in my salad, but in my old age I have wised up.
Fresh fruit goes so well with greens and chicken. The great thing about this salad is that you can totally customize it by using the fruits and nuts that you like.
Variations on this Strawberry Spinach Salad:
Bacon
Feta Cheese
Goat Cheese
Red Onions
Blueberries
Blackberries
Avocados
Walnuts
Pecans
Most of the time I reach for ranch dressing, but lately I have been enjoying different vinaigrettes. This Homemade Honey Balsamic Vinaigrette is my dressing of choice right now.
It's amazing on this Strawberry Orange Spinach Salad with Chicken and on this Spinach Chicken Caprese Salad!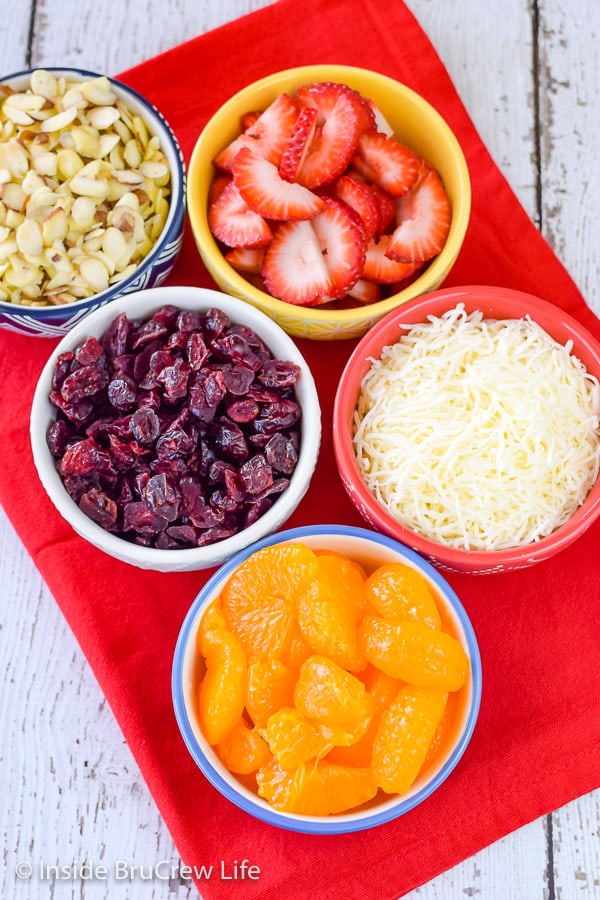 Making a Strawberry Orange Spinach Salad with chicken:
Marinate the chicken in your favorite sauce to give it more flavor. We like to use Italian dressing for a quick and easy marinade.
Grill the chicken. You can either serve the chicken whole or cut it into bite-sized pieces. Don't have time to grill? Buy a rotisserie chicken. You can even use canned chicken if you have that on hand.
Slice the strawberries and drain the mandarin oranges.
Fill serving bowls with the fruits, nuts, and cheese.
Let everyone customize their plate of spinach and chicken with their favorite toppings.
Other salad recipes you may enjoy: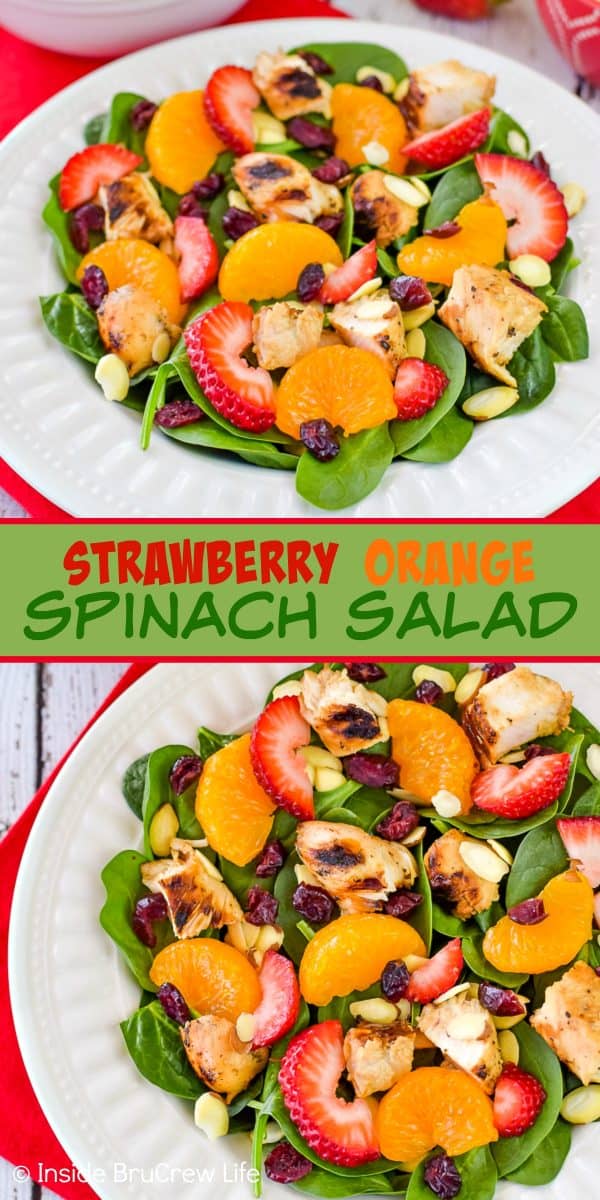 *The post for Strawberry Orange Spinach Salad with chicken was first published on May 6, 2015. The photos have been updated, and it was republished on May 25, 2019.