This
Fiesta Chicken Salad
is a great way to change up your sandwiches. The spicy Mexican flavors are perfect to mix with the chicken.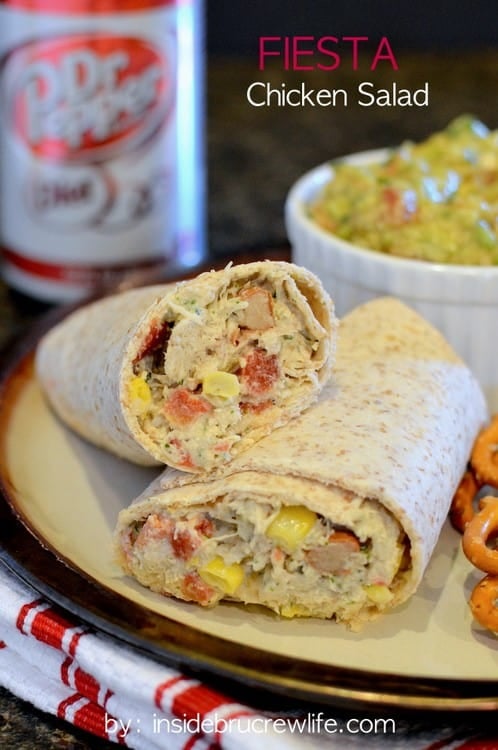 Look at this...
I made real food.
(Just don't mind the yellow-y pictures...I'm still working on lighting later in the day!)
Haha! Not that I don't make real food all the time...
because brownies and cookies are totally real food in my book.
But dinner recipes don't come easy for me.
I even have a shelf load of cookbooks to help me,
but I still struggle.
Nothing wrong with pancakes, or cereal, or spaghetti, or mac and cheese, right?
Lucky for me, my husband is great at making dinner
and coming up with meals out of nothing.
So, our family does eat fairly healthy and normal things...
as long as I'm not in charge.
Until the other night...
We had some chicken in the freezer.
So, I started looking through the cupboards for something that I could use the chicken in.
I know, not a normal thing for me to even be thinking about.
We had corn, beans, and spicy tomatoes in the cupboard and some cilantro in the fridge.
Why not put it all together and make chicken salad wraps?
The cilantro and lime in the mayonnaise was the perfect flavor
to match the spicy tomatoes and beans.
This just might be my new go-to chicken salad!!!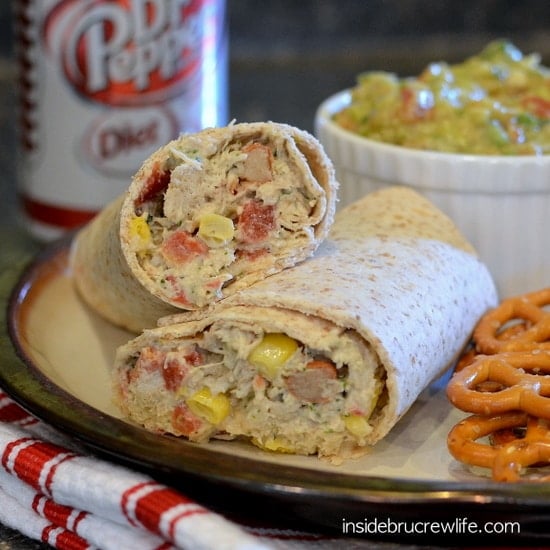 And of course this
guacamole
with it was just the perfect side.
My new favorite way to eat guac...with pretzels. (because the kids ate all the chips)Try it...you might be surprised how good it really is:-)