Pumpkin Caramel Latte Donuts: coffee, caramel, and pumpkin in one sweet little baked donut. These are a great fall breakfast treat when paired with a cup of coffee.
The weather is slowly getting cooler here and the days are getting shorter.
I know the calendar doesn't say it is fall yet, but it is starting to feel like it around here.
Fall is my absolute favorite season. So even though I hate to say goodbye to summer, it is refreshing to say Hello to Fall and some of my favorites again.

Here are just a few I came up with...
1. The fashion aspect. Gotta love layering scarves, boots, jacket, cardigans all with your favorite pair of jeans.
2. Bonfire season. We loving hanging out with our friends, and roasting smores.
3. Changing leaves. Who can resist the charm of a brilliantly colored tree? Can we say photo opps???
4. Leaf jumping. It's all about the photos people!
5. Apple Picking and Cold Apple Cider. There is something about eating a fresh picked apple on a crisp autumn day. And yes, I like my cider freezing cold...non of that warm stuff for me.
6. Pumpkin Spice Lattes from Starbucks. They know how to get me every year.
7. Crisp Mornings. Even better when you can stay snuggled under the warm covers for just a little bit longer.
8. Fall Festivals. Love hanging with the family while shopping for knick knacks.
9. Hay rides out to the pumpkin patch. I love doing this each year, even if my kids think they are getting too big to do it.
10. Pumpkin pie, pumpkin bread, pumpkin muffins, pumpkin donuts, pumpkin, pumpkin, pumpkin...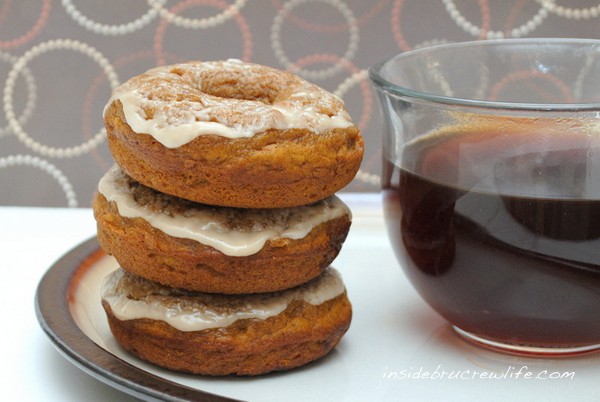 Pumpkin Caramel Latte Donuts
Once the calendar turns to September, I go a little bit crazy with the pumpkin baking. I don't know why, but I never bake pumpkin stuff any other time of year.
So I try to get as much in before fall leaves. Last week we had Pumpkin Caramel Latte Donuts for breakfast. And now you can too.
Happy Fall! What are you looking forward to most???
Pumpkin Caramel Latte Donuts recipe: