A loaf of this Pumpkin Spice Latte Bread will make your kitchen smell like fall as it is baking. It's the perfect sweet bread to enjoy for breakfast or an afternoon snack.
*Stevia In the Raw® sponsored this post. I am partnering with them to create recipes for the fall season. All opinions expressed are 100% my own.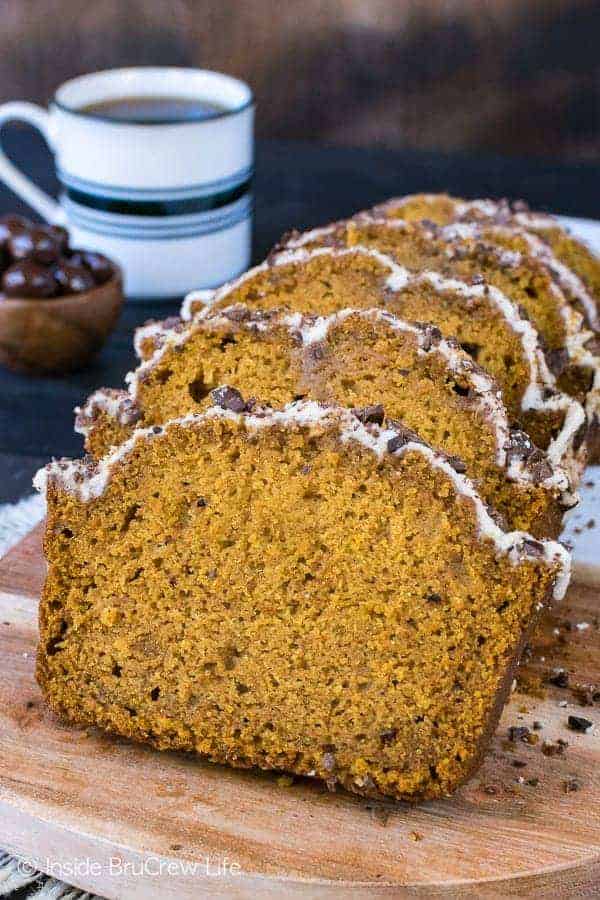 CLICK HERE TO SAVE THIS RECIPE FOR LATER!
I am so excited that it is officially fall. Of course, since it is still 85 degrees outside, it doesn't really feel like fall here, but I have pumpkin decorations on our shelves and lots of fall treats coming out of the oven to help.
Now if only I could break out the jeans and sweatshirts. I have a feeling that those items might stay in storage a little bit longer because it's a little too warm to walk outside in those right now, and I'm not even going to think about bonfires on crisp chilly months.
Fall is my favorite season for all the above reasons, but mainly because it's totally acceptable to make all things pumpkin. Every fall I make a loaf of this pumpkin chocolate chip bread. It's the perfect snack to munch on while I sip on a salted caramel pumpkin latte.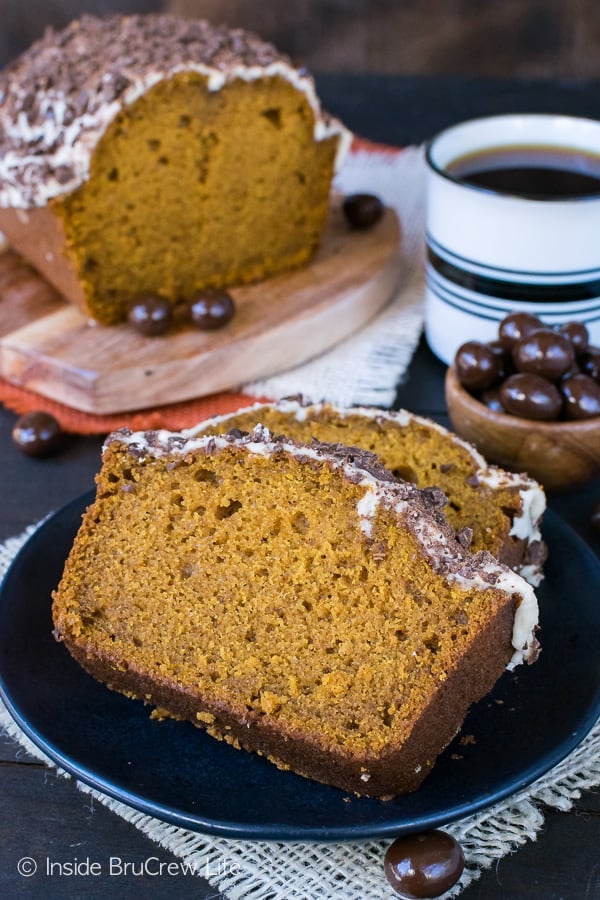 This week, I decided to take that pumpkin bread and give it a much needed tweak. Honestly, I usually make it different every year because that's just how I roll in my kitchen. This year, we have been trying to watch what we are eating a little closer or at least eat the sweets in moderation.
I am excited to be partnering with Stevia In the Raw® this fall to create recipes that will show you how to bake sweets while saving up to 700 calories for every cup of sugar that is replaced with Stevia In the Raw® Bakers Bag. You can find this product in the baking aisle of your grocery stores.
All I want to do during the fall months is bake, bake, bake! So, I am always on the lookout for ways to reduce our sugar intake. This zero-calorie sweetener, made with an extract from the sweet leaves of the stevia plant, is a great choice for all your fall baking needs. One cup of Stevia In the Raw® Bakers Bag has the same sweetness as one cup of regular sugar, so you can measure it one for one in your recipes.
Just remember that when you are baking with it, you should only replace half the sugar in your recipe. Baked goods need some sugar in order to rise, brown, and caramelize properly.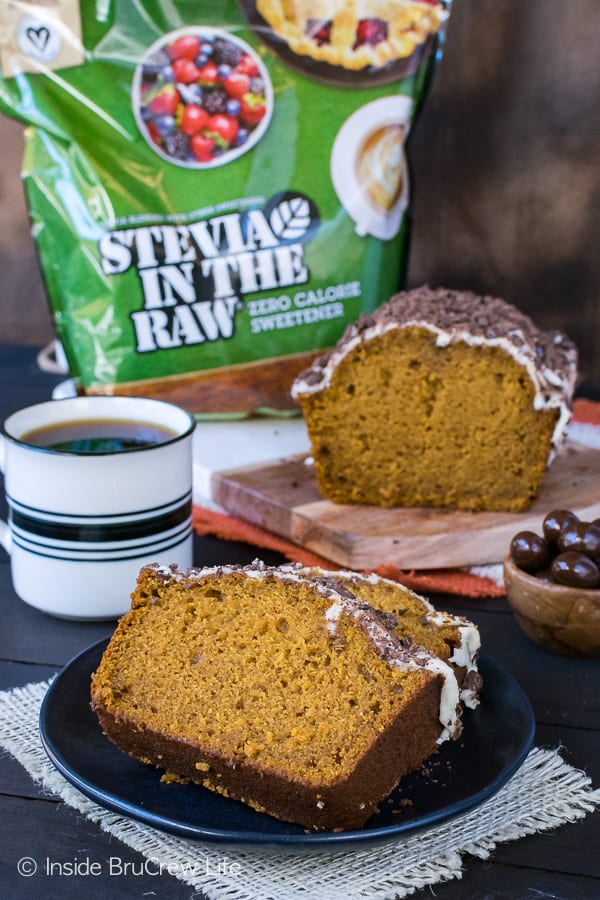 As I thought about how I wanted to change up the pumpkin bread this year, all I could think about was coffee. Why not combine my favorite fall drink with my favorite fall bread. Mind blown, people!
Changing out some of the sugar in the original recipe with the Stevia In the Raw® Bakers Bag was the perfect way to cut some of those excess calories.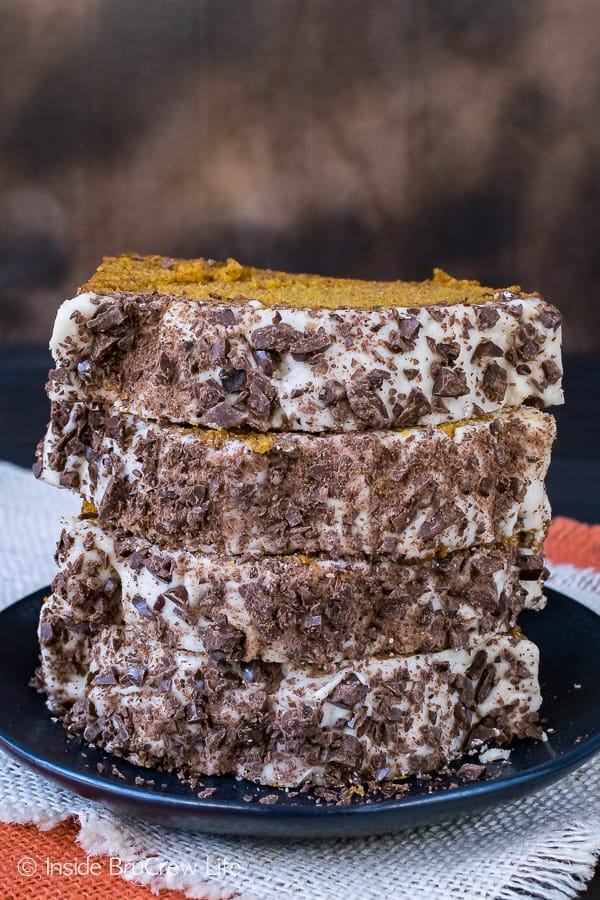 Of course, then I went ahead and top it with a coffee glaze and chocolate covered coffee beans. At least the glaze was thinner this time. Usually I like to top my sweet breads with a thick layer of frosting. Baby steps at this cutting sugar thing, right?
Then I went ahead and topped the pumpkin spice latte bread with chopped up chocolate covered coffee beans.
Again not necessary but you guys, it made the bread so pretty. And I have to admit that little bit of crunch and chocolate on top was so good.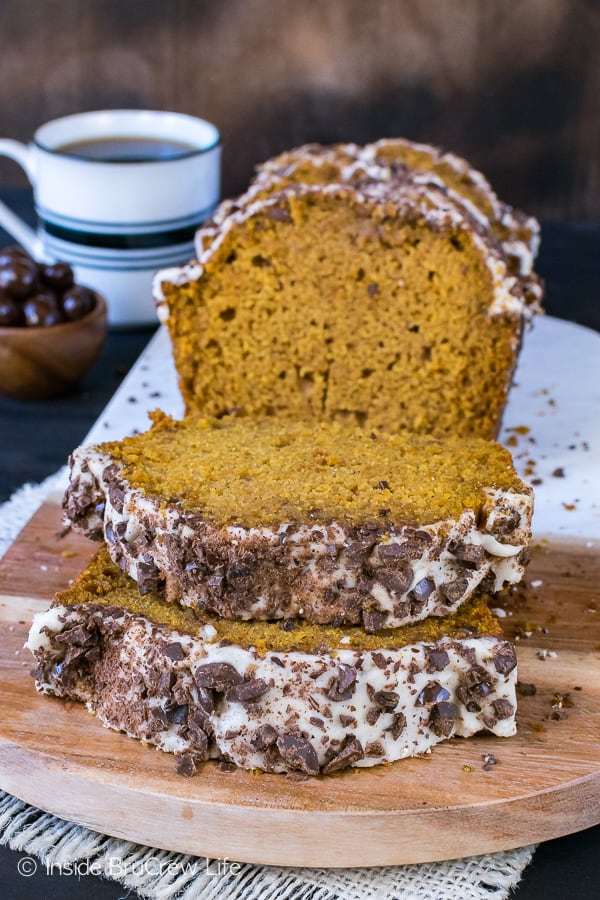 Connect more with In the Raw®:
Facebook | Instagram | Pinterest

*Stevia In the Raw® sponsored this post. I am partnering with them to create recipes for the fall season. All opinions expressed are 100% my own.