Sit and relax with this easy homemade Salted Caramel Pumpkin Latte. Adding pumpkin and caramel to hot coffee makes a fall drink that tastes amazing. Don't forget to finish it off with some whipped cream and caramel drizzles.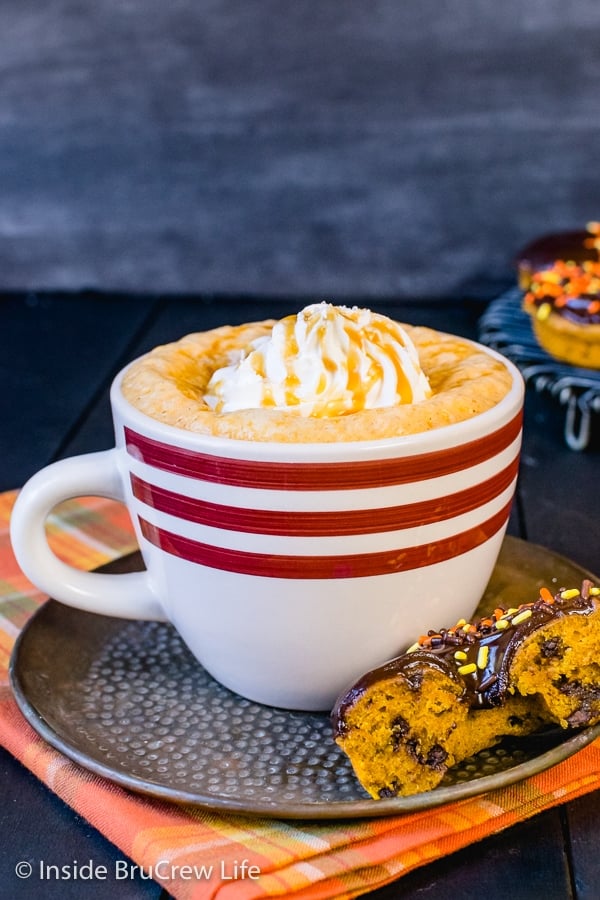 A hot cup of coffee, pumpkin scones, and some quiet time is how I like to start off my day. It helps me slowly start the day off in the right way.
Since I am now on a pumpkin kick right now, I decided to add some fall flair to this salted caramel latte. It was seriously a good idea.
I had a partial can of pumpkin in the fridge after making these Chocolate Chip Pumpkin Donuts, so I headed right into the kitchen and made this delicious pumpkin spice latte.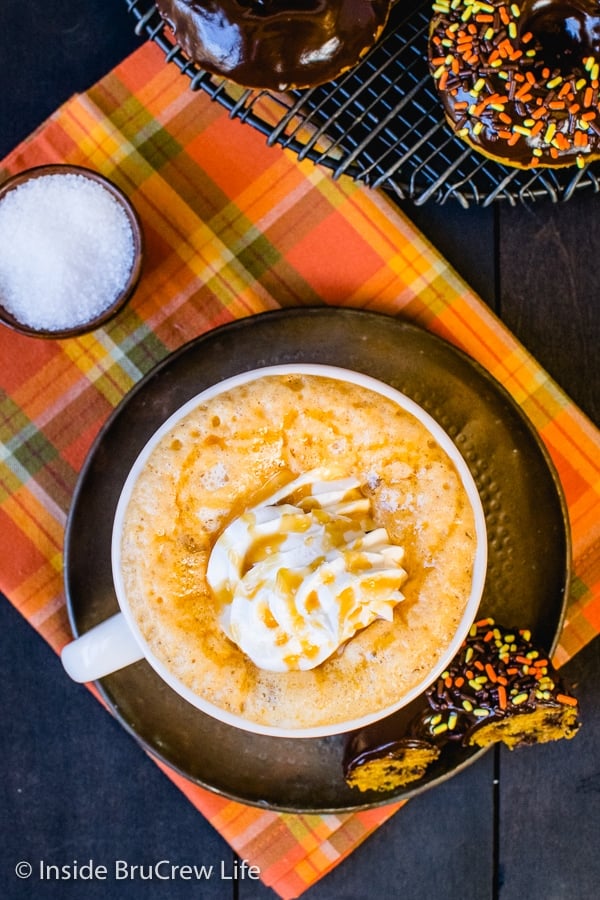 How to Froth Milk
To froth the warm milk mixture, you can use an aerolatte or your blender. The blender mades frothing so easy. Even fat free milk can get a good froth going on that way.
You can also pour the mixture into a mason jar, tighten the lid, and shake vigorously until frothy.
Pour your coffee into two mugs and divide the frothed milk between the two.
How to make a Salted Caramel Pumpkin Latte
Place the milk, pumpkin puree, caramel topping, vanilla, and pumpkin pie spice in a pan over low-medium heat. Stir until it just starts to bubble. You do not want it to come to a full boil.
Pour hot milk into blender and pulse until frothy.
Divide milk into 2 mugs. Pour coffee in gently.
Top each cup with Cool Whip, caramel drizzles, and some sea salt to make this easy homemade latte look like a coffee shop drink.
BruCrew Tip: Don't like Cool Whip? This homemade whipped cream is also great on top of a homemade latte.
A pumpkin latte, some quiet time, and a good book to study, is the best way to enjoy this easy coffee drink. Now if only the weather would cooperate and get cool!
Recipe FAQ'S
What kind of milk do you use in lattes?
You can use any kind of milk in a homemade latte, so feel free to use whole, 2%, almond, or fat free. Basically is whatever in your fridge at the moment is fine!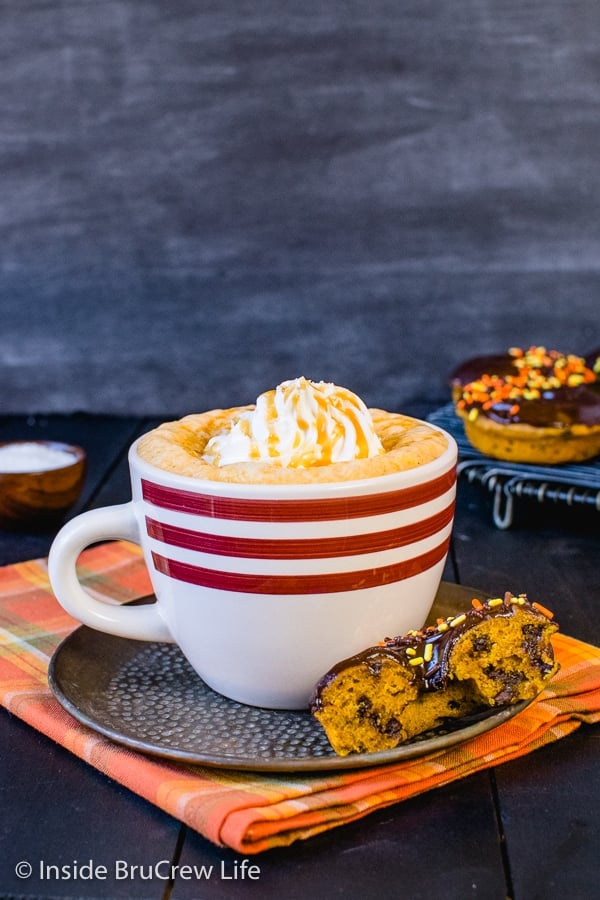 More Homemade Lattes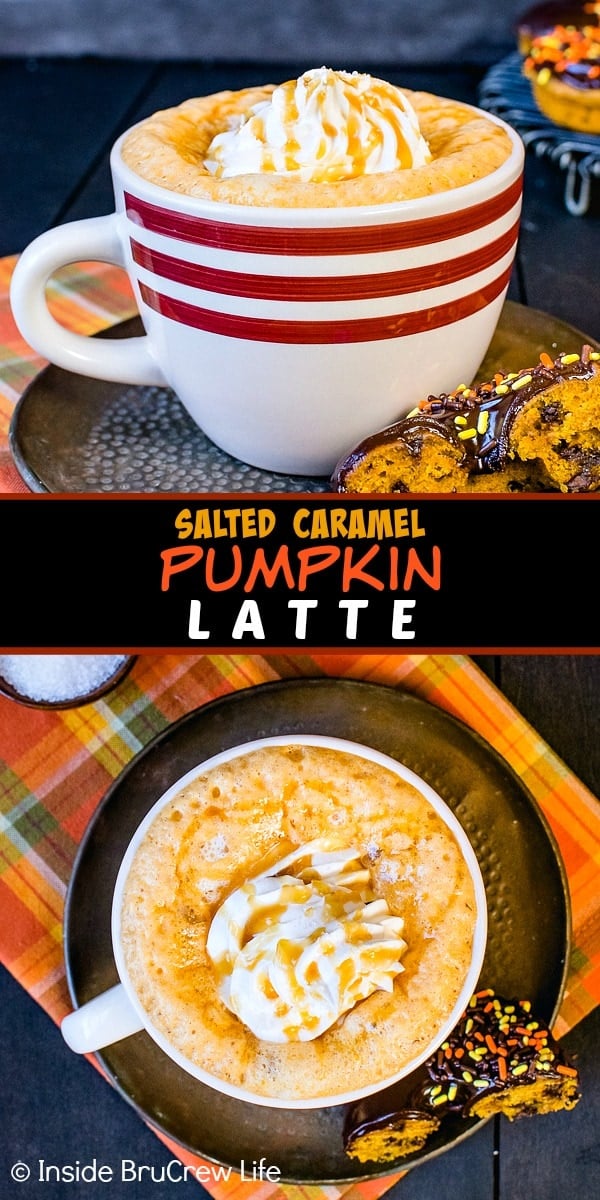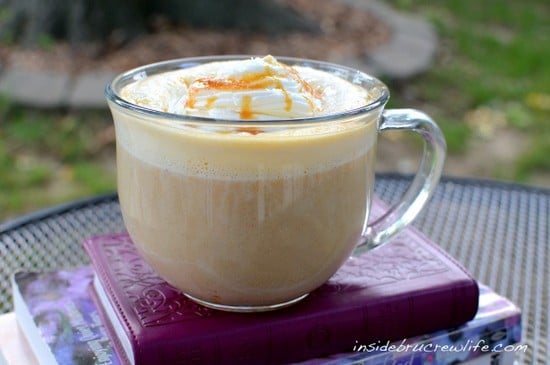 (original photo from August 2012)
*The post for Salted Caramel Pumpkin Latte was first published August 27, 2012. The photos were redone October 2017, and the post was republished October 17, 2020.
*This post does contain an affiliate link. We may receive a small percentage from sales made through these links. As always, these do not cost you any extra. Thank you for letting us share products this way.