Adding pumpkin and caramel to this easy homemade Salted Caramel Pumpkin Latte makes a delicious warm drink to relax with this fall.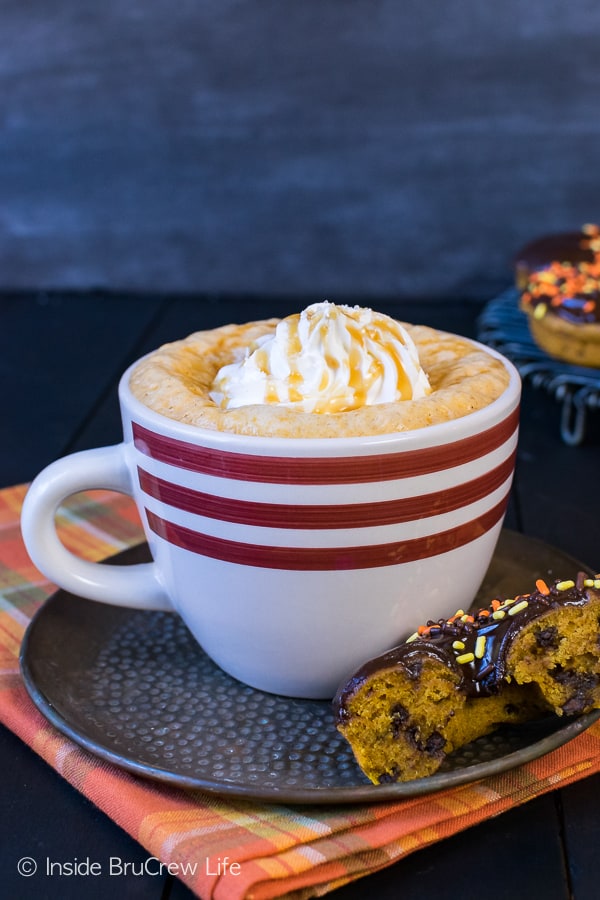 (photos updated October 2017)
CLICK HERE TO PIN THIS RECIPE FOR LATER! 
I used to be in a recipe club where you were assigned a random blog to read or stalk in my case each month. My blog assignment this month was Farmgirl Gourmet.
A true farm girl at heart, Heather shares fun and easy recipe from her kitchen. She also is a big fan of buying local and grows many things in her own garden.
Those are two things that I would like to do more of here. She was a true inspiration to me as I read through many of her great recipes.
I always have the hardest time narrowing down my SRC choice, and again this month I had a list to choose from.
A few of my favorites that I wanted to try were Mexican Lasagna, Cinnamon Yogurt Scones, and Pumpkin Challah Pudding. All of those sound so good!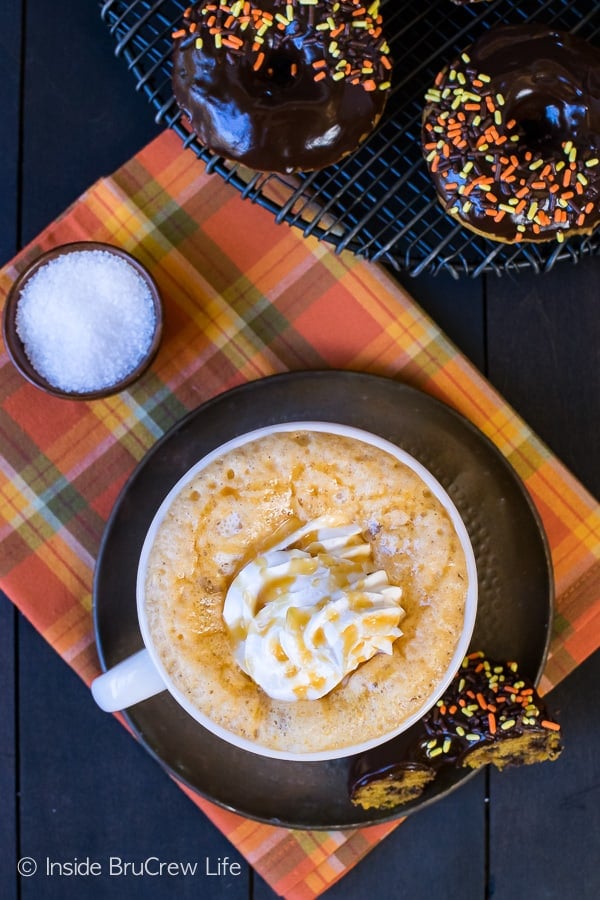 But then I saw her most viewed recipe from her blog was the Pumpkin Spice Latte.
Just the other day, I opened my first can of pumpkin to make these pumpkin Oreo donuts, and I had the leftover pumpkin in my fridge just waiting for the right recipe.
Since I am now on a true pumpkin kick, and I love to have a good cup of coffee by my side in the morning when I do some reading, I knew this would be the recipe for my reveal.
What kind of milk do you use in a homemade latte?
You can use any kind of milk in this latte, so feel free to use whole, 2%, almond, or fat free. Basically whatever in your fridge at the moment is fine!
We drink fat free, so this is even a slightly skinny drink. Well, it was until I substituted caramel ice cream topping for the sugar! Wink, wink!
At least I tried to get rid of some calories for you, right? That has to count somehow!
It was so easy to throw everything into a pan and warm it up slowly on the stove.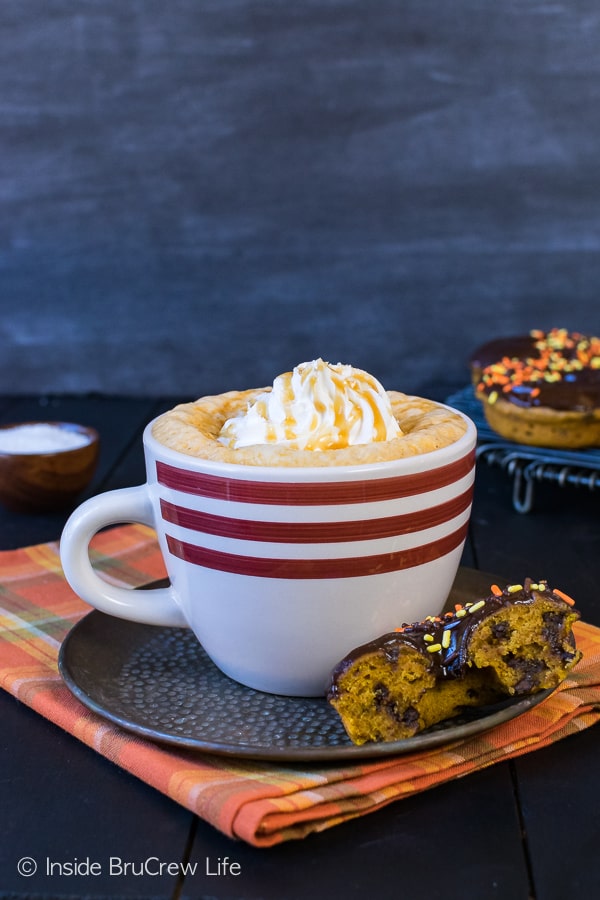 How to froth milk for a latte:
To froth the warm milk mixture, you can use an aerolatte or your blender.  The blender mades frothing so easy. Even fat free milk can get a good froth going on that way.
You can also pour the mixture into a mason jar, tighten the lid, and shake until frothy.
Pour your coffee into two mugs and divide the frothed milk between the two.
How to make a Salted Caramel Pumpkin Latte:
One other thing I slightly changed was how much coffee I added. I wanted a slightly stronger coffee taste, so I double the amount.
Cool Whip, extra caramel drizzles on top, and sea salt make this easy homemade latte look like a coffee shop drink.
A Salted Caramel Pumpkin Latte, quietness, good books to study, and a few Chocolate Chip Pumpkin Donuts are the best way to enjoy this easy coffee drink. Now if only the weather would cooperate and get cool!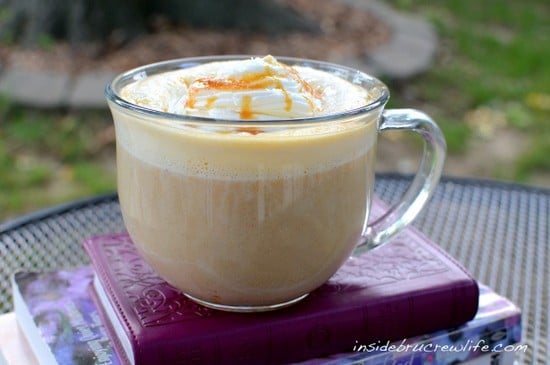 (original photo from August 2012)
Yield: 2 drinks
Salted Caramel Pumpkin Latte
Adding pumpkin and caramel to a hot cup of coffee makes this delicious Salted Caramel Pumpkin Latte a fun way to relax in the afternoon.
Ingredients
2 cups fat free milk
1/4 cup canned pumpkin
6 Tablespoons caramel ice cream topping, divided
2 Tablespoons vanilla
1/2 teaspoon pumpkin pie spice
1 cup strong brewed coffee
1/2 cup Cool Whip
coarse ground sea salt
Instructions
In a small saucepan, combine the milk, pumpkin, 4 Tablespoons caramel, vanilla, and pumpkin pie spice. Stir until the mixture comes to a very slight boil.
Remove from the heat immediately and pour the mixture into a blender. Pulse for about 2 minutes or until very frothy.
Divide the milk into 2 large mugs. Pour 1/2 cup coffee into each mug.
Top with Cool Whip, extra caramel, and sea salt. Makes 2 servings.
Recommended Products
As an Amazon Associate and member of other affiliate programs, I earn from qualifying purchases.
Nutrition Information:
Yield:
2
Serving Size:
1
Amount Per Serving:
Calories:

326
Total Fat:

5g
Saturated Fat:

4g
Trans Fat:

0g
Unsaturated Fat:

1g
Cholesterol:

5mg
Sodium:

613mg
Carbohydrates:

56g
Fiber:

1g
Sugar:

55g
Protein:

10g

*This post does contain an affiliate link. We may receive a small percentage from sales made through these links. As always, these do not cost you any extra. Thank you for letting us share products this way.