This delicious Pumpkin Chocolate Chip Bread is full of chocolate inside and on top. It is definitely the way to go when you kick off your pumpkin baking.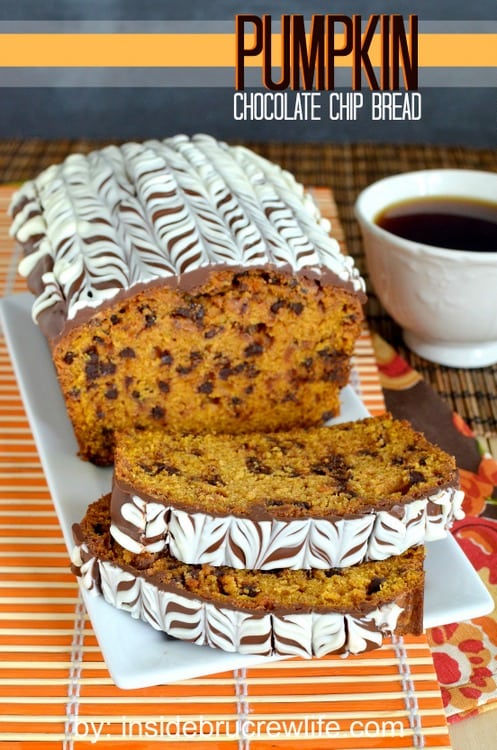 I cannot tell you how excited I am that it is now fall. Now I know the official first day of fall isn't for a few more weeks, but I can't wait that long.
So in my mind it is fall. Don't burst my bubble!
This time of year is my absolute favorite time. I look forward to wearing jeans and sweatshirts, drinking hot chocolate and pumpkin lattes, going to bonfires and corn mazes, feeling the chilly air at night, and of course eating anything and everything pumpkin.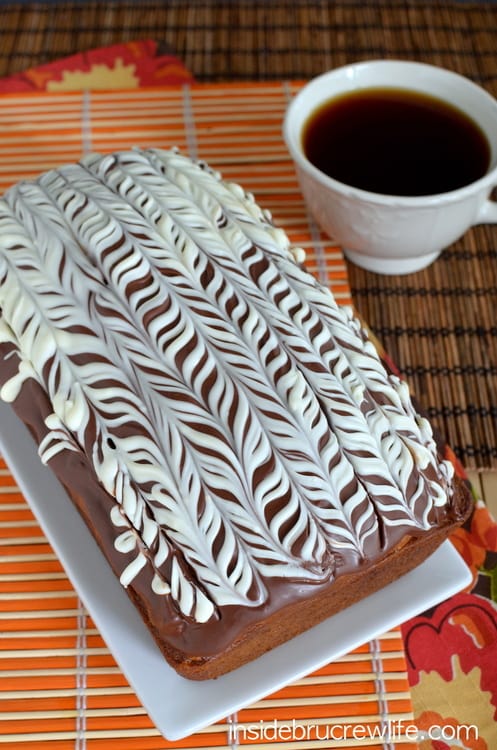 Now I have to tell you a secret. I did break into the pumpkin about 2 weeks ago.
I held out for as long as I possible could. But I started seeing so many pumpkin recipes pop up on pinterest and on my friend's blogs. I just couldn't wait any longer!!
My restraint for posting these recipes has lasted a little bit longer, but now that we are in September I'm not holding back any more.
So far I have made 4 recipes that I am so excited to share with you. Today you get some pumpkin bread. It is so great for eating with a hot steamy cup of coffee.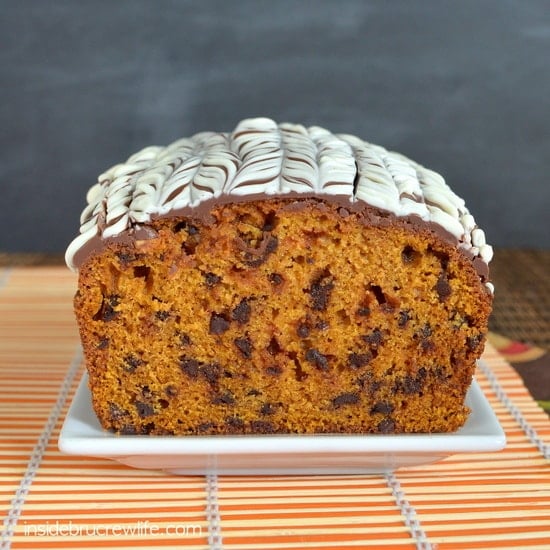 Pumpkin Chocolate Chip Bread
This pumpkin bread is one of my favorites. It is actually almost the same as the recipe I use for my Nutella Marshmallow Pumpkin Bread, but I wanted to simplify it a little bit. This bread if full of mini chocolate chips.
Now if you are thinking it is too much chocolate, go ahead and use half the amount. Honestly I adore chocolate and pumpkin together, so I go a little crazy with it.
But even with all this chocolate, the pumpkin flavor shines through!!!
Speaking of crazy? Check out the top of this pumpkin bread! As if the mini chips inside were not enough, I just had to make it pretty with a chocolate topping.
I can honestly say that this is absolutely the prettiest bread I have ever done.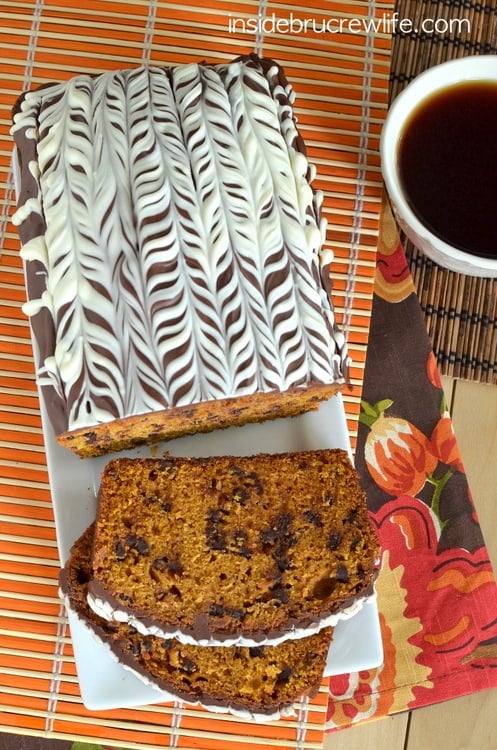 The top does look a little hard, but it was seriously so easy to do.
My biggest tip for doing this is to make sure both chocolates are ready to go before you start to put it on the bread. Spoon the white chocolate into a plastic baggie and cut one tip off.
Spoon the chocolate on top of the bread. Go ahead and get it to the edge, but try to keep from pushing it over.
As soon as you are done, grab that bag of white chocolate and drizzle it back and forth over the top from side to side. Then immediately use a toothpick to drag it through the chocolate end to end. Work quickly because the chocolate will start to set up.
All that is left to do is brew a cup of coffee and have a slice or two of this delicious Pumpkin Chocolate Chip Bread while you enjoy a nice fall day!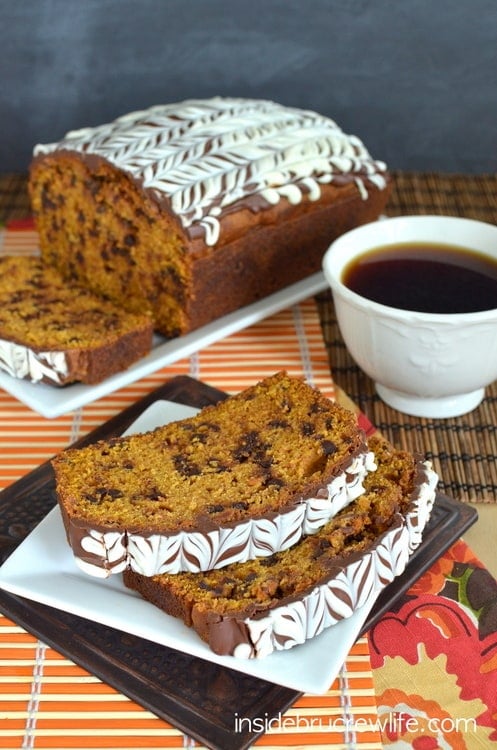 Stay up to date on all the BruCrew baking here:
FACEBOOK | PINTEREST | GOOGLE+ | TWITTER | INSTAGRAM | BLOGLOVIN
Pumpkin Chocolate Chip Bread recipe: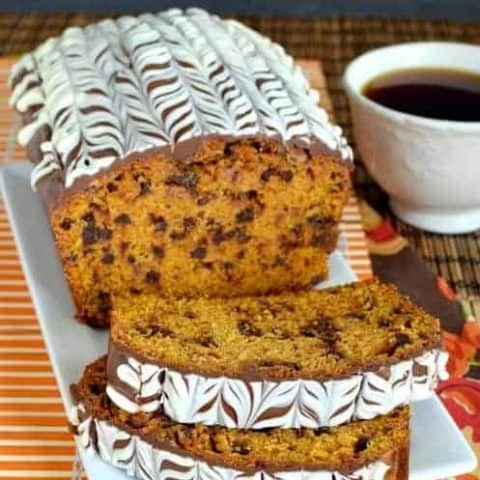 Pumpkin Chocolate Chip Bread
Yield:
1 loaf - 12 slices per loaf
Cook Time:
1 hour
10 minutes
Total Time:
1 hour
40 minutes
Pumpkin bread with chocolate chips and chocolate topping is a great way to enjoy the fall season.
Ingredients
3/4 cup sugar
3/4 cup brown sugar
1/2 cup oil
2 eggs
1 cup pumpkin
1 teaspoon baking soda
1 teaspoon cinnamon
1/2 teaspoon salt
1/2 teaspoon nutmeg
1 3/4 cups flour
1/3 cup milk
1 cup miniature chocolate chips
1/2 cup chocolate chips
1/4 cup white chocolate chips
1 1/2 teaspoons shortening
Instructions
Preheat oven to 350 degrees. Spray a 9x5 loaf pan with nonstick spray.
In a mixing bowl beat the sugars, oil, and eggs until creamy. Add the pumpkin and beat again.
Sift together the baking soda, cinnamon, salt, nutmeg, and flour. Add to the pumpkin mixture alternately with the milk.
Stir in the mini chocolate chips by hand.
Spread the batter in pan. Bake for 70 minutes. Cool in the pan for 15 minutes, then flip out onto a wire rack to cool completely.
Place the chocolate chips and 1 teaspoon shortening in a microwave safe bowl. Heat for 30 seconds. Stir and heat again for 15-20 seconds.
Set aside and repeat with the white chips and remaining shortening. Spoon the melted white chips into a plastic baggie with one tip cut off.
Spoon the melted chocolate chips on the top of the bread. Go to the edge, but be careful to not push the chocolate over.
Immediately drizzle the white chocolate from side to side. Use a toothpick to draw lines from end to end. Work quickly before the chocolate sets up. Makes 1 loaf.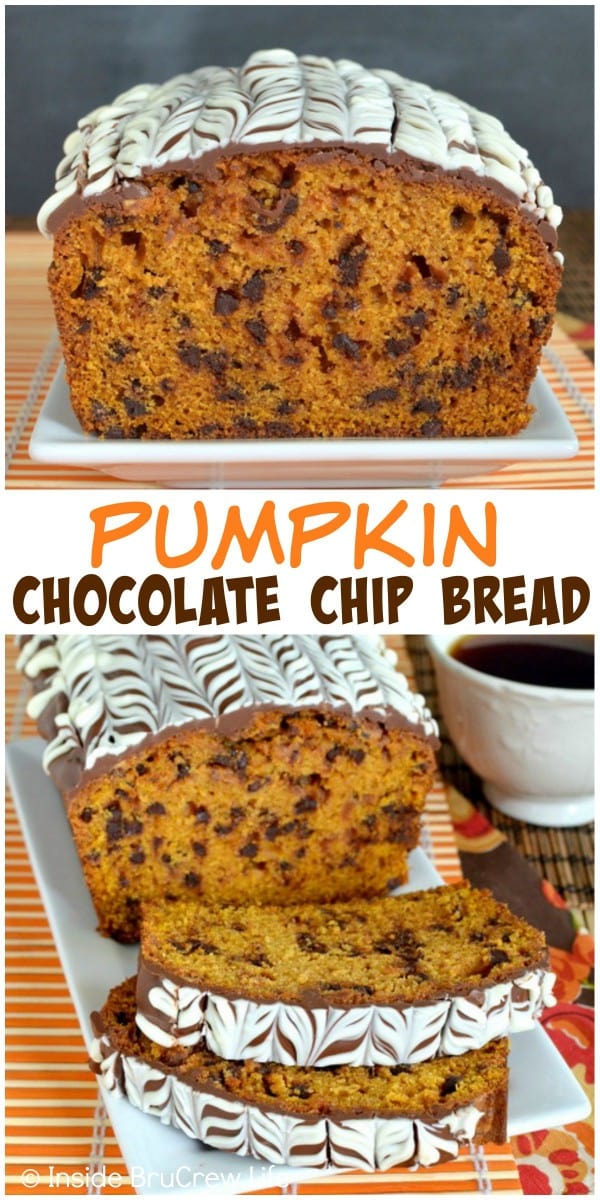 More great pumpkin recipes we love: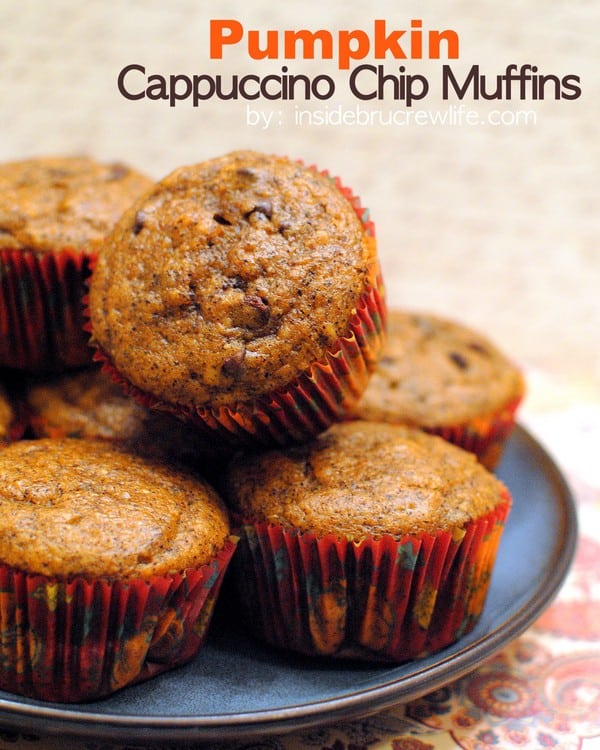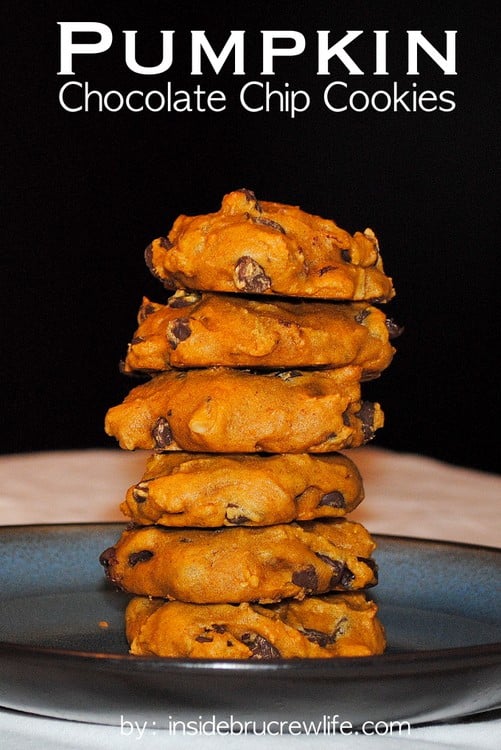 Pumpkin Chocolate Chip Cookies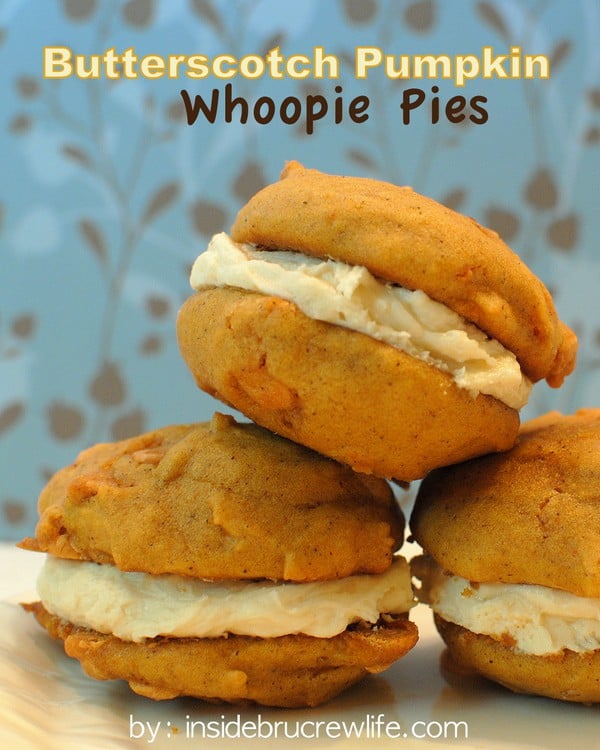 Butterscotch Pumpkin Whoopie Pies with Salted Caramel Butter Cream