Looking for a snack that can double as a breakfast or an after school snack?  These Raspberry Chocolate Chip Cheesecake Rolls are just what you need for a busy school day.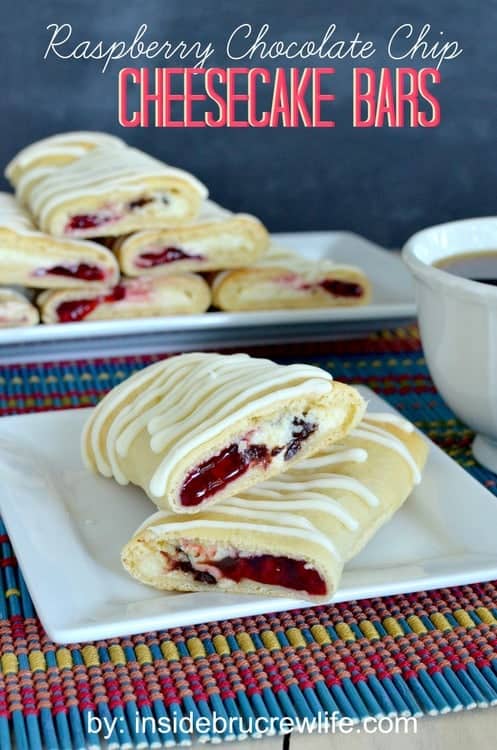 We are halfway through our second week of school.  Everyone is slowly starting to slack off now that the newness of school has worn off.  They are getting up later and later as each day passes, leaving little time to eat breakfast.  I am starting to worry about week 3.
Trying to convince them that breakfast is an important meal is not going so well.  That is a hard one to sell when I am not a morning person, and I have zero desire to get up early to make (or eat) hot pancakes or muffins that early in the morning.  I'm pretty sure I would burn anything I would try to make because my eyes would still be closed.  Closed eyes and hot griddles do not make a good combination.
I have found a way around that though.  Lucky for me I am a night owl, and I don't mind making some sort of breakfast the afternoon or night before.  In fact the other night I made a double batch of pancakes and froze them all.  The kids are old enough now to know how to heat them up in the microwave or toaster.  It's a win, win for both of us.  They can still enjoy a hot breakfast, and I get to sleep a few minutes longer.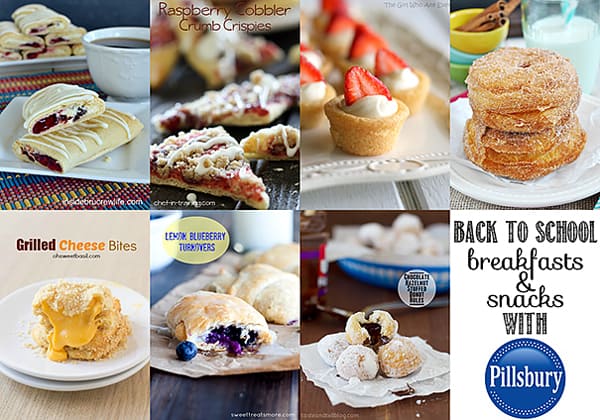 Today is another party hop day with a fun group of my blog friends.   We all decided to share one more day of breakfast and snacks using Pillsbury products.  I seriously always have crescents rolls or biscuits in my refrigerator drawers to make things like Cheesecake Nutella Twists.  They are perfect for filling with just about anything.    Make sure you keep check out everyone's posts at the end for some great ideas.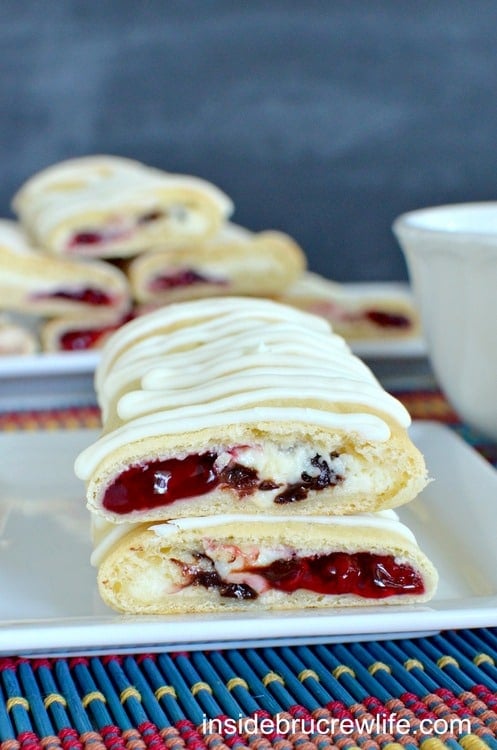 For today's party I made some Raspberry Chocolate Cheesecake Rolls.  My kids loved that these could be eaten for breakfast in the morning and then again in the  afternoon when they got home from school.  Gotta love a food that can do double duty.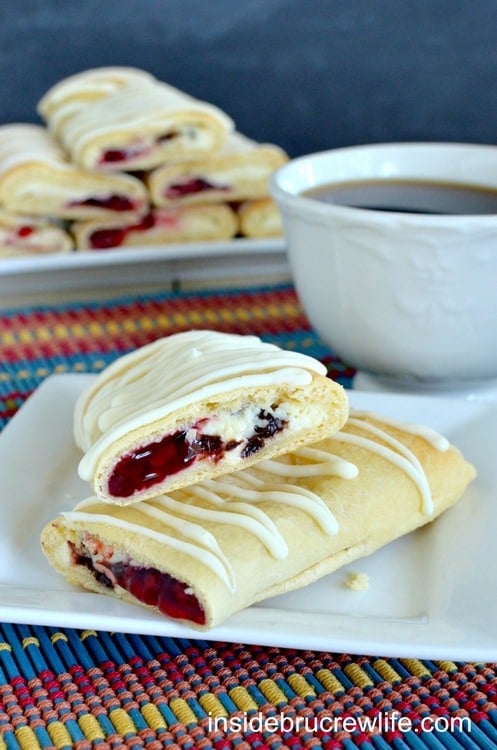 These rolls are really easy to put together.  I used a canned raspberry pie filling and a home made chocolate chip cheesecake filling.  You place a spoonful side by side on a crescent roll rectangle and then fold the sides up.  Pinch the ends and flip it over so it bakes seam side down.  You don't want any of the goodness spilling out while it is baking.
After the rolls cooled, I added a white chocolate drizzle to the top.  I like to make my desserts pretty, but you could leave that off if you are opposed to chocolate for breakfast.
I have three kids that love chocolate chip pancakes with chocolate syrup for breakfast…we are good with chocolate for breakfast.  My thought is at least they are eating something and not going to school hungry.  Plus, they think I am the best mom ever for letting them eat their pancakes that way.  It's another win, win 🙂
So go ahead and whip up some fun filled crescent rolls and drizzle them with some chocolate.  Your kids will love you for it.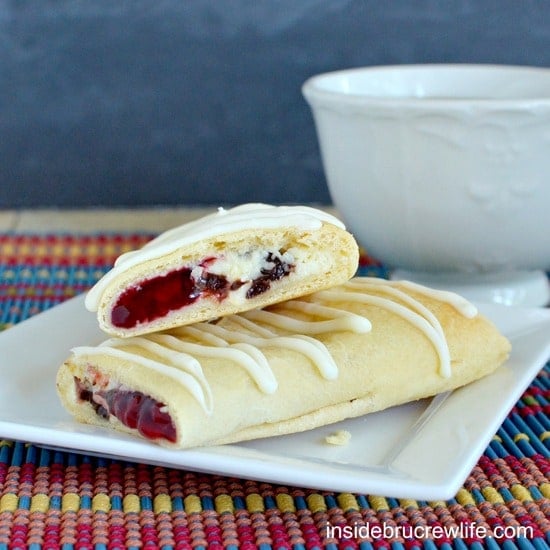 Stay up to date on all the BruCrew baking here:
FACEBOOK | PINTEREST | GOOGLE+ | TWITTER | INSTAGRAM | BLOGLOVIN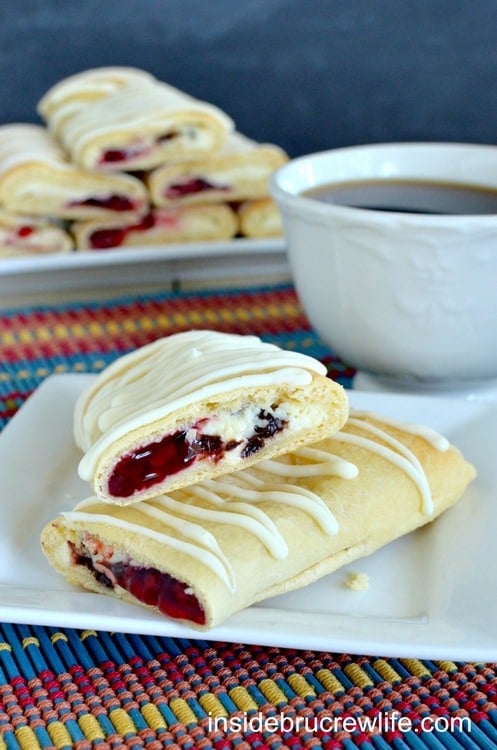 Pie filling and chocolate chip cheesecake inside a Pillsbury crescent roll makes a great breakfast or after school snack.
Ingredients
3 packages Pillsbury crescent rolls
1 package cream cheese, softened (8 oz.)
1 egg
1/4 cup sugar
1/4 cup mini chocolate chips
1 1/2 cups raspberry pie filling
1/2 cup white chocolate chips
1 teaspoon shortening
Instructions
In a mixing bowl, beat the cream cheese and sugar until creamy. Add the egg and beat again. Stir in the chocolate chips by hand.
Open 1 can of crescent rolls at a time. Lay out the dough and separate into 4 triangles. Press the seams together. Spread a spoonful of the cheesecake filling and a spoonful of the pie filling side by side down the center of the roll. Fold the edges over and press together gently. Press together the ends to seal as well. Flip the roll over gently so it bakes seam side down. Repeat with the remaining 2 cans of crescent rolls. Bake at 375* for 10-11 minutes. Cool.
Place the white chocolate chips and the shortening an in a microwave safe bowl. Heat for 30 seconds and stir until melted. Spoon into a plastic bag with one tip cut off. Drizzle over the top of the cooled rolls. Let set. Makes 12 rolls. Keep refrigerated.
https://insidebrucrewlife.com/raspberry-chocolate-chip-cheesecake-rolls/
Copyright Inside BruCrew Life
Make sure to check out all the breakfast and snack ideas from everyone else.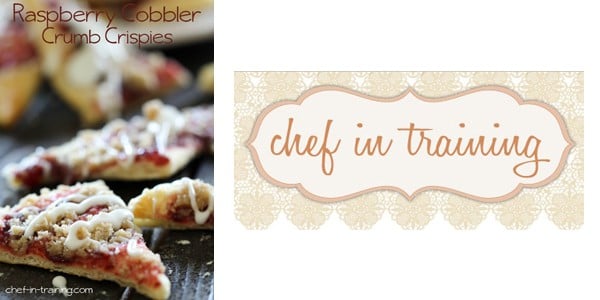 Raspberry Cobbler Crumb Crispies by Chef in Training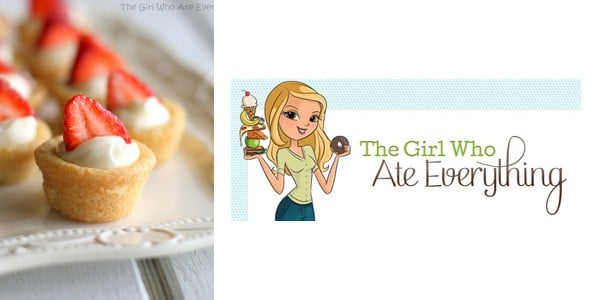 Mini Berry Tarts by The Girl Who Ate Everything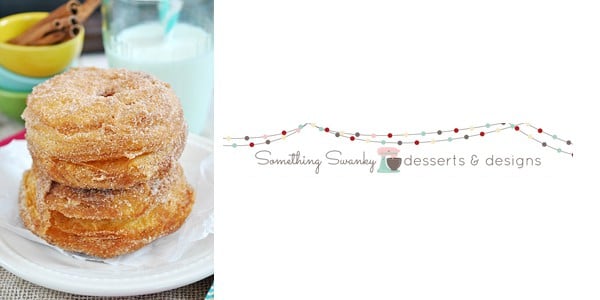 Cinnamon Sugar Fritters by Something Swanky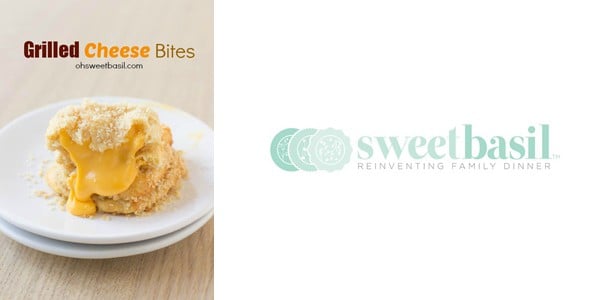 Grilled Cheese Bites by Sweet Basil
Lemon Blueberry Turnovers by Sweet Treats and More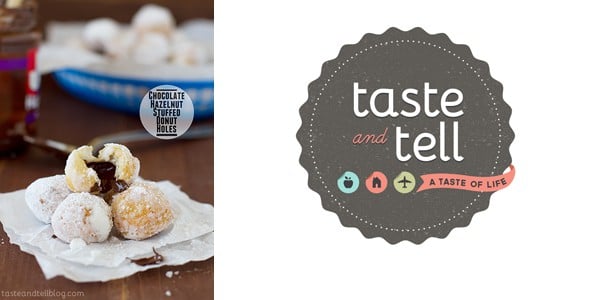 Chocolate Hazelnut Stuffed Donut Holes by Taste and Tell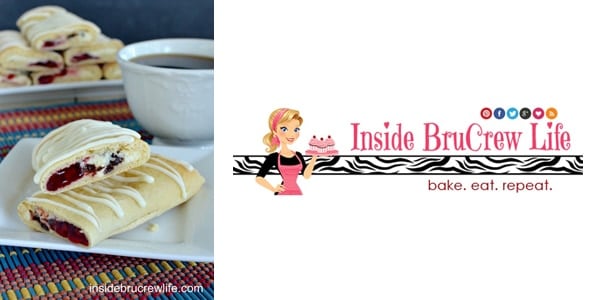 Raspberry Chocolate Chip Cheesecake Rolls by Inside BruCrew Life