The sweet filling in these Cheesecake Nutella Twists will have you adding another one to your breakfast plate.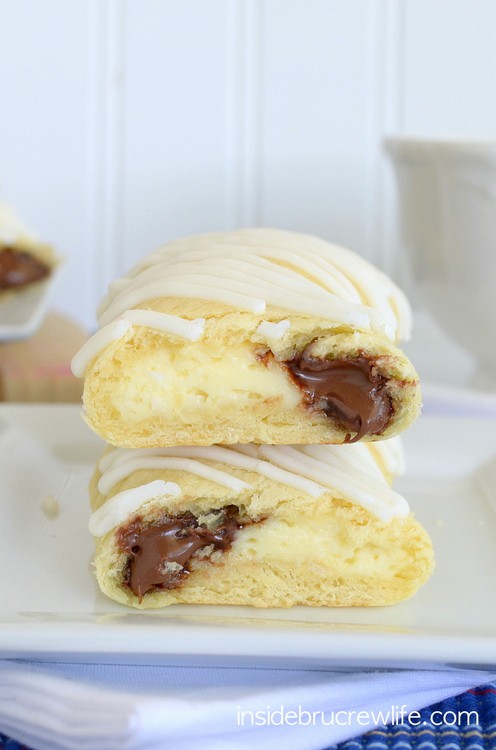 Breakfast around here usually consists of Nutella Pop Tarts and and boxed cereal for the kids and cantaloupe and smoothies for the adults.
Actually, my kids love having muffins and pancakes too. This poses a dilemma for the night owl that I am.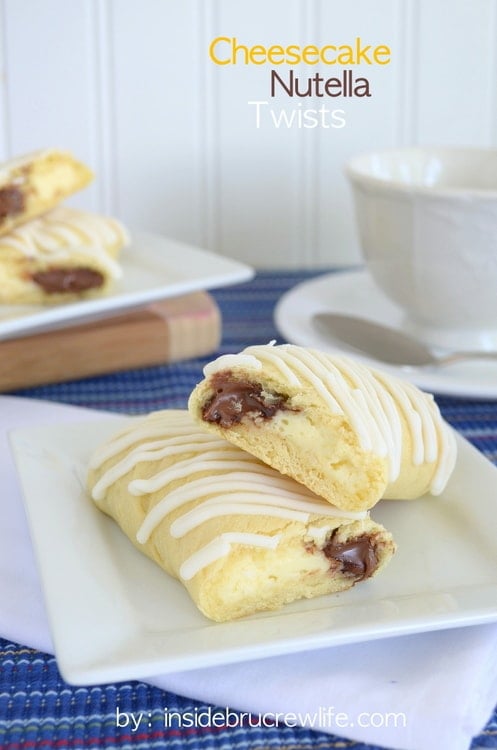 I don't generally function too well first thing in the morning. Loud noises are not my friend.
And cooking or baking while you are half asleep is not recommended because pancakes get much darker than expected when cooking them with your eyes closed.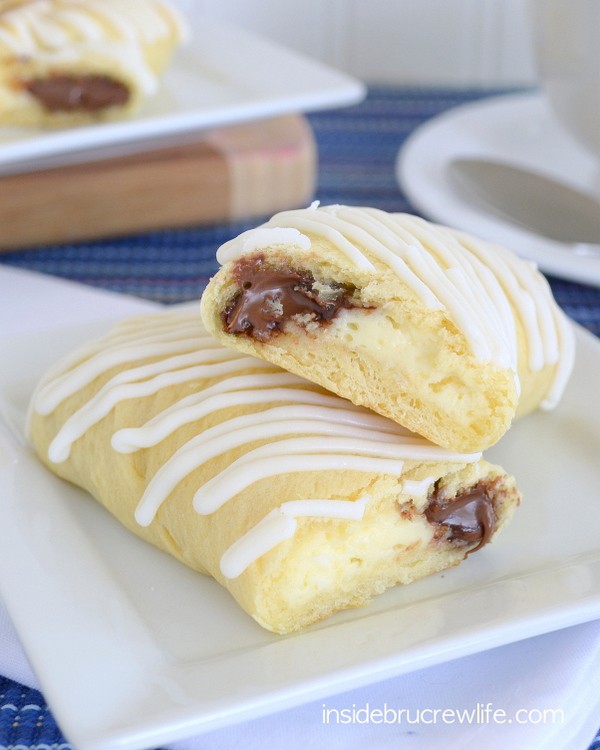 I have come to the realization that hot breakfast is probably not something that I will excel at. So, I make up for it by baking things like Cheesecake Nutella Twists the afternoon or night before.
My kids get muffins and baked breakfasts. I get to sleep in while they eat it. It's a win win for both parties involved.
Thank goodness for microwaves and toasters being fairly easy for school age kids to operate. We won't talk about the time my son microwaved noodles without water…
These cheesecake rolls are so easy to make.
I might even be able to do it with my eyes closed…except my filling probably wouldn't make it on the rolls.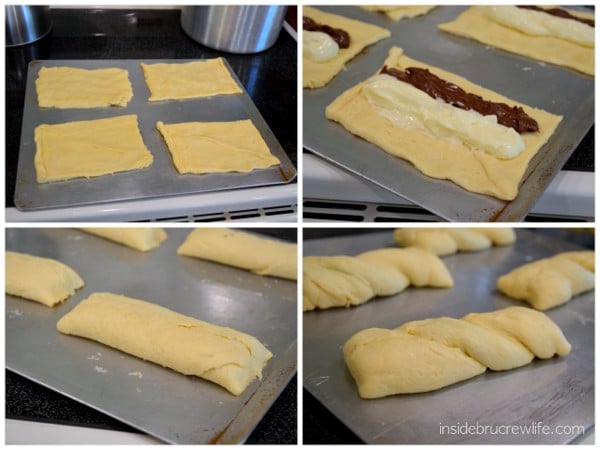 How to make Cheesecake Nutella Twists:
Lay out the crescent rolls on a baking sheet. Press 2 triangles together to form a rectangle.
Scoop out a large tablespoon of Nutella and spread it down the right center.
Repeat with a large tablespoon of cheesecake filling down the left center.
Fold the sides over to the middle and gently pinch the seams together. Pinch the ends together too.
Flip the roll over carefully. Gently twist the roll. (You can also just pinch the roll together and skip the twist.) Pinch together any seams that come undone.
Bake and cool.
Drizzle with white chocolate!!!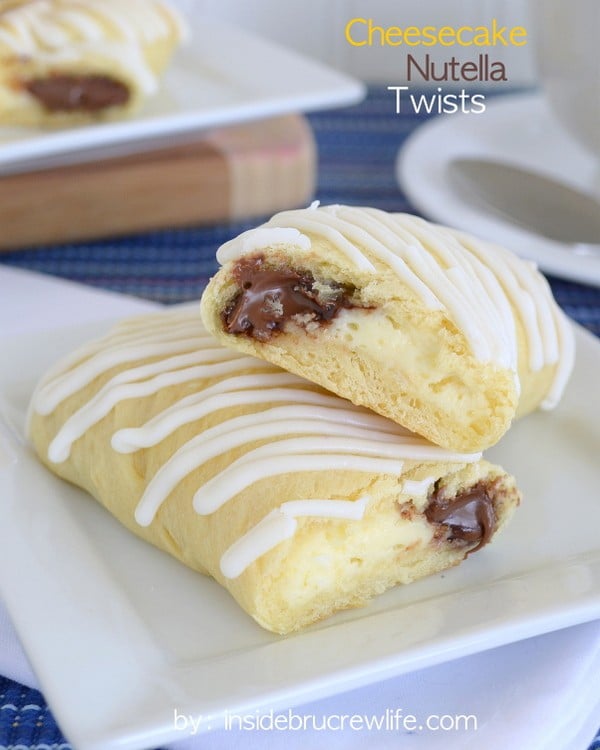 I have a few of these left in my fridge…
anyone want to come over for coffee and a chit chat?
Cheesecake Nutella Twists recipe:
Yield: 8 twists
Cheesecake Nutella Twists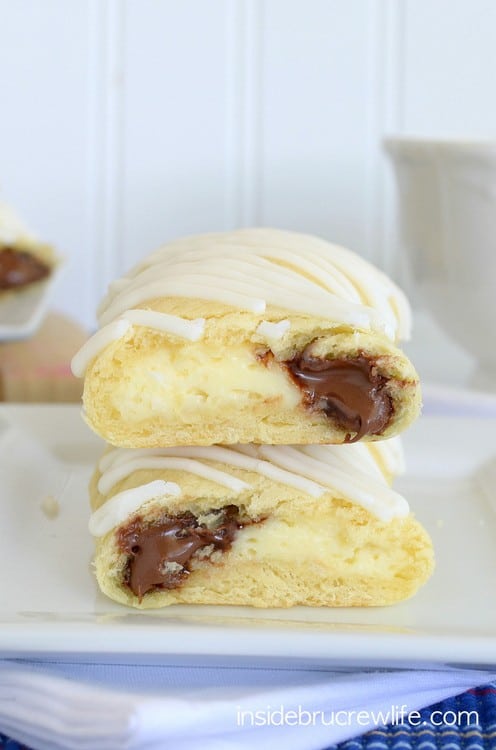 Crescent rolls filled with Nutella and a cheesecake filling...you know you want this for breakfast.
Ingredients
2 - 8 ounce cans refrigerated crescent rolls
1 - 8 ounce package cream cheese, softened
1 egg
1/4 cup sugar
1 cup Nutella
1/4 cups white chocolate chips
1 teaspoon shortening
Instructions
Preheat oven to 375 degrees.
In a mixing bowl, beat the cream cheese, sugar and egg until creamy.
Unroll the crescent rolls and separate into triangles. Press two triangles together to form a rectangle.
Spoon a large tablespoon of Nutella down the right side of the center. Repeat with a large tablespoon of cheesecake filling down the left side of the center.
Fold the edges of the rolls over the filling. Press the seams together at the middle and the end. Flip the roll over so that the seam is underneath.
Gently twist the roll. (This step can also be skipped if you want to just leave them as a roll.) Press together any seams that come undone. Bake for 10-11 minutes. Let cool on a wire rack.
Place white chocolate chips and shortening in a microwave safe bowl. Heat for 30 seconds. Stir. Repeat. Stir until creamy.
Spoon into a plastic baggie with one tip cut off. Drizzle over the cooled twists. Let set. Refrigerate leftovers.