Two times the cinnamon candies makes these Red Hot White Chocolate Cheesecakes a fun and spicy treat to make for your favorite Valentine.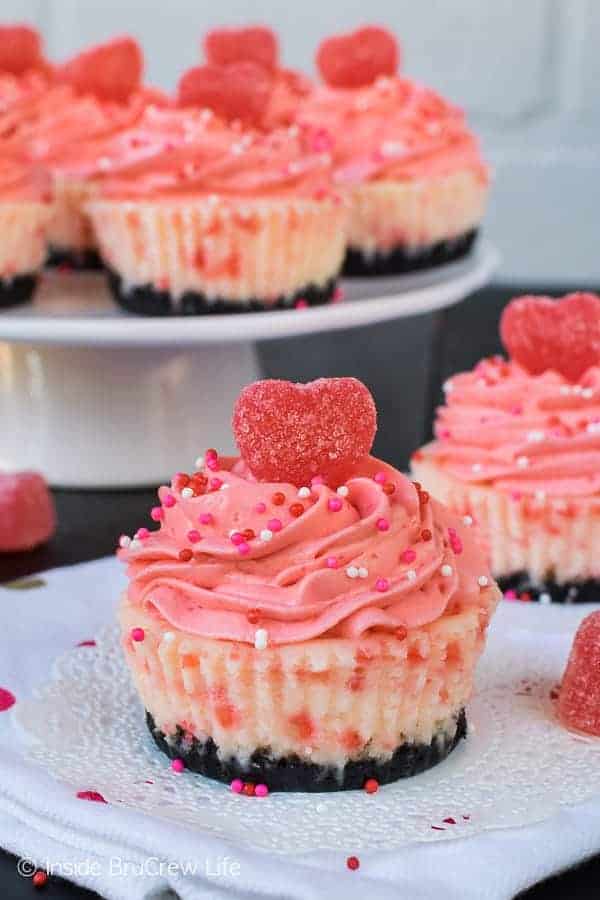 I think I may have come down with something. The other day my daughter and I went into Target for a few things. We left our house at 6 p.m. to drive to the store, and we pulled back into our driveway at 6:42 p.m. I know what you are thinking.
Did you forget something like your phone or wallet? Did something happen on the way to the store that made you turn around?
Nope. We actually went to the store, got what was on my list, and drove home in 42 minutes. That has to be some kind of record for sure. Either that or I'm extremely ill and have no idea what I'm doing.
I'm pretty sure I've contracted some sort of illness because my trips to Target are never that short. We usually have to do one lap around the store meandering through all the departments to see what is new. My cart usually has a few shirts, a few things from the $1 spot, earrings, bowls or mugs, and lots of candy.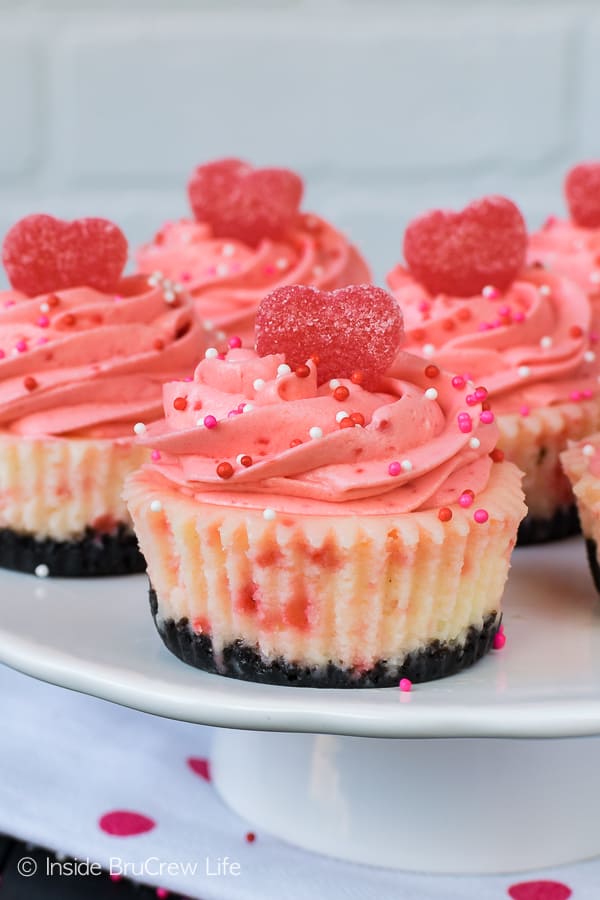 There is definitely something in the air at that store that keeps me there longer than I intend. Whatever it is also makes me buy all the cute things. This time of year when everything is pink and red is especially hard on me. I love cute Valentine's day stuff!
I have been picking up bags of heart candies since the beginning of January. Right now I have six recipes to share with you, and about six more that I really want to make. Something tells me that I will not get all of them made and shared this year.
Last year I made Red Hot fudge and added cinnamon hearts to the top. Of course, this year I bought another bag of those jelly hearts on one of my longer Target trips.
The idea for these cute little cheesecakes have been swirling around in my head for some time now, and I wanted to use those hearts for the toppers.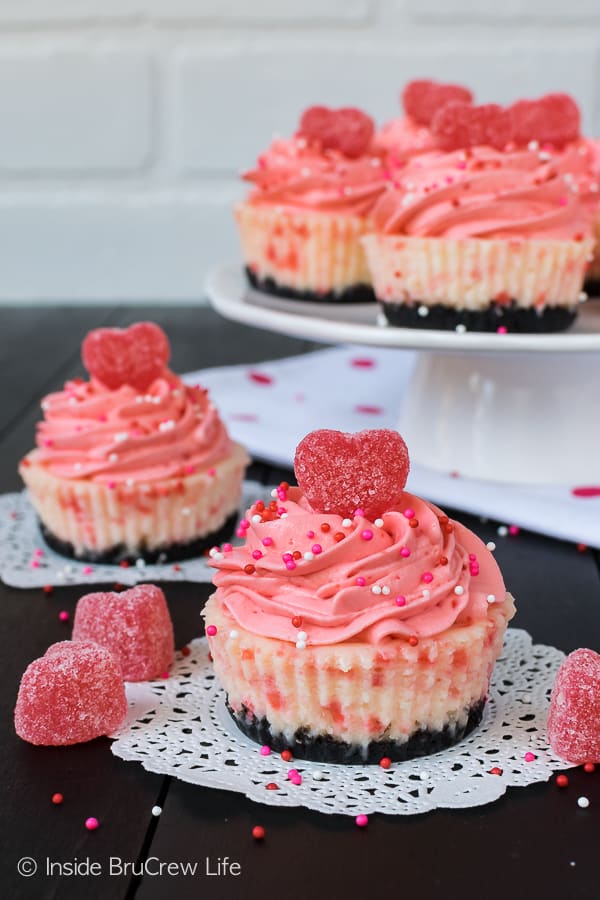 As soon as I saw the new Red Hot Oreos, I knew the cheesecakes had to have an Oreo crust. Has anyone else tried that new flavor combo? We got a package when they first came out, and I have to admit that I absolutely loved them.
Although I knew that I would because years ago I made this fun Red Hot Oreo fudge. I like to think that I started that flavor combo.
Cinnamon candies give these little Red Hot white chocolate cheesecakes a fun and spicy twist.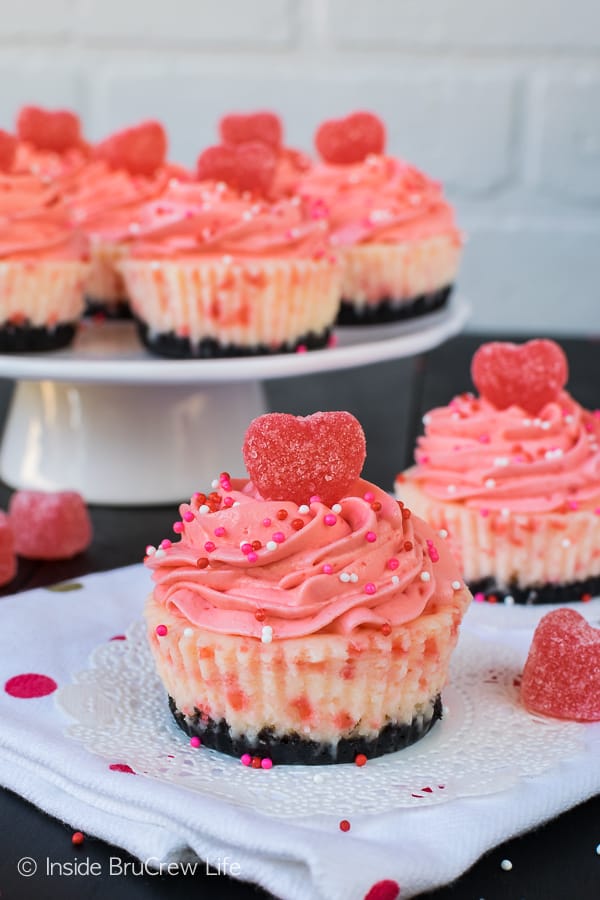 How to make Red Hot White Chocolate Cheesecakes:
Set out the cream cheese ahead of time. It's easier to beat it when it is soft.
Crush the cookies with the filling still inside. The frosting helps keep the crust together, so you don't have to use extra butter.
Crush on entire box of Red Hots using a food processor. This is so much easier and faster than trying to beat them with a wooden spoon in a bag. Trust me on this one.
Place a cookie sheet full of water on the bottom rack of your oven. This adds moisture to your oven and makes the cheesecakes bake up extra creamy.
Remove the cheesecakes as soon as your timer goes off. There is no need to cool them slowly in the oven.
Refrigerate the cheesecakes until completely chilled before adding the Red Hot mousse.
A piping bag and icing tip gives your mousse a pretty swirl look. You can also just spoon it on if you like.
Sprinkles and a cinnamon jelly heart are the perfect way to top the cheesecakes. You can add them ahead of time, but the jelly hearts will get hard from being in the fridge.
CLICK HERE TO PIN THIS RECIPE FOR LATER!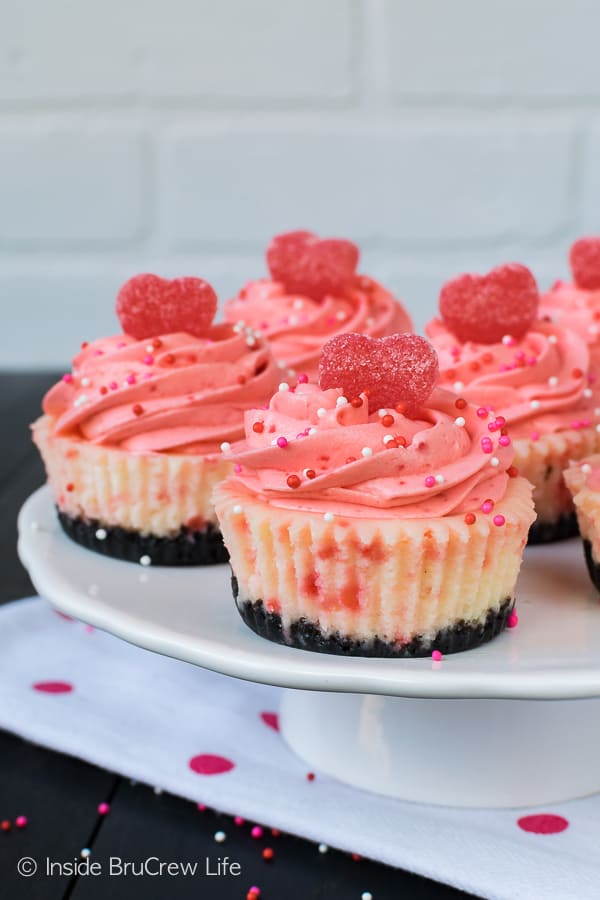 More fun treats to make for Valentine's day: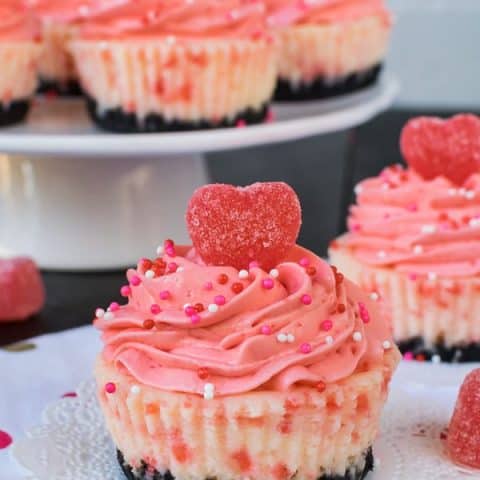 Red Hot White Chocolate Cheesecakes
Two times the cinnamon candies makes these Red Hot White Chocolate Cheesecakes a fun and spicy treat to make for your favorite Valentine.
Ingredients
For the Crust
15 Oreo cookies
3 Tablespoons unsalted butter, melted
For the Cheesecakes
2 - 8 ounce packages cream cheese, softened
½ cup granulated sugar
2 Tablespoons sour cream
2 Tablespoons all purpose flour
⅔ cup white chocolate chips
1 Tablespoon coconut oil
2 large eggs
For the Mousse
1 - 8 ounce package cream cheese, softened
1 - 5 ounce box Red Hot candies, crushed (¾ cup)
2 cups Cool Whip (from 8 ounce container)
18 cinnamon jelly hearts
holiday sprinkles
Instructions
Preheat the oven to 350 degrees. Place a large baking sheet on the very bottom rack and fill it halfway with water. Place 18 cupcake liners in 2 muffin tins.
Place the cookies, cream included, in a food processor. Pulse until it becomes crumbs.
Mix together the crumbs and butter. Spoon evenly into the bottoms of the cupcake liners. Press down firmly. Set aside.
Beat the cream cheese and sugar until creamy. Add the sour cream and flour and beat again.
Place the white chocolate chips in a microwave safe bowl. Heat for 30 seconds. Stir and heat again for 15 seconds. Add the coconut oil and stir until creamy.
Pour the melted white chocolate into the cream cheese mixture and beat until creamy again. Add the eggs one at a time beating after each one.
Gently stir 2 Tablespoons of the crushed Red Hot candies into the cheesecake batter. Evenly spoon the batter onto the prepared crusts.
Place the pans on the rack right above the water and bake for 25 minutes. Remove immediately and place on a wire rack to cool for 20 minutes. Gently lift the cheesecakes out of the pans and place on the wire rack to cool for another 30 minutes. Refrigerate until completely chilled.
Beat the cream cheese until creamy. Add the rest of the crushed candies and beat again. Fold in the Cool Whip gently.
Spoon the mousse into a piping bag with icing tip 1M. Swirl the mousse on top of the chilled cheesecakes.
Refrigerate until needed. Top with a cinnamon jelly heart and sprinkles right before serving.
Nutrition Information:
Yield:

18
Serving Size:

1
Amount Per Serving:
Calories:

338
Total Fat:

23g
Saturated Fat:

13g
Trans Fat:

0g
Unsaturated Fat:

6g
Cholesterol:

66mg
Sodium:

176mg
Carbohydrates:

32g
Fiber:

2g
Sugar:

22g
Protein:

4g
Nutrition facts are an estimate and are not guaranteed to be accurate. If you need special diet advice, please see a registered dietician.
SaveSave
SaveSave
SaveSave
SaveSave
SaveSaveSaveSave
SaveSave
SaveSave