Strawberry White Hot Chocolate Bombs - Make your hot chocolate extra fun and delicious with these pretty homemade hot cocoa bombs.
They are easy to make, and kids of all ages will love watching the strawberry bombs explode in a cup of hot milk.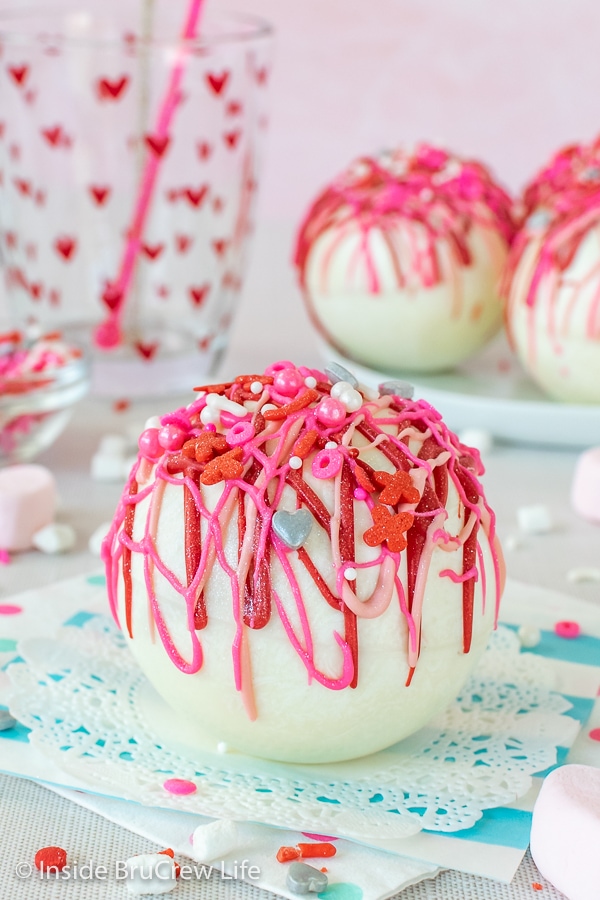 Hot cocoa bombs are one of the trendiest treats to make right now. Have you jumped on this craze yet?
I have been wanting to make these fun and trendy hot chocolate bombs for a few months now. The ingredients for a couple different versions and the mold have been sitting in my pantry since the end of December. Procrastinate much?
I finally decided to set aside a day last weekend just for making white hot chocolate bombs and White Chocolate Reese's Krispie Hearts for Valentine's Day. If you are wanting a fun treat to enjoy with your special someone, this is the recipe you need.
The white chocolate shell and strawberry powder adds a smooth and delicious flavor to each cup of pink hot chocolate. Of course, heart marshmallows were the perfect touch to this Valentine's treat.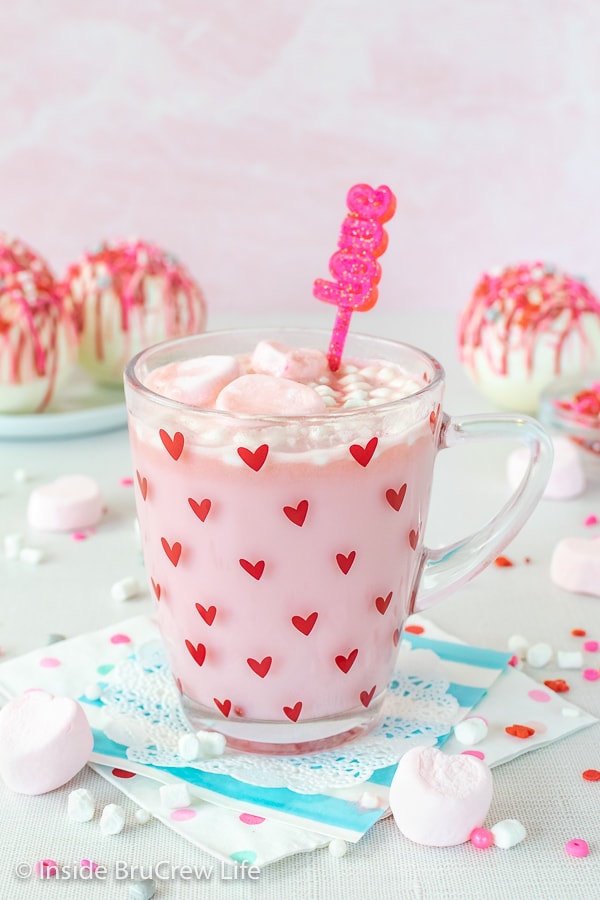 What are Hot Chocolate Bombs?
Hot chocolate bombs are a fun way to make and serve hot chocolate. Each chocolate shell has hot chocolate mix and marshmallows hidden inside.
The bombs "explode" when hot milk is poured over the top. There is something magical about watching each ball open up and spill out the hot chocolate mix and marshmallows. The chocolate shell melts into the milk making a rich, decadent cup of hot cocoa.
They can be made traditional with a chocolate shell and regular hot chocolate mix. Or you can change it up with different mix-ins like peppermint, caramel, or peanut butter. Think of all the possibilities!!!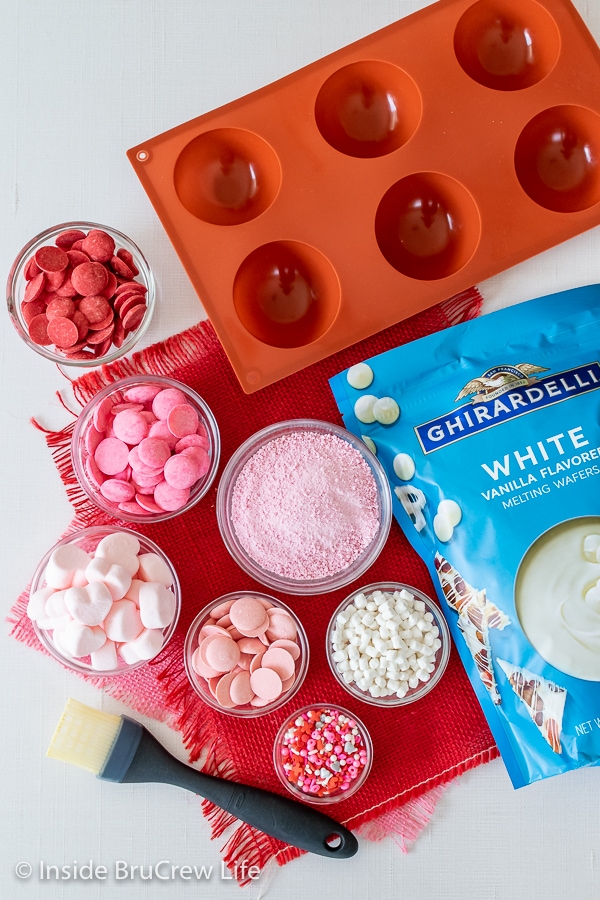 Ingredients needed for Hot Cocoa Bombs
Mold - A 2 or 2 ½ inch silicone mold is the ideal size to make bombs that will fit in a large mug. Round is the most common shape, but you can use any shape you like.
Chocolate - Use a good quality milk, dark, or white chocolate for the outside shell. I tested these shells with white Ghirardelli melts, and they worked great.
Hot Chocolate Mix - Use your favorite brand or homemade mix. Flavored mixes add a fun flair to these chocolate bombs.
Marshmallows - Mini, shapes, colored, freeze-dried, or traditional marshmallows can be used to fill each hot chocolate bomb.
Decorations - Use a variety of colored chocolate wafers, sprinkles, mini marshmallow bits, chocolate, edible glitter, or candies to decorate the tops of the hot cocoa bombs. Just have fun with it!!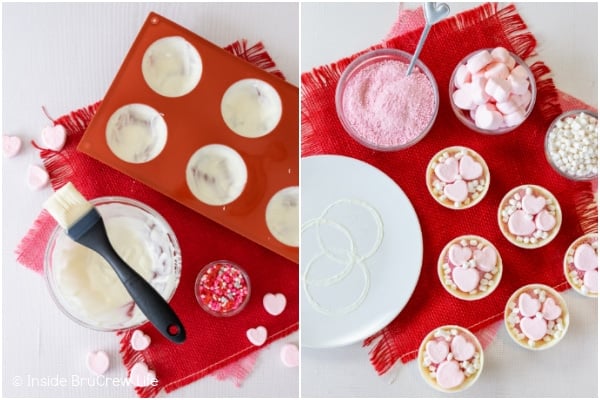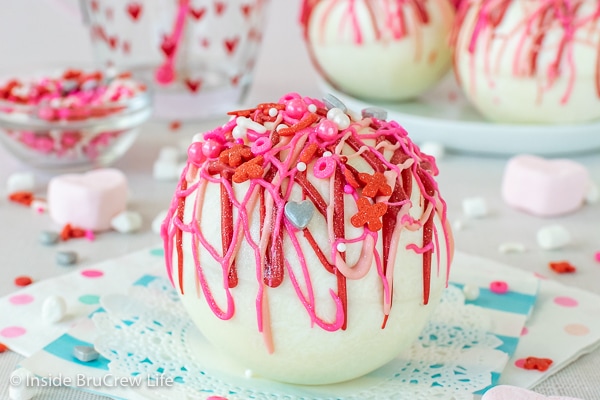 How to make White Hot Chocolate Bombs
Melt the Chocolate
Pour the white chocolate melting wafers into a microwave safe bowl. Heat at 50% power for 30 second intervals. Stir after each heating. Make sure to heat the chocolate slowly, so it ends up shiny when it sets.
Fill the Molds
Spoon two teaspoons melted white chocolate into each silicone mold. Use a spoon or pastry brush to push the chocolate up the sides coating the entire mold with a thin coat. Refrigerate 5-10 minutes.
Add a second coat of white chocolate to each mold one at a time, brushing it over the entire mold giving it a thicker coat. Make sure to get enough chocolate at the top of the mold where the edges will meet. Repeat with each mold. Refrigerate another 5 minutes.
Remove the Chocolate
Once the chocolate has set, gently pull the edges of the silicone mold to remove the shells.
Melt the Edges
Heat a flat plate in the microwave for 2 minutes. One at a time, press the rims of 6 shells onto the hot plate until the edges melt slightly creating a flat surface for sealing.
Fill the Shells
Add strawberry Nesquik, strawberry heart marshmallows, and marshmallow bits to 6 shells.
One at a time, melt the edges of the remaining shells on the hot plate. Press onto the filled chocolate shells and hold for a few seconds to seal.
Decorate
Melt the colored wafers according to the package directions. Spoon each one into separate baggies and cut a corner off.
Drizzle over the tops of the hot chocolate bombs quickly. Add sprinkles before chocolate sets. Spritz with edible glitter spray.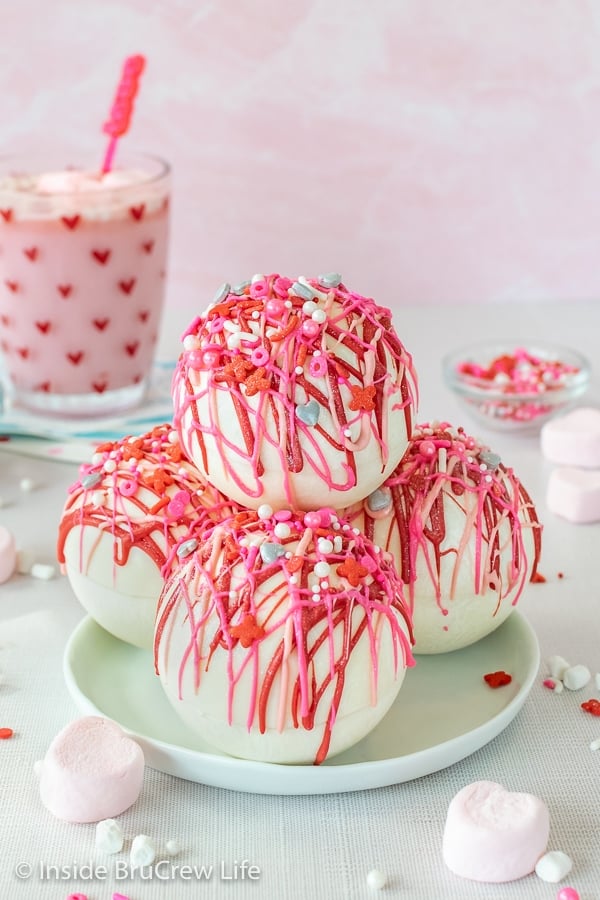 Recipe Tips and Tricks
Use this silicone mold to make these hot chocolate bombs. Make sure it is clean before you add chocolate to it. Any residue on the mold will create marks in the chocolate shell. Wash in warm soapy water and air dry or pat dry with a paper towel. Do not use a towel or you will end with fuzzies in your chocolate.
Microwave the chocolate at 50% power to avoid scorching or burning the chocolate and stir often. Heating it at a lower temperature will help the chocolate set back up glossy.
Coat the molds with two thin layers of chocolate. Make sure the layers are not too thin or the bomb will crack. On the flip side, if the layers are too thick, the hot cocoa bombs will not melt and explode as well.
Make sure you have enough chocolate on the top edges of the molds, so the bombs do not break when you remove them.
Avoid fingerprints on the hot cocoa bombs by wearing gloves when you touch the surfaces of the shells.
Melt the strawberry hot chocolate bombs in a clear mug. It's so satisfying to watch them pop open and turn the hot milk a pretty pink shade.
CLICK HERE TO PIN THIS RECIPE FOR LATER!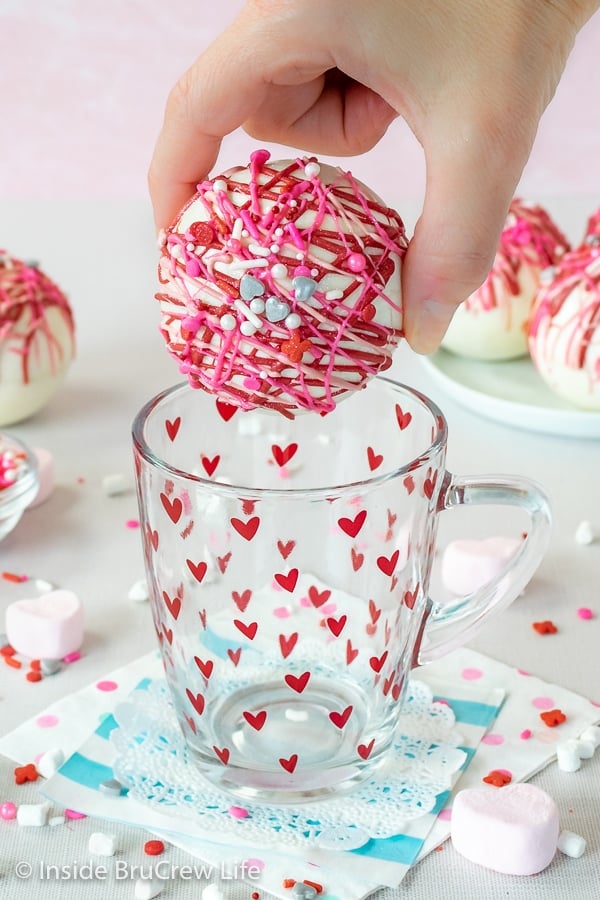 How to enjoy Hot Chocolate Bombs
Place a white hot chocolate bomb into the bottom of a clear mug. For extra fun, dip the rim of the mug in melted white chocolate and sprinkles and let dry before adding the cocoa bomb to the mug.
Pour one cup of piping hot milk over the top until bomb pops open. Stir until melted.
Optional: Top with Homemade Whipped Cream and more sprinkles.
FAQ'S
How do you heat milk for the chocolate bombs?
Microwave - Cook milk on high for 1-2 minutes until milk is hot.
Stove Top - Heat milk in a sauce pan just until steaming hot.
Can you use water instead of milk?
You can, but your hot chocolate will not be as rich and creamy.
How do you store hot chocolate bombs?
Store the hot chocolate bombs in a sealed container or bag at room temperature for one month.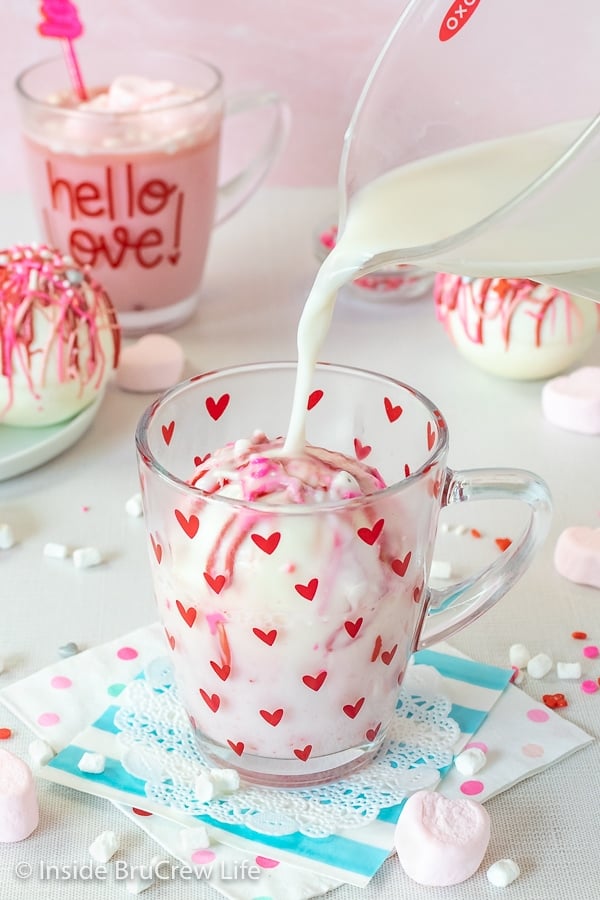 Hot Chocolate Bomb Flavors
It's so easy to create different flavors of hot chocolate by changing up the ingredients in these easy DIY hot chocolate balls.
Traditional - milk chocolate shell, hot chocolate mix, marshmallows, chocolate drizzles, and mini marshmallow bits on top
Salted Caramel Mocha - dark chocolate shell, salted caramel hot chocolate mix, instant coffee, marshmallows, caramel and white chocolate drizzles, and coarse sea salt and chocolate curls on top
Peppermint - white chocolate shell, white hot chocolate mix, peppermint bits, marshmallows, white chocolate drizzles, and peppermint bits on top
Mocha - dark chocolate shell, hot chocolate mix, instant coffee, marshmallows, dark and milk chocolate drizzles, and mini marshmallow bits on top
Funfetti - white chocolate shell, white hot chocolate mix, sprinkles, colorful marshmallows, white chocolate drizzles, and sprinkles on top
Peanut Butter Cup - milk chocolate shell, hot chocolate mix, peanut butter powder, marshmallows, milk chocolate drizzles, and chopped peanut butter cups on top
S'mores - milk chocolate shell, hot chocolate mix, graham cracker crumbs, marshmallows, chocolate drizzles, and graham cracker chunks and mini marshmallows on top
Chocolate Lovers - dark chocolate shell, hot chocolate mix, marshmallows, dark and milk chocolate drizzles, and mini chocolate chips on top
Hot Chocolate Bomb Gifts
Place each hot chocolate bomb into a cupcake liner and then into a clear cellophane bag.
Tie the top with colorful ribbons and twine. Add a stir stick and download this printable tag.
Give as a gift in a fun mug. Other options are take out boxes, mason jars, gift bags or boxes.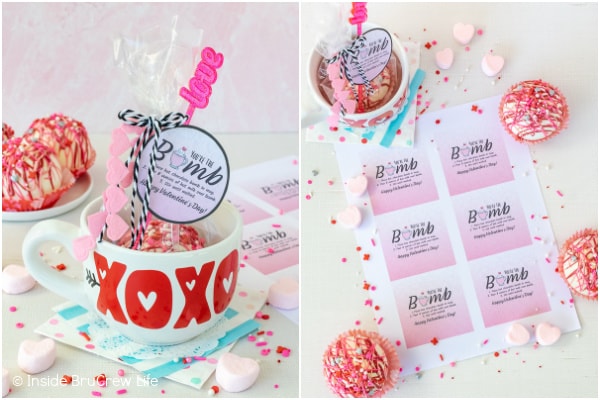 Other strawberry treats for Valentine's Day
More Hot Chocolate Recipes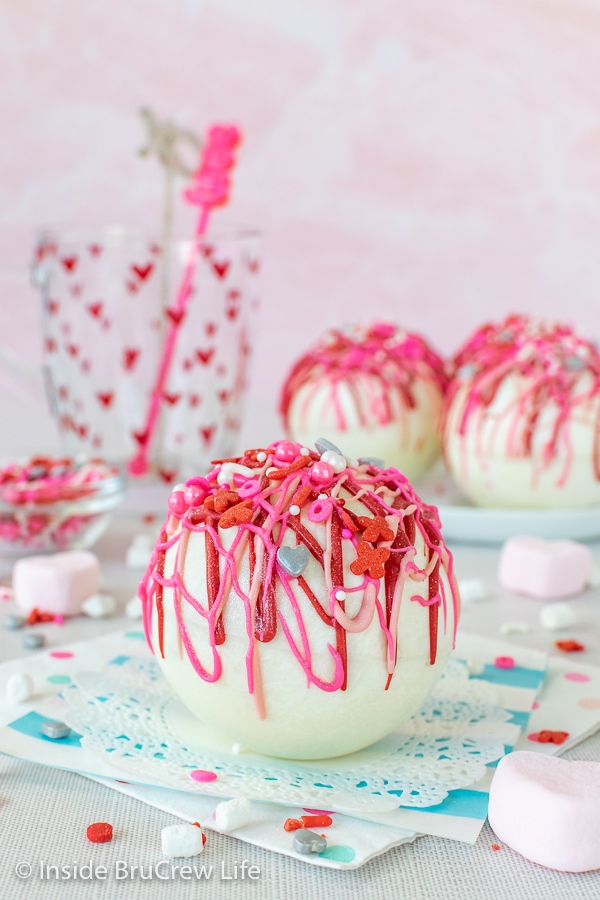 Do you love a recipe you tried from Inside BruCrew Life?
Please leave a 5-star ⭐️ rating and a review in the comments section below.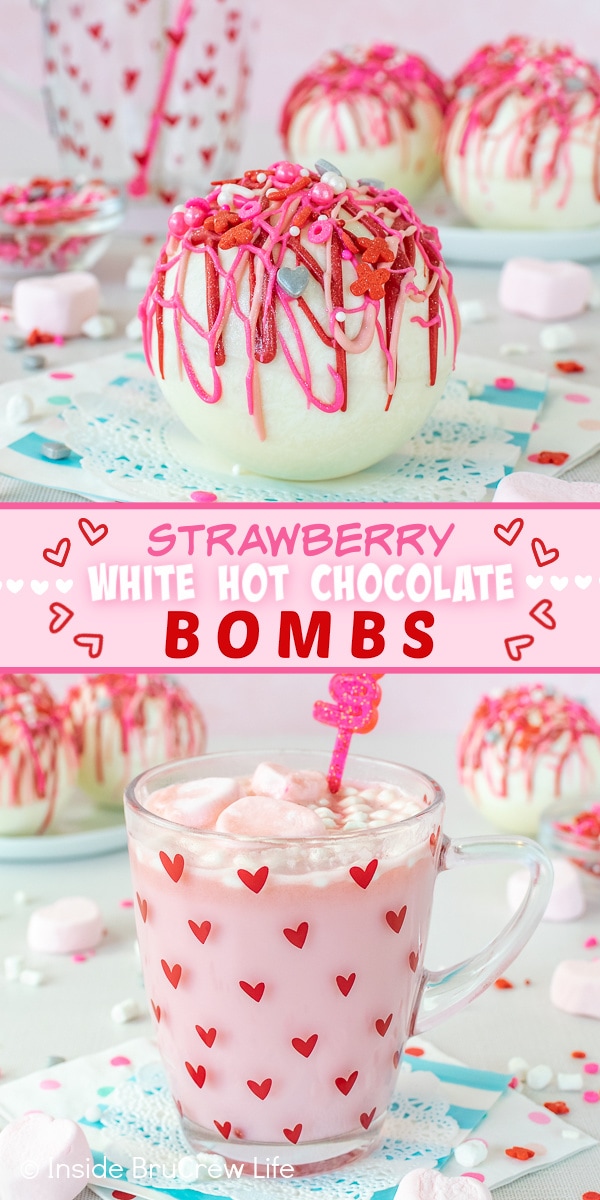 *There are affiliate links in this post. We receive a small percentage from sales made through these links. As always, we only share products we use and love. Thank you for your support.