Cherries and chocolate add a fun surprise to these Cherry Chocolate Chip Cupcakes. Two kinds of toppings give these easy treats a fun bakery touch.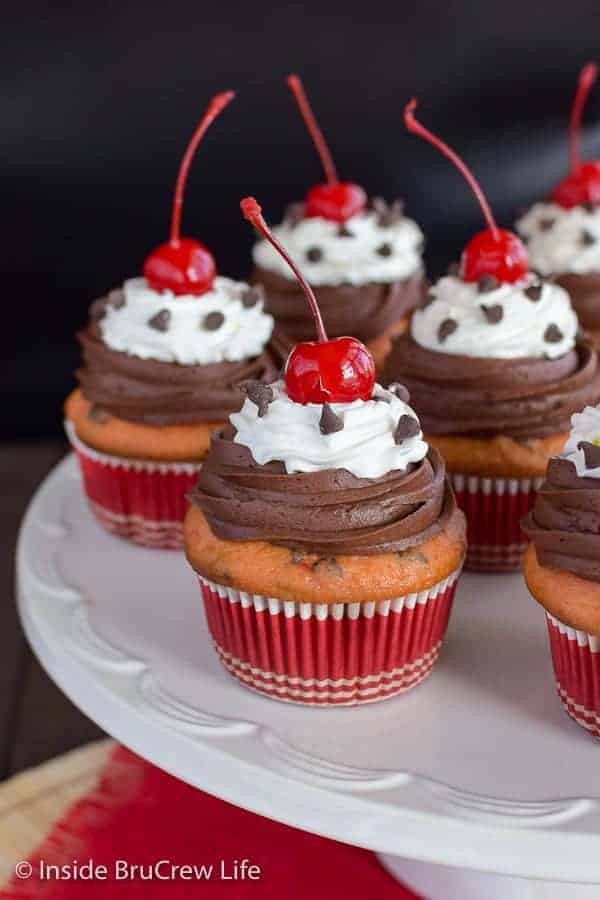 Whenever we travel we look up different restaurants and bakeries to visit while we are there. We will usually buy a few things to sample.
But honestly just stopping and looking at the treats is what I enjoy the most. There are so many different and fun ideas in those shops.
If you ever see me in one of these shops, you might see me typing away on my phone. No, I'm not texting. That usually means I saw a unique flavor combo or decorating idea that I don't want to forget to try in my kitchen.
There are so many ideas swirling in my head that I just can't remember all of them these days. Thank goodness for cell phones with list apps, right?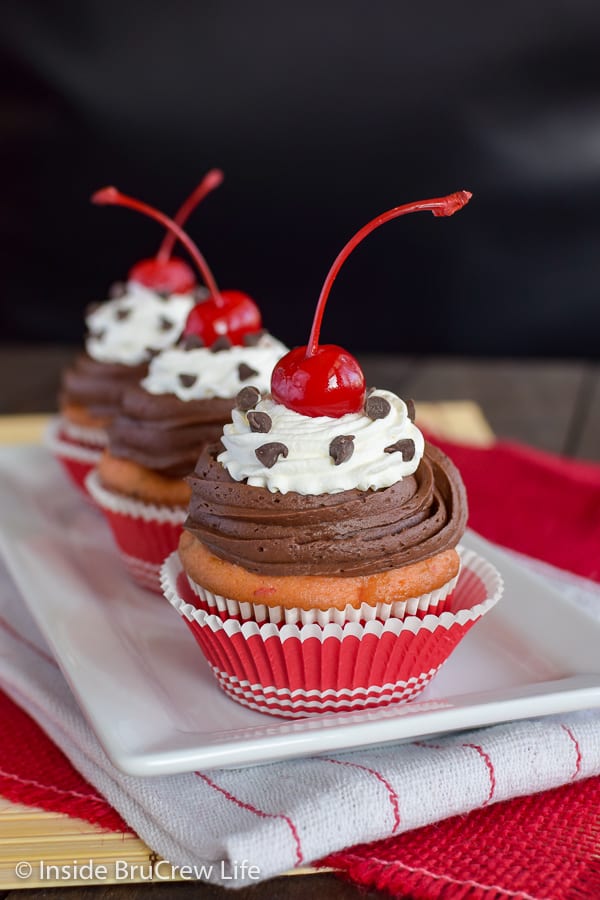 I love baking fun cupcakes for different parties and events.
Now sometimes I will make them from scratch, but most of the time I like to use a cake mix. I am all about using some easy tricks to make a box cake mix taste homemade.
The fun part is finding things to add to these mixes that make the cupcakes taste gourmet, without adding a lot of extra work. A doctored up cake mix makes an easy bakery style cupcake in a hurry!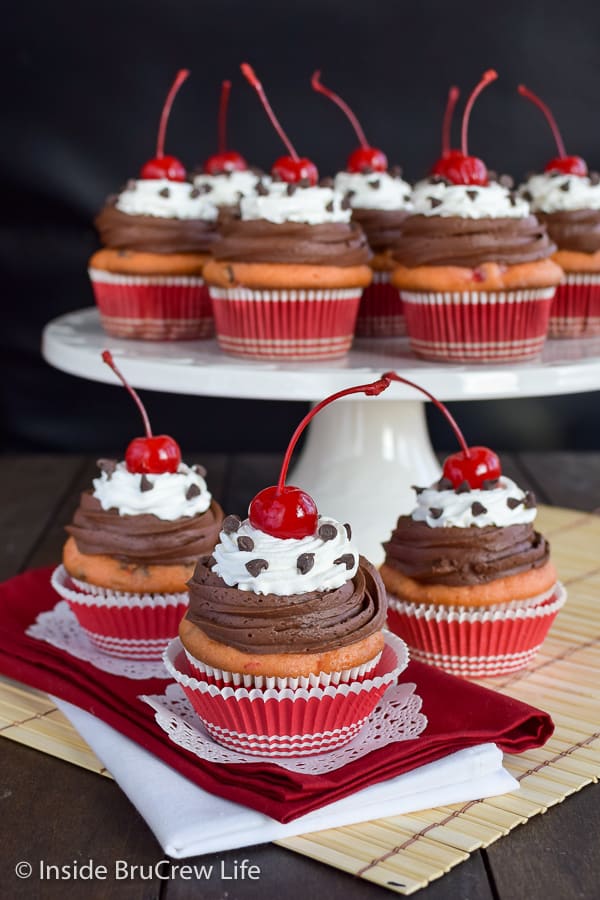 So when I was trying to decide on a new cupcake flavor for this month, I knew I wanted it to be some sort of chocolate and cherry combo. After all, this Cherry Chocolate Chip Banana Bread always makes me smile!
I do love those chocolate covered cherries that are only available in stores around Christmas and Valentine's, so I knew that flavor would be delicious in cupcake form.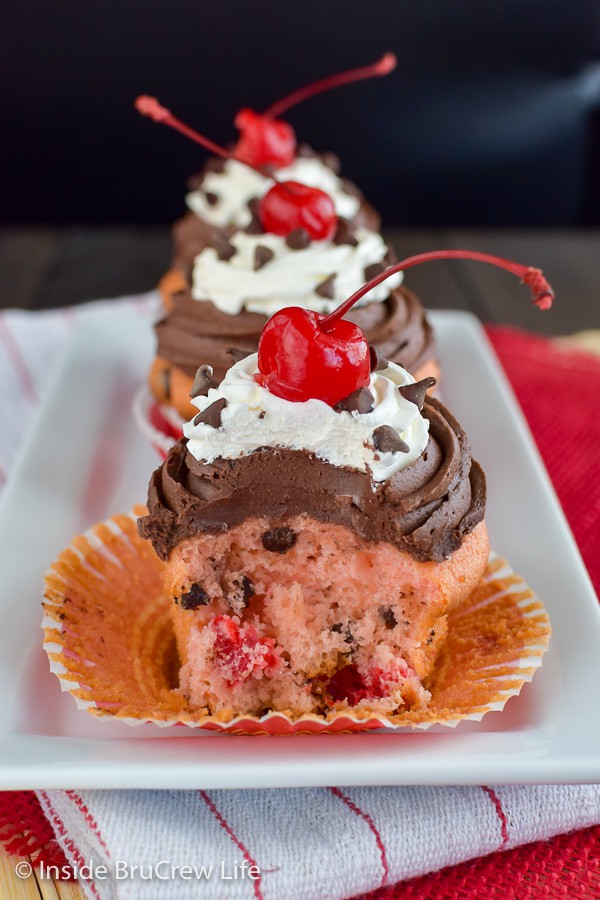 Tips for making Cherry Chocolate Chip Cupcakes
Substitute some cherry juice with the water to give the vanilla cupcake a slight cherry flavor.
Add diced maraschino cherries to the prepared cake mix. Make sure to pat them dry, so it doesn't add extra liquid. If you want them to have a stronger cherry flavor and to be a brighter pink or red, you can always add a little cherry extract and a drop of red food coloring.
Stir a little bit of flour onto the cherries and chocolate chips. This will help keep them from sinking to the bottom of the cupcakes.
Bake the cupcakes for 20-22 minutes and then remove and cool completely.
Add some fluffy homemade chocolate frosting, Cool Whip, chocolate chips, and a maraschino cherry to make this simple cherry cupcake look like an an over the top chocolate covered cherry cupcake!
If you are a fan of dark chocolate, I recommend making a batch of this Dark Chocolate Buttercream Frosting! It's my favorite.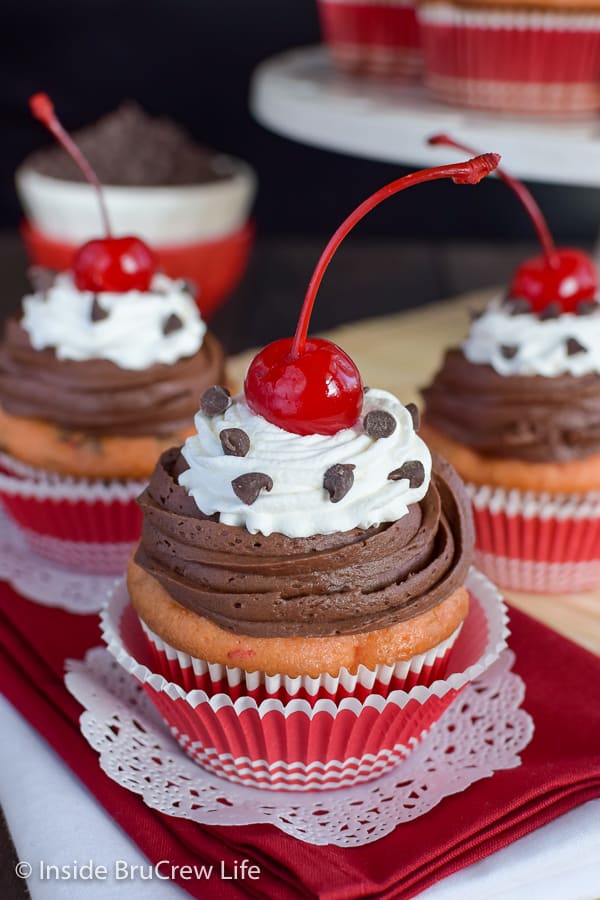 Frosting Cherry Chocolate Chip Cupcakes
Make sure you do not over fill your decorating bags with too much frosting. You need enough room to twist the bag into the palm of your hand while holding it closed with your thumb and fingers.
For these cupcakes I used a 1M tip. I piped the frosting on in a circle, but I didn't mound it up.
Use another icing bag filled with Cool Whip and icing tip 21 to add a smaller swirl on top of the frosting.
To give this cupcake the final touch, sprinkle on some mini chocolate chips and place a cherry with a stem on top. A cupcake with a cherry on top just looks so much fancier. Don't they just look so much more fun with that stem coming off the top of the cherry cupcakes?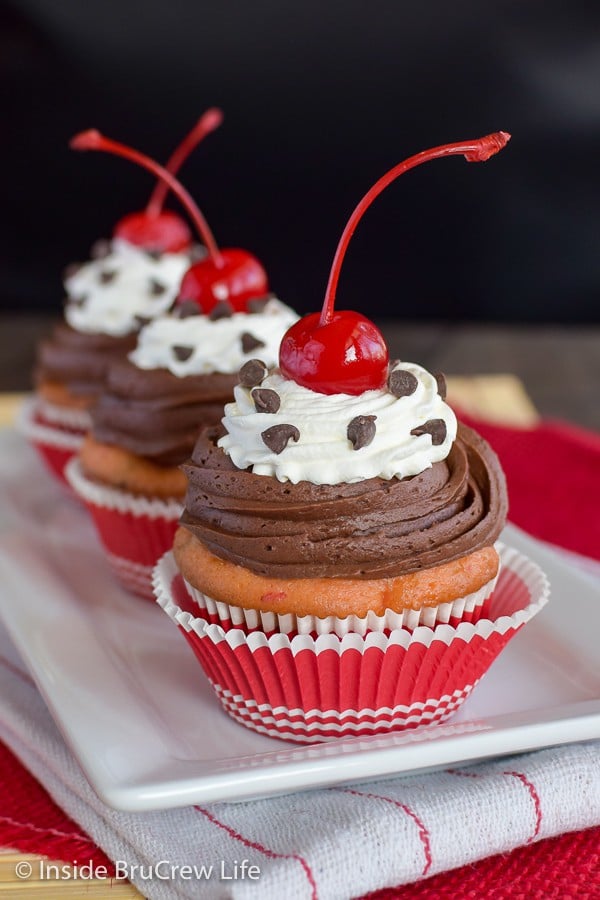 Other easy cake mix cupcakes you may enjoy
Swirls of chocolate and peanut butter frosting and a hidden peanut butter cup make these Reese's Chocolate Peanut Butter Cupcakes disappear in a hurry.
Caramel drizzles, candies, and frosting give these Banana Caramel Cupcakes a delicious sweet and salty taste.
A fluffy lemon frosting and a pocket of lemon filling makes these Lemon Coconut Cupcakes a bright and refreshing dessert!
Sprinkles and chocolate make these easy Funfetti Nutella Cupcakes a fun and colorful treat to share!
Sprinkles, hot fudge, and a cherry make these Hot Fudge Sundae Cupcakes so pretty.
CLICK HERE TO PIN THIS RECIPE FOR LATER!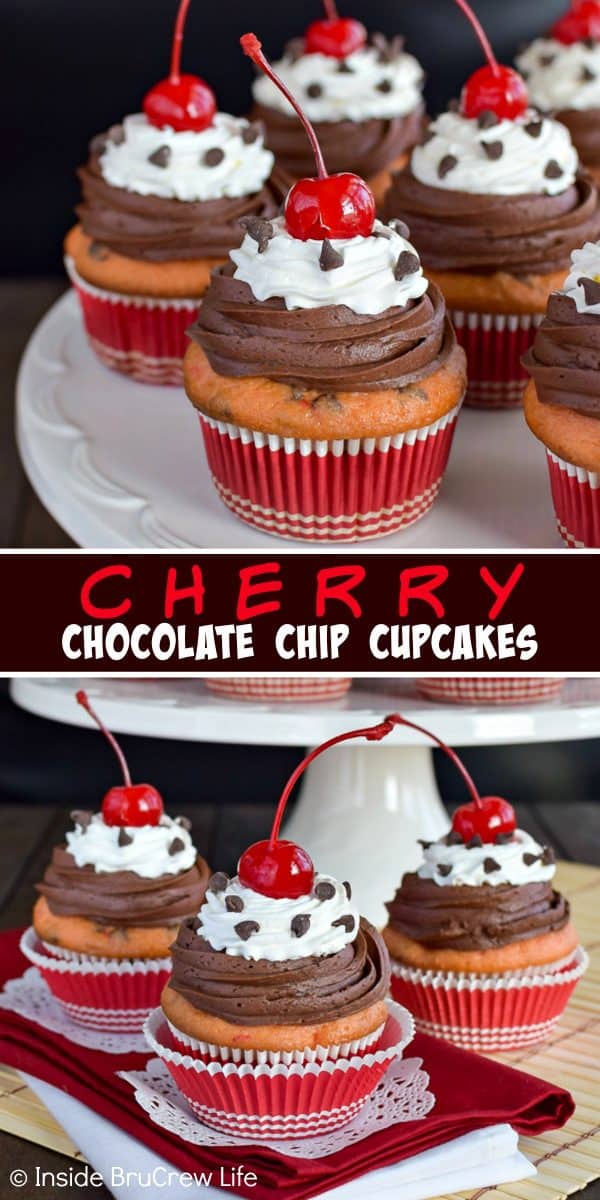 *The post for these Cherry Chocolate Chip Cupcakes was originally published on February 6, 2015. The pictures and post have been updated and republished on February 8, 2019.