I am so excited that it is time to share all the peppermint treats. Believe me, I have some delicious ones you need to make. First up are these Red Velvet Peppermint Cupcakes topped with marshmallow PEEPS®.
*I am partnering with PEEPS® this December as part of their "24 Days of Peepsonality" program.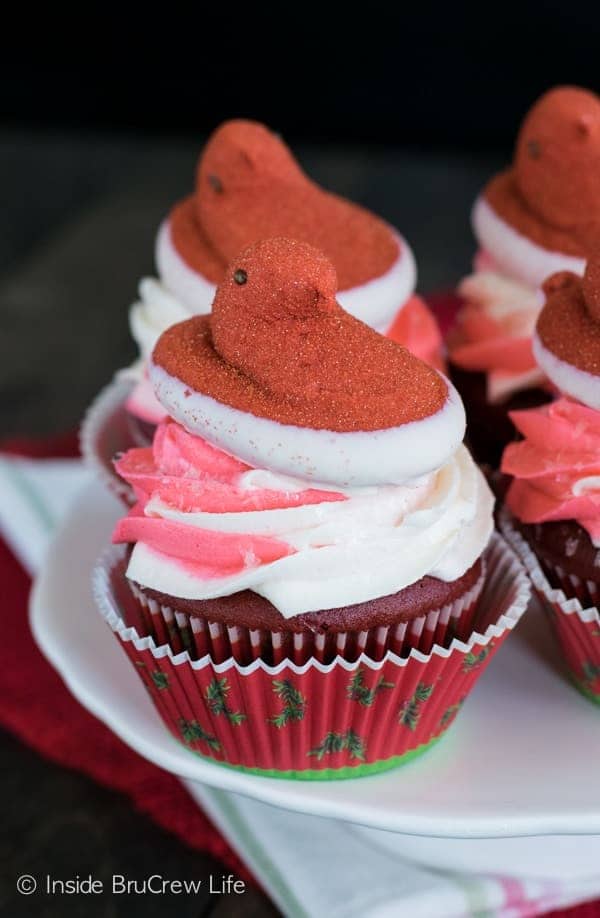 Christmas is one of my favorite holidays. We look forward to all the lights, smells, and sounds of the season. Every year we pull out our tree the day after Thanksgiving and put on our Santa hats, while we hang our ornaments on the tree.
I have to admit that I am a little picky about where some of those ornaments end up. (There have been a few that I may have moved the next day.)
As the kids are getting older, they are doing such a good job at spacing out the snowmen and snowflakes for me, so there aren't as many that needed "re-arranged" these days.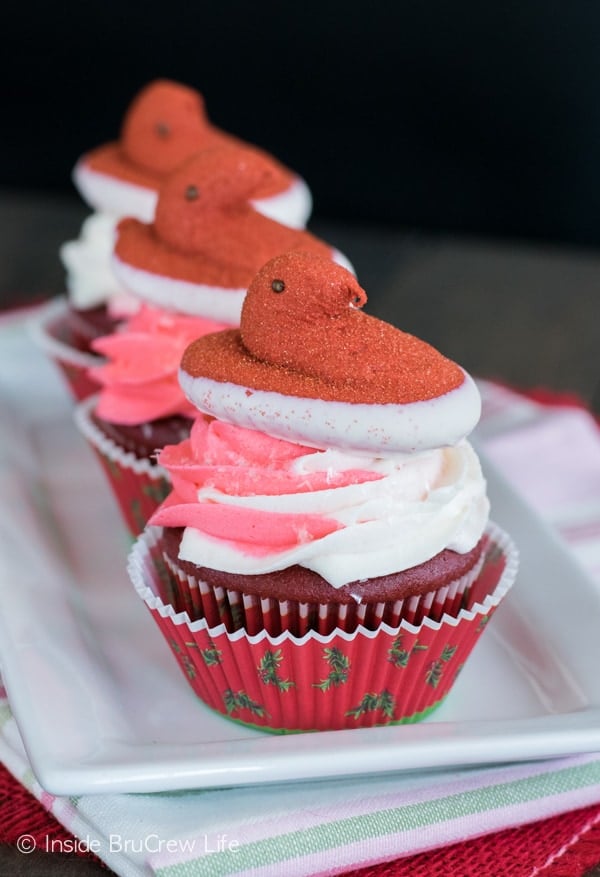 One of our favorite things about the holidays is the food. We usually make a list of cookies and treats that we make as a family to share with our friends and family.
Some of these cookies are the same every year, and others are new recipes. Truffles, fudge, and themed candies are some other fun things we like to make.
I also love finding holiday candies at the store to tuck in our tins to cushion the cookies.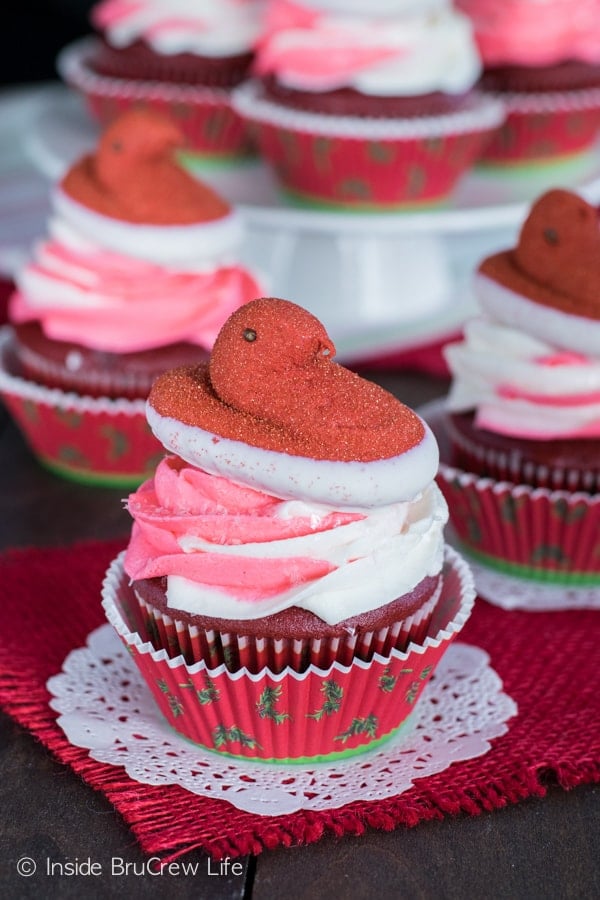 Did you know that PEEPS® marshmallows can be found at every holiday of the year. I grew up having PEEPS® every year in my Easter basket. I could count on those yellow chicks to be hiding under that green grass. Now you can get these fun chicks in different flavors each season.
This winter you can find Red Velvet Chicks Dipped in Cream Flavored Fudge. They would be cute to tuck in and around cookies and candies.
I think they would also be awesome floating on top of a mug of hot chocolate.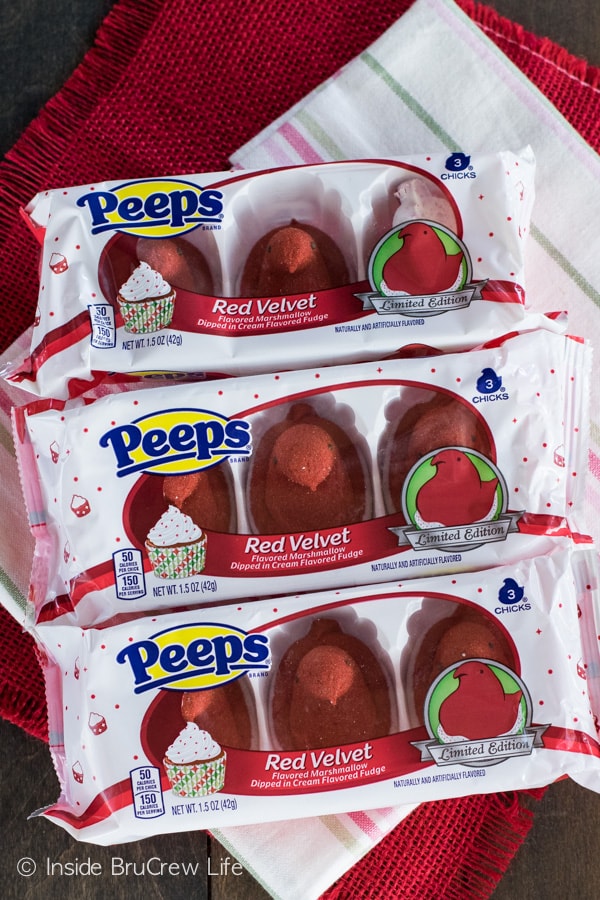 I had the awesome opportunity to work with PEEPS® marshmallows this Christmas season. I couldn't wait to make a fun treat showing off these delicious little chicks.
My first thought was to do a fun holiday cupcake. I baked a red velvet cupcake to compliment the red velvet chicks.
Of course at the holidays, I am always looking for a reason to add peppermint to every thing I bake, so I added a two-toned peppermint swirl frosting to each one.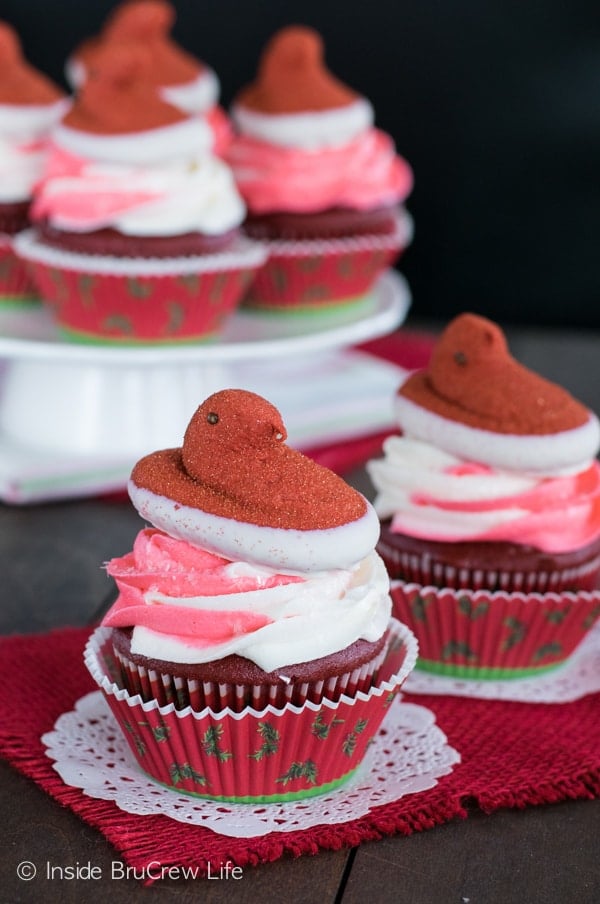 The frosting swirl is really easy to do, if you have a few extra disposable bags. I made the peppermint frosting and divided it into two colors.
Spoon each color into a separate disposable bag with the tip cut off, then put both bags into a bigger decorating bag fitted with tip. You can also spoon the frosting into one bag, as long as you put each color on one side of the bag. Hold the bag tight and swirl on some color. I happen to like a lot of frosting with my cupcake, but you do what feels good to you.
Open your package of PEEPS® and place one on each cupcake. This is an easy sweet treat to share at all your holiday parties.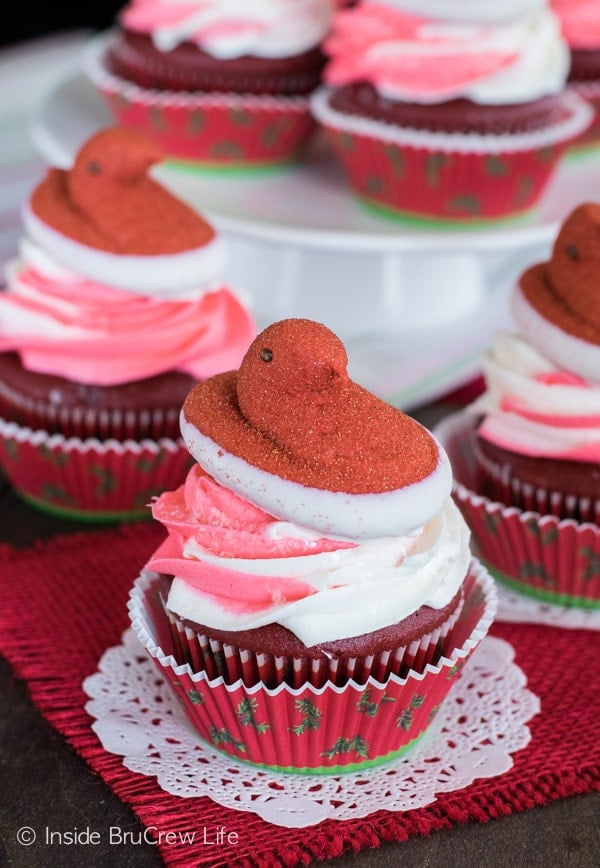 Connect more with PEEPS®:
Facebook | Twitter | Pinterest
*It is the "24 Days of Peepsonality". Do you know yours? You can find the PEEPS® Red Velvet Chicks Dipped in Cream Flavored Fudge in the PEEPS® online store.
Use the code SWEETINGS15 now through Dec 31, 2015 to receive 20% off.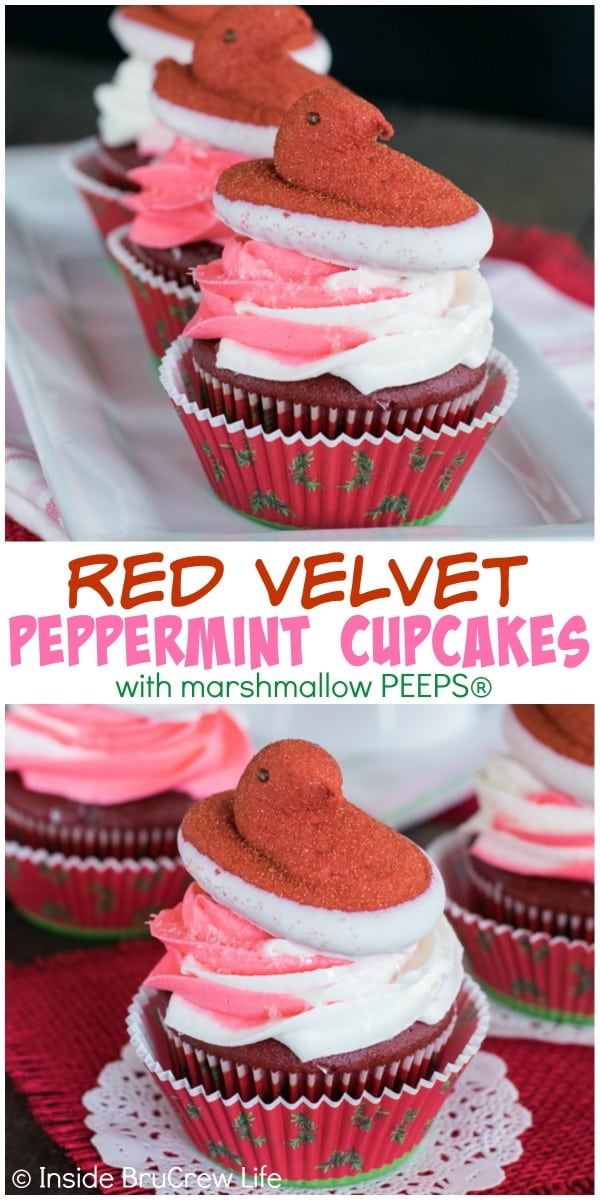 *This recipe and post has been sponsored by PEEPS®. As always, all opinions are 100% my own. Thank you for letting me share brands that we love and trust.