These Red Velvet Peppermint Donuts are a fun and festive breakfast treat for the holidays. Go ahead and make them for Christmas morning.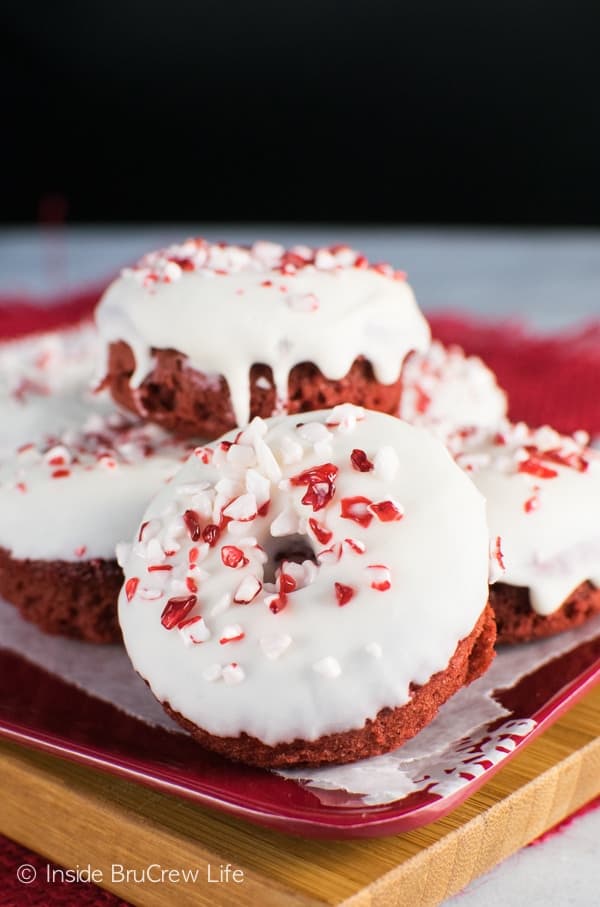 Every year as I was growing up, one of my sisters and I had a pact. If we knew what the other one was getting for Christmas, we would spill the beans to each other. Of course we knew where our mom hid the presents too, so we also would sneak around trying to see what we could find in her closet and drawers.
I'm pretty sure if my mom had wrapped presents early, I would have slit the tape to look inside and then taped it back up. Yes, I'm a snoop. I think she knew the kids were not to be trusted, so she never wrapped our presents until the night before.
This "tradition" of wrapping gifts the night before is something we have done with our kids as well. There is something magical about coming out on Christmas Day to packages all around the tree. Plus, I know my kids are just as sneaky as I was growing up, so no way am I putting packages out early for them to figure out.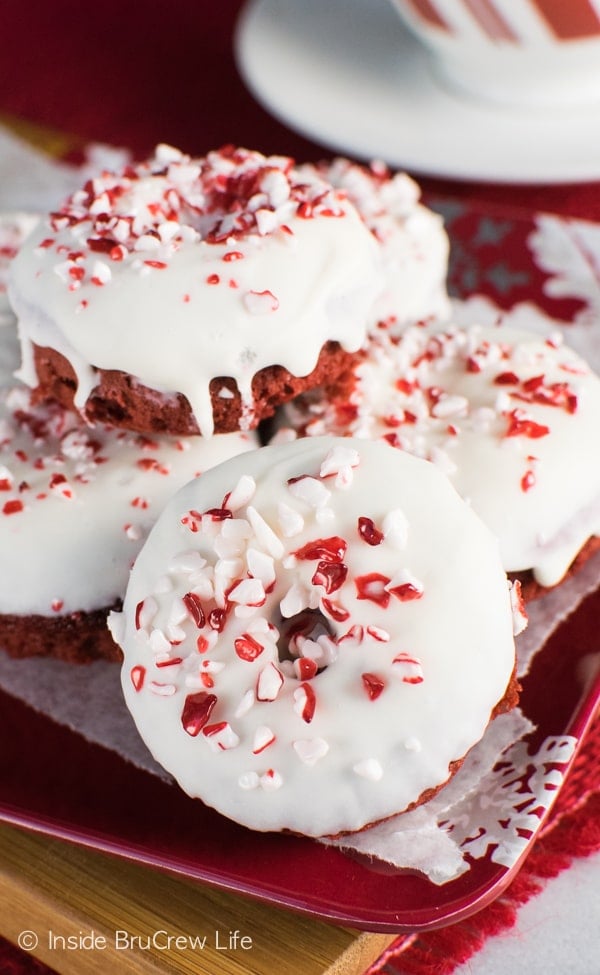 You know what else is magical? Peppermint. There is something about adding peppermint to everything that just puts me in the holiday mood.
I wasn't feeling the holiday spirit this year because we are moving and not decorating, but once I started baking these white chocolate peppermint cookies, the holiday mojo started flowing. I think blasting Christmas music helped some too!
I love using my mini donut pan for breakfast treats. Did you know you could use a boxed cake mix to make an easy donut? These butterscotch apple cake donuts are one of the most recent donuts my kids inhaled.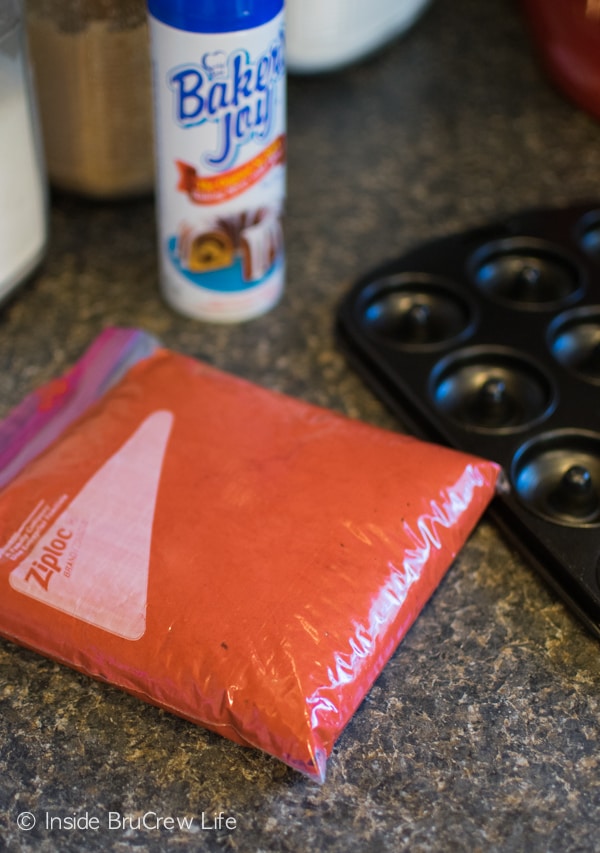 I knew I wanted to create another fun Christmas version, so I used a red velvet cake mix. Just make sure you fill the donut pan half full, or the donuts will bake over the top of the pan.
Quick Tip: I fill a large Ziplock bag with the donut batter and cut one a small tip off. Carefully fill the holes half full squeezing the bag.
To make the donuts holiday pretty, dip the tops in some melted cream cheese frosting. A sprinkle of peppermint candy cane pieces adds that fun holiday flair to each bite. Trust me, everyone will be peeking in the donut box to see if there are any treats left to snack on.
Head over to Food Fanatic to print this Red Velvet Peppermint Donuts recipe.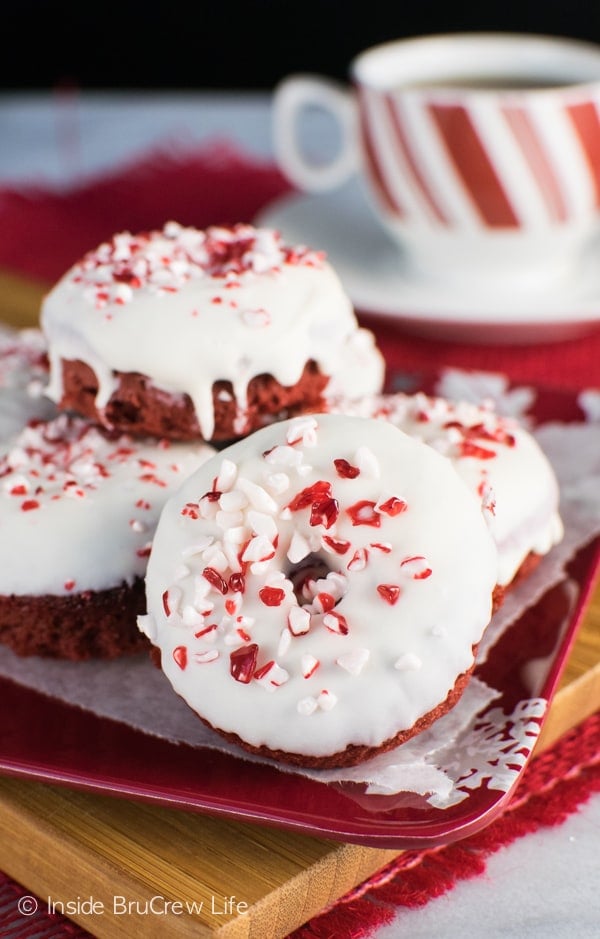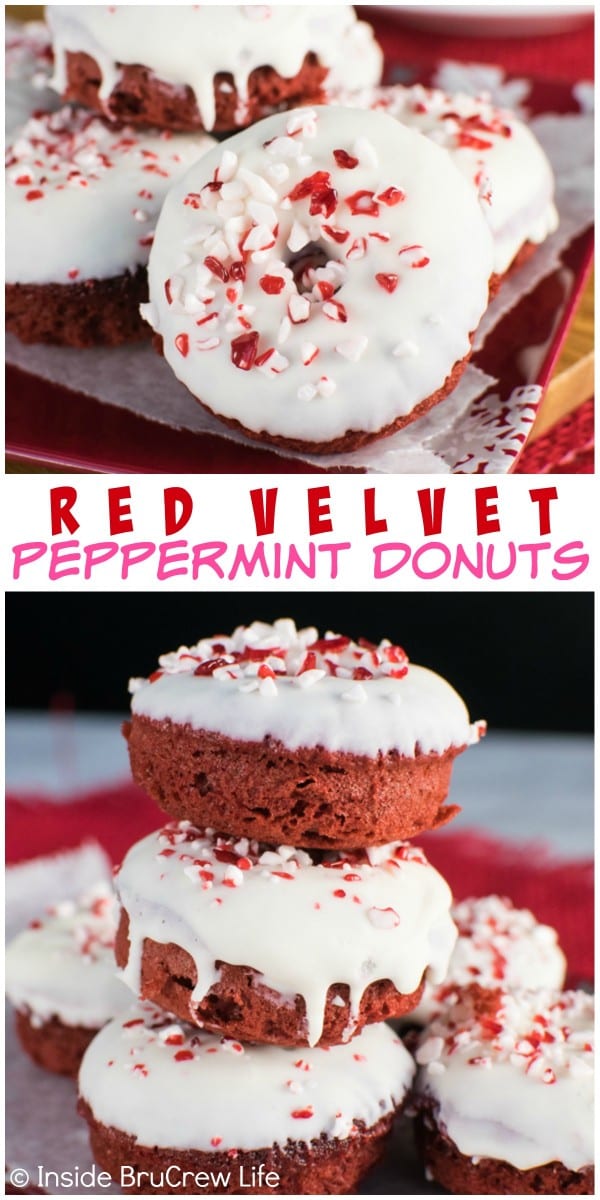 *This post contains an affiliate link. Inside BruCrew Life receives a very small percentage of sales made through these links. Thank you for letting us share products we love this way.