Use those extra hard boiled eggs from Easter to make this Roasted Red Pepper and Bacon Egg Salad. It's great on sandwiches, wraps, or salad.
*I am partnering with the Ohio Poultry Association to share Easter recipes using hard boiled eggs.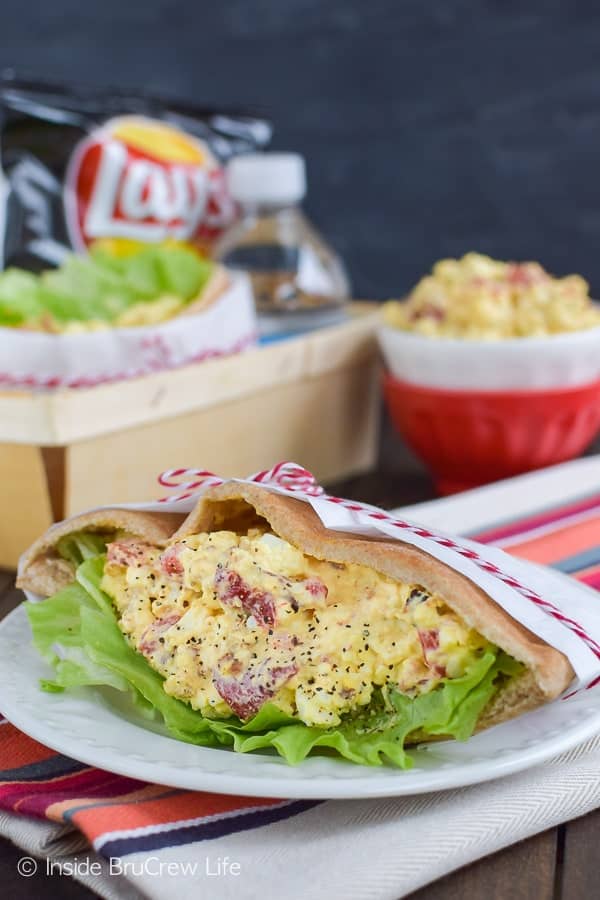 When I was younger my parents would have an Easter egg hunt every year for me and my brother and sisters to enjoy. We would decorate hard boiled eggs for her to hide, and then she also filled plastic eggs with candy. Each of us also got an Easter basket loaded down with candy and goodies. We even had a basket all the way through high school, although those baskets seemed to get smaller and smaller each year.
I have done the same thing for my kiddos ever since they were little. As babies, they got jars of carrot baby food in their baskets, then as they got older I started making a large peanut butter egg for each one.
When they were old enough to decorate eggs, I just couldn't do it. All those cups of colored water with kids trying to dip eggs in them just freaked me out too much!
Oh, we still decorated eggs, just not the same way my mom did with us. So, I'm sure you are wondering how those eggs got colored then? Our kids grew up coloring their eggs with non-toxic markers. It took all the stress out of egg decorating for me. No more cups of liquid stain for this family!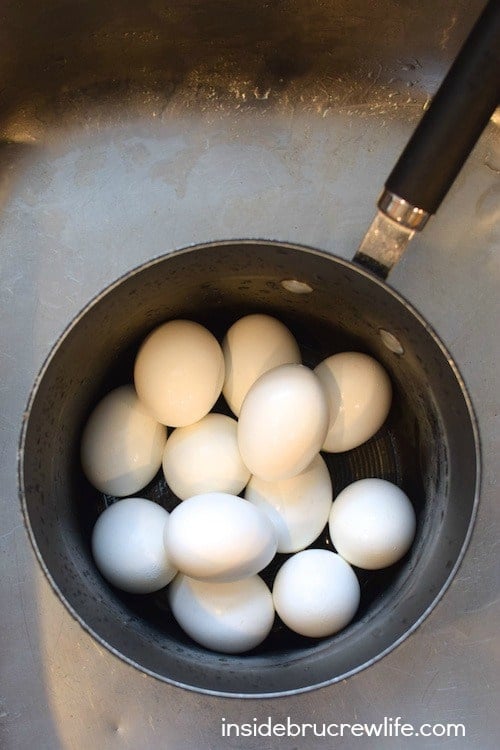 Make sure you plan ahead if you are going to decorate eggs with your kids. Older eggs tend to peel easier, so buy a dozen or more a week or two early, so you will be ready when you need to hard boil them. Also, I like to boil the eggs the day before, so they have time to chill completely. Plus, if your kids get as excited as mine, you are ready to go first thing in the morning.
Cover the eggs with cool water, then bring the water to a boil. Cover the pot with a lid and turn the temperature down to a very low simmer for 10-12 minutes. Do not over cook the eggs because that causes a green ring around the yolk. Immediately run the eggs under cold water to stop the eggs from cooking.
Peel the eggs after they cool and store them in the refrigerator in a sealed container. Unless you are using them for your Easter egg hunts. Then have your kids decorate the eggs in your favorite style. Markers anyone?
Be sure that your eggs are not out of the refrigerator for more than 2 hours. It is a good idea to count how many eggs you have if you plan on hiding them. My kids know they have to find every single egg we hide in a certain amount of time, or those eggs can't be used again.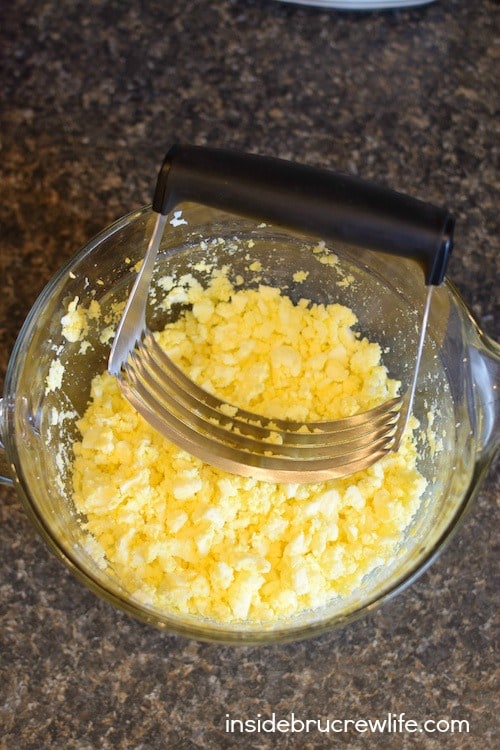 When the Ohio Poultry Association asked me to create an egg recipe, I was excited to change up our eggs. Most days we try to eat very healthy, and eggs are a great way to include protein in our diets. We love to eat them peeled with a little sprinkle of salt, in this Avocado Shrimp Cobb Salad, or mixed into a delicious egg salad.
Until recently, I used a fork to smash and cut the eggs up. Honestly, I used to dread chopping those eggs up because it seemed to take forever. Then I bought a pastry blender and chopping eggs literally only takes seconds.
Ok, maybe a minute when you have 12 eggs in a bowl. But seriously, it is definitely one of the best purchases I have made lately.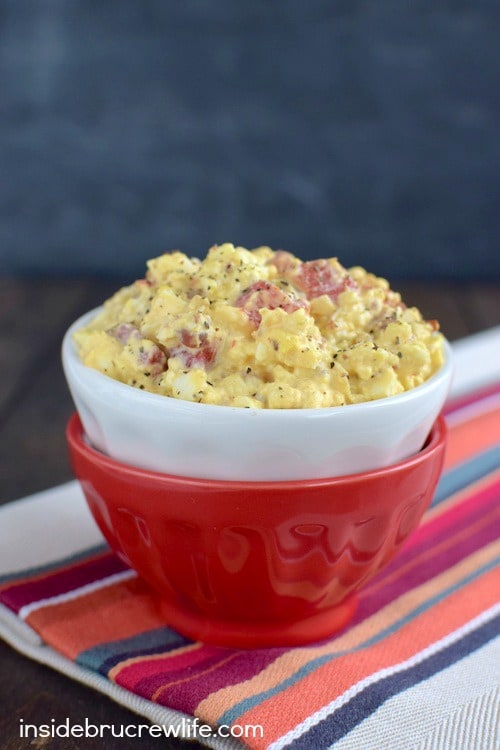 Last year I had the opportunity to visit an egg farm in Ohio. There I was able to see how the eggs go from the chicken to the conveyor belt where it is washed, inspected, and disinfected. From there they are packaged and sent to stores.
It was amazing to me to see how many eggs go through one farm and how much love is given to the chickens. You can read more about it on this Taco Egg Muffin Cups post.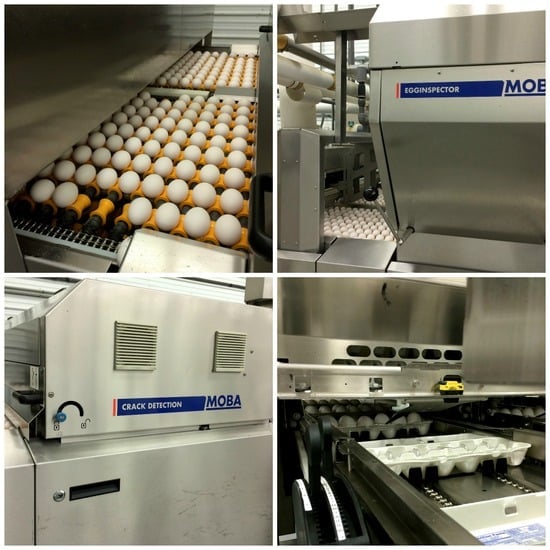 Adding bacon and roasted red pepper to this egg salad made it disappear very quickly. My hubby is usually not a big fan of egg salad...he doesn't like all the extra white "goop" as he calls it.
So, for this recipe I cut back on the mayo and yogurt, and he was a happy camper. The extra bacon and peppers added a fun flavor and texture to the classic egg salad. This is definitely going to made again with all those Easter eggs in the next few weeks.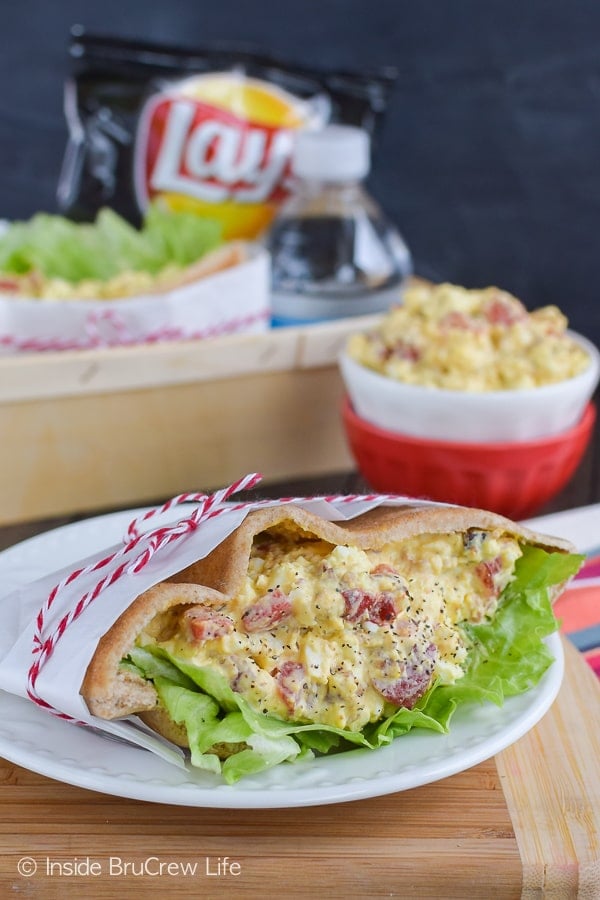 Do you love a recipe you tried from Inside BruCrew Life?
Please leave a 5-star ⭐️ rating and a review in the comments section below.

*I was compensated by the Ohio Poultry Association for this recipe and post. But every opinion expressed is 100% my own. Thank you for letting me share the brands and companies that I use and believe in.