This easy Avocado Shrimp Cobb Salad is so easy to put together when you are wanting to eat fresh and healthy. Mix in your favorite veggies and meats to have your own customized salad.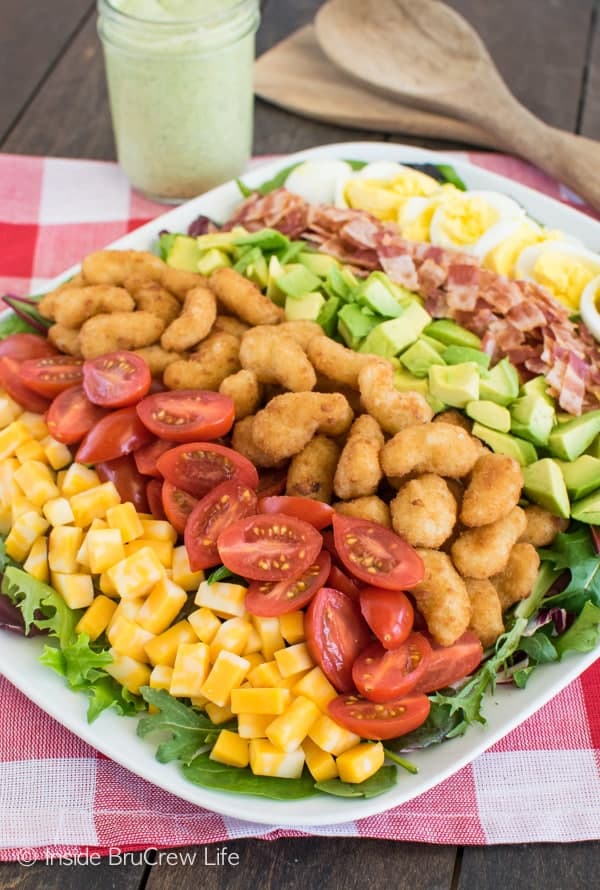 So, today is the day. The day I give up sugar for a 10 days. Are you laughing with me right now too? But seriously...I am giving it a go again. Every few months, I need to detox and get all the sugar from my system with an herbal cleanse.
I can always tell when I have been eating too much of the sweet stuff. I start to feel sluggish and slow, and I start to crave salads. And even though I have been consistently working out, nothing is changing in the weight department. I blame all the cheesecake for that!
Since the scale really hasn't gone up, so I guess the crazy workouts are worth all the bites of cheesecake goodness. But with shorts season just around the corner, it is time to ramp it up.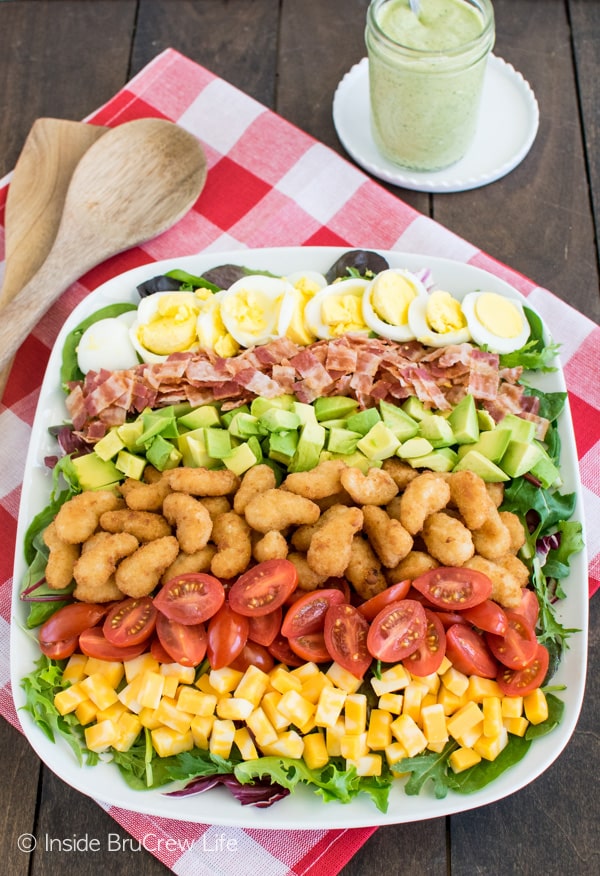 Yesterday I shared this easy avocado lime salad dressing with you. Today you get to see what I drizzled my dressing on!
I had this intense urge for a cobb salad. Layers of cheese, tomatoes, avocados, bacon, eggs, and shrimp on a bed of mixed greens worked for my salad craving. So far I have enjoyed it two days in a row, and I see a third on the horizon.
You could use chicken in place of the shrimp if you are not a seafood eater. For some reason when I was at the store, I couldn't get popcorn shrimp out of my mind.
And yes, I realized that adding breaded shrimp pieces really takes away from the fresh and healthy aspect of my salad, but hey, baby steps, right? I'm eating greens, veggies, and a healthy dressing, so I'm ok with the little bit of breading going on in this avocado shrimp cobb salad. You do what you need to do.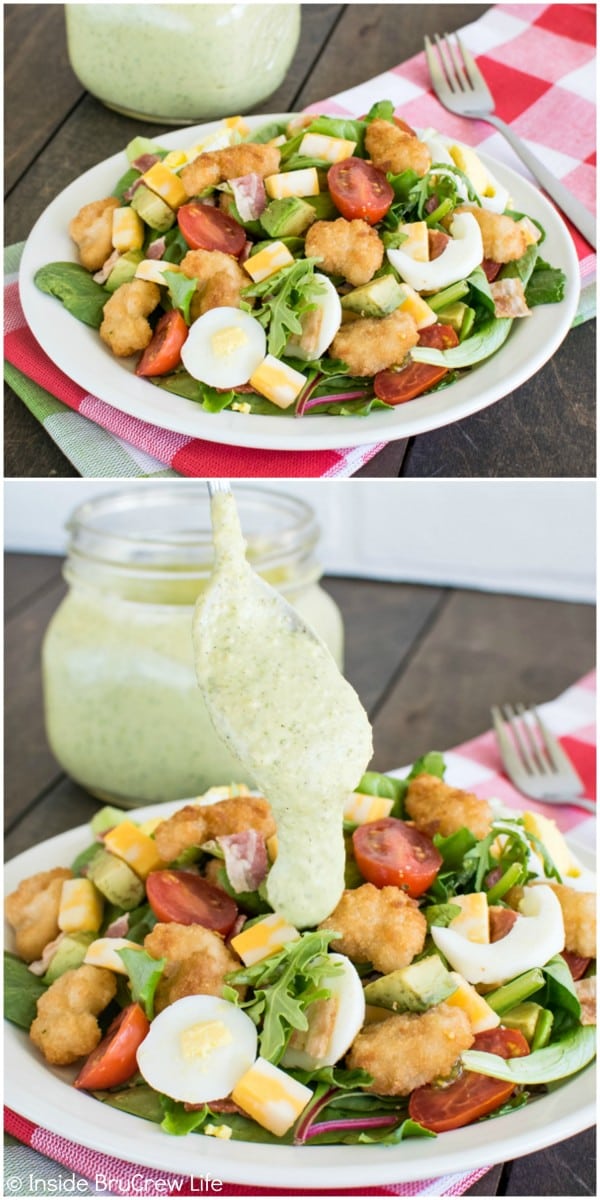 This salad is so pretty all laid out in layers. I have a feeling it would be really pretty as a layered in a trifle bowl for picnics this summer too!
Just make sure you add the avocado right before serving because it does start to get brown after you cut it. Also, make sure to add the shrimp about 10 minutes after cooking too. That will get slightly soggy if it sits too long in the veggies.
There is just something so pretty about a layered salad on the dinner table. Fresh healthy goodness for the dinner win!!! Now to make sure I keep craving salad and not sugar...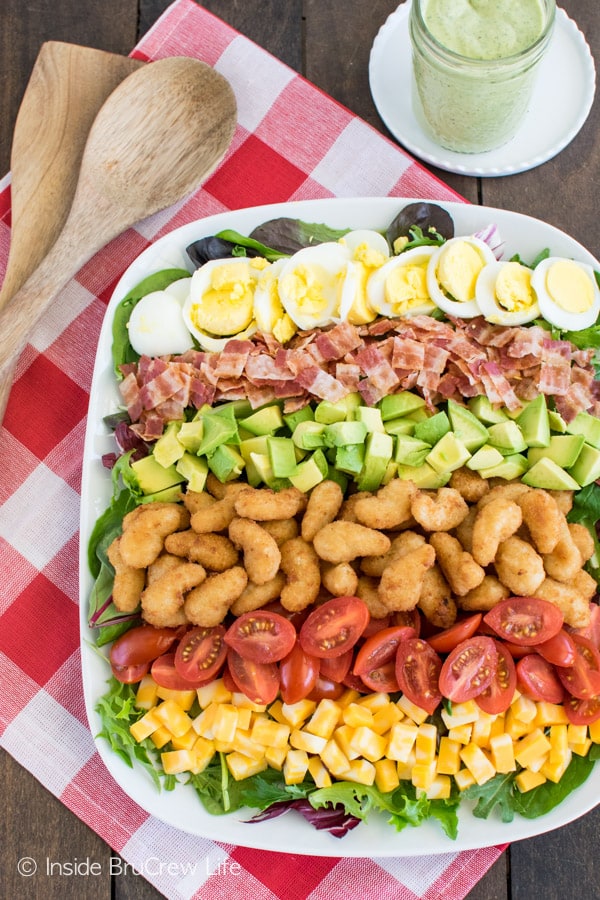 More salad options we love for lunch and dinner: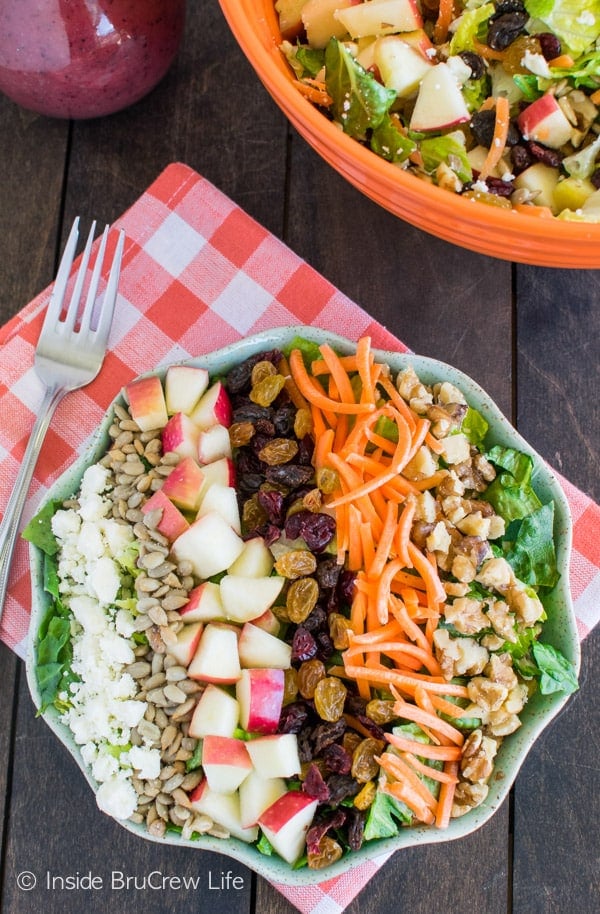 Cranberry Poppyseed Apple Salad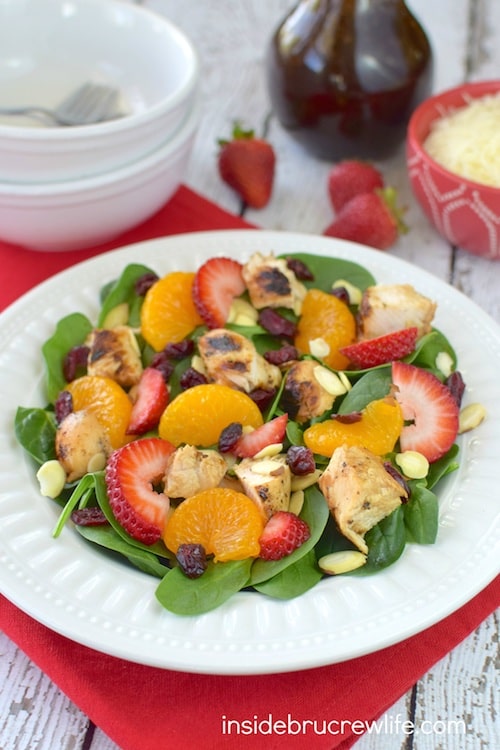 Strawberry Orange Spinach Salad