Add these easy Salted Caramel Coffee Floats to your next date night. Snuggling on the couch with a mug of goodness and your sweetie is perfection!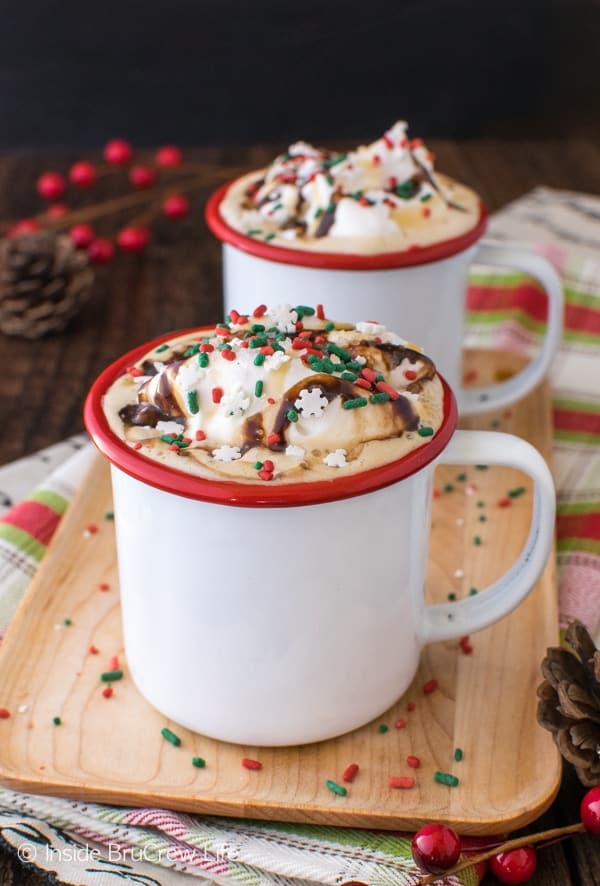 This time of year tends to get busier and busier as we get closer to the holidays. There are Christmas parties to attend, gifts to buy, cookies to make, fudge to eat, lights to hang, and the list goes on and on.
We are still trying to get all our decorations out. This year it has been a slower process than previous years. Usually, I have everything out the weekend after Thanksgiving. There are still half empty boxes of decorations sitting in our living room. I keep saying I will get it finished...tomorrow.
Yesterday I had it settled in my mind that the rest of the decorations were going out that night because I was tired of walking around boxes to get to the dinner table. Well, that was until my husband suggested we go out to dinner, so that we could talk about what gifts we would be getting our three kids.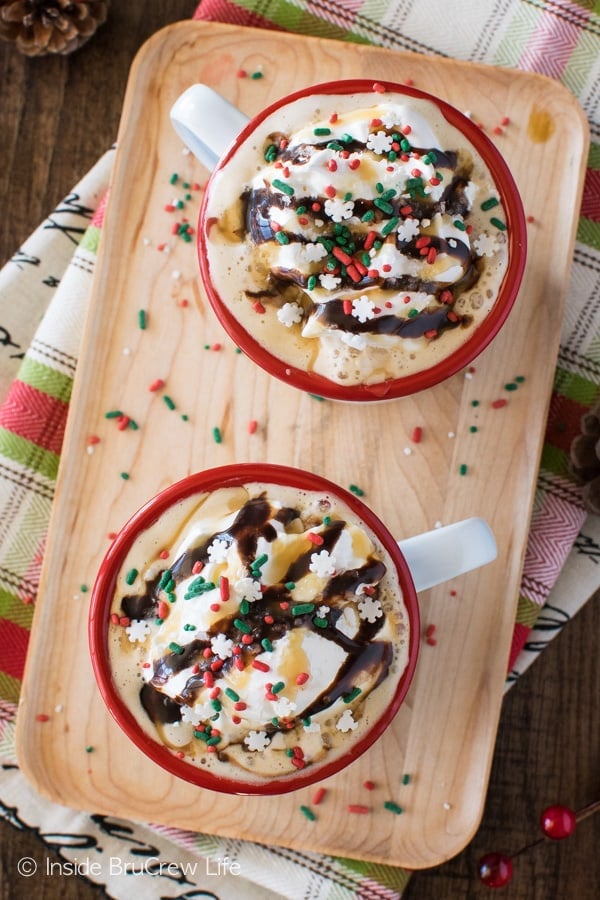 Forget those decorations because date night was happening instead! It's so important to us to implement date nights here and there. We love taking our kids out to dinner, but sometimes it's good to do things just as a couple from time to time.
Date night for us has changed a lot over the years. When we were dating and first married, we would go do more expensive things like spend the weekend in the city for dinner and a Broadway play or get tickets to see Stars on Ice. We also did things like going to the movies, eat out, and go shopping all the time. Until we had children.
Having little ones changes things. It's not as easy to go out and do things when you have small children that need to eat or go to sleep at an early hour. Kids also make your life a little more expensive. We learned how to have date night at home pretty quickly.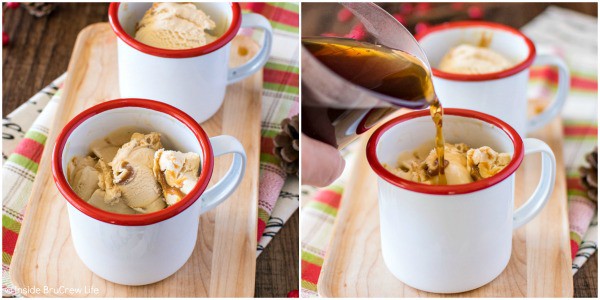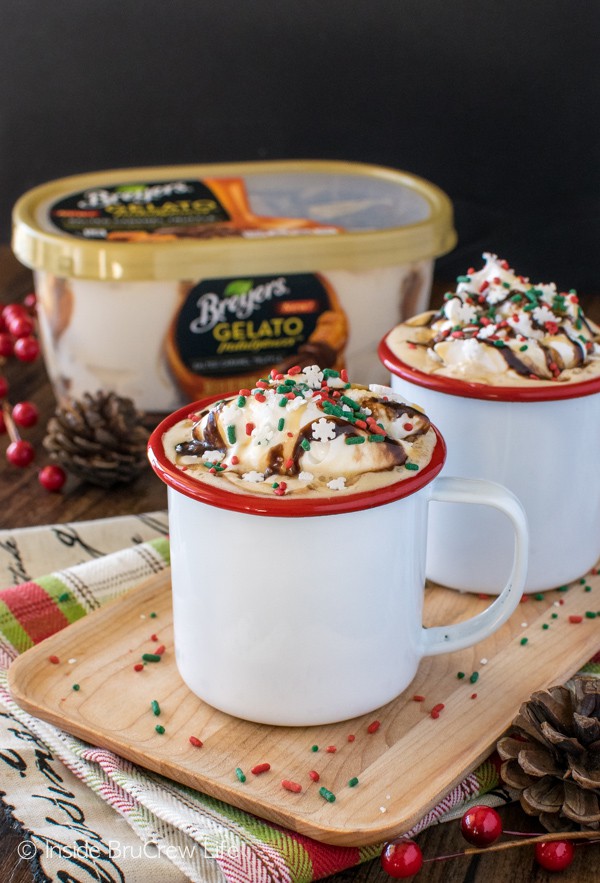 A few of our favorite things to do together after the kids go to bed are playing card games, snuggling on the couch watching TV series, or sitting around a fire talking about our day.
Food is always a necessary part of our date night. A big bowl of chips and homemade salsa is one of our favorite things to munch on during our game or movie nights. And of course, a dessert to end the night is a must. Most days there are plenty of sweet treats on the counter to choose from, but after taste testing them all day long, I am usually over those.
A bowl of any flavor is an easy go-to dessert after a busy day. Each container has a trio of textures. Creamy gelato, sweet sauce, and fun toppings go together so well! Definitely a sweet indulgence for our at-home date night!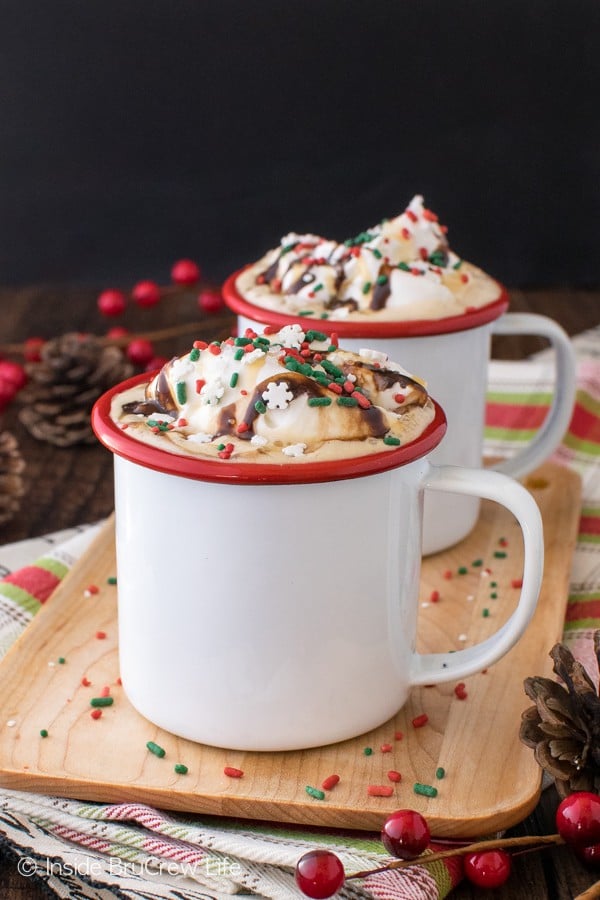 One of my favorite ways to enjoy gelato is to scoop it into a cup and pour strong brewed coffee on top. A little bit of Cool Whip and sprinkles gives this easy coffee drink the perfect coffee house look.
Any flavor of gelato will work in this drink, but I prefer Breyers Salted Caramel Gelato. Sweet and salty gets me every single time.
My husband prefers gelato and coffee too...but he likes to keep them separate. He has this thing about how coffee needs to be super hot... or something like that. I was too busy slurping down these salted caramel coffee floats to hear the rest.
What are some of your favorite inexpensive date nights? It can be at home or out and about. We need to branch out a little more now that our kids are old enough to watch themselves.