Fall in love with our Maple Latte! This autumn-inspired drink combines bold coffee, creamy milk, and naturally sweet maple syrup for the perfect balance of flavors. It is an absolute must-have for the cozy season.
A few years ago, Starbucks offered a delicious maple pecan latte. Unfortunately, the drink did not receive enough support and was eventually discontinued.
It saddens me that the seasonal drink is no longer available on the Starbucks menu. The good news is that I love creating copycat recipes at home.
A few of my favorites are a salted caramel mocha and this chocolate latte. So, I am excited to show my fellow coffee lovers how to make a maple latte at home. You'll save money and enjoy a delicious drink in minutes.
Jump to:
Why You Will Love This Recipe
Mixing maple syrup, hot coffee, and steamed milk makes a delicious fall drink that beats your favorite coffee shop.
Cut costs. Enjoy the same coffee shop flavors without the high price tag by making homemade drinks.
Simple and hassle-free. Making coffee at home eliminates waiting in line at a coffee shop. It's a great option for those who want to enjoy their favorite Starbucks drink from the comfort of their own home.
Year-round availability. Enjoy seasonal drinks throughout the year by making your favorites at home. This way, you don't have to wait for a particular season or go to a coffee shop to get your fix.
Key Ingredients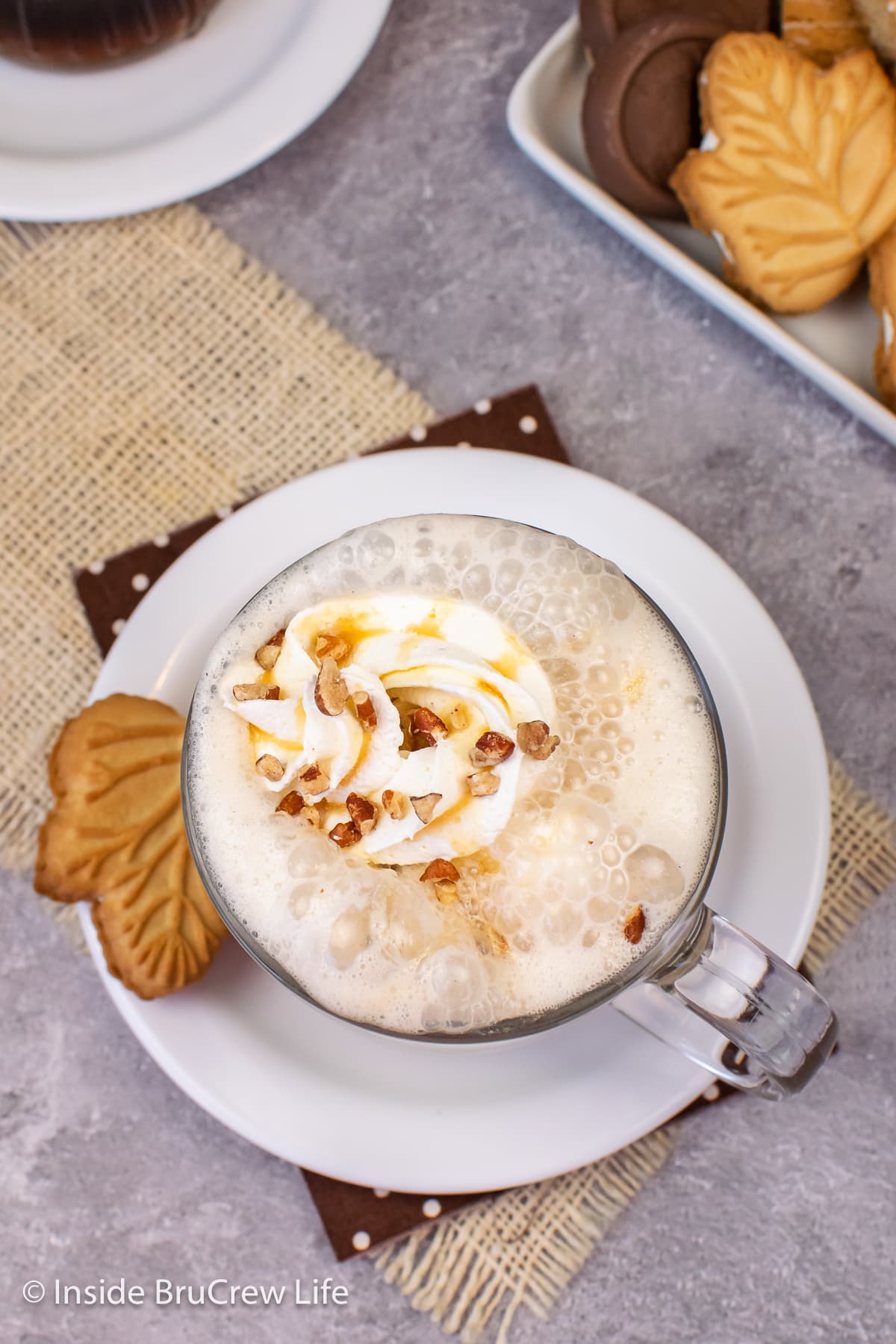 Make a hot maple latte with basic ingredients you probably already have in your kitchen. What sets this drink apart is the addition of pure maple syrup.
Coffee - Strong brewed coffee or a double shot of espresso.
Pure Maple Syrup - Use regular or cinnamon syrup to sweeten the coffee. Adjust the amount to taste.
Milk - Choose your milk of choice.
Optional Toppings - Add whipped cream, maple syrup, and chopped pecans to make your coffee drinks look fancy.
How to Make a Maple Latte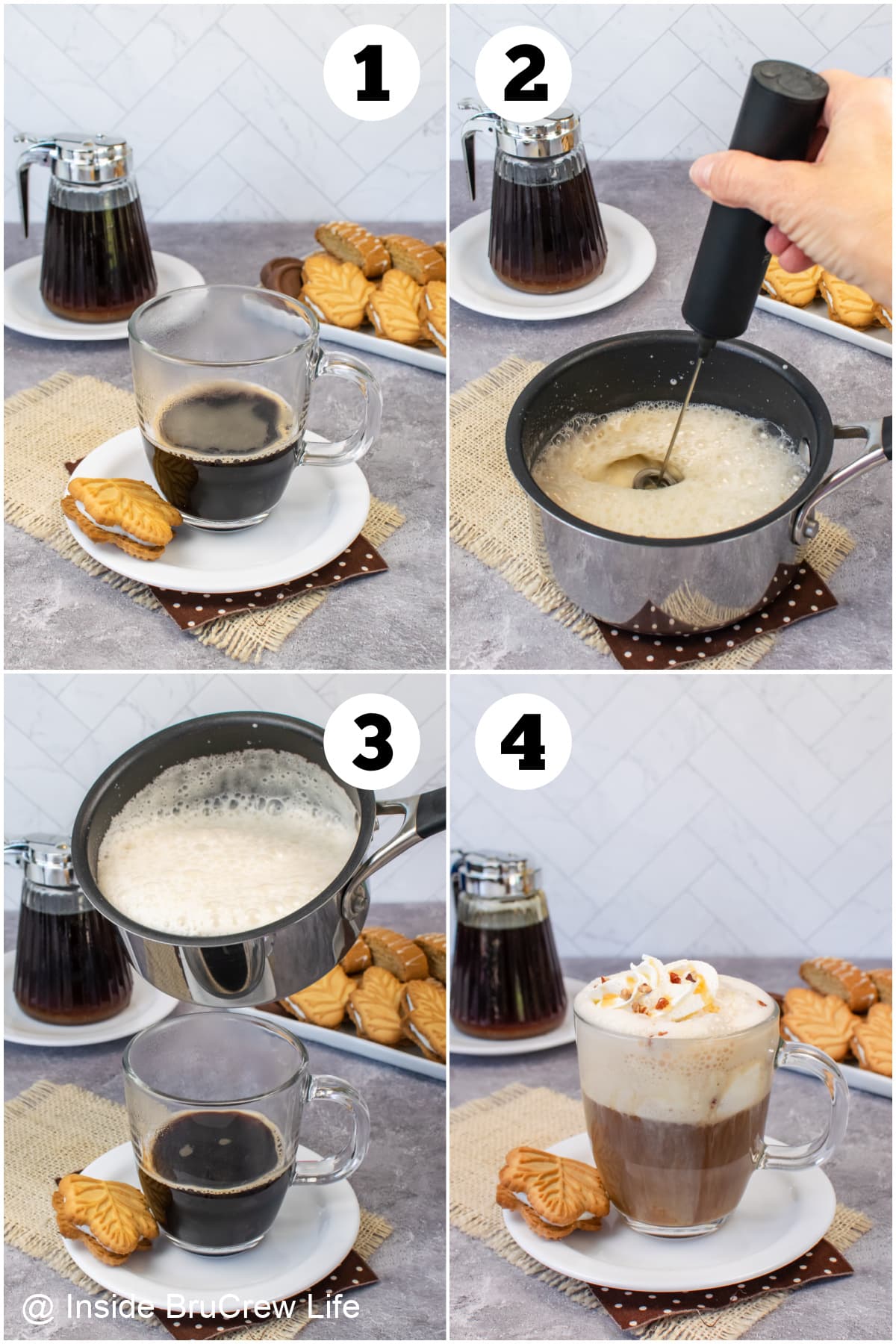 This maple latte recipe takes less than 5 minutes to make. Heat, froth, and pour over hot coffee. Don't forget the whipped cream and maple drizzle for an extra touch of fall flavors!
Brew the espresso. Start by brewing shots of espresso using your espresso machine. You can make a strong cup of coffee if you don't have a fancy machine.
Steam and froth milk. In a small saucepan, heat the milk over medium heat, stirring often. The milk should not boil. Stir in the syrup and froth until foamy.
Assemble the coffee drink. Pour your hot espresso (or coffee) into your favorite mug. Slowly pour the frothed maple milk over the espresso. Hold back the foam with a spoon to let the milk run in first.
Garnish and serve. Top your homemade latte with chai whipped cream and a drizzle of sweet maple syrup for an extra indulgence.
Serve With
This creamy maple cinnamon latte is a delicious way to enjoy a cozy breakfast or brunch. The rich flavor pairs so well with these fall treats.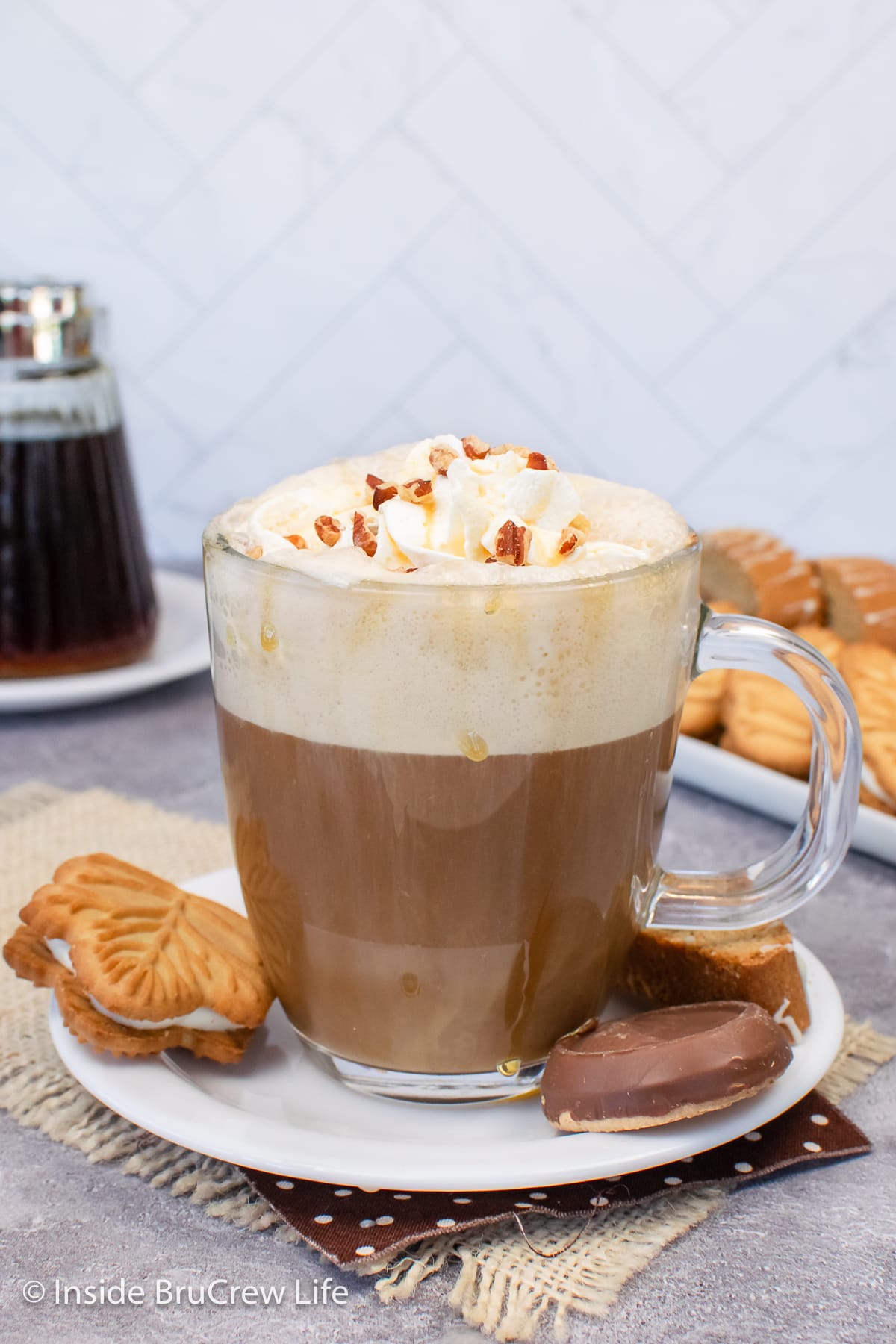 Tips and Tricks
Make a pot of extra strong coffee in a regular coffee maker or a French press. Instant espresso powder can also be used.
Please use real maple syrup! Pancake syrup is different and will not give you the same flavor.
Adjust the amount of maple syrup to suit your sweetness preference. The beauty of a homemade latte is that you can make it as sweet or mild as you like.
If your milk frother heats the milk, you can skip warming it on the stove.
Pour the warm milk in slowly. The liquid goes in first, and then you can top it with the foam.
Variations
Maple Pecan Latte - Add a splash of pecan-flavored syrup or a small handful of chopped toasted pecans to your coffee. It's a nutty twist that pairs beautifully with maple.
Spiced Maple Latte - Incorporate fall spices like cinnamon, nutmeg, or cloves into your latte. Simply sprinkle them into your milk mixture while heating it up.
Iced Maple Latte - Froth the milk and maple syrup until creamy and foamy. Pour cold brew over ice, top with frothed milk, then add a pinch of ground cinnamon.
Coconut Maple Latte - Use coconut milk instead of regular milk for a dairy-free option that pairs nicely with maple.
Maple Bourbon Latte - For an adult twist, add a shot of bourbon to your drink. This boozy variation is perfect for a cozy evening by the fireplace.
FAQs
What is a latte?
A latte is a hot coffee drink made by pouring steamed milk into freshly brewed espresso.
Do I need a milk frother to make the milk foam?
You can use a hand-held aerolatte, a blender, or an immersion blender to froth the milk mixture. You can also pour the warm milk mixture into a mason jar, tighten the lid, and shake until frothy.

What is the best milk to use in a homemade latte?
Use any type of milk in a hot latte. 2%, fat-free, or whole milk will work. Non-dairy milk such as almond, oat, or coconut milk can also be used. Remember that some milk will froth less, but the taste will remain the same.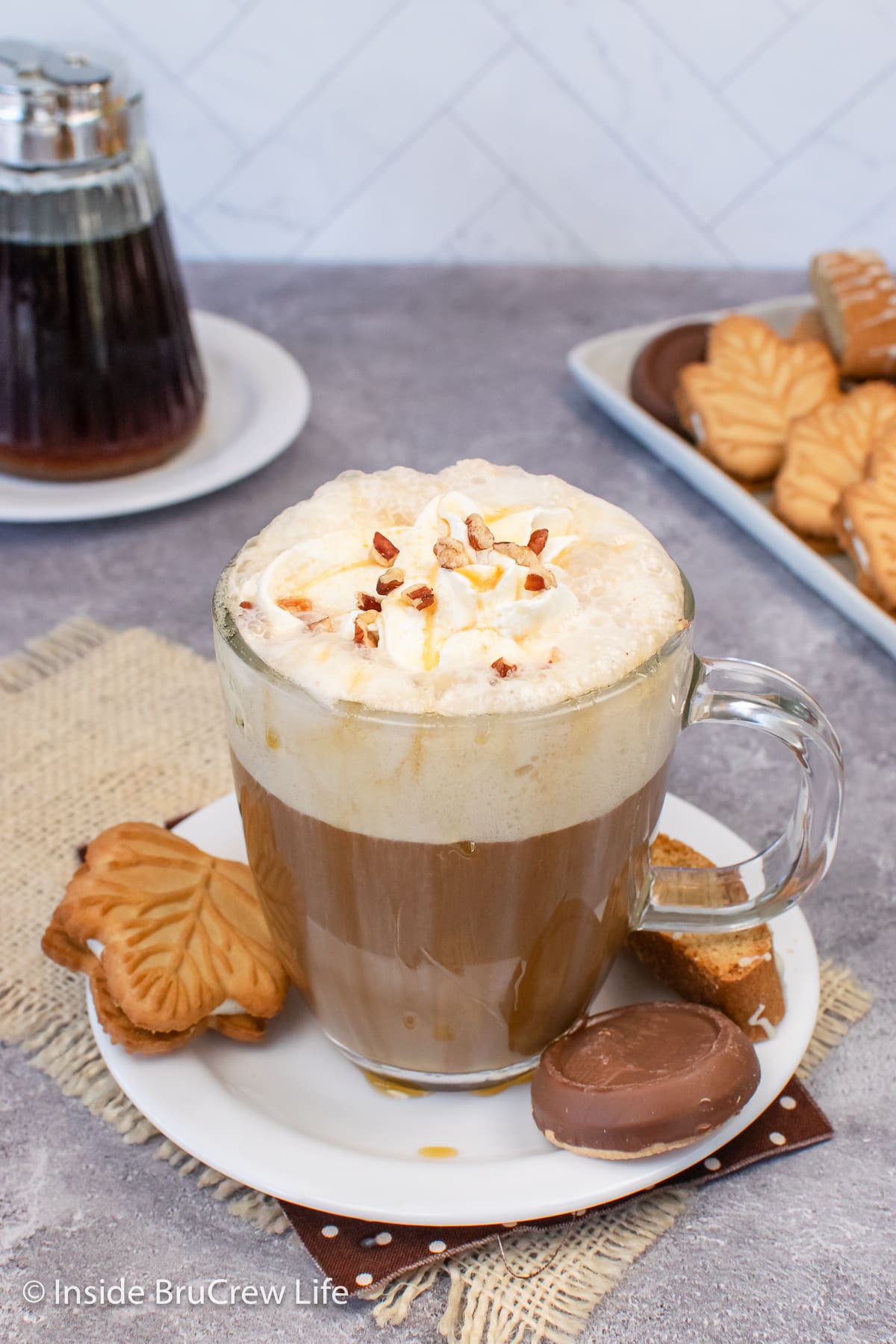 More Homemade Lattes
Do you love a recipe you tried from Inside BruCrew Life?
Please leave a 5-star ⭐️ rating and a review in the comments section below.